The GQ Approach – Laurel December 4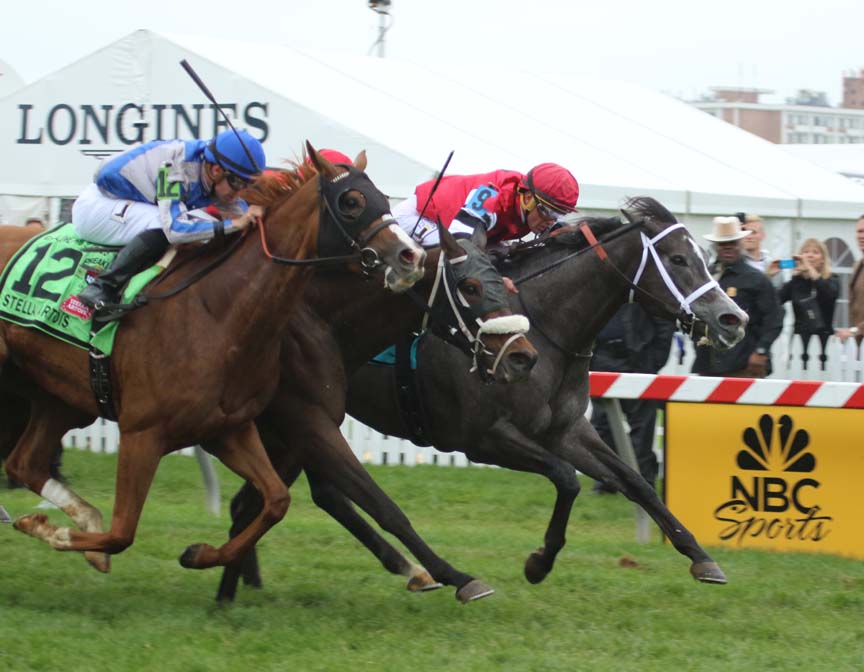 Mizz Money (#9) held off Vielsalm (in between) and Heath (#12) to win the Grade 3 Gallorette. Photo by Laurie Asseo.
The GQ Approach features full-card selections from Laurel Park (w/ live racing every Friday, Saturday and Sunday throughout 2016; Post Time 12:30pm EDT), including a daily Best Bet, Longshot Play, and multi-race wagers — including the 20 cent Rainbow Pick-6, 50 cent Jackpot Pick-5, as well as Pick-4s and rolling Doubles, Pick-3s and the Super High-5. 
CARRYOVERS
Rainbow Pick 6: $3,052.20
Super High 5: $1,904.15
Late Pick 5: no carryover
BEST BET OF THE DAY
Race 8 / #7 – Daily News (2-1)
LONGSHOT PLAY OF THE DAY
Race 4  / #4 – Parseghian (12-1)
[su_heading size="21″ align="left"]Multi-race wagers[/su_heading]
Race 1: $2 Double 2, 3 w/ 1, 2, 3  ($12)
Race 3: $0.50 Pick-3  5, 7, 8  w/ 1, 3, 4  w/ 2, 6, 11  ($13.50)
Race 5: $0.50 Pick-5  2, 6  w/ 2, 7  w/  2, 5, 10 w/ 7 w/ 1, 6, 7 ($18)
Race 8: $2 Double 5, 7 w/ 1, 6, 7  ($12)
[su_heading size="21″ align="left"]Analysis[/su_heading]
Number of races scheduled for turf: 3 (3rd, 5th and 7th)
Weather: Partly Sunny, highs in the mid 40's
Projected condition of main track: FAST
Projected condition of turf: FIRM
Race 1
#3 – Squashville Road (9-2): Makes Lrl debut in 10th career start; both victories have come on natural dirt in as many starts including most recent one @ Pen v. $10kN2L
#2 – Theyallcomehome (7-2): Troubled trips in past two starts while facing much better; travels his preferred distance today (9: 2-2-0); jock V. Carrasco may still be off mounts due to nursing knee injury, take note if any jockey change here and remainder of the card
#1 – Great Plan (5-2): House horse takes a huge drop after a tad more than a 2 month layoff and gets services of T. McCarthy; ha never visited Lrl Winners' Circle (6:0-3-1)
Race 2
#2 – Hickory Hill (7-2): Rough start when PT favorite in latest and was used early to get position which ultimately cost him in deep stretch; with a clean break and trip, should make amends here  
#3 – Stand Guard (4-1): Best outing speed figure-wise came in last which was 2 months ago @ Del; claimed by T. Ritchey for $50k in Jan., has been dropping since seeking success
#1 – Iredell (4-1): Runner-up by a head in last when dropped down to $16kN2L; steps back up to level he's been able to compete but only for minor awards; was 1-length behind top pick 2 back   
Race 3 is ON THE TURF
#8 – Papa Pablo (7-2): Has advantage over foes in here as he's proven at two turns on grass, albeit two runner-up efforts; needs to overcome trainer N. Saville's 1 for 40 record at meet
#5 – Chilly Magician (5-2): First effort on turf was nearly a winning one in gate-to-wire fashion; missed by a length and lost second to top pick at wire; needs to carry speed an extra 1/16th today
#7 – Bobby the Boss (3-1): Visits third different venue in third career start; sent-off as 6-5 fav. in debut sprinting on grass but late run came up short; breeding indicates he can handle distance    
Race 4
#4 – Parseghian (12-1): $$$ LONGSHOT $$$ Like the fact most recent effort came v. open claimers earning best last race Brisnet# in this group, while all others faced restricted fields; owner/trainer runners rarely get backed at windows so should get double-digits come Post Time
#1 – Seve (4-1): Only runner in this event to have won at least twice at today's tricky, middle distance; trainer S. Lake finally got to Lrl Winners' Circle yesterday (now 1 for 27)
#3 – Buck n' Ham Lane (8-1): Interesting move trying two turn grass race, just second in 27 race career; may help as last 7f effort came one and a half years ago; likes distance (4:1-1-1)
Race 5 is ON THE TURF
#2 – Imflatoutsweet (5-1): Second of three starters on card for trainer G. Sacco still seeking first win (9:0-3-0) at Lrl meet; this Closer gets to stretch out another 1/16th and drops a level; just 4-length behind winner and runner-up came back here yesterday to win
#6 – Eyerish Inspired (6-1): May have been bit cranked up a couple weeks coming off 5-month layoff when breaking through gate pre-race yet still missed by just a length; gets A. Cintron back in irons
#11 – Chanel Number One (8-1): Has one of the better speed figs going this distance on turf; steps up after this Deep Closer cut back to sprint; best two races of career came at this level            
Race 6
#7 – Patrick Rocks (7-2): Brisnet# speed figures have slowly risen in past 3 races; tries to break Lrl maiden (11: 0-1-2) but those efforts have come versus much better competition
#2 – Our Luck (9-2): Tardy start in latest outing @ Pen in first try v. N3L could have cost valuable early position; does best work at this one mile distance (7:1-2-3)
#9 – Thought Partner (3-1): This bottom-level N3L lacks early speed so this $300k '14 yearling purchase has a chance to get 3rd career win in 4th start at distance, 8th overall     
Race 7 is ON THE TURF
#10 – Sleepless (7-2): One of two uncoupled entries for the "Mad Genius"; this one considered by ML maker the slightly lesser of the two yet lost debut in Aug. to next out runner-up in Laurel Futurity who then came back to win Swynford Stakes @ WO last weekend
#2 – I Got the Boy (9-5): Professional looking debut going long on grass finishing just a length behind winner who came back to beat winners in next outing; deserving favorite from G. Motion barn
#5 – Silver Slivers (12-1): Gets fourth different jock in as many career starts; hasn't been respected at windows even after two runner-up efforts in first two, slow from gate and traffic at far turn in latest is excuse for OTB finish   
Race 8
#7 – Daily News (2-1): *** BEST BET *** Field of eight lacks true early speed going 6 panels, except this one; likes Lrl dirt surface (8:3-2-0) and catches this rare MD-bred N1X event of mixed talent level runners
#5 – Mack the Knife (6-1): Runner-up versus Starter $16k when 78-1 in latest effort; has back class to indicate wasn't a fluke; only question is cut back in distance (4:0-1-1)
#4 – Concordia's Way (7-2): Turf to dirt angle here; not a bad try in spite of being hung 5-7 wide on turn; broke maiden convincingly two back here as Show horse was next out winner
Race 9
#1 – Springtime Wind (5-2): Turf experiment in latest didn't pan out; back on dirt where she improved in each subsequent start; gets F. Lynch back in the irons
#7 – Notthatitmatters (12-1): Gets 7 lb. bug girl two races after a runner-u effort at this same level; turf try in latest didn't prove anything other than she must improve to graduate
#6 – Cherohala (6-1): An even effort going two turns in second lifetime outing was nearly 10 behind top pick; drops in for tag and should find competition a bit easier on cut back but needs to improve for any shot to turn tables on #1   
YESTERDAY'S NEWS  
On Saturday December 3rd at Laurel had 5 winners from the 9 race card (4 Top Selections; payoff in BOLD) having $2 WIN pay-off of $12.40 (1st race), $9.20 (3rd), $8.20 (5th), $9.20 (8th) and $3.60 (9th). Year-to-date Top Selections are 284 for 1,114 (25.49%).
BEST BET of the Day (117: 30-26-16) Kaitain (8th race: 5-1 M/L; 5-2 PT) unhurried early while about four wide, moved in hand mid turn, angled seven wide for the drive, ranged up and gained a slim advantage with a furlong to go, stayed on gamely but just wasn't quite good enough coming up short by a three-quarters of a length to return $4.00 to PLACE and $3.40 to SHOW.
LONGSHOT PLAY of the Day (114: 12-13-16) Convoyarie (4th race: 8-1 M/L; 8-1 PT) unhurried well off the pace and removed from the rail, shifted very wide for the drive but could only muster up a mild kick to finish 5th.