The GQ Approach – Laurel December 3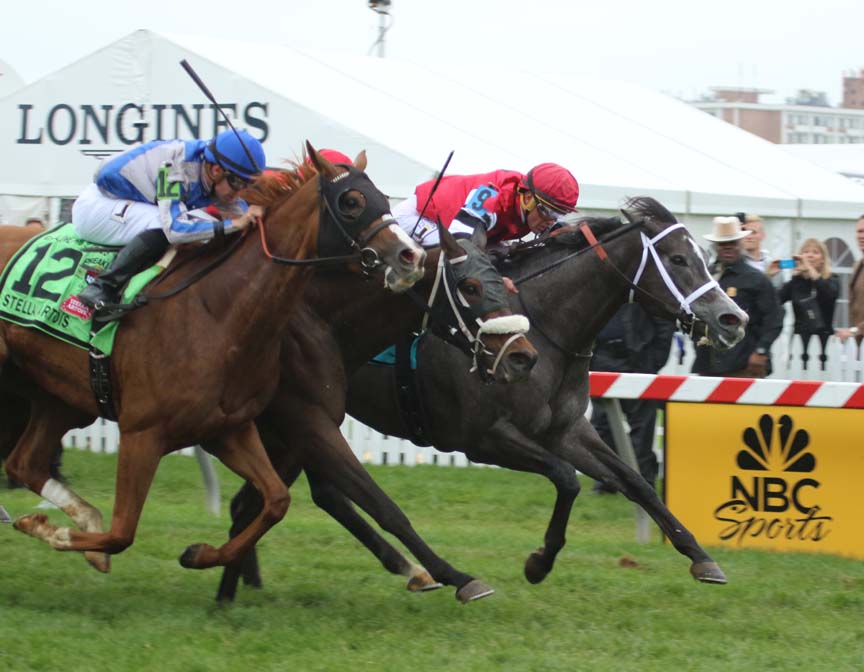 Mizz Money (#9) held off Vielsalm (in between) and Heath (#12) to win the Grade 3 Gallorette. Photo by Laurie Asseo.
The GQ Approach features full-card selections from Laurel Park (w/ live racing every Friday, Saturday and Sunday throughout 2016; Post Time 12:30pm EDT), including a daily Best Bet, Longshot Play, and multi-race wagers — including the 20 cent Rainbow Pick-6, 50 cent Jackpot Pick-5, as well as Pick-4s and rolling Doubles, Pick-3s and the Super High-5. 
CARRYOVERS
Rainbow Pick 6: $2,749
Super High 5: $697
Late Pick 5: no carryover
BEST BET OF THE DAY
Race 8 / #7 – Kaitain (5-1)
LONGSHOT PLAY OF THE DAY
Race 4  / #8 – Convoyarie (8-1)
[su_heading size="21″ align="left"]Multi-race wagers[/su_heading]
Race 1: $2 Double 4, 6, 7 w/ 3, 4, 5  ($18)
Race 3: $0.50 Pick-3  2, 6, 11  w/ 6, 8, 9  w/ 3, 7, 10  ($13.50)
Race 5: $0.50 Pick-5  3, 7, 10  w/ 9, 10  w/  8, 11  w/ 4, 7  w/ 8, 13, 14 ($36)
Race 8: $2 Double 4, 7  w/ 8, 13, 14  ($12)
[su_heading size="21″ align="left"]Analysis[/su_heading]
Number of races scheduled for turf: 3 (3rd, 5th and 7th)
Weather: Mostly Sunny, highs in the low 50's
Projected condition of main track: FAST
Projected condition of turf: FIRM
Race 1
#7 – Tybee (7-2): Takes another drop after 2 dull efforts one on dirt and one on turf to start career but adds blinkers today which probably were on for her 2 most recent bullet works
#6 – Skipalong (5-2): Most experienced 2 y.o. of these maidens; owns best Brisnet# and should improve in second start w/ blinkers for trainer M. Trombetta
#4 – Montrico (8-1): Makes a hasty drop from $25k MCL in uninspiring debut (5th by 10); adds Lasix and two works since first start look encouraging
Race 2
#3 – Full Quest (4-1): Only 2 y.o. in this field to have beaten winners; stretch out to a mile might test stamina but should get a nice stalking trip
#5 – C B Bodemester (6-1): Has faced much better in his last 3 after gate-to-wire maiden score @ The Big T at this distance; jock M. Franklin sitting on 999 career wins
#4 – Z Supreme (10-1): Zayat Stables colt was underachiever until trainer R. Rodriguez added blinkers in third start to earn diploma; will need to take another step forward to prevail in here     
Race 3 is ON THE TURF
#2 – Oaks Bluffs (7-2): Had plenty of pace to catch in latest but came up a neck short in spite of traffic issues; can make amends here v. same in hopes on turning the table on #3
#11 – Merry's Honor (12-1): Head scratcher of a ride in most recent (this Closer was hustled to lead) verified by jock change; once might trainer S. Lake still seeks first win at Lrl meet (0 for 25)
#6 – Came Back (7-2): Thirty-one race career has been like a yo-yo up class ladder after win then back down to win again; one thing for certain is this 7 y.o. gelding is a proven winner at this level             
Race 4
#8 – Convoyarie (8-1): $$$ LONGSHOT $$$ Took a while but appears this filly is returning to form she displayed against much early in her career; goes for natural Hat Trick on multiple class step up
#9 – Hissy Fit (9-5): This 7-time winner gets to face N4L due to condition (she's 3); 2 for 2 at this distance, lone speed on significant drop but yellow flags are out as jock from last two (V. Carrasco) shows up on #3. Hmmm
#6 – More Stormyweather (10-1): Away since winning a turf sprint in July; returns to dirt and level where she was runner-up to the #4 in here; trainer/jock combo scores with 25% of runners 
Race 5 is ON THE TURF
#10 – Kadie'shorseplay (3-1): Nearly lit up toteboard when 37-1 v. OC$25k first off $7,500 claim so class drop to $16kN2L should be a piece of cake BUT her 1 for 17 career record w/ 7 runner-up finishes screams "Seconditis"
#7 – Street Miz (15-1): This Closer cuts back from two turns in last two; needs a ground saving trip and might show move early foot w/ switch to A. Cortez who likes to get his mounts engaged early
#3 – Schuyler Warrior (7-2): Trainer M. Robertson has done well w/ his Cby runners @ Lrl; got diploma two back via DQ but both turf tries have been filled w/ next out winners; still needs to improve to be considered a contender here            
Race 6
 #9 – Faithinvictoria (7-2): Makes sixth career start at fifth different track for 4th different trainer; destroyed $7500N2L @ Prx in latest effort; boasts best last Brisnet# (83) and gets McCarthy in irons
#10 – R Rousey (8-1): Been making her living sprinting but last trip to Winners Circle came after nose victory @ Prx going 1 mile and 70 yards; 4-time winner qualifies for this N3L due to being 3
  #3 – Miss Nosy (15-1): Scratched out of $OC16k yesterday; didn't show it in her latest (6th by 10) but ran an 80 Brisnet# at this distance 4 back under today's jock Y. Ortiz who is just 9% in '16 but 20% w/ trainer     
Race 7 is ON THE TURF
#8 – Steve Said Don't (5-1): FTS by Cape Blanco out of a Ghostzapper mare bred locally been prepping in NY for career debut; trainer G. Weaver and jock F. Lynch are 1 for 4 at meet
#11 – Real Amazing (7-2): High-profile owner paid $80k for this Bodemeister colt as a yearling; the mare won at first asking sprinting over synthetic surface; nice work pattern
#6 – Rollin Warrior (20-1): Has beaten a soul in his last 2 of 4 starts; most recent he tried turf & two turns for first time, showing early for 6f then stopping; worth a shot in this turf sprint   
Race 8
#7 – Kaitain (5-1): *** BEST BET *** Third race after 10 month layoff; first two were decent effort on grass; never OTB on natural dirt (5:2-1-2), all at Lrl; earned 103 Brisnet# in last dirt start
#4 – Coltimus Prime (6-1): Most of his success has come on all-weather surface north of the border but has done just fine on natural dirt and ran a 105 Brisnet# on it @ FE prior to being runner-up in G2 event @ WO
#8 – Golden Glint (9-2): Dull effort in first race off the bench here going 9f; cuts back to one mile and gets class break too; if any trainer can reignite a 7-year-olds career, M. Eppler can
Race 9
 #8 – Sammi's Valentine (5-2): Everything points to this 5-time bridesmaid being the birde today as she draws a weak group of $10k MCL; beaten fav. in last effort v. same but continues to improve
#13 – Wildcat Rising (10-1): Willing to draw a line through her last start when steadied and backed up from that point; considering her second best of a poor lot in this nightcap
#14 – As Brave as Mom (10-1): Second time blinkers in third career outing may be the charm? Will be first on dirt after trying turf in first two when this late-blooming 6 y.o. mare is far from being bed to like the turf   
YESTERDAY'S NEWS  
On Friday December 2nd at Laurel had 6 winners from the 9 race card (4 Top Selections; payoff in BOLD) having $2 WIN pay-off of $11.40 (1st race), $3.80 (2nd), $4.20 (3rd), $3.20 (4th), $5.00 (5th) and $4.80 (7th). Of the suggested Multi-race wagers hit the R1-R2 $2 DOUBLE for $24.60 (cost: $12). Year-to-date Top Selections are 280 for 1,105 (25.34%).
BEST BET of the Day (116: 30-25-16) Tigers Bop (3rd race: 3-1 M/L; 1-1 PT) sprinted to the early lead, set the pace along the rail, asserted herself in upper stretch and was kept to task in the drive to by 4½ lengths to return $4.20 to WIN, $3.20 to PLACE and $2.40 to SHOW.
LONGSHOT PLAY of the Day (113: 12-13-16) Spoiled by God (1st race: 10-1 M/L; 9-2 PT) chased the pace two wide, closed outside RED HOT LOOKS, took the lead in deep stretch and drove clear to win by 1 ¼ lengths to return $11.40 to WIN, $3.80 to PLACE and $3.00 to SHOW.