The GQ Approach – Laurel December 2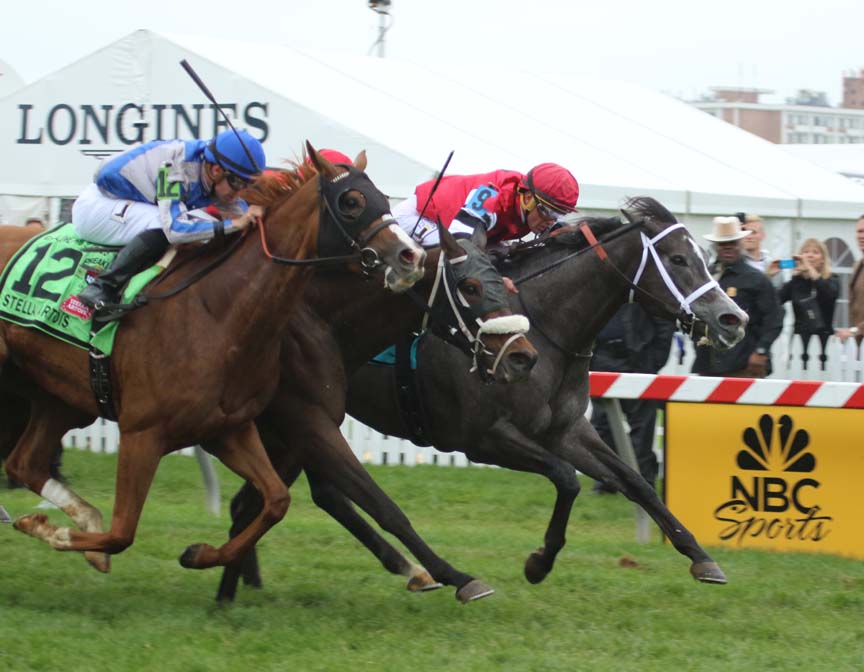 Mizz Money (#9) held off Vielsalm (in between) and Heath (#12) to win the Grade 3 Gallorette. Photo by Laurie Asseo.
The GQ Approach features full-card selections from Laurel Park (w/ live racing every Friday, Saturday and Sunday throughout 2016; Post Time 12:30pm EDT), including a daily Best Bet, Longshot Play, and multi-race wagers — including the 20 cent Rainbow Pick-6, 50 cent Jackpot Pick-5, as well as Pick-4s and rolling Doubles, Pick-3s and the Super High-5. 
CARRYOVERS
Rainbow Pick 6: $1,990.69
Super High 5: $751.08
Late Pick 5: no carryover
BEST BET OF THE DAY
Race 3 / #7 – Tigers Bop (3-1)
LONGSHOT PLAY OF THE DAY
Race 1  / #1 – Spoiled by God (10-1)
[su_heading size="21″ align="left"]Multi-race wagers[/su_heading]
Race 1: $2 Double 1, 4, 11 w/ 1, 7 ($12)
Race 3: $0.50 Pick-3  5, 7, 10  w/ 2, 4, 7  w/ 4, 9, 11 ($13.50)
Race 5: $0.50 Pick-5  4, 9  w/ 2, 7  w/ 4, 5  w/ 3, 4  w/ 1, 13, 14  ($24)
Race 8: $2 Double 3, 4  w/ 1, 13, 14 ($12)
[su_heading size="21″ align="left"]Analysis[/su_heading]
Number of races scheduled for turf: 4  (1st, 3rd, 5th and 7th)
Weather: Mostly Sunny, highs in the low 50's
Projected condition of main track: FAST
Projected condition of turf: FIRM
Race 1 is ON THE TURF
#1 – Spoiled by God (10-1): $$$ LONGSHOT $$$ Ill-advised two turn start in latest but maybe the plan was to get more speed out of him early? Boasts best turf Brisnet# of this bunch; rallied to get Show purse v. similar two back when 5-wide at ¼ pole as runner-up was next out winner
#4 – Red Hot Looks (9-5): First time in for Tag while making 11th career start; early foot and backs up badly on dirt, but racing on turf today
#11 – Leroy Brown (3-1): House Horse was a Trainer Scratch out of same condition on Nov. 26; maybe it had something to do with the 4f published workouts on Nov. 19th AND Nov. 20th?! First start since mid-August; cuts back to turf sprint after 3 routes
Race 2
#2 – Resurgence (3-5): House Horse Part 2; 5 years ago paid a cool $1.35 mil for his guy; 8 races later he's earned just under $65k… Ouch! Never OTB @ Lrl (5:3-1-1) but gotta be leery of third straight drop (to $5k) in spite of impressively winning last two v. $25k and $10k Claimers
#7 – Rumblin Kyle (8-1): Appears trainer G. Capuano hasn't attracted any takers for this 4 y.o. gelding either; won 3 races back off layoff and multi-level drop; has stayed at this level picking smaller checks
#1 – Hush Hush Henny (6-1): After starting career 1 for 17, he's won 2 in a row while increasing those speed figs slowly but surely the past 4 races; will try to steal it on the front end     
Race 3 is ON THE TURF
#7 – Tigers Bop (3-1): *** BEST BET *** Begging for a 5f turf event but Lrl only has 5½f as his last 3 turf sprints running lines are nearly identical, looking like a winner until the last 50 yards; drops back to $16k MCL, others lack early foot so get the cap & gown ready!
#5 – Just the Zip  (9-2): Came up 1½ lengths short of catching top pick here for the runner-up spot in latest; second start under W. Potts conditioning giving J. Toledo a leg up (they're 4 for 10 at the meet) and drops again makes him a player
#10 – Major Anthem (7-2): Yikes! 0 for 27 yet a cash cow has he gets a small check every time; ran into traffic in latest when dropped to this level; miracles do happen              
Race 4
#7 – I Just Wanna Win (5-2): Has won 4 of her last 5 starts but 3 of those came over a year ago; won latest back in May when coming off 6 month layoff; so why not again here at same level?
#2 – Delightful Erin (10-1): Pretty much been facing open company all year; third race after layoff even though first two haven't been much; could surprise versus this group used to facing restricted foes
#4 – Fortutious (8-5): Prx shipper gets the Morning Line favoritism nod due to dropping a few levels; nice record (8:3-2-1) at this distance but didn't hit the board in only previous Lrl start in Jan. when 10th as second choice in AlwN1X going 6f
Race 5 is ON THE TURF
#9 – Hibernia Fire (6-1): Has proven he cannot cut it in MSW but when in for this $25k MCL 3 other times has missed by a head and a close 4th twice; jock switch to M. Franklin carries extra incentive as he sits on 999 career wins
#4 – Bourbon and Beer (15-1): Makes just 5th career start and has improved speed figs in each; showed late interest in turf sprint at same level after showing early speed going tow turns; gets 5th different rider, this one best suited for turf 
#11 – Gin Fuzz (5-2): Insanity… doing same thing yet expecting different results; 0 for 14 with 6 runner-up finishes when PT fav. in 5 of them makes one wonder if he'll ever get to Winners' Circle?! In for Tag for just 3rd time in career… was, you guessed it, second as fav. in other two      
Race 6
#2 – Staff Sgt Reckless (7-5): Slick move on trainer H. McMahon part finding this OC$16k race for this filly who won v. OC$25k in latest; should get a nice stalking trip behind a trio of early speed
#7 – Moonlight Basin (7-2): These Cby shippers have competed quite well @ Lrl as she was a game second when 9-1 in local debut at this level; continues to gradually improve speed figs with each start
#1 – Abracadabra (10-1): Not so good in first off J. Reynolds claim versus similar; adds blinkers which trainer gets 24% winners with that equipment change       
Race 7 is ON THE TURF
#4 – Cara's Nay Nay (3-1): Pen shipper familiar w/ travelling I-83 looks for natural Hat Trick @ Lrl for 22% trainer; latest win came at v. same open claimers; don't expect 3-1 come Post Time
#5 – Lenape Rim (9-2): Only mount on the card for Prx/Pen jock T. Conner who has 2 wins at meet from 6 starts; comes off short layoff and is a threat to go gate-to-wire as rest of the field lacks early foot
#2 – Blake's Magic (4-1): Usually struggles to finish strong when stretched out to two turns but drop in class may help remedy that; trainer J. Ness likely is daggling this carrot trying to unload as turf season comes to a close?   
Race 8
#3 – Bull Ensign (6-1): Nice effort to be runner-up in first race after layoff v. similar in here; if not for some traffic, may have been the winner; will need pace help and should get it from the trio on the far outside
#4 – Beeks (5-2): Has flashed brilliance on two other occasions but has also been up the track; will need to fight off the ML fav. #9 early on in hopes of getting gate-to-wire score  
#1 – Ghost Bay (5-1): First start for new owner & trainer as this colt was part of late Howard M. Bender estate sold at Kee Nov. auction for $60k; should like getting back on dirt to provide instant dividends as speed figs have been constantly better than today's foes
Race 9
#14 – Heavenly Haze (8-1): Should have only 1 or 2 foes tops to fend off in early stages; makes second start off claim for trainer J. Maldonado who gets 22% to Winners' Circle in this situation
#13 – Slide by You (12-1): Out of jail after being claimed in poor effort when 28-1 going one mile; best efforts have been on an off track but today will be fast; encouraged that T. McCarthy sign on which is a huge upgrade in the irons 
#1 – Fleetwood Star (12-1): Though 0 for 4 at distance, cut back from 7f in latest may help along w/ A. Cintron back in the irons   
YESTERDAY'S NEWS  
On Monday November 28th at Laurel had 5 winners from the 9 race card (2 Top Selections; payoff in BOLD) having $2 WIN pay-off of $3.00 (4th race), $7.00 (5th), $5.40 (6th), $9.20 (7th) and $7.60 (9th). Year-to-date Top Selections are 276 for 1,096 (25.18%).
BEST BET of the Day (115: 29-25-16) Stormin Babe (5th race: 5-2 M/L; 2-1PT) four deep around the turn, rallied outside horses but came up a half-length short of catching the winner to return $3.20 to PLACE and $2.60 to SHOW.
LONGSHOT PLAY of the Day (112: 11-13-16) Shinobi (8th race: 12-1 M/L; 30-1 PT) positioned mid-pack throughout, was between rivals turning for home, ducked to the rail at the 1/8 pole but failed to sustain a bid when crowded and weakened finishing 9th.