The GQ Approach – Laurel November 27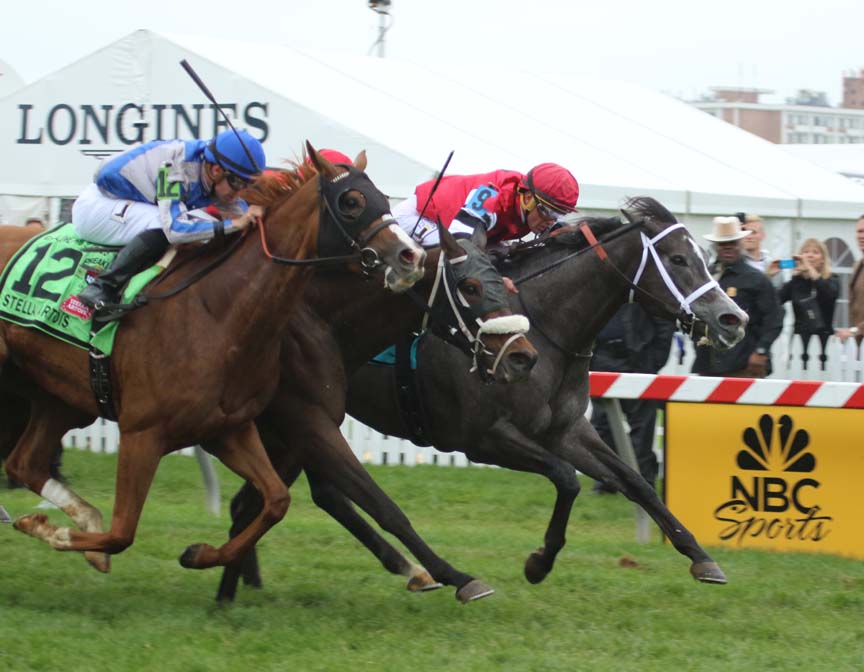 Mizz Money (#9) held off Vielsalm (in between) and Heath (#12) to win the Grade 3 Gallorette. Photo by Laurie Asseo.
The GQ Approach features full-card selections from Laurel Park (w/ live racing every Friday, Saturday and Sunday throughout 2016; Post Time 12:30pm EDT), including a daily Best Bet, Longshot Play, and multi-race wagers — including the 20 cent Rainbow Pick-6, 50 cent Jackpot Pick-5, as well as Pick-4s and rolling Doubles, Pick-3s and the Super High-5. 
CARRYOVERS
Rainbow Pick 6: $396.59
Super High 5: no carryover
Late Pick 5: no carryover
BEST BET OF THE DAY
Race 5 / #5 – Weatherurnot (2-1)
LONGSHOT PLAY OF THE DAY
Race 8  / #6 – My Magician (15-1)
[su_heading size="21″ align="left"]Multi-race wagers[/su_heading]
Race 1: $2 Double 3, 8, 11 w/ 1, 4, 5  ($18)
Race 3: $0.50 Pick-3  2, 6, 7  w/ 2, 3, 8  w/ 3, 5, 7  ($13.50)
Race 5: $0.50 Pick-5  5  w/ 2, 6, 10  w/  2, 6 w/ 6, 11 w/ 6 ($6)
Race 8: $2 Double 6, 9, 11  w/ 4, 6, 8  ($18)
[su_heading size="21″ align="left"]Analysis[/su_heading]
Number of races scheduled for turf: 5 (1st, 3rd, 4th, 6th and 8th)
Weather: Partly Sunny, highs in the low 50's
Projected condition of main track: FAST
Projected condition of turf: FIRM
Race 1 is ON THE TURF
#8 – Chilly Magician (6-1): Wanted to go long on turf @ Bel in last outing but was washed off; if he can run on turf like he did on synthetic @ Pid, he won't be a maiden for long
#11 – A True Gentleman (7-2): Failed to graduate when 9-5 PT favorite in latest; will need to use much of that speed early to clear field into short run up to the first turn
 #3 – Smash and Dash (4-1): FTS by Hard Spun out of a Sadler's Wells mare is bred top & bottom for the turf; trainer M. Eppler scores w/ 29% maiden claiming firsters       
Race 2
#5 – Mac North (8-1): Got diploma in 9th career start when dropped well below where he needed to go; Brisnet Prime Power# is actually better than prohibitive ML favorite; can repeat at a price
#4 – Ten Hut (7-5): Typical second race off the claim move for trainer K. Magee, dropping back down to or below claiming price to get a "W" but IMHO not a "sure thing" as ML suggests
#1 – Breezed Bayou (12-1): Drawing a line through most recent race on an off track (5:0-0-1) when 4-1; should get at least twice that and back on a fast track and early lead     
Race 3 is ON THE TURF
#2 – Silver Romeo (3-1): Comes off worst of 6 turf efforts (6th by 3¾) since being under the care of H. McMahon, which actually was his best based Brisnet#, which continue to ascend; switch to hot rider (F. Lynch) makes the difference today
#7 – Ian Smith (6-1): There's stamina in his Mom's bloodlines to believe he can handle stretch out to two turns; third race after layoff and second time blinkers angles at work here as well 
#6 – Immunity (8-1): Solid turf runner broke maiden in latest when dropped in for $25k tag; speed figs are consistent enough to believe he can make presence known in deep stretch          
Race 4 is ON THE TURF
#8 – Zipping By (5-1): Gets class relief today and yet another rider switch seeking magical formula to get this gelded son of City Zip to Winners' Circle again; might want early lead 
#2 – Storm Candy (15-1): Needs a more alert start in order to be a threat late; H. Karamanos sticking around for another chance bodes well to be in a more prominent position turning for home
#3 – Fuse Line (30-1): The common theme with this 8 y.o. turf efforts is showing early speed going long; cutting back to ta sprint and K. Davis back in the irons after dull dirt try in first race after layoff sets up for potential for juicy returns
Race 5 
#5 – Weatherurnot (2-1): *** BEST BET *** Lightbulb Theory candidate after gate-to-wire score now cuts back to tricky middle distance where she was a runner-up in that only effort
#3 – Proud Maid Marian (9-2): Small barn has done well (2 for 4) with "third race after layoff" runners; switches back to dirt and reunited with jock (T. McCarthy) whose guided her to only win and both runner-up finishes of her 8 race career
#7 – Pure Music (5-1): Took 5 length into stretch only to get caught in final strides when going two turns @ Pen in latest effort at this level; cut back to 7 furlongs and jock upgrade to V. Carrasco could make her a winner in here      
Race 6 is ON THE TURF
#10 – Take It Inside (5-1): Runner-up in latest when getting the best of other two mentioned below; gets 1/16th break in distance which may make all the difference in the world
 #6 – Ginger Beer (4-1): Hard luck runner continues to be denied a trip to Winners Circle in 2016 (12:0-3-1) yet small barn having a great meet (6:3-1-1) and year (7 for 20)
 #2 – Sally Oh Sally (7-2): Could bounce back and get the better of the top two in here since she didn't have the cleanest of trips when sent off 2-1 favorite; never OTB at this distance & surface      
Race 7
#6 – Little Miss Lupe (9-2): Exits $15k Open Claimer for the K. Gomez/C. Gonzalez team (19%); like the fact that she's 2 for 3 at this middle distance while logging much better speed figs v. her recent 6f numbers
#2 – If I Was a Boy (4-1): … she wouldn't be in this race restricted to fillies and mares; T. McCarthy get back aboard as he's guided this to her lone win and two runner-up finishes this past Spring
#1 – Hold On Momma (5-2): Tough assignment from the rail for filly coming off a 4 month layoff; just 3 works leading up to return; might be vulnerable favorite in spite of hot jock in the irons      
Race 8 is ON THE TURF
#6 – My Magician (15-1): $$$ LONGSHOT $$$ Interesting how jock J. Pimentel switches from #7 (12-1) who he won on two back, to get leg up from trainer M. Trombetta, as he used to be 1st Call rider; looking at only two turf tries, one in a minor stakes, were better than running line suggests
#11 – Ready for Romance (5-1): Have to believe this R. Rodriguez NY shipper will take a ton of action in spite of making first start in 14 months; this daughter of More Than Ready could easily make every pole a winning one
#9 – Rumble Doll (3-1): Well-traveled 5 y.o. mare makes Lrl debut and can boast best turf Brisnet# of this bunch; ITM 13 of 15 turf starts while competing in plenty of non-graded stakes  
Race 9
#6 – Kantharos Legend (8-5): Looks like this Live Oak Plantation home bred isn't making the cut so it's time to cut bait, dropping in for $14k in just third career outing; first start on natural dirt but recent works @ Fai indicate she'll handle it
#4 – Trudys Lucky (5-1): Connections been throwing darts trying to see what might work… different jock, blinkers off and now stretch her out; last effort may have been better if not for traffic issues
#8 – Cazzie Cottonwood (20-1): Taking a flyer on this one w/ thoughts that stretching out on dirt and dropping to level from effort two back when sprinting, she ran evenly could translate in wanting more distance  
YESTERDAY'S NEWS  
On Saturday November 26th at Laurel had 6 winners from the 10 race card (1 Top Selection; payoff in BOLD) having $2 WIN pay-off of $6.20 (2nd race), $56.20 (3rd), $5.00 (4th), $11.40 (7th), $10.60 (8th) and $12.00 (9th). Year-to-date Top Selections are 271 for 1,078 (25.14%).
BEST BET of the Day (113: 29-23-16) Lady Allegra (9th race: 9-2 M/L; 2-1 PT) prominent four wide around the turn, gained a short lead between horse in mid-stretch and gave way late to finish 4th just a half-length behind the winner.
LONGSHOT PLAY of the Day (110: 11-13-16) Simplyirresistible (1st race: 10-1 M/L; 11-1 PT) three wide into the first turn, was not a factor and finished 10th.