The GQ Approach – Laurel November 26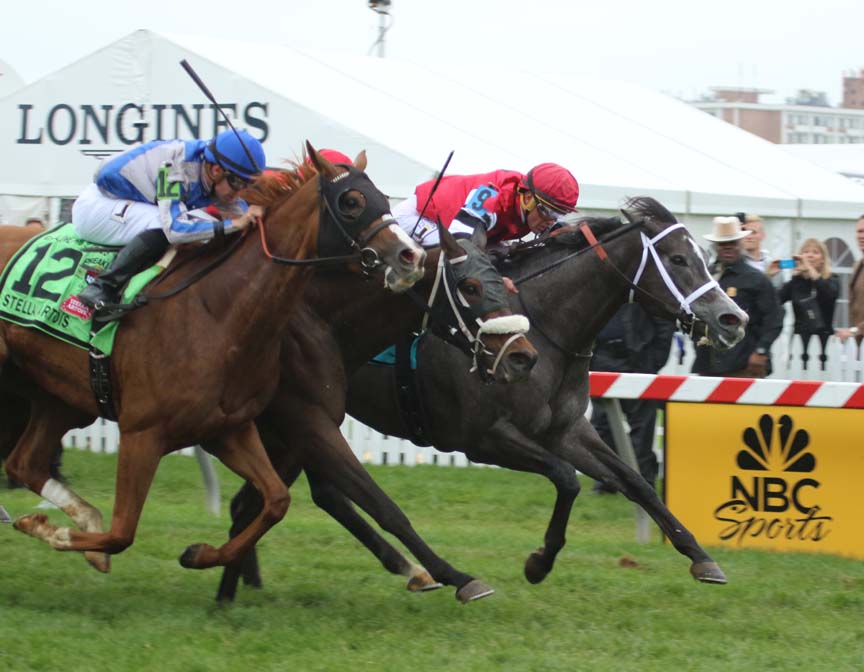 Mizz Money (#9) held off Vielsalm (in between) and Heath (#12) to win the Grade 3 Gallorette. Photo by Laurie Asseo.
The GQ Approach features full-card selections from Laurel Park (w/ live racing every Friday, Saturday and Sunday throughout 2016; Post Time 12:30pm EDT), including a daily Best Bet, Longshot Play, and multi-race wagers — including the 20 cent Rainbow Pick-6, 50 cent Jackpot Pick-5, as well as Pick-4s and rolling Doubles, Pick-3s and the Super High-5. 
CARRYOVERS
Rainbow Pick 6: $396.59
Super High 5: no carryover
Late Pick 5: no carryover
BEST BET OF THE DAY
Race 9 / #11 – Lady Allegra (9-2)
LONGSHOT PLAY OF THE DAY
Race 1  / #10 – Simplyirresistible (10-1)
[su_heading size="21″ align="left"]Multi-race wagers[/su_heading]
Race 1: $2 Double 2, 8, 10 w/ 4, 5, 7  ($18)
Race 3: $0.50 Pick-3  2, 9, 12  w/ 1, 5, 6  w/ 3, 6, 11  ($13.50)
Race 6: $0.50 Pick-5  1, 5, 7  w/ 1, 2  w/  1, 6 w/ 6, 9 w/ 2, 4, 8  ($36)
Race 9: $2 Double 6, 9 w/ 2, 4, 8  ($12)
[su_heading size="21″ align="left"]Analysis[/su_heading]
Number of races scheduled for turf: 6 (1st, 3rd, 5th, 6th, 8th and 9th)
Weather: Partly Sunny, highs in the low 50's
Projected condition of main track: FAST
Projected condition of turf: FIRM
Race 1 is ON THE TURF
#10 – Simplyirresistible (10-1): $$$ LONGSHOT PLAY $$$ Connections will be singing a little Robert Palmer in the Winners' Circle if she pulls off the upset; ran best last race turf Brisnet#; J. Bernardini/K. Davis teamed-up yesterday w/ Mnr shipper at a big price                 
#8 – Sugar Cane Girl (7-2): Has adapted nicely to Lrl lawn as she won local debut two back and was runner-up at a level high than today last outing     
#2 – Lil' Smartiepants (8-1): Makes Lrl debut for trainer R. Vega whose only two shippers this meet won and placed; also does well when giving C. Cedeno a last up (23%)       
Race 2
#5 – Nairet (5-2): Showed promised earlier in the year competing against much better, but form has dropped off, hence the drop in class seeking second career win          
#7 – Piney Blues (2-1): Struggled v. NJ-bred allowance company @ Mth; turf races were a waste of time; based Lrl races last winter when a maiden, she should do better on the drop              
#4 – Mini Donation (8-1): Tough field to figure out unless you personally know track vet (I don't); so taking a flyer on trainer J. Robb runner whose buried v. better in last two   
Race 3 is ON THE TURF
#2 – Thornton (6-1): This gelded son of Gio Ponti out of a Lemon Drop Kid mare should be able to run forever; has shown nice late kick but has run out of real estate going 1 1/16 in all 6 turf outings         
#9 – Giles Fair (12-1): Change of running style since blinkers came off two back has yielded dividends; broke maiden in last start, his 14th! Has been tested at 9f and beyond
#12 – Colmont Fire (6-1): Best efforts on turf have come when trying to go gate-to-wire; don't see many others in here who want the early lead, so M. Franklin should send early and see what happens              
Race 4
#1 – Two Bit Drifter (2-1): Could be lone speed at this one mile distance after graduating in third start, all @ Del convincingly v. $16k MCL; like how this colt has improved with each start              
#5 – Parade of Nations (4-1): Drops from $25k Open Claimers when encountering traffic on the turn; prior to that was no match when in with a couple heavy hitters        
#6 – Game Winning Shot (3-1): Comes off 12 length maiden score v. much easier foes but has never been OTB in 7 lifetime starts albeit @ Del
Race 5 is ON THE TURF
#11 – My Giant (5-2): Been runner-up in past 3 races… all on turf at this condition; wouldn't thinking he can bust out for the victory this time the definition of insanity? Then call me insane!   
#6 – Lawn Ranger (15-1): This G1 turf winner when a 2 y.o. was turned out for a year and just got back on the track in the A.M. last month; draws into this contest under the Waiver Claiming provision
#3 – Winter's Gift (2-1): Only entry on the card for trainer A. Dutrow as this NY shipper seeks easier spot after getting beat up by high level allowance foes @ Bel and Sar            
Race 6 is ON THE TURF
#5 – Artic North (7-2): Good efforts when in v. $15k claimers but not good enough; drops back a level to where he was victorious three back                   
#7 – Slip and Drive (5-2): Has run some monster turf Brisnet#s in the past; 8 y.o. might only be a shell of former self but good enough at this claiming level  
#1 – Street Bullet (6-1): Though only one previous turf outing was ugly, it was over a year ago when in a different barn; have faith in M. Eppler to get the most out of this gelding this time      
Race 7
#1/1A – Alive / Dharmaster (7-2): Two nicely bred FTS; appear to be working as a team in the A.M. w/ identical work tab OR barn is playing w/ the Clocker; would feel confident if one of them scratches      
#2 – Bellows (3-1): Game Hansen colt who took on a crew @ Kee in second start, finishine 3 behind the winner as runner-up came back to graduate in next outing      
#4 – Amazing Campisi (6-1): NY-bred FTS by Congaree hails from T. Ritchey barn who gets 25% of his first-timers to Winners Circle; V. Carrasco signing on to ride is another plus      
Race 8 is ON THE TURF
#6 – Indian Bucks (7-2): This field is loaded with talent and wide open, but lack of early speed might be the deciding factor, so going with one who has ability to get to lead and be good enough to hold off late comers     
#1 – Frisky Magician (3-1): Breaks from #9 hole based on entrymate being on AE and likely scratch; comes off win as lukewarm favorite; loves this distance (6:3-1-1)       
#3 – Merry's Honor (12-1): Been chasing cheaper @ Prx going 5f; extra 1/16th will help as he's always gaining late; second time blinkers is an angle that often yields nice returns  
Race 9 is ON THE TURF
#11 – Lady Allegra (9-2): *** BEST BET *** Just missed in latest at same level; makes third start after layoff, adds blinkers and should get a perfect stalking trip from outside post; has among the best career turf Brisnet#s of this bunch    
#6 – Gold Tinker (5-1): Gotta respect trainer A. Goldberg runners from the Colts Neck Stables; nice effort in latest off the bench; got leg weary late which shouldn't happen today
#13 – Summer Frock (10-1): Continues to improve though not the most consistent runner as one never knows if she'll be up to giving her best on any given day; should be in second flight   
Race 10
#2 – Get Rid Of (6-1): Made a nice late run in debut here when off at 32-1 to get Show purse; made an ill-advised next start going long on turf; back to dirt as third time could be a charm   
#8 – Irish Handcuffs (4-1): Always needs a pace meltdown as he lingers in the back until ¼ pole; K. Davis second time on this gelding and gets an additional 1/16th mile of real estate             
#4 – L G Crash (4-1): Has shown signs of life in his 11 previous starts; cuts back from one mile when runner-up at this same level; F. Lynch back aboard with hopes of getting diploma       
YESTERDAY'S NEWS  
On Friday November 25th at Laurel had 7 winners from the 10 race card (3 Top Selections; payoff in BOLD) having $2 WIN pay-off of $10.60 (2nd race), $7.00 (3rd), $4.60 (4th), $17.40 (5th), $3.80 (6th), $19.40 (7th) and $9.80 (10th). Of the suggested Multi-race wagers hit the R3-R5 50 cent Pick-3 for $89.40 (cost: $13.50). Year-to-date Top Selections are 270 for 1,068 (25.28%).
BEST BET of the Day (112: 29-23-16) Path Dependent (5th race: 9-2 M/L; 3-1 PT) steadied in traffic leaving the backstretch, worked between horses most of the trip and failed to be a factor to finish 6th.
LONGSHOT PLAY of the Day (109: 11-13-16) First to Fire (3rd race: 6-1 M/L; 5-2 PT) disputed the pace outside a rival and prevailed in an extended drive by a half-length to return $7.00 to WIN, $5.00 to PLACE and $3.60 to SHOW.