The GQ Approach – Laurel November 25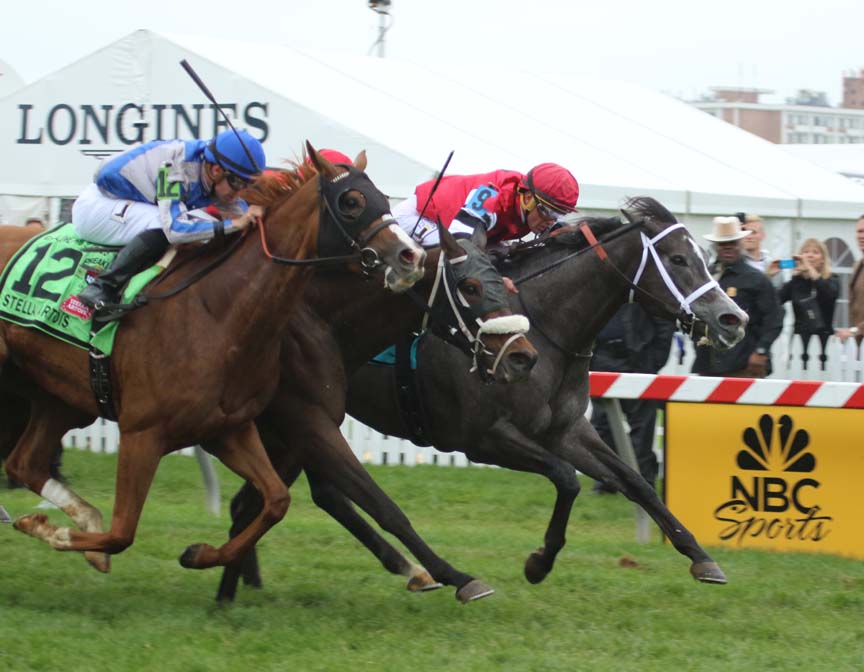 Mizz Money (#9) held off Vielsalm (in between) and Heath (#12) to win the Grade 3 Gallorette. Photo by Laurie Asseo.
The GQ Approach features full-card selections from Laurel Park (w/ live racing every Friday, Saturday and Sunday throughout 2016; Post Time 12:30pm EDT), including a daily Best Bet, Longshot Play, and multi-race wagers — including the 20 cent Rainbow Pick-6, 50 cent Jackpot Pick-5, as well as Pick-4s and rolling Doubles, Pick-3s and the Super High-5. 
CARRYOVERS
Rainbow Pick 6: no carryover
Super High 5: $604.81
Late Pick 5: no carryover
BEST BET OF THE DAY
Race 5 / #5 – Path Dependent (9-2)
LONGSHOT PLAY OF THE DAY
Race 3  / #7 – First to Fire (6-1)
[su_heading size="21″ align="left"]Multi-race wagers[/su_heading]
Race 1: $2 Double 1, 2, 5 w/ 5  ($6)
Race 3: $0.50 Pick-3  7, 8, 9  w/ 1, 6, 8  w/ 2, 5, 10  ($13.50)
Race 6: $0.50 Pick-5  2, 4, 6  w/ 1, 8  w/  4, 10, 11  w/ 2, 4  w/ 1, 5  ($36)
Race 9: $2 Double 2, 3, 4  w/ 1, 5  ($12)
[su_heading size="21″ align="left"]Analysis[/su_heading]
Number of races scheduled for turf: 5 (1st, 3rd, 5th, 7th and 8th)
Weather: Mostly Cloudy, highs in the mid 50's
Projected condition of main track: FAST
Projected condition of turf: FIRM
Race 1 is ON THE TURF
#5 – Dun Won (7-2): First start after W. Potts claim (24%) out of same condition; beaten favorite in 2 of last 3 races; has the back class to win if improves just a tad                 
#1 – Cracking Good Pins (8-1): Nice turf record but has yet to hit the board in 4 Lrl turf tries; gets H. Karamanos back in irons; stretch back out to one mile should provide opportunity at a price    
#2 – Intrepid Alex (4-1): Might look for a gate-to-wire score coming off sprint v. better; 2 for 3 at this distance and gets F. Lynch aboard, winner of 4 races on Thanksgiving      
Race 2
#5 – Michael's Butterfly (7-5): Faces a very weak group of $11k Open Claimers as she drops after a win for $15k; only gal in here who has beaten winners; 4-5 at Post Time is likely            
#1 – Neetee Rides Again (5-2): Best option to threaten top pick as she was runner-up when 4-wide on the turn when 29-1; addition of blinkers might reverse her fortunes              
#9 – Balharbour Miss (6-1): Del shipper for 20% trainer must be respected on the drop from $25kN2L when a troubled 4th     
Race 3 is ON THE TURF
#7 – First to Fire (6-1): $$$ LONGSHOT $$$ Broke maiden in 11th career start in last outing v. $16k MCL sprinting on turf w/ 10lb. bug girl; looks like she can repeat that performance here due to being Lone Speed    
#9 – Not a Secret (10-1): Last time she sprinted on grass, she earned her first career win; recent efforts going long have been versus better at long odds; jock switch to H. Karamanos could yield immediate dividends          
#8 – Airlie's Diamond (4-1): This "Cash Cow" (22:1-5-4) had a hiccup in latest (9th by 5¼) and drops seeking elusive second career win; needs to be closer to anticipated slow pace today          
Race 4
#8 – The Pulse (9-5): Makes third start off layoff; loves Lrl (11:5-0-2) but could be vulnerable as he likes a little moisture on the track and going 6f is his upper distance limit if he gets pressed early              
#6 – Curlin's Kid (8-1): 5 of 6 ITM at the distance; always gives honest effort and is only runner in here coming off race v. Open Claimers as is this condition        
#1/1A – It's a Bang / My Charming Clyde (5-2): A nice 1-2 punch for trainer W. Potts as either could get to Winners Circle on class drop and clean trips as both come off adventurous races
Race 5 is ON THE TURF
 #5 – Path Dependent (9-2): *** BEST BET *** Typical K. Magee first race after claim move in last outing, stepping to see how he'll run, then drops back to manageable level to win; should alos improve in second race going two turns        
 #2 – My Own Lane (5-1): Private purchase after most recent race v. MSW; may have been a bargain hence the drop in a much easier spot here but jock choice doesn't show confidence
#10 – Irish Major (10-1): Can boast best turf Brisnet# (88) earned two back when caught at the wire after leading every step of the way at this same $16k MCL level            
Race 6 
#6 – Better Way (4-1): Was turned out for 6 months before getting back to training last month; work pattern shows she should be ready for a top effort in this event restricted to MD-breds          
#2 – Bawlmer Hon (7-5): 8 of 9 career outing have been sprinting while lone win came in only effort going two turns 3 races ago… duh! So why did he return to sprinting?   
#4 – Money for Maria (3-1): Has done well since J. Ness claim 5 races back (4:2-0-2) at PA and DE tracks but needs to prove she can handle Lrl unlike in the past (8:0-0-0)      
Race 7 is ON THE TURF
#8 – Be Counted (6-1): FTS by Gio Ponti out of a Sadler's Wells screams turf for outfit who loves to own turf runners; concern is why trainer G. Motion using A. Cintron who's 0 for 14 w/ him?      
#1/1A – Justifiable Junior / Twin Valor (6-1): #1A needs a scratch to draw in off AE, so if he's "live" look for the #1 to scratch (wink)… or vice versa as #1 is FTS by Smarty Jones w/ a couple bullet works but will debut w/o Lasix
#5 – Flankenstein (7-2): Makes third career start and has shown early speed in both (on turf); cut back from one mile should help chances to get diploma in gate-to-wire fashion      
Race 8 is ON THE TURF
#4 – Southern Equity (3-1): Been an Also-ran in last quartet of races v. better, but turf Brisnet#s are among the best during that stretch; takes big class drop in search of third career victory     
#11 – Porta Cochere (8-1): All seven turf starts have been sprints; pedigree suggests two turns will not be an issue; beaten favorite in latest when 5-wide on the turn       
#10 – Cosmopolitian Girl (5-1): Got second career win in last outing on 4th consecutive class drop, can beat this group of N3L with similar effort  
Race 9
#2 – Emelina (5-2): Turf to dirt angle here has resulted in a win in the past; 2 for 3 at this distance and appears to be Lone Speed while sporting top Brisnet Prime Power number    
#4 – Optimistic Outcome (5-1): Blinkers come off just one race after adding them; trainer A. Pecoraro gets 50% of Lrl starters in Exacta (14:4-3-0); this gal dances every dance and won lone start at Lrl back in Apr.
#3 – Understanding (4-1): Will need pace help from unknown sources to be able to make up ground in deep stretch; been stuck competing at this condition the past 7 races   
Race 10 is ON THE TURF
#5 – Magician'scalendar (3-1): Second start w/ blinkers, second start after layoff, was beaten favorite and speed figures are ascending BUT big question is can he handle added distance   
#1 – Bridge Builder (6-1): Finished behind top choice in latest which was first on dirt after starting career w/ two on synthetic @ Pid; all 3 works since last start have been bullets             
#2 – Just Trey (7-2): Disappointed backers @ CT going 7f v. MSW after a game third locally v. $25k MCL; trainer J. Corrales does well w/ first-time routers (21%)       
YESTERDAY'S NEWS  
On Thursday November 24th at Laurel had 7 winners from the 10 race card (3 Top Selections; payoff in BOLD) having $2 WIN pay-off of $5.60 (1st race), $10.60 (2nd), $6.20 (3rd), $12.60 (4th), $19.00 (5th), $11.00 (8th) and $10.40 (10th). Of the suggested Multi-race wagers hit the R1-R2 $2 DOUBLE for $51.00 (cost: $18) and the R3-R5 50 cent Pick-3 for $194.15 (cost: $13.50). Year-to-date Top Selections are 267 for 1,058 (25.24%).
BEST BET of the Day (111: 29-23-16) Enough is Enough (9th race: 3-1 M/L; 2-1 PT) saved ground the first turn, raced in the two path between horses to the far turn, angled out a bit in upper stretch, failed to be a menace and passed tired horses to finish 4th.
LONGSHOT PLAY of the Day (108: 10-13-16) Lockupthebourbon (7th race: 15-1 M/L; 45-1 PT) a forward factor five wide entering the turn, weakened to finish 7th.