The GQ Approach – Laurel November 24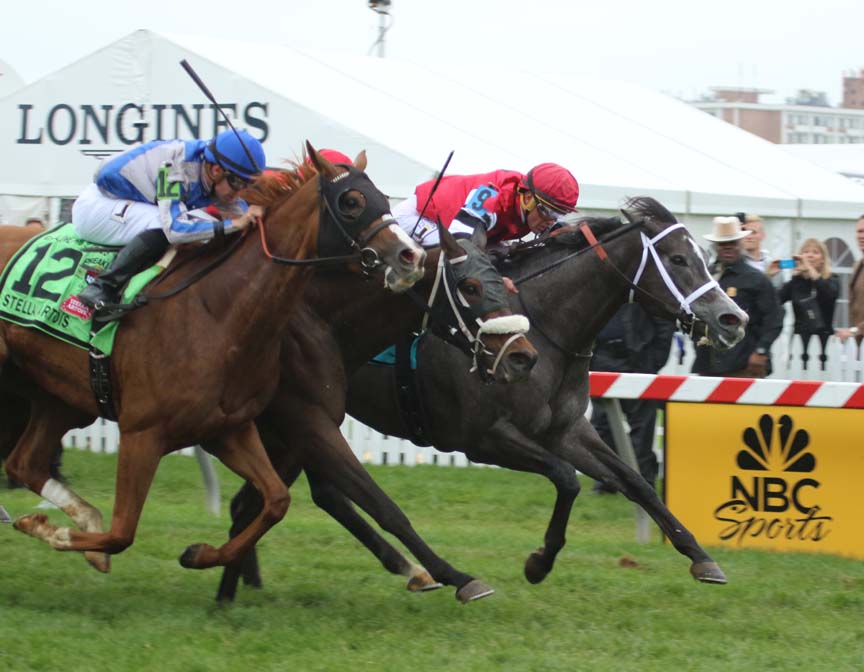 Mizz Money (#9) held off Vielsalm (in between) and Heath (#12) to win the Grade 3 Gallorette. Photo by Laurie Asseo.
The GQ Approach features full-card selections from Laurel Park (w/ live racing every Friday, Saturday and Sunday throughout 2016; Post Time 12:30pm EDT), including a daily Best Bet, Longshot Play, and multi-race wagers — including the 20 cent Rainbow Pick-6, 50 cent Jackpot Pick-5, as well as Pick-4s and rolling Doubles, Pick-3s and the Super High-5. 
HAPPY THANKSGIVING – POST TIME 11:25am EST
CARRYOVERS
Rainbow Pick 6: $21,411.
Super High 5: $4,493.
Late Pick 5: no carryover
BEST BET OF THE DAY
Race 9 / #4 – Enough is Enough (3-1)
LONGSHOT PLAY OF THE DAY
Race 7  / #14 – Lockupthebourbon (15-1)
[su_heading size="21″ align="left"]Multi-race wagers[/su_heading]
Race 1: $2 Double 1, 5, 6  w/ 1, 6, 7  ($18)
Race 3: $0.50 Pick-3  1, 2, 11  w/ 2, 5, 6  w/ 3, 4, 5  ($13.50)
Race 6: $0.50 Pick-5  2, 5  w/ 2, 6, 14  w/  6, 9 w/ 4, 9 w/ 4, 9, 11 ($36)
Race 9: $2 Double 4, 9 w/ 4, 9, 11  ($12)
[su_heading size="21″ align="left"]Analysis[/su_heading]
Number of races scheduled for turf: 5 (1st, 3rd, 5th, 6th, 8th and 10th)
Weather: Mostly Cloudy, highs in the mid 50's
Projected condition of main track: FAST
Projected condition of turf: FIRM
Race 1 is ON THE TURF
#5 – Dark Gemini (2-1): NY shipper from the G. Weaver barn has been knocking door while competing at $40k MCL level; will need early speed to come back to him late                 
#1 – Gin Fuzz (5-2): Classic case of "Seconditis" (13:0-6-1); beaten favorite in 5 of last 8 starts; one day he'll get to the Winners Circle… maybe today?     
#6 – Strong Side (8-1): Gets back on turf where he came up just 1½ lengths short sprinting in debut @ Cby; 3 y.o. gelded son of English Channel should enjoy stretching out     
Race 2
#6 – Northern Prancer (4-1): Makes third start after layoff as latest was a maiden breaker in lucky #13 start; going with the "Lightbulb Theory" that she can continue her winning ways          
#1 – Mrs. Brenner (10-1): Been on the shelf 3 months since dull performance v. $10kN2L after be competitive at this races level; banking on that return to form              
#7 – Katie's Caddie (9-2): Drops to lowest level of 14 races career seeking second win but first on a fast track and first of in '16 for him and his 0 for 24 jock     
Race 3 is ON THE TURF
#1 – Bete Noir (3-1): Drops back in for a tag trying to get diploma in 16th try; been part of Superfecta in last 8 races, all two turn events on the turf; lost by a half-length in both efforts at this level    
#2 – Any Given Trace (5-2): Well-traveled 3.y.o. filly makes Lrl her 6th racing venue in 11 starts; blinkers helped in latest when full of run but lacked run late          
#11 – Wednesdays Only (9-2): Gets T. McCarthy back in irons after failing nearly pulling off gate-to-wire score when 17-1 v. MSW; has recorded best turf Brisnet# of this group        
Race 4
#2 – Stolen Secrets (6-1): Away since June and returns to sprinting on dirt v. turf for 18% trainer (L. Curtis) w/ first Lrl starter this year; jock J. Montano exits #1 (3-1) for this gal              
#6 – Thissongisaboutyou (6-1): Second start with blinkers, third start after layoff; looking to recapture form from earlier this year when runner-up in first two races of career        
#5 – September Issue (5-2): Showed a bit of late interest in debut on turf @ Bel when 48-1 for Shug who does better (21%) w/ second-timers; switch to dirt seems like the right choice based on works
Race 5 is ON THE TURF
#3 – Datamining (12-1): Showed signs of life in latest when a clear third at 32-1 travelling this distance v. better N2L; just a small improvement can get him to wire first        
#4 – Caldera (5-2): Takes big drop in second race after being claimed out of $16k MCL win; can boast best turf Brisnet# among this assembled group
#5 – Broad Axe Bernie (10-1): Jock F. Lynch will be 9th different rider in this geldings last 10 efforts; this Closer should benefit from a potential pace meltdown            
Race 6 is ON THE TURF
 #5 – Against the Win (5-2): Beaten favorite when going long v. open $25k Claimers but cuts back to sprint where he's been successfully v. much better; connections may want to cut ties as turf season comes to a close                 
 #2 – Sky Commander (3-1): Takes a step up in class after beating open $7,500 Claimers in turf sprint local debut; can repeat here with same effort   
#13 – Oak Bluffs (7-2): Needs one scratch to draw in from AE List; been in Exacta 9 of 11 times at distance and surface; just missed in last after a rough trip; if this one doesn't get in, consider #6 – Bully Song (15-1) making first start off K. Magee claim     
Race 7
#14 – Lockupthebourbon (15-1): $$$ LONGSHOT $$$ Broke through for second career win in latest after being close in previous 6 efforts; sound 3 y.o. makes 16th start of the year and keeps getting stronger      
 #2 – Sweet Peaches (6-1): NY bred came south during the Summer in search of easier spots; has a win and runner-up finish in only two Lrl starts      
 #6 – Color Me Sexy (5-2): Vulnerable ML favorite IMHO in first race after claim at same level, waiting to get out of jail but was runner-up to a next out winner      
Race 8 is ON THE TURF
#6 – Justcallme K (4-1): Has earned best turf Brisnet# of this bunch which occurred v. better in restricted company when he nearly pulled gate-to-wire 81-1 upset; takes appropriate drop     
#9 – Spoiled by God (5-1): Stretched out to two turns as this Closer in sprints will try to answer if he can going a route of ground; bloodlines are filled with milers       
#7 – Invisible Crown (5-1): Won only start at Lrl when breaking maiden on turf for $25k MCL; might be best candidate for bottom wheel in Exacta or Trifecta
Race 9
#4 – Enough is Enough (3-1): *** BEST BET *** Trainer M. Eppler basically stole this versatile 3 y.o. gelding for $16k two back when winning v. N2L on turf then easily defeated a group of OC$16k on dirt; expecting a "turkey" (bowlers get the reference)    
#9 – It's the Journey (9-2): Very promising 2 y.o. last Fall when bagging heads with the likes of Awesome Speed, Vorticity, Ravenheart and Flash McCaul; needed to be sidelined in Feb. but works leading up to return indicate he's ready; add blinkers
#6 – How's Your Sugar (5-1): Last two races have been on the turf but has enjoyed success on Lrl main track (3:2-0-1); been recording best speed figs of career in latest efforts   
Race 10 is ON THE TURF
#9 – Don't Poke the Cat (9-2): Gelded since last start, a 7th place finish but just 3½ behind winner should that followed up a troubled third behind a nice winner and runner-up who won next out   
#11 – Speed Game (4-1): FTS by Discreet Cat out of an Honour and Glory mare has an extensive workout regime' for trainer T. Proctor and his 1st call rider A. Cruz             
#4 – Run From the Nun (10-1): Bred more to run on grass than dirt, so excusing the fact he stopped on a dime on fast track in latest yet very competitive in debut on turf and slop in next start       
YESTERDAY'S NEWS  
On Sunday November 20th at Laurel the card was cancelled after the first race due to extremely windy conditions, of which the $19.40 winner was not among GQ's top 3. Year-to-date Top Selections are 264 for 1,048 (25.20%).
BEST BET of the Day (111: 29-23-17) Lime Beach (1st race: 5-1 M/L; 3-1 PT) cleared the field shortly after the break, was taken to the inner rail near the five eighths pole, remained along the rail, was set down in upper stretch, switched to his right lead near the eighth pole and weakened, losing the runner-up spot a few strides before the wire to return $3.20 to SHOW.
LONGSHOT PLAY of the Day (107: 10-13-16) Barrel of Love (6th race: 5-1 M/L) this race was not run as the entire card was cancelled after the running of the 1st race.