The GQ Approach – Laurel November 20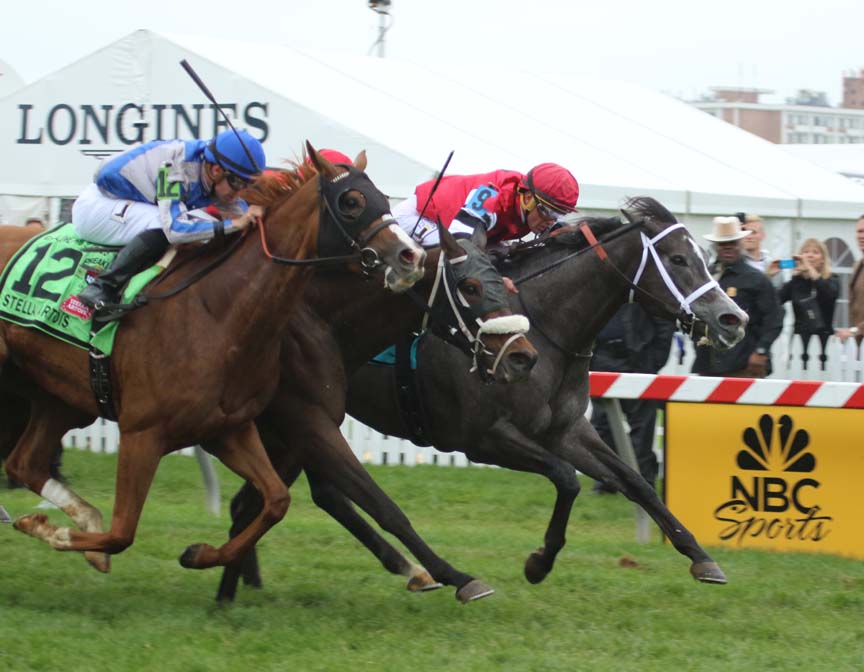 Mizz Money (#9) held off Vielsalm (in between) and Heath (#12) to win the Grade 3 Gallorette. Photo by Laurie Asseo.
The GQ Approach features full-card selections from Laurel Park (w/ live racing every Friday, Saturday and Sunday throughout 2016; Post Time 12:30pm EDT), including a daily Best Bet, Longshot Play, and multi-race wagers — including the 20 cent Rainbow Pick-6, 50 cent Jackpot Pick-5, as well as Pick-4s and rolling Doubles, Pick-3s and the Super High-5. 
CARRYOVERS
Rainbow Pick 6: $21,411.
Super High 5: $4,493.
Late Pick 5: no carryover
BEST BET OF THE DAY
Race 1 / #3 – Lime Beach (5-1)
LONGSHOT PLAY OF THE DAY
Race 6  / #8 – Barrel of Love (5-1)
[su_heading size="21″ align="left"]Multi-race wagers[/su_heading]
Race 1: $2 Double 3, 4, 7 w/ 5, 6, 7  ($18)
Race 3: $0.50 Pick-3  1, 4, 7  w/ 2, 3, 9  w/ 1, 2, 9  ($13.50)
Race 5: $0.50 Pick-5  1  w/ 3, 4, 8  w/  7, 9, 14 w/ 4 w/ 4, 9 ($9)
Race 8: $2 Double 4  w/ 1, 4, 9  ($6)
[su_heading size="21″ align="left"]Analysis[/su_heading]
Number of races scheduled for turf: 4 (1st, 4th, 6th and 8th)
Weather: Cloudy and very windy, highs in the mid 40's
Projected condition of main track: FAST
Projected condition of turf: FIRM
Race 1 is ON THE TURF
#3 – Lime Beach (5-1): *** BEST BET *** Nice third place effort in debut going two turns, especially when runner-up came back to graduate and winner followed up with a victory on Friday                 
#7 – Stormy Alexis (3-1): Ships in from the Big Apple after getting Show purse when adding blinkers in latest, an "off the turf" 4-horse affair; was runner-up in her debut here 10 races ago    
#4 – German Edition (5-2): Only competitor in here who has raced this 9 furlong distance or more on the turf; seems to be getting with each start      
Race 2
#7 – Tweeting (5-1): This Glen Hill Farm home bred is a FTS by Uncle Mo out of an A.P. Indy mare that has a picture perfect A.M. work tab leading up to her debut          
#5 – Lady Keswick (9-2): Surprised connections in debut when she rallied late just missing by a neck when sent off 15-1; like the two works since, the latest a bullet              
#6 – Rockin (9-2): Was rollin' late in debut to be a distant runner-up when 2-1 Post Time second choice @ Del; adds Lasix in hopes of earning diploma today     
Race 3
#7 – Finito (5-1): Steps up a level while in jail after G. Brooks claim; has faced and beaten better and the last 7 races chart comments are filled with "wide" trips and trouble    
#1 – Fran's Buckaroo (7-2): Runner-up by half-length in latest at this same condition and distance; reclaimed by D. Houghton 3 back, who earlier this year had this gelding winning for $15k         
#4 – D N A Approved (5-1): Draw a line through that last one on the turf; previously was third in open $7,500 Claimer              
Race 4 is ON THE TURF
#2 – Stormin Babe (3-1): Just missed by a nose in latest/second career start; hoping the third time is a charm as there was improvement from debut to second effort              
#9 – Discreet Deceit (6-1): Adds blinkers for fourth career start; two runner-up efforts sprinting on turf to start career then tried dirt going 6f, getting lead late only to succumb to two foes       
#3 – Perfect Party Girl (4-1): Her early speed has only been able to carry her 5 furlongs in her last 3 turf sprints… as she matures she'll eventually build stamina to get at least 5½… maybe today
Race 5
#1 – Set to Dance (8-5): Royally bred 3 y.o. daughter of Distorted Humor was second best in debut though 11 behind winner @ Bel; "house horse" adds Lasix and blinkers while stretching out        
#2 – Cantate Domino (12-1): Tried turf route in third start and was fourth behind a couple next out winners; returns to dirt where she was runner-up in second start way back in January
#9 – Snow Queen (5-1): Trainer O. Figgins does well w/ second time starters and when stretching out from sprint-to-route; speed fig puts this daughter of Colonel John in the mix          
Race 6 is ON THE TURF
#8 – Barrel of Love (5-1): $$$ LONGSHOT $$$ Finished 5½ behind Phlash Phelps on MD Million Day and just 3¼ back in Lrl Dash two back when 112-1; switch to E. Prado is HUUUGE!  
#4 – Artic North (6-1): Races on a day when an "artic blast" hit the Laurel area; pressing pace in latest was ill-advised and weakened late; back class should show today   
#3 – Merry's Honor (10-1): Gets blinkers for second straight race; been sprinting just 5f on grass in PA but has gone this one mile 3x in the past, with just one SHOW effort but a decent speed fig
Race 7
#14 – Cho Time (5-1): Had no business trying to go two turns in latest start; back to sprinting where long-in-the-tooth gelding has been successful this year      
#9 – Flyingtobechilders (6-1): Appears connections aren't interested in keeping this 7 y.o. turf runner around this winter, so they're dangling the carrot (re: multi-level class drop) to see if there are any takers; can run on dirt (7:1-0-3)      
#7 – Dr. Bolt (15-1): Might be a stretch but runs here under Waiver Claiming" provision as he hasn't raced since getting claimed in April; connections must think he's doing well enough that they don't want to lose him     
Race 8 is ON THE TURF
#4 – Svindahl (5-1): 5 y.o. gelding has the back class to step back up after H. McMahon claim for $5k when run @ The Big T, just second start on dirt; being protected is a positive sign     
#7 – The Great Provider (5-2): Has been providing too many Place and Show efforts to be the ML or PT favorite as he hasn't visited the Winners' Circle in over a year; best of a poor lot?       
#2 – Jo Way Java (15-1): Been competing at this level most of the year w/ mixed results; should get at least 20-1 in here; early speed going one mile last start could prove to have been an unintended tactic change coming back to sprints
Race 9
#4 – Holiday Magician (5-1): Ran out of real estate in latest try to earn diploma when runner-up going 5½ furlongs; just a question on whether she's matured since then to put it all together    
#9 – La La Bamba (5-1): Has finished right behind top pick in her last two when adding blinkers; trainer L. Gaudet has been wearing out a path to the Winners' Circle recently, so any improvement could make her a winner
#1 – Faze the Nation (9-2): Not a bad effort versus winners in MD Million Lassie when coming off 4 month layoff; should find this group of maidens easier to handle; tough assignment from rail   
YESTERDAY'S NEWS  
On Saturday November 19th at Laurel had 5 winners (no top picks) rom the 11 race card having $2 WIN pay-off of $6.40 (4th race), $6.40 (5th), $6.80 (6th), $7.40 (7th) and $8.20 (9th). Year-to-date Top Selections are 264 for 1,047 (25.21%).
BEST BET of the Day (110: 29-23-16) X Y Jet (9th race: 9-5 M/L; 1-5 PT) cleared the field shortly after the break, was taken to the inner rail near the five eighths pole, remained along the rail, was set down in upper stretch, switched to his right lead near the eighth pole and weakened, losing the runner-up spot a few strides before the wire to return $2.10 to SHOW.
LONGSHOT PLAY of the Day (107: 10-13-16) Rated R Superstar (7th race: 10-1 M/L; 7-1 PT) lacked speed, raced along the rail around the turn, rallied mildly, drifted out in the stretch while being the best of the rest to get third and return $3.20 to SHOW. LONGHSOT PLAY ROI = $0.92 ($130.40 / 107).