The GQ Approach – Laurel November 19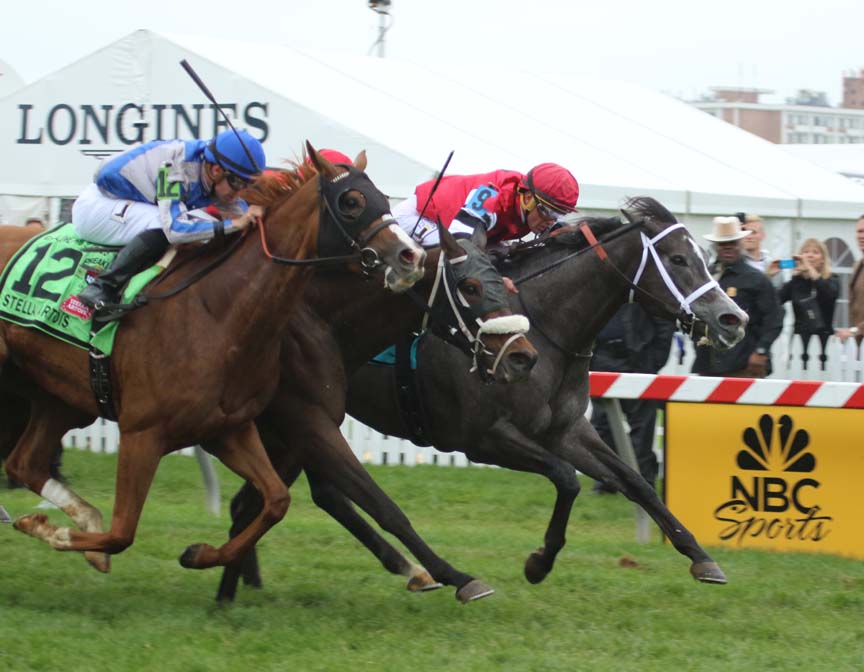 Mizz Money (#9) held off Vielsalm (in between) and Heath (#12) to win the Grade 3 Gallorette. Photo by Laurie Asseo.
The GQ Approach features full-card selections from Laurel Park (w/ live racing every Friday, Saturday and Sunday throughout 2016; Post Time 12:30pm EDT), including a daily Best Bet, Longshot Play, and multi-race wagers — including the 20 cent Rainbow Pick-6, 50 cent Jackpot Pick-5, as well as Pick-4s and rolling Doubles, Pick-3s and the Super High-5. 
CARRYOVERS
Rainbow Pick 6: $16,278.14
Super High 5: $4,742.45
Late Pick 5: $3,784.02
BEST BET OF THE DAY
Race 9 / #8 – X Y Jet (9-5)
LONGSHOT PLAY OF THE DAY
Race 7  / #1 – Rated R Superstar (10-1)
[su_heading size="21″ align="left"]Multi-race wagers[/su_heading]
Race 1: $2 Double 3, 6, 12 w/ 1, 7, 8  ($18)
Race 3: $0.50 Pick-3  3, 9, 12  w/ 1, 8, 10  w/ 1, 2, 12   ($13.50)
Race 7: $0.50 Pick-5  1, 4, 10  w/ 2, 8, 9  w/  8  w/ 6, 8  w/ 5, 8  ($18)
Race 10: $2 Double 1, 6, 8  w/ 1, 5, 8  ($18)
[su_heading size="21″ align="left"]Analysis[/su_heading]
Number of races scheduled for turf: 4 (1st, 3rd, 8th and 10th)
Weather: Mostly Sunny, highs in the upper 60's
Projected condition of main track: FAST
Projected condition of turf: FIRM
Race 1 is ON THE TURF
#12 – Uncle Tito (6-1): Exits two $7,500 Open Claiming events where he encountered traffic in both yet only finished a couple lengths behind the winner while turf speed figs have climbed          
#6 – Minor Legend (5-1): Should be enough early speed to test if this turf course will continue to be kind to front runners… if not, look for this Closing Sprinter to take advantage of the pace meltdown                 
#3 – Tazmanian Charlie (10-1): Was too eager on the front-end of a two turn turf event in first race after a short layoff and weakened late; could have been served as a prep for today's sprint   
Race 2 is the $100k Smart Halo Stakes
#8 – Riley's Choice (4-1): Rebounded to break maiden in second career start after so-so debut when off as 3-5 Post Time favorite; complimented when runner-up (#3 in here) came back to win next start
#1 – Toby Girl (6-1): Only runner of this group whose still a maiden, though she's just making her second start flashed early speed going 7 furlongs in debut before succumbing to eventual winner (#9 in here)
#7 – Perfect Wife (7-2): Word was out on this gal as she won debut as 3-2 Post Time favorite in a very professional manner; any forward progression will make her tough to beat     
Race 3 is ON THE TURF
#9 – Blake's Magic (8-1): Appears trainer J. Ness has successfully converted this once deep closer into laying just behind the early speed; should be enough speed in here to give him first run at them turning for home    
#12 – Monster Sleeping (7-2): This 7 y.o. mare has been a monster to her foes locally but she's now in the twilight of her stellar career, hence is in for the $25k tag; last time she visited the Winners' Circle was in Apr. on this turf course at this distance         
#3 – Goodbye Sorrow (3-1): Bel shipper makes first start after D. Gargan claim over 2 months @ Sar for same tag as she's being offered today (Caution Flag?!); will need to get first jump on the rest of the early speed and see how far it will carry her     
Race 4 is the $100k James F. Lewis III Stakes
#10 – High Rollers (9-2): Impressive debut win on 9/11 over this Lrl surface saw Show finisher come back to win next out just as impressively over Morning Line favorite in here (#8); been working lights out with a few bullets in preparation for second start              
#1 – Two Charley's (15-1): No shame when third, first time v. winners, behind two buzz-saws who next out placed in a graded stakes and won a minor stakes; tough getting the rail (again)
#8 – El Areeb (8-5): Took three tries to graduate when well backed in each but not sure who he beat as winner of his previous race (when runner-up) came back and flopped as second choice in MD Million Lassie
Race 5 is the $100k Richard W. Small Stakes
#1 – Tommy Macho (2-1): Only entry on the card for trainer Todd A. Pletcher; disappointed bakers big-time in first race in 8 months when last of 5 as 2-1 second choice in G2 Kelso @ Bel; runner-up came back to win BC Mile; 1 for 4 at distance was in a G3 over a sloppy Aqu surface     
#2 – Name Changer (9-2): Earned personal best (102) Brisnet# with a dominating victory in latest effort, his local debut v.N2X; got the Show purse when 6 behind G3 WV Derby winner Cupid in only previous race at distance
#12 – Discreet Lover (20-1): Speed figures have been ascending and just missed in latest in second start with blinkers v. N2X; draw lines through his graded stakes races and he looks playable in here; Cross-entered in City of Laurel Stakes (Race 7); if scratched, consider using #9 – For Greater Glory (20-1)        
Race 6 is the $100k Safely Kept Stakes
#2 – Malibu Stacy (7-2): This race sets up perfectly for her as its filled with 6f early speed; She comes off a runner-up effort in the G2 Raven Run @ Kee and won her only other 7f outing three back
#8 – Takrees (5-1): Latest was better than it looks on paper; this deep Closer was hung out 7-wide entire trip while still making up ground late; got up for Show purse in first graded stakes try (G2 Prioress @ Sar) two back; expect pace meltdown here to help chances
#9 – Tale for Ruby (6-1): Has been runner-up twice since coming back from two month layoff, failing as odds-on Post Time favorite v. first level Allowance company; 7f appears to be her best distance (2:1-1-0) as she can boast the best career Brisnet# (99) among this group for 7 panels
Race 7 is the $100k City of Laurel Stakes
#4 – Rated R Superstar (10-1): $$$ LONGSHOT $$$ Well beaten Post Time favorite in last outing @ CD v. N3X when track was playing to early speed, something he ain't got! Won G3 Carry Back @ GP at today's distance in July; chased BC Sprint Champ Drefong in G1 King's Bishop
#10 – Awesome Speed (8-1): May have been asking too much to take on graded stakes foes in first start since getting drowned in Preakness; going this middle distance @ Lrl where he's a perfect 3 for 3 might be just what the doctor ordered to return to his winning ways; could SCRATCH as he's entered in $200k Fabulous Strike @ Pen next Wed., if he does then consider using #6 – Hot Seat (7-2)
#1 – Nicaradalic Rocks (12-1): Qualifies for "Claim of the Year" candidate as this MD-bred was nabbed for $20k @ SA in June and hasn't been off-the-board in 5 races since… all at higher levels which includes winning the MD Million Sprint Hcp in latest effort
Race 8 is ON THE TURF
#8 – Chamois (9-2): Lightly raced 6 y.o. from Christophe Clement barn is programmed to bring his "A" game in first race after a layoff; can boasts the best career turf Brisnet# of this group     
#2 – English Minister (6-1): Keeps coming up short of visiting the Winners' Circle at this distance on turf (12:0-4-2) but is as game as they come and that streak will end… today… it could happen  
#9 – Phlash Phelps (8-5): Local turf superstar appears to be vulnerable favorite based on top two having an edge in turf Brsinet#s and #2 has already gotten the better of him in only other meeting
Race 9 is the $250k Frank J. DeFrancis Memorial Dash
#8 – X Y Jet (9-5): *** BEST BET *** Speed kills and in this case the other 8 foes that will try to catch this guy as surprisingly a grade stakes sprint comes up lacking runners with early speed, like this one
#9 – Stallwalkin' Dude (5-2): Bounced back nicely to win G3 Bold Ruler @ Bel after losing G1 Vosburgh by 1 late; has a 4-race streak of 100+ Brisnet#s going but will need early pace help from unexpected sources
#2 – Ivan Fallunovalot (5-1): Only mount on the card for Hall of Fame jockey Calvin Borel, who returned from a five-month retirement in August, has been to the Winners' Circle on this gelding at least a half dozen times; have to respect this RP shipper as he's 10 for 15 at the distance
Race 10 is ON THE TURF
#6 – Kaitain (6-1): Only turf effort came in last start, sprinting after a nearly 10 month layoff which had the look of a runner wanting to go a route of ground… and gets it here; both dirt victories were at one mile and 1 1/16 miles   
#8 – Steel Sky (10-1): Fits at this class level but the 2 for 25 lifetime record sticks out like a sore thumb; appeared to be poised to make strong bid for third win but was "Taken up at 1/8th"           
#1 – Big Joe Candy (6-1): Just 3 turf starts without a win but in latest at this level ran on nicely through the stretch to get Show purse and earn a speed fig worthy of giving him a shot       
Race 11 is the $75k Geisha Stakes
#5 – Candida H. (6-1): Third race after layoff could be the charm as she'll be back on a fast track which she prefers (10:4-4-1); other foes may wilt in deep stretch as she'll be rallying
#8 – Cee Bee Gee Bee (10-1): If not for some traffic issues she could have been a MD Million Distaff Hcp winner; look for another move forward in second start under trainer P. Schoenthal's conditioning
#1 – Lexington Street (8-1): Carrasco picks up mount as J. Toledo opts for #9, typically not an encouraging sign but willing to forgive off track failures in 2 of 3 '16 starts; 1 for 1 at today's distance and never OTB on a fast track makes her a threat
YESTERDAY'S NEWS  
On Friday November 18th at Laurel had just 3 winners from the 9 race card (1 Top Selection; payoff in BOLD) having $2 WIN pay-off of $8.80 (1st race), $4.40 (4th) and $12.20 (9th). Note: Year-to-date Top Selections are 264 for 1,036 (25.48%).
BEST BET of the Day (109: 29-23-15) Boon Companion (3rd race: 6-1 M/L; 6-1 PT) lingered towards the back of the pack throughout the early stages of the contest, was asked to pick it up on the turn but could not make up any ground, yielding to other Also-Rans late to finish 8th.
LONGSHOT PLAY of the Day (106: 10-13-15) First Notion (5th race: 8-1 M/L; 7-1 PT) raced mid-pack to the ¼ pole, rallied three wide turning for home and continued on strongly to the wire but was no match for the winner, settling for the runner-up position to return $7.00 to PLACE and $3.80 to SHOW.