The GQ Approach – Laurel November 18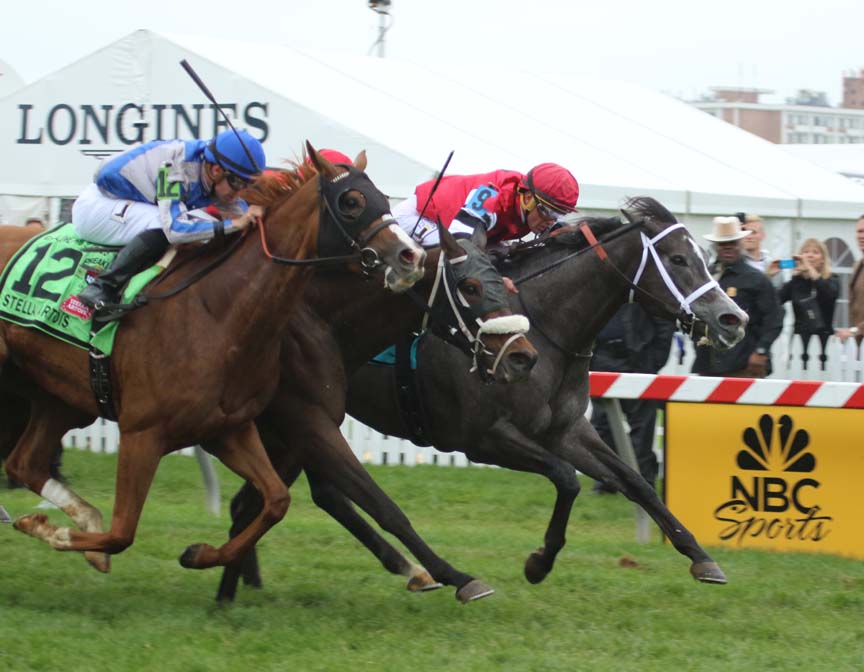 Mizz Money (#9) held off Vielsalm (in between) and Heath (#12) to win the Grade 3 Gallorette. Photo by Laurie Asseo.
The GQ Approach features full-card selections from Laurel Park (w/ live racing every Friday, Saturday and Sunday throughout 2016; Post Time 12:30pm EDT), including a daily Best Bet, Longshot Play, and multi-race wagers — including the 20 cent Rainbow Pick-6, 50 cent Jackpot Pick-5, as well as Pick-4s and rolling Doubles, Pick-3s and the Super High-5. 
CARRYOVERS
Rainbow Pick 6: $14,256.94
Super High 5: $851.78
Late Pick 5: no carryover
BEST BET OF THE DAY
Race 3 / #8 – Boon Companion (6-1)
LONGSHOT PLAY OF THE DAY
Race 5  / #8 – First Notion (8-1)
[su_heading size="21″ align="left"]Multi-race wagers[/su_heading]
Race 1: $2 Double 1, 8, 10 w/ 3, 7, 9  ($18)
Race 3: $0.50 Pick-3  3, 4, 8  w/ 5, 6, 7  w/ 2, 4, 8   ($13.50)
Race 5: $0.50 Pick-5  2, 8  w/ 4  w/ 7, 9, 10 w/ 2, 9 w/ 2, 7  ($12)
Race 8: $2 Double 2, 9, 11  w/ 2, 7, 14  ($18)
[su_heading size="21″ align="left"]Analysis[/su_heading]
Number of races scheduled for turf: 5 (1st, 3rd, 6th, 7th and 9th)
Weather: Mostly Sunny, highs in the upper 60's
Projected condition of main track: FAST
Projected condition of turf: FIRM
Race 1 is ON THE TURF
#1 – Tracy Island (9-2): Has best last turf race Brisnet# (80) of this bunch; makes first start after H. McMahon claim out of $16kN2L nose defeat as Show horse came back to win next race             
#8 – Borealis Beauty (8-1): Been wanting to get on turf again since career debut sprinting just over a year ago; Street Cry descendants always want two-turns on grass as well                   
#10 – Gracie's Way (8-1): Tough outside post at this one mile will force V. Carrasco into an early decision whether to go to lead or tuck in       
Race 2
#7 – Haircut Bill (3-1): Should relish the cut back to 5½ furlongs as he's been building stamina since missing out on diploma by a neck going 6 panels here two back          
#3 – Kracken Glacken (5-2): A big disappointment so far warrants a big class drop designed to unload this NY-bred as for trainer M. Trombetta does well with this scenario (28%)             
#9 – Collateral Damage (7-2): Drops after starting career in two $25k MCL events… runner-up in debut in spite of a pre-race meltdown then was roughed up leaving gate and never threatened     
Race 3 is ON THE TURF
#8 – Boon Companion (6-1): *** BEST BET *** Is 1 of 2 three-year-olds in here with more than 2 career victories; returns to turf after winning at this level on dirt in first race after R. Leaf prudent claim    
#4 – Victory Slide (8-1): Was in over his head in Lrl return; should try to go gate-to-wire as this field is not loaded with early speed
#3 – Outfielder (15-1): Lone turf start v. better was not horrible to think he would not improve second time on the green with some class relief; jock M. Franklin is an underrated turf rider          
Race 4
#7 – A and Out (3-1): Winner of last start, beating the #5 by 2 lengths @ Del one level lower but has the back class to think she can repeat              
#6 – Chilly Start (2-1): … And a chilly finish (6th by 12) in PA-bred Alw1Nx @ Prx; drops back to claiming level where she's had success       
#5 – Little Miss Lupe (4-1): Drops down from a couple recent Starter Allowance races but still faces tougher Claimers than she has in her past; 2 for 3 lifetime over Lrl main track
Race 5
#8 – First Notion (8-1): $$$ LONGSHOT $$$ Only starter on the card for CT based trainer J. Runco (26%); was sent off as 8-5 favorite in second start (5th by 8¼) after 5th place effort on turf in debut… Hmmm       
#2 – Stalk (7-2): MD-bred FTS by Archarcharch, bred and owned by top-notch Dark Hollow Farm; extensive work tab is nothing special but could be a nice runner
#4 – Hennessy Fire (6-1): Appears to be regressing with every start after being runner-up in debut 5 races ago; failed as PT favorite in last 4 starts; got Lasix for first time in latest but traffic issues derailed chances            
Race 6 is ON THE TURF
#4 – Follow No One (7-2): Switched to turf going two turns after sprinting on dirt in debut; game effort in sustained battle in deep stretch, but yielded to winner who came back to destroy FL-breds in a Juvenile Turf Stakes @ GPW last weekend                   
#12 – La Parisienne (10-1): Should improve off her debut sprinting on this turf course though outside post could be a hindrance; trainer A. Delacour gets 23% second-timers to Winners Circle   
#3 – Raining Lemons (8-1): FTS by Lemon Drop Kid out of a Hennessy mare will like going route of ground on turf; interesting that V. Carrasco lands here as he's typically 1st Call for trainer R. Jenkins who saddles another FTS #11      
Race 7 is ON THE TURF
#10 – Royal Source (4-1): Ultra-consistent 3-year-old Tapit filly as far as turf Brisnet#s; her maiden win fig (84) is tops among today's foes      
 #7 – Just a Glance Away (5-1): Returns from a 90 day vacation after spending Summer racing @ Pen; 11% trainer T. Wooley does well in this scenario (25%; 7 of 28); 4 previous Lrl turf starts at this same condition resulted losses by a neck, 1½, 1¾ and 3 lengths, the latter not the cleanest of trips      
 #9 – Union Et Force (5-2): Recent runner-up on Med turf in first start since mid-May; lone start at Lrl for this IRE-bred filly was a troubled third by 1 length v. similar      
Race 8
#9 – Easy River (5-1): Chased a couple nice runners in MD Million Sprint who are coming back to face each other in $100k stakes here tomorrow; seems to be regaining excellent 2 y.o. form     
#2 – Demon Buster (6-1): House Horse has done well is first race after layoff in young career; reunited w/ E. Prado who rode him to a win and runner-up efforts at this same level locally in the Summer       
#11 – Majestic Hussar (9-2): 6 y.o. still has the fire to compete at a high level; needed last one coming back from 8 month layoff when he faced OC$40kN3x
Race 9 is ON THE TURF
#7 – Axe Capital (9-2): Drops in for $40k Tag after just two starts… debut was encouraging on turf when showed late interest after rough start; like dirt try showing early speed than succumbing to two who ran away from her and the rest    
 #2 – Sullyvin's G G (4-1): FTS by Hansen out of a turf sprint stakes winning mare (Lady Rizzi) should be ready to roll for trainer M. Robertson (22% w/ FTS; 18% Debut on Turf; 23% Debut MCL)
#14 – Classic Influence (6-1): Equipped with blinkers today after "Dwelt start" in last when having outside post in Med turf sprint, as she does in here; counting on "Special K" to work his magic on turf   
YESTERDAY'S NEWS  
On Sunday November 13th at Laurel had 6 winners from the 9 race card (1 Top Selection; payoff in BOLD) having $2 WIN pay-off of $9.60 (1st race), $8.40 (5th), $6.60 (6th), $9.20 (7th), $11.00 (8th) and $15.40 (9th). Of the suggested Multi-race wagers hit the R8-R9 $2 DOUBLE for $135.20 (cost: $18). Note: Year-to-date Top Selections are Top Selections are 263 for 1,027 (25.60%).
BEST BET of the Day (108: 29-23-15) Bo Vuk (7th race: 4-1 M/L; 9-5 PT) three wide on the turn, floated to the five path turning for home and rallied outside the winner coming up just a neck short to return $3.20 to PLACE and $2.40 to SHOW.
LONGSHOT PLAY of the Day (105: 10-12-15) Purnata (8th race: 8-1 M/L; 9-1 PT) was steadied soon after the break, steadied again entering the turn, settled off the pace, angled out a bit for the drive but failed to overcome the early adversity as jock saved her for another day while finishing 9th.