The GQ Approach – Laurel November 13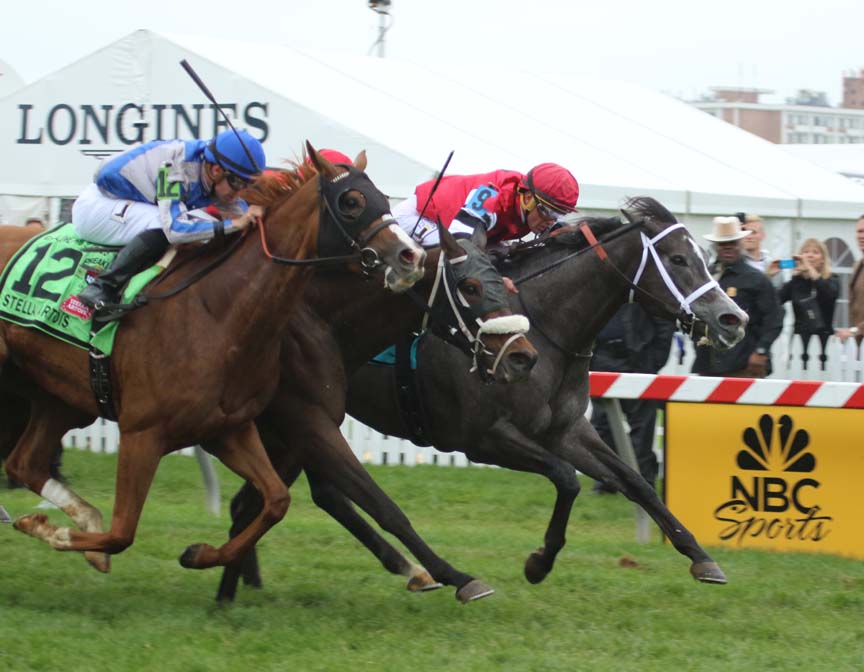 Mizz Money (#9) held off Vielsalm (in between) and Heath (#12) to win the Grade 3 Gallorette. Photo by Laurie Asseo.
The GQ Approach features full-card selections from Laurel Park (w/ live racing every Friday, Saturday and Sunday throughout 2016; Post Time 12:30pm EDT), including a daily Best Bet, Longshot Play, and multi-race wagers — including the 20 cent Rainbow Pick-6, 50 cent Jackpot Pick-5, as well as Pick-4s and rolling Doubles, Pick-3s and the Super High-5. 
CARRYOVERS
Rainbow Pick 6: $12,909.80
Super High 5: $822.64
Late Pick 5: no carryover
BEST BET OF THE DAY
Race 7 / #6 – Bo Vuk (4-1)
LONGSHOT PLAY OF THE DAY
Race 8  / #1 – Purnata (15-1)
[su_heading size="21″ align="left"]Multi-race wagers[/su_heading]
Race 1: $2 Double 2, 4, 7 w/ 4, 7, 8  ($18)
Race 3: $0.50 Pick-3  4, 9, 10  w/ 4, 5, 8 w/ 1, 3, 6  ($13.50)
Race 5: $0.50 Pick-5  1, 6  w/ 5, 11  w/ 2, 3, 6 w/ 1, 4 w/ 3, 10 ($24)
Race 8: $2 Double 1, 4, 8  w/ 3, 9, 10  ($18)
[su_heading size="21″ align="left"]Analysis[/su_heading]
Number of races scheduled for turf: 5 (1st, 3rd, 4th, 6th and 8th)
Weather: Mostly Sunny, highs in the upper 50's
Projected condition of main track: FAST
Projected condition of turf: FIRM
Race 1 is ON THE TURF
#4 – Cherished Prize (7-2): Had no business stepping up into MSW yet ran a credible 4th; returns to level where she's been runner-up in 3 of 5 tries             
#7 – Small Talk Aside (15-1): Horrific trip in second career outing gave her no shot; based on debut effort sprinting, stretch out can only help                   
#2 – Zendreya (5-1): Big improvement in second turf try when making first start for trainer L. Gaudet; runner-up came back to break maiden       
Race 2
#7 – Miss Maggie (9-2): Private purchase transferred down from the Great White North males first local start for W. Potts; faced better @ FE on natural dirt hitting the board 4 of 6 times          
#4 – Alwaysacontest (4-1): 9-year-old mare just keeps on chugging along; first start after W. Campbell claim resulted in third place effort, best showing in 3 lifetime "off track" tries              
#8 – Callmealion (9-2): Needs to duplicate that 6½f gate-to-wire victory she turned in 3 back; takes appropriate drop     
Race 3 is ON THE TURF
#10 – See What Happens (7-2): Ugly local turf record (19:0-5-1) but majority of those have been against OC$32kN2x or in minor stakes; steep class drop makes her a winner    
#9 – Stormy Mistress (8-1): Brisnet turf numbers continue to ascend; might get an easier early lead and hold off all others late rallies        
#4 – Chesapeake Spring (5-2): Leading rider J. Toledo would be wise to put this 4-year-old in a stalking position; always gives good account of herself at this level              
Race 4 is ON THE TURF
#4 – Upper Room (9-2): Failed as 7-5 Post Time choice in debut on dirt @ Del; switches to turf for conditioner A. Delacour who does best work w/ saddling runners for second start (23%) and grass debut              
#5 – Rule Yourself (9-5): Sagamore Farm just keeps churning out the home bred runners that excel at a high level; took time off after third career outing and now gets 4th different rider       
#8 – D. K's Code (15-1): Got no love from betting public or connections (31-1 & 53-1) in both starts; toss off the turf debut but late rally sprinting bodes well in stretch out
Race 5
#6 – Abracadabra (7-2): First race off J. Reynolds claim; protected based on optional claimer condition; tries dirt for first time since career debut when flashed early speed going one mile        
#1 – Oh What a Delite (6-1): Has the back class to compete in this dirt sprint as she showed early speed then faded going long on the turf
#3 – Vanidosa (9-2): Destroyed a weak N2L field @ home track (Pen); will need to repeat that effort to be considered a threat in here          
Race 6 is ON THE TURF
#11 – Ready Strike (9-5): NY shipper for owner/trainer D. Jacobson takes steep drop after getting second career win two back on Bel turf against $25k runners; needs someone to scratch to draw in off AE                   
#5 – Strong(5-2): Makes first start off Bargain Basement claim ($10k) from high profile connections; this gelding fetched $185k as a yearling but became obvious early that stakes races were not in his future   
#1 – Tambourin(2-1): Makes third start for off Midwest/D. Gargan claim but takes third straight class drop as well; the positive is he owns the best turf Brisnet# at distance and is bred to go 9f      
Race 7
#6 – Bo Vuk (4-1): *** BEST BET *** Has been very impressive since returning from 10 month layoff after bad debut; takes advantage of optional condition as he goes for natural Hat Trick    
#3 – Sun Boy (15-1): Ill-advised two turn effort while still in jail after claim may have been a public workout or bled based on first Lasix label today back sprinting      
#2 – Sir Orinoco (7-2): Second start after layoff after facing tough group of N1X should improve off that effort; gets T. McCarthy back in irons      
Race 8 is ON THE TURF
#1 – Purnata (15-1): $$$ LONGSHOT $$$ Game 4-year-old filly has competed at whatever level she's been entered; 0 for 10 on turf (10:0-4-5) but always in the mix; this one mile distance might be her best for getting first turf victory     
#8 – Ballinskelligs (3-1): Hard to ignore 2 for 2 turf record at this distance; makes 7th career start at 6th different venue; draw a line thru latest start, her only one not on turf       
#4 – My Kinda Gal (6-1): Been knocking heads with NY-breds in the Empire State going one turn; nice recent works @ Fai indicate she's fit and ready to take on  
Race 9
#10 – Young Dude (6-1): Undaunted by miserable last outing as off track has not been favorite surface; fact that he's been facing open claimers gives hope for a chance in this N1Y event    
#3 – Arrogant Officer (7-2): Nice late rally in latest local outing; has been a worthy competitor at this level recently to break through for first win in nearly two years 
#9 – Going to Market (12-1): Something obviously went amiss in that last start nearly 2 months; one look at the works since then indicates he could upset in the nightcap   
YESTERDAY'S NEWS  
On Saturday November 12th at Laurel had 5 winners from the 8 race card as 1st race was cancelled (2 Top Selections; payoff in BOLD) having $2 WIN pay-off of $16.80 (3rd race), $14.00 (4th), $5.80 (5th), $3.80 (6th) and $18.00 (7th). Of the suggested Multi-race wagers hit the R3-R5 50 cent Pick-3 for $72.40 (cost: $9). Note: Year-to-date Top Selections are Top Selections are 262 for 1,018 (25.74%).
BEST BET of the Day (107: 29-22-15) Tribal Honour (8th race: 4-1 M/L; 3-1 PT) prompted the pace outside the leader, drew on near even terms with a half to go, came under heavy pressure leaving the three eighths, stayed on to upper stretch then faded to finish 5th.
LONGSHOT PLAY of the Day (104: 10-12-15) Juliets Key (9th race: 8-1 M/L; 8-1 PT) chased the pace outside the early leader but could not gain in deep stretch while holding on to the Show purse just 1 ¾ lengths behind the winner to return $5.40 to SHOW.