The GQ Approach – Laurel November 12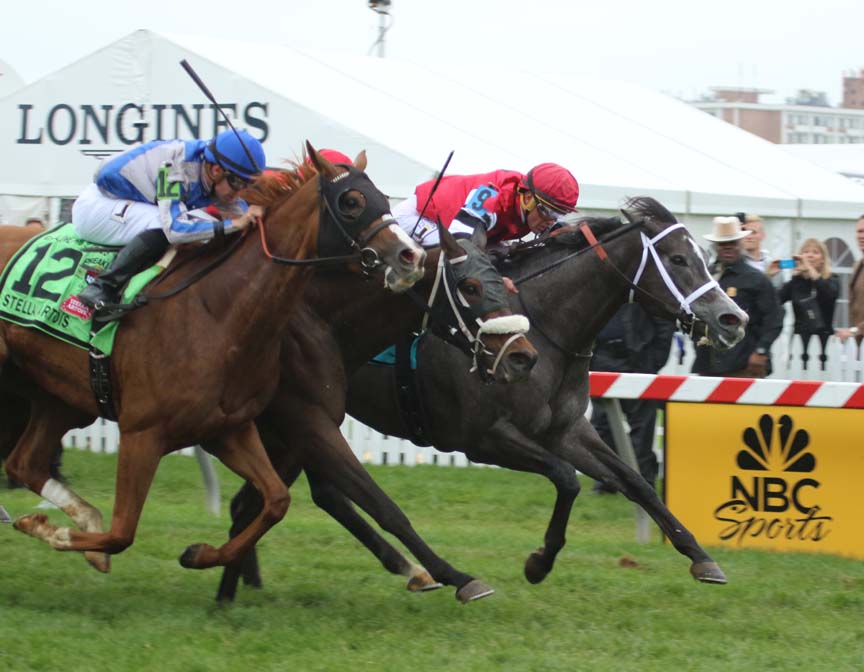 Mizz Money (#9) held off Vielsalm (in between) and Heath (#12) to win the Grade 3 Gallorette. Photo by Laurie Asseo.
The GQ Approach features full-card selections from Laurel Park (w/ live racing every Friday, Saturday and Sunday throughout 2016; Post Time 12:30pm EDT), including a daily Best Bet, Longshot Play, and multi-race wagers — including the 20 cent Rainbow Pick-6, 50 cent Jackpot Pick-5, as well as Pick-4s and rolling Doubles, Pick-3s and the Super High-5. 
CARRYOVERS
Rainbow Pick 6: $11,778
Super High 5: $980
Late Pick 5: $2,365
BEST BET OF THE DAY
Race 8 / #10 – Tribal Honour (4-1)
LONGSHOT PLAY OF THE DAY
Race 9  / #2 – Juliets Key (8-1)
[su_heading size="21″ align="left"]Multi-race wagers[/su_heading]
Race 1: $2 Double 1, 2, 3 w/ 3, 7, 12  ($18)
Race 3: $0.50 Pick-3  4, 9, 11  w/ 7, 8, 9  w/ 4, 6, 8  ($13.50)
Race 5: $0.50 Pick-5  4, 8  w/ 3, 8, 11  w/ 2, 3 w/ 9, 10 w/ 2, 3, 5 ($36)
Race 8: $2 Double 9, 10 w/ 2, 3, 5  ($12)
[su_heading size="21″ align="left"]Analysis[/su_heading]
Number of races scheduled for turf: 5 (1st, 3rd, 5th, 7th and 9th)
Weather: Mostly Sunny, highs in the low 50's
Projected condition of main track: FAST
Projected condition of turf: FIRM
Race 1 is ON THE TURF
#3 – Cold Spice (3-1): Returns to turf (6:0-1-1) after graduating in slop two back; Karamanos gets the call and would be wise to take back early                    
#2 – Boston Strong (8-1): 7-wide on the turn… traffic at the ½ pole… in last two turf sprints, may appreciate added distance and one level class drop                 
#1 – Spoiled by God (7-2): Seems to be the most logical pick here but first time stretching out to two turns is the big question mark       
Race 2
#12 – Sammi's Valentine (7-2): Returns to MD racing circuit after 6 races in north NJ, 4 being runner-up efforts; turf-to-dirt angle at work and gets T. McCarthy for B. Perkins          
#7 – Grand Lassie (6-1): Drops in first race off D. Capuano claim (21%) isn't a vote of confidence w/ other barns but fits here
#3 – Wildcat Rising (6-1): Has come to life since hitting bottom @ Tim; 0 for 14 but deserves a look v. these     
Race 3 is ON THE TURF
#9 – Ginger Beer (7-2): Just 1 for 15 on turf but today gets second win on it… yeah, yeah… that's the ticket! Added distance to 6f might be the solution to get to Winners Circle    
#4 – Sally Oh Sally (2-1): Seeks natural Hat Trick after getting best of top pick in last start when PT favorite; never OTB when racing on turf (9:4-4-1)        
#11 – Moral High Ground (9-2): Cuts back to one turn turf event after being victorious at this level going long; was runner-up in only start at today's distance            
Race 4
#8 – Ten Hut (5-1): Steps up in class in first race off K. Magee claim is a great sign for two reasons… 1) out of jail and 2) T. McCarthy lands here and not on B. Perkins runner (#3)              
#7 – True Arch (5-2): Graduated v. $30k MCL in most recent outing; trainer A. Delacour wins at a high pct. due to placing horses where they can win         
#9 – Grecian Prince (4-1): Gelding has shown too much talent in past year to be winless since breaking maiden about 18 months ago; third race after layoff and gives M. Franklin a chance for first win since returning to MD jock colony
Race 5 is ON THE TURF
#4 – Dorn (6-1): Trainer R. MacLean has had limited success with his runners who he shipped in from Cby; has solid turf Brisnet#s v. restricted company     
#8 – Cara's Nay Nay (5-2): Just 6 for 53 lifetime but 1 for 1 @ Lrl; steps up after that win for Pen based trainer P. Sinnefia (21%)
#6 – Withalittlehope (30-1): Lone turf here a year ago v. OC$16k when she closed 7+ lengths on winner in the stretch going 5½f; extra 1/16th should help that late kick              
Race 6
#11 – Neyami (3-1): Scratched from yesterday's one mile race for same MCL tag; was runner-up when 1-1 and 4-5 PT fav. in last two                 
#8 – On the Prowl (9-2): A half length behind top pick in debut; showed improvement next outing when stepped up v. $25k MCL, just 4 lengths behind winner   
#3 – Dio Perdona (8-1): Ugly running lines in both career outings in NY v. much better translate to competing against the likes of these slower fillies; second time blinkers      
Race 7 is ON THE TURF
#3 – Team Tim (8-1): Ran best turf Brisnet# of his 3 outings on Lrl lawn in latest, albeit behind the #2 and #8 in here; has class and versatility to bust out into the turf win column    
#2 – Captain's Affair (3-1): Second outing w/ blinkers after neck loss at this level when third race after layoff; still seeks first win on Lrl lawn (6:0-3-1)      
#5 – M C Squared (9-2): Love the Lrl lawn (6:3-0-1) as all 3 victories have come going two turns; this course seems to be playing to early speed again, so a gate-to-wire score is possible      
Race 8
#10 – Tribal Honour (4-1): *** BEST BET *** The fact that J. Pimentel sticks w/ this gelding for C. Gonzalez v. his typical 1st call on M. Trombetta runners (#7) is enough to land here     
 #9 – Runninginthevale (7-2): There's only one way he goes… fast early; If no one challenges him the rest of this field could be running for the minor awards       
 #7 – Gwynn Oak Park (12-1): First race after 8 month layoff was a sprint where this colt belongs traveling a route; stretch out should help chances today  
Race 9 is ON THE TURF
#2 – Juliets Key (8-1): $$$ LONGSHOT $$$ Just 1 of 2 in here to have visited the Winners' Circle after racing 9f on turf; having T. McCarthy in the irons is a major upgrade    
#5 – Shifra Magician (5-1): Got long awaited second career victory (2 for 22) in blanket finish last time out; will need some pace help to repeat          
#3 – Wavy Needle (7-2): Had a "God awful" trip in latest v. OC$16k yet was just a length behind winner; previous to that offered a nice late rally v. open $16k claimers; no excuse IF she gets a clean trip here   
YESTERDAY'S NEWS  
On Sunday November 6th at Laurel had 4 winners from the 9 race card (2 Top Selections; payoff in BOLD) having $2 WIN pay-off of $4.20 (1st race), $4.60 (4th), $10.00 (5th) and $3.20 (7th). Note: Year-to-date Top Selections are Top Selections are 260 for 1,001 (25.97%).
BEST BET of the Day (105: 29-21-15) Fire Mission (5th race: 2-1 M/L; 5-2 PT) was on the short end of the bob at the wire for runner-up spot to return $2.60 to SHOW.
LONGSHOT PLAY of the Day (102: 10-12-14) Worthy Lion (9th race: 5-1 M/L; 5-1 PT) along the inner rail turning for home, failed to menace while finishing 5th.