The GQ Approach – Laurel November 11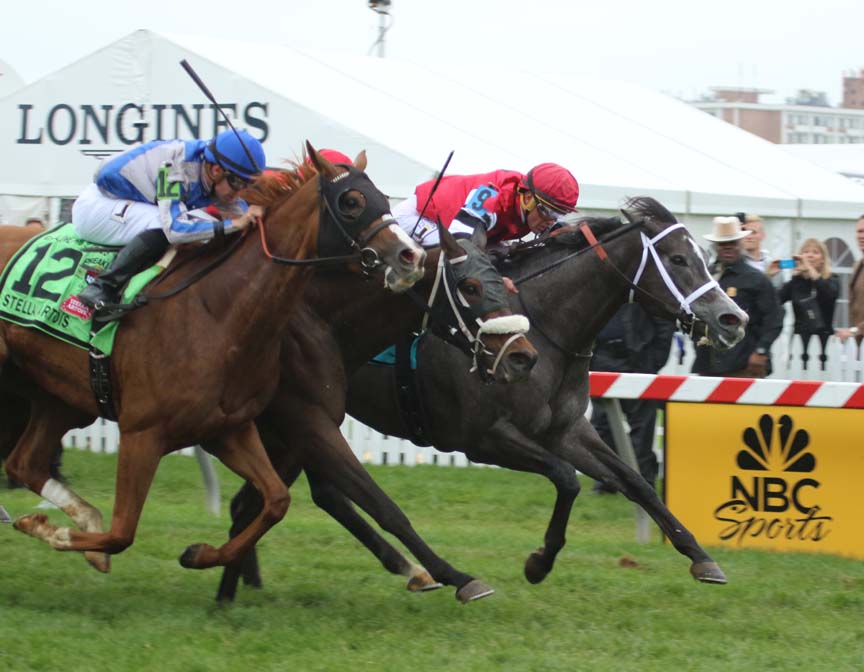 Mizz Money (#9) held off Vielsalm (in between) and Heath (#12) to win the Grade 3 Gallorette. Photo by Laurie Asseo.
The GQ Approach features full-card selections from Laurel Park (w/ live racing every Friday, Saturday and Sunday throughout 2016; Post Time 12:30pm EDT), including a daily Best Bet, Longshot Play, and multi-race wagers — including the 20 cent Rainbow Pick-6, 50 cent Jackpot Pick-5, as well as Pick-4s and rolling Doubles, Pick-3s and the Super High-5. 
CARRYOVERS
Rainbow Pick 6: $10,181
Super High 5: no carryover
Late Pick 5: no carryover
BEST BET OF THE DAY
Race 7 / #11 – Louis the Great (7-2)
LONGSHOT PLAY OF THE DAY
Race 5  / #4 – Worth His Salt (10-1)
[su_heading size="21″ align="left"]Multi-race wagers[/su_heading]
Race 1: $2 Double 1, 2, 6 w/ 1, 2, 10  ($18)
Race 3: $0.50 Pick-3  1, 4, 5  w/ 1, 3, 6  w/ 2, 4, 12  ($13.50)
Race 5: $0.50 Pick-5  2, 4  w/ 5, 6, 12  w/ 11  w/ 1, 12, 13  w/ 1, 2, 3 ($27)
Race 8: $2 Double 1, 12, 13  w/ 1, 2, 3  ($18)
[su_heading size="21″ align="left"]Analysis[/su_heading]
Number of races scheduled for turf: 5 (2nd, 4th, 6th, 8th and 9th)
Weather: Mostly Sunny, highs in the low 60's
Projected condition of main track: FAST
Projected condition of turf: FIRM
Race 1
#1/1A – All This Jazz/Neyami (4-1): "Jazz" rallied late in debut to get Show purse at this level and stablemate was runner-up when 1-1 and 4-5 PT fav. in last two                   
#2 – Natchez Pass (5-1): Might be distance challenged based on breeding and fact all four races have been no further than 5½f; still curious since she drops from $25k MCL                   
#6 – Fleur de Force (3-1): Leery about this Zayat Stables KY home-bred FTS by Eskendereya ($17.5k stud fee) because why are they willing to part w/ her for $14k in a $16k MCL?       
Race 2 is ON THE TURF
#10 – Sweet Curls (7-2): Belated effort on stretch out to two turns v. better; field possesses enough early pace to give her a chance late          
#1 – Justice for Sheena (9-2): Surprisingly took little action (15-1) in last race versus same when this Summer had two Place efforts in only starts for $16kN2L              
#2 – Eyerish Inspired (6-1): Been an "off the turf" scratch recently after a few bad off turf efforts in the spring; ran on late in lone turf try when bet to 5-1     
Race 3
#4 – Martywiththeparty (4-1): Tried to run on MD Million Day after graduating v. $25k MCL, but couldn't draw in; have to respect trainer M. Eppler runners at any level    
#1A – The Great Ronaldo (8-1): No interest in #1; this one fell in latest when 7-5 PT fav. in CT minor stakes; runner-up in 3 straight prior to that v. a couple good ones           
#5 – Strawberry Red (10-1): Ran away from $20k MCL impressively in good time; can take necessary step up and claim second career victory; Show rme back to break maiden next out        
Race 4 is ON THE TURF
#3 – Participate (3-1): Boyce picks this one over the #4; failed as lukewarm (5-2) PT fav. in most recent start at this level, surface and distance; boasts best turf Brisnet#              
#6 – Moonshine Mistress (6-1): Lack of early speed in here makes her a potential gate-to-wire candidate; third race after layoff; has chased a few other foes that are on AE         
#1 – Maryland Bird (9-2): Finished 3 lengths behind top pick in latest; disappointing run considering was runner-up in July v. better; gets L. Garcia back in irons  
Race 5
#4 – Worth His Salt (10-1): $$$ LONGSHOT $$$ Was distant runner-up in debut to a potential future superstar (Recruiting Ready) back in May; sidelined w/o works until late Sept. firing bullets in latest two   
#2 – Maryland Pride (5-1): FTS by Hard Spun has just two published works but Sagamore trainer H. DePaz does well placing runners in debut (29%)
#12 – Dancing With Maude (3-1): Huge reversal in form when nearly won MD Million Nursery when 69-1, after losing debut in slop by 15 lengths; may bounce though off that huge effort          
Race 6 is ON THE TURF
#12 – Annawon (7-2): Usually needs more pace and distance to be a threat to win, but does give best effort coming off any layoff as this 9-year-old gelding is doing; one of a few who have been facing open company                 
#6 – Devilknowsmyname B (5-1): Drops to lowest claiming level of career; no match for Alw8000s @ Pen going 1½ miles on turf last outing and prior to that got roughed up while game to finish 4th   
 #5 – Boppin Anda Weavin (5-2): Certainties in life are death, taxes and this gelding getting the early lead; whether he can hold on for the entire trip w/ plenty of early pressure    
Race 7
#11 – Louis the Great (7-2): *** BEST BET *** Raced in $14k Claimer when "in jail" after $5k claim, was taken up sharply into first turn and taken wide 5 dropping back to last, then made middle move and continue on own in stretch to finish mid-pack; drop back to $5k for outfit who likes to win      
#1 – Worldly Vision (15-1): Showed late interest sprinting in latest effort v. $10k beaten claimers; stretch out to 7f along with drop back to $5kN3L gives him best shot at earning third career victory      
#8 – Fleetwood Star (8-1): Takes drop down to lowest level in these parts and stretches out to 7f while appearing distance challenged; gets services of A. Cintron who has gotten the most out of this gelding in the past      
Race 8 is ON THE TURF
#3 – How's Your Sugar (5-2): Goes for the natural Hat Trick as he's 2 for 3 on the Lrl lawn as well as all 4 career victories have come in the only 4 races which H. Karamanos has been the pilot… he's in the irons today     
#13 – Brucarita (5-1): 3-year-old gelded son of Kitten's Joy is a chip off the ol' block enjoying distance on the grass though took 5 tries to graduate after being PT fav. in four of those; solid turf Brisnet#s puts him in the mix late       
#12 – D'avignon (6-1): Turned out for a year, gelded and transferred to trainer M. Dickinson to run as his turf breeding suggests; returned to serious training 2 months ago and drills have been impressive; E. Prado will get a leg up who is 1 for 2 w/ the "Mad Genius"
Race 9 is ON THE TURF
#1 – Notthatitmatters (5-1): Third career effort, first turf try (last one) was washed off; should like the grass and two-turns; faces a very weak $25k MCL group; addition of blinkers was a good move    
#2 – Weiwaltz (15-1): FTS by Weigelia been working well leading up to debut; in spite of trainer F. Bentley's goose egg this year (0 for 35), she's 1 for 5 w/ FTS and does best work w/ turf runners 
#3 – Important (5-1): Very dull in debut when sprinting on turf which is not bloodlines strong suit; stretch out to two turns and drop from MSW should allow her to give better account of herself   
YESTERDAY'S NEWS  
On Sunday November 6th at Laurel had 4 winners from the 9 race card (2 Top Selections; payoff in BOLD) having $2 WIN pay-off of $4.20 (1st race), $4.60 (4th), $10.00 (5th) and $3.20 (7th). Note: Year-to-date Top Selections are Top Selections are 260 for 1,001 (25.97%).
BEST BET of the Day (105: 29-21-15) Fire Mission (5th race: 2-1 M/L; 5-2 PT) was on the short end of the bob at the wire for runner-up spot to return $2.60 to SHOW.
LONGSHOT PLAY of the Day (102: 10-12-14) Worthy Lion (9th race: 5-1 M/L; 5-1 PT) along the inner rail turning for home, failed to menace while finishing 5th.