The GQ Approach – Laurel November 6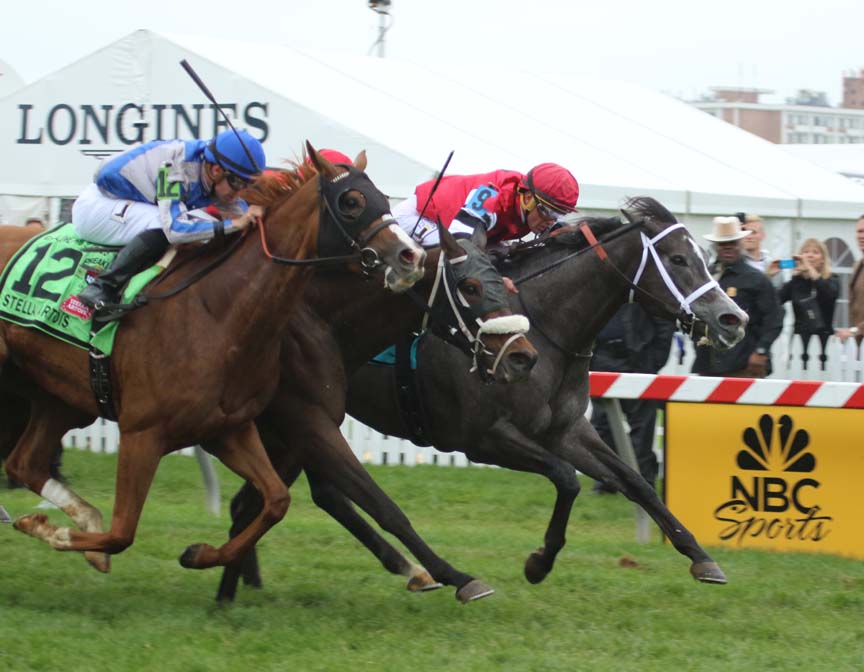 Mizz Money (#9) held off Vielsalm (in between) and Heath (#12) to win the Grade 3 Gallorette. Photo by Laurie Asseo.
The GQ Approach features full-card selections from Laurel Park (w/ live racing every Friday, Saturday and Sunday throughout 2016; Post Time 12:30pm EDT), including a daily Best Bet, Longshot Play, and multi-race wagers — including the 20 cent Rainbow Pick-6, 50 cent Jackpot Pick-5, as well as Pick-4s and rolling Doubles, Pick-3s and the Super High-5. 
CARRYOVERS
Rainbow Pick 6: $8,594.84
Super High 5: no carryover
Late Pick 5: no carryover
BEST BET OF THE DAY
Race 5 / #3 – Fire Mission (2-1)
LONGSHOT PLAY OF THE DAY
Race 9  / #8 – Worthy Lion (5-1)
[su_heading size="21″ align="left"]Multi-race wagers[/su_heading]
Race 1: $2 Double 3, 5, 6 w/ 3, 6, 9  ($18)
Race 3: $0.50 Pick-3  1, 3, 4  w/ 6, 10, 13  w/ 3, 4, 8  ($13.50)
Race 5: $0.50 Pick-5  3  w/ 3, 10  w/  1, 4, 5 w/ 4, 11 w/ 6, 8 ($12)
Race 8: $2 Double 4, 10, 11  w/ 2, 6, 8  ($18)
[su_heading size="21″ align="left"]Analysis[/su_heading]
Number of races scheduled for turf: 4 (3rd, 4th, 6th and 8th)
Weather: Mostly Sunny, highs in the low 60's
Projected condition of main track: FAST
Projected condition of turf: FIRM
Race 1
#6 – Proper Freud (5-2): Trainer D. Jacobson knows where to spot his horses and this son of Afleet Alex has the heart of his daddy as he tries hard at any level; lone Lrl effort was a winning one       
#3 – American Progress (15-1): Gets class relief today after facing allowance level competition the past 5 races after P. Magill claim                 
#5 – Lake Creek (9-2): If S. Spieth is still aboard, then he must have taken a "Red Eye" to get back from SA where he rode (for some unknown reason) War Story in the Classic; at least this one has a chance       
Race 2
#6 – Sweet On Smokey (5-2): Not much early speed in here and this capper recalls her impressive gate-to-wire victory in 6f What aa Summer stakes here in Jan., w/ V. Carrasco aboard as well   
#3 – Papa's Forest (6-1): Runner-up on turf @ Ind in most recent effort; had a 4-race win streak broken when 4th in minor stakes @ Del; mile might be best distance (2:1-1-0)              
#9 – Chapel of Chimes (7-2): Faced a very soft crew when destroying them in $50k Starter Hcp. on MD Million Day; a head loss 4 races back cost what could be a 6-race win streak
Race 3 is ON THE TURF
#1 – Emelina (4-1): Looks like Lone Speed to me; should get a rail trip under Lrl leading rider J. Toledo; has been feasting on weaker Starter Allowance foes    
#3 – Ascot Girl (6-1): Was simply overmatched in her latest @ KD and was beaten fav. at this same condition, surface and distance 2 race back @ Prx to a next out winner; trio of E. Prado/M. Matz Augustin Stables are always dangerous        
#4 – Seeking Treasure (3-1): Draw a line through her last race, an off-the-turf event @ Kee; prior to that she's competed in minor stakes everywhere East of the Mississippi; won the Dahlia Stakes here in Apr.         
Race 4 is ON THE TURF
#6 – Spectacular Me (5-2): NY-based trainer S. Klesaris only ships to Lrl with well-intentioned runners (2:1-1-0); this one makes Lrl debut following runner-up effort on Bel grass when 12-1, earning career best turf Brisnet# (91)              
#10 – Shaboom (6-1): Won local bow in latest as trainer M. Robertson's stable of runners from Cby have surprisingly held their own; this outing will be tougher       
#13 – Dancing Lucy (5-1): Couldn't catch the #10 here in last outing when PT favorite; likes Lrl lawn (10:4-3-2) and never OTB at this distance (5:3-1-1)
Race 5
#3 – Fire Mission (2-1): *** BEST BET *** One of 5 starters on today's card for trainer J. Sharp… first race off claim(24%); this 6-year-old won only start at today's 7f distance        
#8 – It Behooves Me (3-1): Trainer K. Magee tapped into his west coast connections to claiming this one out of a $16k Claiming event @ Lrc; finds perfect spot to assess value w/o worry of losing him
#4 – Negrito (5-1): Hard-knocking 5-year-old flashed some of his back class in first start off C. Gonzalez claim when runner-up at 19-1 w/ an excuse; interesting that K. Gomez doesn't ride back    
Race 6 is ON THE TURF
#10 – Triple Burner (5-2): Always in the mix and the one exception was two back when facing a pair of BC Sprint contestants, one of which Showed (Pure Sensation)                 
 #3 – The Imposter (7-2): Been popular in the Claim Box as he's switched barns four times in four consecutive races; back in original barn where he was consistently successful at the $25k level  
 #2 – Rapscallion (4-1): Wished this one ran here first time after R. Falcone, Jr. "reclaim" (great angle) as he won @ Bel ($16.20) going 7f; cuts back to 5½f on grass for first time    
Race 7
#1 – Banner Bill (9-2): In these 9f events, like to see who relishes this distance and this old-timer does (3:1-2-0);      
#4 – U.S.S. Boxer (5-1): NY shipper for M. Nevin appears to do better the further the distance; beaten favorite @ Bel in last outing w/ an excuse; will need pace help      
#5 – John Jones (1-1): Kudos to trainer L. Gaudet for building stamina in this guy and earning a natural Hat Trick right since claiming him for $25k; toughest distance test to date though      
Race 8 is ON THE TURF
#4 – My Enigma (4-1): Much the second best when beaten favorite in Alw$12,500s @ Med; cautiously optimistic as quality @ Med and Mth ain't what it used to be; has been competitive against top-notch runners when @ Lrl     
#11 – Andalusite (6-1): Trainer R. Kelly has placed this guy in Mid-Atlantic races where he can be successful while never being the PT favorite; has a win and runner-up finish in only 2 starts @ Lrl       
#10 – True Greek (12-1): Needs pace help and if this gray gelding gets it he'll be heard from in deep stretch; "Cowboy" Hamilton is finding his groove after a rough start to his comeback  
Race 9
#8 – Worthy Lion (5-1): $$$ LONGSHOT $$$ Was much the best IMHO in MD Million Starter Hcp when he had one of the roughest trips this capper has seen in a long time and still managed to loss by just a neck; has been sent off as PT fav. in 7 of last 9 starts; never OTB @ Lrl (6:2-3-1)    
#6 – No Brakes (6-1): Appropriately named 11-year-old gelding makes his 107th career start; has won 2 of his last 3 and shows no signs of being long in the tooth though this level is a step up 
#2 – Twocubanbrothersu (2-1): Puts perfect Lrl record (2 for 2) on the line and seeks 4th consecutive victory; no worse than second in last 7 outings   
YESTERDAY'S NEWS  
On Saturday November 5th at Laurel had 7 winners from the 11 race card (4 Top Selections; payoff in BOLD) having $2 WIN pay-off of $15.00 (2nd race), $8.00 (4th), $20.60 (6th), $7.40 (8th), $12.00 (9th), $8.00 (10th) and $3.20 (11th). Of the suggested Multi-race wagers hit the R10-R11 $2 DOUBLE for $20.20 (cost: $12). Note: Year-to-date Top Selections are Top Selections are 258 for 992 (26.00%).
BEST BET of the Day (104: 29-21-14) Monte Man (9th race: 5-1 M/L) was SCRATCHED.
LONGSHOT PLAY of the Day (101: 10-12-14) Bawlmer Hon (8th race: 10-1 M/L; 9-1 PT) raced along the inner rail turning for home but failed to menace the top three while finishing 4th.