The GQ Approach – Laurel November 5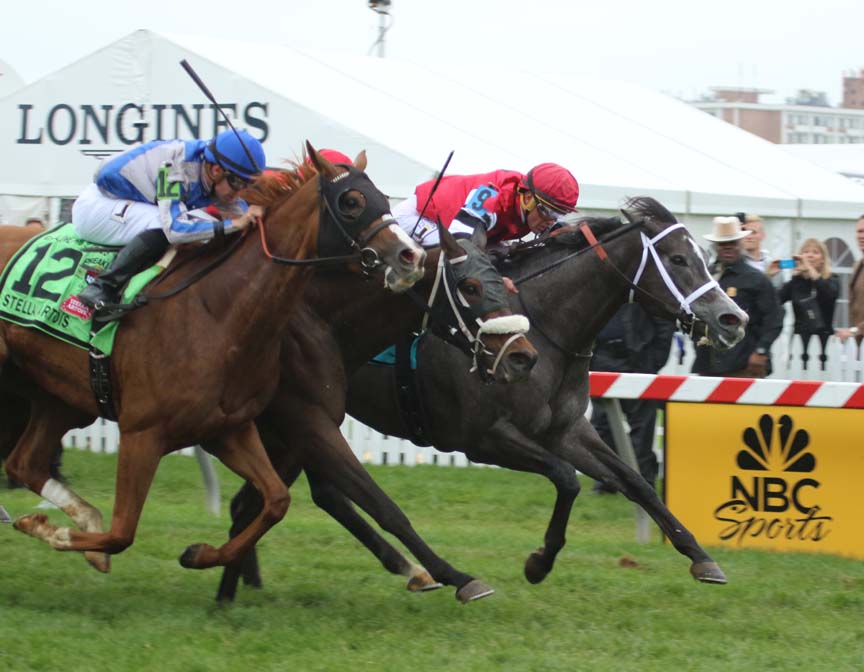 Mizz Money (#9) held off Vielsalm (in between) and Heath (#12) to win the Grade 3 Gallorette. Photo by Laurie Asseo.
The GQ Approach features full-card selections from Laurel Park (w/ live racing every Friday, Saturday and Sunday throughout 2016; Post Time 12:30pm EDT), including a daily Best Bet, Longshot Play, and multi-race wagers — including the 20 cent Rainbow Pick-6, 50 cent Jackpot Pick-5, as well as Pick-4s and rolling Doubles, Pick-3s and the Super High-5. 
CARRYOVERS
Rainbow Pick 6: $7,238.50
Super High 5: $573.78
Late Pick 5: no carryover
BEST BET OF THE DAY
Race 9 / #12 – Monte Man (5-1)
LONGSHOT PLAY OF THE DAY
Race 8 / #4 – Bawlmer Hon (10-1)
[su_heading size="21″ align="left"]Multi-race wagers[/su_heading]
Race 1: $2 Double  4, 7, 12 w/ 5, 8  ($12)
Race 3: $0.50 Pick-3  2, 3, 8  w/ 2, 8, 12  w/ 2, 5, 8  ($13.50)
Race 7: $0.50 Pick-5  1 w/ 4, 6 w/ 3, 10, 12 w/ 1, 3, 8  w/ 1, 10  ($18)
Race 10: $2 Double 1, 3, 8  w/ 1, 3, 10  ($18)
[su_heading size="21″ align="left"]Analysis[/su_heading]
Number of races scheduled for turf: 7 (1st, 3rd, 4th, 6th, 7th, 9th and 10th)
Weather: Mostly Sunny, highs in the low 60's
Projected condition of main track: FAST
Projected condition of turf: FIRM
Race 1 is ON THE TURF
#4 – Kitty's Right (6-1): Took a short vacation after graduating in turf sprint for $40k MCL; returned to face a tough crew going 6f; should find these N2L a bit softer                   
#12 – Cheverie (5-1): Been facing better going two turns; cuts back to sprint which is distance that she earned best speed figure of her career                 
#7 – Crisis Averted (15-1): Looks to make initial turf try in 5th career outing but wanted turf in debut was washed off; like how best two races came on an off track which often converts to success on turf; concerned this 3-yr-old might scratch since she just ran 7 days ago       
Race 2
#5 – Sally Pollock High (5-1): Nearly took the field from gate to wire in first N3L effort; never fired in latest on sealed track; look for her to bounce back          
#8 – Mader Bythe Minute (6-1): Was idle for over two years; came back 4 races ago at bottom of the barrel ($5k @ Pen) and struggled; last two efforts have possibly hinted at back class; game run in troubled trip going 4½f              
#3 – Girls Got Rhythum (4-5): Seems like the girls got something wrong w/ her dropping from $10k to $5k in first race after C. Frock claim w/o registering a single workout since?! May still be good enough v. this assembled group     
Race 3 is ON THE TURF
#8 – Royal Hussar (6-1): Drops in for a tag after 3 MSW races sprinting including 1 on turf two back; in last two has faced runners much nicer than what he will today; big chance to graduate on stretch 0ut    
#2 – Well Off (8-1): First two of his career are forgettable but this son of Brilliant Speed deserves a look going two turns on grass; any kind of run was compromised in turf sprint by a fallen foe    
#3 – Barbie's Ken (12-1): CT Shipper w/ decent turf bloodlines will relish switch to grass and the distance            
Race 4 is ON THE TURF
#12 – Cosmopolitan Girl (7-2): Gave it her all in blanket finish in latest turf route but came up short v. $16kN2L; drops down another level in hopes for reversal of fortune              
#8 – Tarkia (4-1): DQ'd from N2L victory in most recent try @ Del; McCarthy will get rare chance w/ a S. Lake trainee, but the duo is 0 for 12 the past year       
 #2 – Proud Maid Marian (20-1): Reclaimed by S. Aleksic two races back off maiden score for K. Magee; was away 4 months only to return to sprint for first time on turf… not good from the start; stretches back out to two turns and retains K. Gomez are positive signs
Race 5
#2 – Drive at Nite (9-5): Game $5k claimer been runner-up in both efforts after earning diploma; has run behind two other foes (#6 & #8) in here while he was a maiden     
#5 – Supervisor (10-1): Held on by a nose to get first career victory in $10k MCL… not bad for this 3-year-old son of Super Saver that went for $440k just 18 months ago… oh boy!
#8 – Keepyuriondabalado (8-1): Taking a leap of faith by tossing last race in slop; confidence factor in play as K. Gomez keeps mount        
Race 6 is ON THE TURF
#9 – Fly (9-5): Has faced a pair of Breeders' Cup competitors in first two races of career… beating one of them in debut maiden breaker; will find these foes easier to handle                   
#6 – What About Tonight (10-1): Only runner in this event who has beaten winners; got second win last outing when adding Lasix  
#1 – Unaquoi (12-1): CT shipper whose dam sire is More Than Ready means this filly should flash same speed in turf debut as she's shown on dirt… if not better      
Race 7 is ON THE TURF
#1 – So Royal (5-1): Can boast best turf Brisnet# (81) of this bunch; A. Cintron may have found a different dimension in this gal by coming from off the pace      
#9 – Patch Point (6-1): Past three races speed figs give her a legit chance to get elusive third career victory      
#5 – Sur Empire (6-1): Great Britain bred arrived in U.S. back in June and took four racaes to find class level… it's here!      
Race 8
#4 – Bawlmer Hon (10-1): $$$ LONGSHOT $$$ Beaten favorite when first time facing winners but had an excuse (stumbled badly at the start); may have gotten injured as she was on the shelf for 5 weeks before hitting regular work schedule, which is filled with bullets     
#6 – R Bling Shines (5-2): This filly has shined in 3 of 4 main track starts, wearing a path to the Winners' Circle; makes first start for conditioner M. Pino (10:2-2-0 at meet)       
#5 – Money Or Love (8-1): All of a sudden has earned 90 and 91 Brsinet# on main oval when switched from routes to sprints  
Race 9 is ON THE TURF
#12 – Monte Man (5-1): *** BEST BET *** Needs two scratches to draw in; been awaiting this ones next race after witnessing the debacle @ Bel when 40-1 last time out; graduates with a clean trip    
#3 – Best Yes (9-2): Would be nice to see this gelding graduate before getting shipped off to Kee with stablemates as stock thoroughbreds belonging to the Estate of Howard M. Bender will be auctioned; trainer L. Murray does his best work w/ turf runners
#10 – Vizi Girl (8-1): Turned in a nice effort w/ a huge late rally when asked to sprint for first time after running two turns in all previous races; both jock and filly should have learned from the experience   
Race 10 is ON THE TURF
#3 – Back to Seattle (4-1): Game effort in first start in P. Schoenthal barn in spite of traffic trouble; has back class to improve coming back at same level   
#8 – Malibu Pro (10-1): Trainer M. Robertson has had surprising success with his stable shipped in from Cby (15:2-5-1) and those coming back from a short layoff (21%)             
#1 – Gator Boy (15-1): Tough assignment from rail but this Closer will get pace help as there is no loss for early speed among his foes today; V. Carrasco back on is an encouraging sign       
Race 11
#1A – Charlie's Darlin (3-1): Strong POE, want no parts of stablemate in case this one scratches; 0 for 11 but a number of past speed figs here makes it graduation day
#10 – Mac North (2-1): It's these types of class drops that make Cappers pull their hair out; was runner-up in MSW @ Del two back then stopped next/last outing as 7-5 fav. @ Pen; huge drop makes you wonder
 #3 – Allezcome (10-1): Only two starts of career came on synthetic @ Pid v. better while holding his own; transferred to J. Secor barn (3 for 6 w/ 2+ class dropper) and gets placed where he can win on dirt
*** BREEDERS' CUP Races at Santa Anita ***
Race 4 is the Juvenile Fillies
#4 – Yellow Agate (8-1)
#5 – Sweet Loretta (6-1)
#3 –Valadorna (5-1)
Race 5 is the Fillies & Mares Turf Sprint
  #1 – Sea Calisi (8-1)
#13 – Nuovo Record (12-1)
  #8 – Lady Eli (5-2)
Race 6 is the Sprint
#7 – Masochistic (2-1)
#1 – Mind Your Biscuits (20-1)
#2 – DeFrong (7-2)
Race 7 is the Turf Sprint
#2 – Obviously (6-1)
#4 – Home of The Brave (12-1)
#8 – Washington DC (8-1)
Race 8 is the Juvenile
#6 – Three Rules (8-1)
#5 – Classic Empire (4-1)
#4 – Theory (12-1)
Race 9 is the Turf
#10 – Found (3-1)
  #9 – Money Multiplier (20-1)
 #12 – Highland Reel (3-1)
Race 10 is the Fillies & Mares Turf
#2– Haveyougoneaway (3-1)
#1 – Paola Queen (20-1)
#3 – Tara's Tango (8-1)
Race 11 is the Mile
#9 – Ironicus (8-1)
#8 – Tepin (3-1)
#3 – Spectre (20-1)
Race 12 is the Classic
#8 – Shaman Ghost (20-1)
#7 – Hoppertunity (15-1)
#4 – California Chrome (1-1)
YESTERDAY'S NEWS  
On Friday November 4th at Laurel had 7 winners from the 11 race card (1 Top Selection; payoff in BOLD) having $2 WIN pay-off of $9.00 (1st race), $14.00 (2nd), $3.60 (4th), $24.60 (6th), $7.80 (7th), $18.20 (9th) and $4.80 (11th). Of the suggested Multi-race wagers hit the R1-R2 $2 DOUBLE for $57.20 (cost: $18). Note: Year-to-date Top Selections are Top Selections are 254 for 981 (25.89%).
BEST BET of the Day (104: 29-21-14) Moon River (9th race: 3-1 M/L; 2-1 PT) swung to the eight path in upper stretch, passed tired horses to finish 5th.
LONGSHOT PLAY of the Day (100: 10-12-14) My Awesome Alie (5th race: 12-1 M/L; 13-1 PT) six wide in upper stretch, failed to menace top three finishers while being best of the rest to finish 4th.