The GQ Approach – Laurel November 4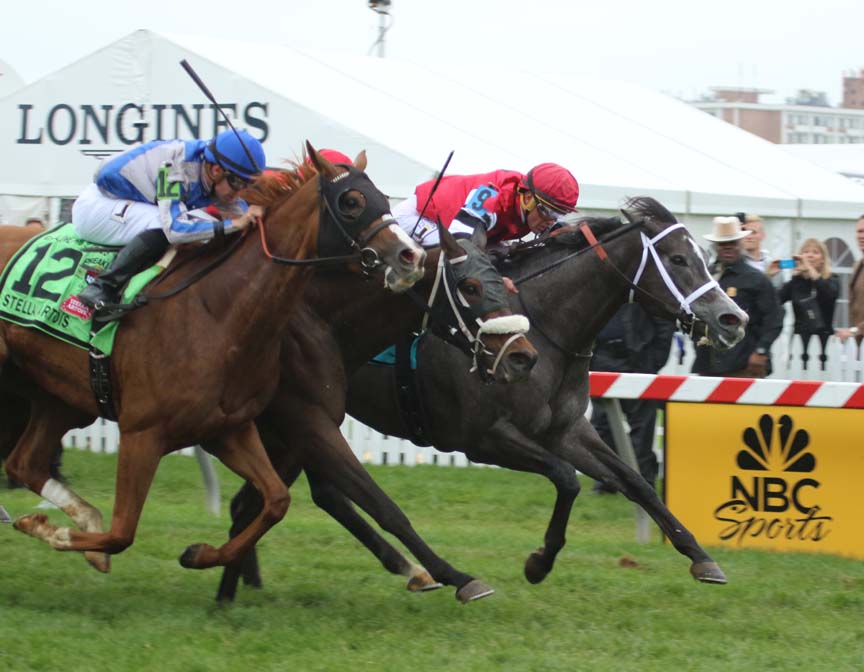 Mizz Money (#9) held off Vielsalm (in between) and Heath (#12) to win the Grade 3 Gallorette. Photo by Laurie Asseo.
The GQ Approach features full-card selections from Laurel Park (w/ live racing every Friday, Saturday and Sunday throughout 2016; Post Time 12:30pm EDT), including a daily Best Bet, Longshot Play, and multi-race wagers — including the 20 cent Rainbow Pick-6, 50 cent Jackpot Pick-5, as well as Pick-4s and rolling Doubles, Pick-3s and the Super High-5. 
CARRYOVERS
Rainbow Pick 6: $5,905
Super High 5: $2,636
Late Pick 5: $5,602
BEST BET OF THE DAY
Race 9 / #6 – Moon River (3-1)
LONGSHOT PLAY OF THE DAY
Race 5 / #6 – My Awesome Alie (12-1)
[su_heading size="21″ align="left"]Multi-race wagers[/su_heading]
Race 1: $2 Double  1, 7, 9 w/ 1, 2, 4  ($18)
Race 3: $0.50 Pick-3  5, 9, 10  w/ 2, 8, 9  w/ 6, 7, 10 ($13.50)
Race 7: $0.50 Pick-5  3, 6, 7  w/ 1, 5, 8  w/ 6  w/ 2, 3  w/ 5, 7 ($18)
Race 10: $2 Double 2, 3, 10  w/ 5, 7, 8  ($18)
SA Race 6: BC $0.50 Pick-4 4, 6, 11  w/ 3, 8, 9  w/ 4, 9, 13  w/ 5 ($13.50)
[su_heading size="21″ align="left"]Analysis[/su_heading]
Number of races scheduled for turf: 6 (3rd, 4th, 6th, 7th, 9th and 10th)
Weather: Partly Sunny, highs in the low 60's
Projected condition of main track: FAST
Projected condition of turf: FIRM
Race 1
#9 – Middle English (9-5): Took a small step backward in most recent as far as speed figs; should graduate if he reverts to that 71 Brisnet# from two races back                 
#1 – L G Crash (12-1): Stretches out after starting first 10 of career sprinting while showing early interest; could surprise with a gate-to-wire score
#7 – Alex's Way (7-2): Finally hit the board in runner-up effort albeit on turf in latest; returns to dirt which may be less promising though speed fig measures up to these maidens
Race 2
#2 – Golden Rings (2-1): This field lacks an one that needs the early lead, so hopefully "Cowboy" Steve H. has read the PPs to recognize that fact and try a gate-to-wire score as she's done in the past          
#4 – Senor Quickie (5-1): Will need some early pace help as he'll make a late run; won v. open $5k Claimers and has been runner-up twice for this same condition              
#1 – Tiz Showbiz (6-1): Looking like a nice claim for A. Farrior barn off big drop; finds a perfect condition while "in jail"     
Race 3 is ON THE TURF
#5 – Value Added (2-1): Has a pair of 76 Brisnet#s from only two turf tries which occurred a year ago v. MSW; shows nice work pattern leading up to return to afternoon competition on the drop in for a $16k tag    
#10 – My Sangria (6-1): Last raced on Jan. 22nd; lone turf try from 4 career starts was encouraging v. $25k MCL in So. FL         
#9 – Charlotte's Hope (12-1): Has yet to hit the board in 7 career starts; catches a weak field to have a shot at graduating today; was beaten favorite in lone turf sprint @ Pim w/ an excuse         
Race 4 is ON THE TURF
#2 – Major Anthem (7-2): Been knocking on the door v. MSW in past 6 starts since privately purchased and running against this level ($16k MCL); brutal 0 for 26 yet today is he finally graduates?! Yeah, Yeah, That's the ticket!              
#8 – Northern Eclipse (2-1): Should have it all his way early but with blinkers off, may rate better; takes third consecutive drop in class for owners who tend to cut their losses quickly       
#9 – Piercinator (12-1): Makes first start for trainer H. McMahon as well as first on turf and two turns; this Street Magician colt should appreciate both of the latter
Race 5
 #6 – My Awesome Alie (12-1): There's quite a bit of early speed signed up in this event which should give hope to this gal who has consistently earned the best "Late Pace" figures of this bunch     
#10 – Goyle (5-1): Turned until August after last start just over a year ago; been working in earnest but suspicious of return at this price; with that said, hard to toss this jock/trainer combo
#7 – Movie Starlet (8-1): Best two races of her 16 race career thus far have come in her only two tries going this 7f distance            
Race 6 is ON THE TURF
#3 – Frasero (8-1): 7-year-old is hardly a candidate to be claimed on 2+ class drop; one of the few in here who has been facing open claimers; small barn is 2 for 5 with 3rd race after layoff angle     
#6 – Live in Joy (3-1): Was 0 for 16 at this distance on turf until hitting wire first at this same condition two back; jock/trainer combo have won at 27% clip in the past year   
#9 – It's a Plane (20-1): Didn't get embarrassed when competing v. OC$16k this summer here when sprinting; stretch out to two turns could be the winning formula      
Race 7 is ON THE TURF
#7 – Kay Two (6-1): Runner-up in career debut @ Med on turf going one mile and showing late foot; adds Lasix for second start for jock/trainer combo clicking at 38%      
#3 – Dumtadumtadum (2-1): Must have had high hopes for this Mineshaft filly when trainer M. Dickinson shipped her to Sar, managing just a 6th place finish but less than 3 lengths behind winner; took a sometime since to mature     
#6 – Journey Home (9-2): FTS by War Front out of an A.P. Indy mare cost a cool $200k as a yearling; been flashing speed in the A.M. @ Fai; G. Motion trainee attracts T. McCarthy      
Race 8
#5 – Ground Control (4-1): Is quick enough from the gate to get the jump on any others who possess early speed; likes Lrl dirt strip (6:3-2-0) and should hold off late comers     
#8 – Orbit (10-1): Been racing in over his head since claimed for $5k in June; should be able to be in the mix v. these; will likely take action since E. Prado is willing to get a leg up       
#1 – Bully Song (3-1): Was very chilly on the board in first start in over a year when offered for lowest tag in career finishing third @ Del; takes another drop to see if there are any takers
Race 9 is ON THE TURF
#6 – Moon River (3-1): *** BEST BET *** Draw a line through that last outing on the dirt; won VA-bred minor stakes here two back; has Brisnet#s on turf to get the best of this bunch    
#3 – Bluegrass Ball (10-1): Always gives it his best sprinting on turf (9:3-4-0) and had an excuse in latest when 5th just 1¾ behind winner @ Prx; should be heard from late
#1 – Minor Legend (5-1): Gets perfect pace set up as this field is loaded with early speed; reunited with J. Toledo when just 2 behind next out winner in eventful trip   
Race 10 is ON THE TURF
#2 – My Giant (3-1): Could hold off a nice runner in latest but gets a break in distance here; needs smart ride from F. Lynch to just keep pace with what should be soft fractions, then get first run on the closers   
#3 – Awesome Bill (5-1): Used to get the best of top pick but not in last two match ups; switch back to "Special K" as pilot should help this one regain the fire and get first turf win           
#10 – It's All Reality (15-1): Don't see much early speed in here so this sprinter w/ A. Cintron in irons for trainer J. Sharp (combo is 1 for 2 at meet) should be able to set soft fractions early in hopes of wiring the field       
Race 11 
#5 – Called in Sick (10-1): A good day to do so with Breeders' Cup races to follow… this gal may have just beat maidens for $16k but does own best speed figure in here
#7 – Michael's Butterfly (4-1): Didn't run lick when off at 5-2 in OC$30k sprint; all other efforts are Yomen-like; a lukewarm endorsement due to steep drop in class
#8 – Warrior's Baton (6-1): Destroyed a field of 5 in debut when offered for $7,500; runner-up broke maiden in next start
*** BREEDER'S CUP RACES at SANTA ANITA ***

Race 6  is the BREEDER'S CUP Juvenile Turf
#4 – Favorable Outcome (15-1)
#11 – Good Samaritan (9-2)
#6 – Big Score (8-1)
Race 7  is the BREEDER'S CUP Dirt Mile
#9 – Gun Runner (9-2)
#3 – Dortmund (6-5)
#8 – Tamarkuz (8-1)
Race 8  is the BREEDER'S CUP Juvenile Filly Turf
#4 – Spain Burg (5-1)
#9 – Cavale Doree (15-1)
#13 – Roly Poly (4-1)
Race 9 is the BREEDER'S CUP Distaff
#5 – Stellar Wind (5-2)
#1 – Songbird (6-5)
#8 – Beholder (5-2)
YESTERDAY'S NEWS
On Sunday October 30th at Laurel had 7 winners from the 11 race card (2 Top Selections; payoff in BOLD) having $2 WIN pay-off of $13.40 (2nd race), $11.80 (3rd), $17.40 (6th), $13.40 (7th), $9.00 (8th), $7.80 (9th) and $12.20 (11th). Note: Year-to-date Top Selections are Top Selections are 253 for 970 (26.08%).
BEST BET of the Day (103: 29-21-14) Rumblin Kyle (4th race: 4-1 M/L; 3-1 PT) jostled leaving the starting gate, raced in the two path on the turn and showed a mild gain in the drive to finish 5th.
LONGSHOT PLAY of the Day (99: 10-12-14) So Outpsoken (11th race: 10-1 M/L; 5-1 PT) raced 4-wide on both turns and passed tired horses late to finish 4th.