The GQ Approach – Laurel October 30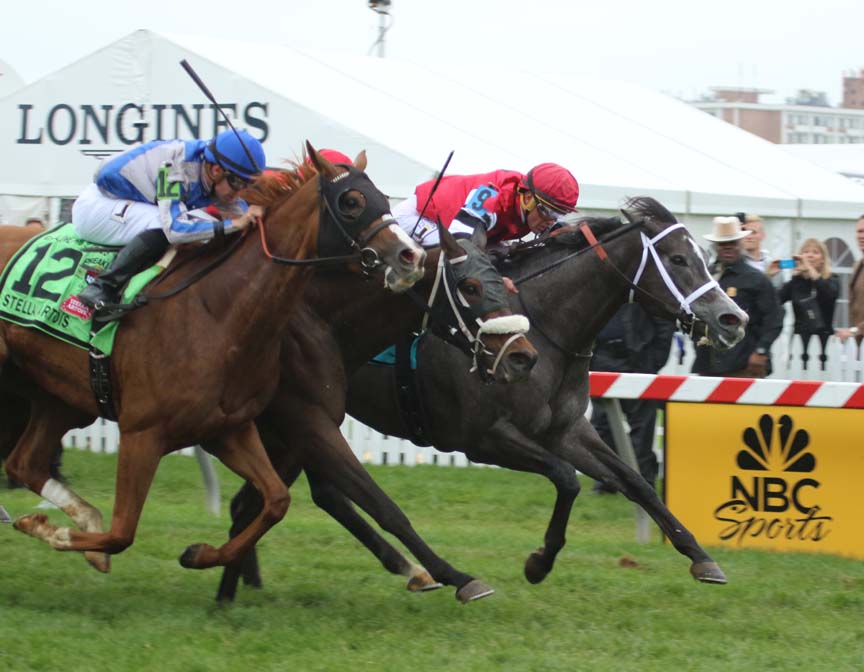 Mizz Money (#9) held off Vielsalm (in between) and Heath (#12) to win the Grade 3 Gallorette. Photo by Laurie Asseo.
The GQ Approach features full-card selections from Laurel Park (w/ live racing every Friday, Saturday and Sunday throughout 2016; Post Time 12:30pm EDT), including a daily Best Bet, Longshot Play, and multi-race wagers — including the 20 cent Rainbow Pick-6, 50 cent Jackpot Pick-5, as well as Pick-4s and rolling Doubles, Pick-3s and the Super High-5. 
CARRYOVERS
Rainbow Pick 6: $4,499.30
Super High 5: $2,424.75
Late Pick 5: no carryover
BEST BET OF THE DAY
Race 8 / #5 – Rumblin Kyle (4-1)
LONGSHOT PLAY OF THE DAY
Race 11 / #12 – So Outspoken (10-1)
[su_heading size="21″ align="left"]Multi-race wagers[/su_heading]
Race 1: $2 Double  1, 4, 7  w/ 1, 4, 6  ($18)
Race 3: $0.50 Pick-3  5, 9, 10  w/ 2, 6, 10  w/ 4, 6, 12  ($13.50)
Race 7: $0.50 Pick-5  1, 3  w/ 4, 6, 8  w/ 5  w/ 3, 9, 11  w/ 8, 12 ($18)
Race 10: $2 Double 3, 9, 11  w/ 4, 8, 12  ($18)
[su_heading size="21″ align="left"]Analysis[/su_heading]
Number of races scheduled for turf: 6 (4th, 5th, 7th, 8th, 10th and 11th)
Weather: Mostly Sunny, highs in the low 70's
Projected condition of main track: FAST
Projected condition of turf: FIRM
Race 1
#7 – Zuzanna (9-2): In Debut going 6f had the look of a filly who wants two turns; runner-up from that race came back to break maiden here yesterday                 
#4 – Dixie Rose (5-1): In three career starts hasn't even been backed by connections being sent off at 25-1, 31-1 and 62-1; best finish (3rd two back on dirt) was to two next out winnners                   
#1 – One Call Away (4-1): High profile owners and trainer might think the Land of Pleasant Living will be easier for this Unbridled Song filly to get diploma… not anymore; adds Blinkers       
Race 2
#1 – Rally With Class (2-1): Only runner in here to have won more than 2 races (he is 4 for 7 lifetime); goes for fourth in a row; second start for J. Ness after claim          
#4 – Bird Call (9-5): Destroyed $5kN2L @ Pen in first career start on dirt after 6 on turf; who knows how good he can be on the main track so step up is warranted              
#6 – Boon Companion (6-1): Typically not advisable to back runner in first race off K. Magee claim but the field has so much early speed, it should help this Closing Sprinter     
Race 3
#5 – Convoyarie (9-2): Earned third win of career here over a "good" track; all others in here only have 2 career wins; solid performer who is always competitive at this level    
#9 – Chattolanee (12-1): Could be Lone Speed as K. Gomez has guided her to Winners Circle in 2 of last 3 efforts; has done well since switching from turf to dirt         
#10 – Sweet Peaches (4-1): Been running over her head in last two; easily got second career win three races back v. $5kN2L when making first start for trainer M. Trombetta              
Race 4 is ON THE TURF
#6 – Tribal Transit (6-1): Beaten favorite in second start after being runner-up in debut; both coming at same condition, surface and distance as today; looking for a run that more resembles debut effort                
#2 – Perfect Party Girl (9-2): Ha been looking great out of the gate and led the field into deep stretch in last two but unable to seal the deal; let's hope as she matures she'll build stamina       
#10 – Deep Pockets (12-1): FTS by Lonhro out of an El Prado mare is an automatic must use for this Capper in spite of trainer K. Demasi's 0 for 21 with firsters on turf
Race 5 is ON THE TURF
#6 – Datt Melody (3-1): Should have a perfect stalking trip behind a pair of early speed types while getting firsts jump in the stretch on all the deep closers        
#12 – Pizmo Time (5-2): Appears to be more of a standout than his 5-2 M/L; never OTB (6:1-3-2) but just one win (in debut sprinting in mud) might be indication he lacks the will to win?
#4 – Forever Bernardini (15-1): Might be a stretch using this maiden breaker when sprinting over Pid synthetic first time blinkers and overcoming "Gate Trouble" but have a feel for continued improvement for this Live Oak Plantation home-bred            
Race 6
#2 – Salsamatic(4-1): Showed interest in debut when 3rdf for $40k MCL @ Del; jock/trainer combo has been winning at a 35% clip over the past year                   
#1 – For the Proudnfree (15-1): Has only beaten one rival in each of his two starts but they were on the grass; switch to dirt and drop from MSW ranks to $25k MCL might be a winning move   
#6 – Z Supreme (6-1): Owned by Zayat Stables and trained by R. Rodriguez was cold on the board (9-1) in career debut here two back… and rightfully so finishing 6th by 9; adds blinkers      
Race 7 is ON THE TURF
#1 – Tizasong (5-2): Away since June when she broke through the gate pre-race which could explain 7th place finish when sent off 5-2 and/or reason for taking the Summer off then restart training in mid-Sept.      
#3 – Masio (8-1): Showed early speed in all turf tries @ GP last year; drawing a line through first race since that time due to it being on dirt      
#4 – Small Talk Aside (15-1): Certainly wasn't ready to win debut when 68-1 sprinting on turf but this 7-yr-old… yes 7… got it going in deep stretch to think he'll enjoy extra furlong; add Lasix      
Race 8 is ON THE TURF
#4 – Koala Queen (6-1): Always gives her all and this 3-yr-old has been taking on her elders since the Spring so her maturity level helps now; never OTB when on Lrl turf (4: 2-1-1)     
#6 – Ginger N Rye (8-5): Regardless of the record (13:3-5-0) she is never far behind the winner as she was just 3 behind the likes of Onus in last outing; definitely is the class of this field       
#8 – Enchanted Party (15-1): Might be an A. Delacour cast-off from two years ago but first start since then looked promising when 24-1 for outfit that's 0 for 32 this year; could get 1st win here  
Race 9
#5 – Rumblin Kyle (4-1): *** BEST BET *** Has back class and seems to have just needed some class relief to get confidence back; connections keep this gelding in for the $5k tag while jock K. Gomez is obviously a good fit getting a victory and runner-up in only two mounts    
#1 – Burning Mandate (6-1): Oldtimer still has the will to compete as he seeks 15th win; though 7f hasn't been part of recent efforts, he can get it done (8:2-3-1)  
#6 – Magna Warrior (5-1): Makes Lrl debut as he's a transfer from the West Coast (SA to CT); first start for K. Magee who's hoping addition of blinkers helps reverse fortunes   
Race 10 is ON THE TURF
#11 – Struth (8-1): Makes first start on the grass but has been entered in the past for similar but scratched out for whatever reason; can follow in another local son of Curlin (Top of Mind) who has finished no worse than second in 4 turf outings, one was in a G2   
#3 – Agonistic (10-1): Used to sprinting just 5f on turf @ Prx but has a nice stalking style while earning a career best 98 Brisnet# in state bred stakes three back; toss last, off the turf race           
#9 – Grandiflora (9-2): Fits the definition of a "Plodder"; just 3 for 28 lifetime but always in the mix late when sprinting       
Race 11 is ON THE TURF
#12 – So Outspoken (10-1): $$$ LONGSHOT $$$ Three time winner qualifies for N2L as two of those wins came in steeplechase events; only has competed in a handful of flat races and was third on this course behind two next out winners v. same as today 
 #8 – Whippo (4-1): Disappointed backers in last two when sent off as 5-2 PT fav. in both; 1 for 17 looks ugly but eventually will get that elusive second victory… maybe today
#4 – Bay Bridge (6-1): Return to racing after 10 month layoff was a bust (12th by 8½) possibly due to breaking slow and being wide sprinting; stretch back out to two turns and could go gate-to-wire with alert start
YESTERDAY'S NEWS
On Saturday October 29th at Laurel had 7 winners from the 11 race card (3 Top Selections; payoff in BOLD) having $2 WIN pay-off of $6.20 (2nd race), $6.20 (3rd), $5.60 (4th), $5.00 (5th), $8.20 (7th), $4.60 (9th) and $4.40 (10th). Note: Year-to-date Top Selections are Top Selections are 251 for 959 (26.17%).
BEST BET of the Day (102: 29-21-14) Carauntoohil (4th race: 7-2 M/L; 4-1 PT) five deep leaving the backstretch, was five wide around the far turn, drifted way out in upper stretch and lost third while being eased late.
LONGSHOT PLAY of the Day (98: 10-12-14) Nour Iayoun (1st race: 10-1 M/L; 5-1 PT) broke a step slow, edged up near the five eighths, angled out and came up empty to finish 7th.