The GQ Approach – Laurel October 29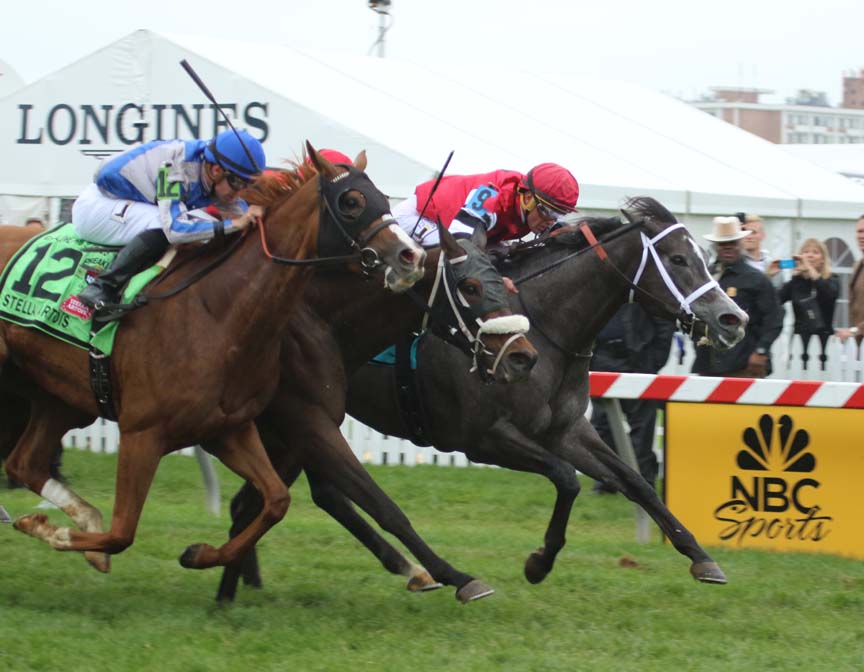 Mizz Money (#9) held off Vielsalm (in between) and Heath (#12) to win the Grade 3 Gallorette. Photo by Laurie Asseo.
The GQ Approach features full-card selections from Laurel Park (w/ live racing every Friday, Saturday and Sunday throughout 2016; Post Time 12:30pm EDT), including a daily Best Bet, Longshot Play, and multi-race wagers — including the 20 cent Rainbow Pick-6, 50 cent Jackpot Pick-5, as well as Pick-4s and rolling Doubles, Pick-3s and the Super High-5. 
CARRYOVERS
Rainbow Pick 6: $3,849.09
Super High 5: $2,207.17
Late Pick 5: $4,220.11
BEST BET OF THE DAY
Race 11 / #7 – Carrauntoohil (7-2)
LONGSHOT PLAY OF THE DAY
Race 1 / #3 – Nour Iayoun (10-1)
[su_heading size="21″ align="left"]Multi-race wagers[/su_heading]
Race 1: $2 Double  3, 4, 9 w/ 1, 3, 5  ($18)
Race 3: $0.50 Pick-3  7, 8, 10  w/ 1, 2, 7  w/ 5, 7, 8  ($13.50)
Race 7: $0.50 Pick-5  3, 7  w/ 4, 7, 8  w/ 7, 8  w/ 4, 7 w/ 7 ($12)
Race 10: $2 Double 4, 7, 8  w/ 7, 9  ($12)
[su_heading size="21″ align="left"]Analysis[/su_heading]
Number of races scheduled for turf: 6 (3rd, 5th, 7th, 8th, 10th and 11th)
Weather: Mostly Sunny, highs in the upper 60's
Projected condition of main track: FAST
Projected condition of turf: FIRM
Race 1
#3 – Nour Iayoun (10-1): $$$ LONGSHOT $$$ Have to look back 9 races (over 12 months ago) to find her last fast track outing, which was a win going one mile (today's distance) v. $25kN2L plus has hit the board in 6 of 7 on main, fast track; Claim candidate    
#4 – Sola Fide (5-1): This 3-yr-old won at this condition last outing and retains services on J. Toledo who has ridden her in 3 of 12 outings, getting 2 wins and a Place by half-length                   
#9 – Da'blues Dancer (5-1): With 18 lifetime starts appears to be best on an off track but has been close enough at this level lately to warrant consideration w/ jock upgrade today       
Race 2
#1 – Sir Luca Richard (3-1): Can boast the top Brisnet Prime Power rating in this group; typical K. Magee move second race after claim should take lion's share of Win pool after getting Show money v. OC$25k          
#5 – Grecian Prince (5-2): Second race after 5-month layoff is trainer H. McMahon specialty (30%); went 5f on turf v. $16kN2L while it wasn't the cleanest of trips, jock put him under wraps late              
#3 – Take Achance On Me (6-1): 9 races after breaking maiden in second career race, connections finally give him class relief; drawing a line through last start (8th by 28) in hopes a weaker group will allow him to shine     
Race 3 is ON THE TURF
#8 – Immunity (5-2): Drops to lowest tag level ($25k) for 10th career start; encountered traffic at 1/8 pole when just 3½ behind winner @ Bel while gaining going 7f in latest    
#10 – Irish Major (6-1): Steps back up after running best turf Brisnet# (88) for this group of maiden in latest; always in the mix when going this distance         
#7 – Path Dependent (10-1): Blinkers off and first race after K. Magee claim (26%) is a move up in class yet he's "out of jail"; like the confidence and fact he's stretching out              
Race 4
#1 – Security Check (2-1): Has best speed figure combo of mid and late pace; missed by a head here two back v. same; runner-up in latest when breaking from rail as well              
#2 – Jump for Trump (12-1): Not many Dems will give this gal a second look; Tim MSW events are often weaker than MSW elsewhere, but her 46 1/5 final time for 4f with strong gallop out indicates she fits with these      
#7 – Staff Sgt. Reckless (6-1): A pair of runner-up efforts since H. McMahon claim three back; chances were compromised in latest v. $25kN2L @ Pen when sent off as 9-5 favorite
Race 5 is ON THE TURF
#7 – High Bar (8-1): This 8-year-old gelding has made a nice living ($266k+) from 60 starts w/ 29 ITM efforts; reading this drop in class as connections trying to get in 1-2 more turf races before her typical winter vacation        
#8 – Golden Emperor (6-1): Another runner who prefers the grass taking an unwarranted class drop IMHO; don't expect to get the M/L price come PT
#5 – Billy the Bull (8-5): 3 things in life are certain… death, taxes and his guy being on the lead early; though he should only have 1 or 2 rivals anywhere close to pressing him, the 5 1/2f pushes his limits, so this Capper is not all-in on him here          
Race 6
#4 – Bridge Builder (6-1): Interesting that T. McCarthy abandons Trombetta (#10) and McMahon (#12) runners to pick up mount for this D. Capuano 2-yr-old colt; makes main track debut after starting career @ Pid with two eventful outings
#11 – Dear Old Dad (12-1): Took a ton of money in debut @ Tim going 4f but when gates opened he was caught flat-footed (or hoofed?); word must have been out due to fact he got claimed for $25k; on the surface drop to $16k looks logical
#13 – The Trump House (9-2): aka The White House… no? Needs a defection to draw in off AE List; drops down one more level seeking first trip to Winners Circle      
Race 7 is ON THE TURF
#3 – Gold Tinker (7-2): Trainer A. Goldberg does a wonderful job w/ Colts Neck Stable runners, being patience w/ them; this gal is one example of needing a few months of no training then back to the track looking better w/ plenty of bullet drills      
#7 – My Sister Caro (9-2): Last 3 race, all turf sprints at 3 different venues faced next out winners; was game in neck defeat in same condition as today      
#1 – Fly Girl (8-1): No not J-Lo on In Living Color but a 3-year-old Jump Start filly making third start since layoff; needs to make move much sooner to avoid Also-Ran status once again      
Race 8 is ON THE TURF
#7 – M C Squared (8-1): Loves Lrl lawn (5:3-1-0) while only OTB finish was a 4th just 1½ behind winner; comes right back after half-length defeat at this same condition; note that jock K. Gomez no longer a Bug Boy     
#8 – Blu Moon Ace (10-1): Jock A. Cruz takes over for T. McCarthy who opted to go w/ M/L fav (#2); this fine Malibu Moon offspring has faced much better earlier this year       
#4 – Not a Chance (3-1): Third start after brief layoff; giving this colt a pass when he weakened late due to using a lot of energy early being rushed up after stumbling at the start
Race 9
#7 – Alden's Rag Doll (9-2): Daughter of Union Rags makes third career start; was much the second best behind a very nice Sagamore Farm filly (Riley's Choice) in last start; a repeat of that performance today she'll graduate    
#8 – Lady Lindsey (3-1): FTS by Bodemeister cost $190k @ Kee weanling sale; has an extensive work tab, though nothing eye-popping must respect connections
#9 – Barley Jack (12-1): Trainer K. Rubley a dreadful 0 for 16 w/ FTS so why so high on this PA-bred by K One King? Stablemate by same sire was runner-up in debut here yesterday at a big price for Rubley; this filly shows similar work pattern at Fai preparing for debut   
Race 10 is ON THE TURF
#7 – Domo Artiegato (5-1): 2 for 2 on Lrl lawn but makes first start in over 11 months; work pattern indicates he'll be cranked up as does trainer A. Delacour 22% off lengthy layoffs  
#4 – Top of Mind (9-5): Hard to argue w/ Mr. Fuestle making this guy M/L fav; huge effort in graded stakes (G2) debut when runner-up when ignored (30-1); appears to be transitioning nicely into a future turf star           
#8 – Schoolofhardrocks (8-1): Mth shipper is first starter of meet for trainer W. Thompson (18%); exits a decent effort v. same in off the turf event @ Prx after a short layoff v. same       
Race 11 is ON THE TURF
#7 – Carrauntoohil (7-2): *** BEST BET *** This maiden has by far earned the best turf Brisnet# in her short career compared to today's rivals; nice late interest in off the turf event at this condition w/ blinkers added in first start since June; ran behind a couple next out winners back then while encountering traffic; graduates here w/ clean trip
#9 – My Vixen (3-1): Couldn't hold off rivals late in an effort to get diploma in gate-to-wire fashion; needs to improve and be more relaxed in second two turn outing
#13 – Northern Eclipse (6-5): Needs at least two defections to draw in, if not go w/ #12 – Zendreya (5-1) if she draws in… if not flip a coin or use #2 – Secondhand Angel (6-1) who might relish two turns on turf
YESTERDAY'S NEWS
On Friday October 28th at Laurel had 7 winners from the 11 race card (4 Top Selections; payoff in BOLD) having $2 WIN pay-off of $4.40 (1st race), $18.00 (2nd), $8.20 (3rd), $8.40 (5th), $7.80 (6th), $5.00 (10th) and $8.80 (11th). Note: Year-to-date Top Selections are Top Selections are 248 for 948 (26.16%).
BEST BET of the Day (101: 29-21-14) No Knock Raid (4th race: 4-1 M/L; 3-1 PT) saved ground around the turn, angled out entering the stretch, was taken to the five path in mid-stretch, closed outside horses and was along in time to win going away to return $8.80 to WIN, $4.60 to PLACE and $3.20 to SHOW.
LONGSHOT PLAY of the Day (97: 10-12-14) Sweet Curls (8th race: 12-1 M/L; 13-1 PT) settled off the pace while saving ground, came out in upper stretch and offered up a mild response to finish 5th just 3½ lengths behind the winner.