The GQ Approach – Laurel October 28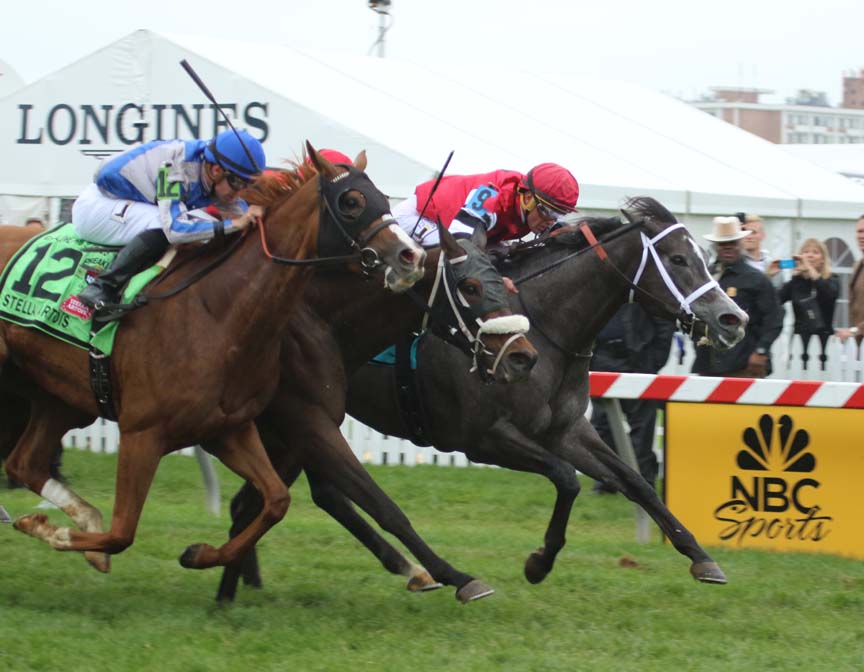 Mizz Money (#9) held off Vielsalm (in between) and Heath (#12) to win the Grade 3 Gallorette. Photo by Laurie Asseo.
The GQ Approach features full-card selections from Laurel Park (w/ live racing every Friday, Saturday and Sunday throughout 2016; Post Time 12:30pm EDT), including a daily Best Bet, Longshot Play, and multi-race wagers — including the 20 cent Rainbow Pick-6, 50 cent Jackpot Pick-5, as well as Pick-4s and rolling Doubles, Pick-3s and the Super High-5. 
CARRYOVERS
Rainbow Pick 6: $3,027
Super High 5: no carryover
Late Pick 5: no carryover
BEST BET OF THE DAY
Race 11 / #1 – No Knock Raid (4-1)
LONGSHOT PLAY OF THE DAY
Race 8 / #6 – Sweet Curls (12-1)
[su_heading size="21″ align="left"]Multi-race wagers[/su_heading]
Race 1: $2 Double  2, 4, 7 w/ 1, 2, 7  ($18)
Race 3: $0.50 Pick-3  1, 3, 4  w/ 5, 7, 8  w/ 7, 9, 10  ($13.50)
Race 7: $0.50 Pick-5  7, 8, 10  w/ 3, 6  w/  3, 10  w/ 7, 9 w/ 1 ($12)
Race 10: $2 Double 5, 7, 9  w/ 1, 3, 8  ($18)
[su_heading size="21″ align="left"]Analysis[/su_heading]
Number of races scheduled for turf: 6 (3rd, 5th, 6th, 8th, 9th and 11th)
Weather: Mostly Sunny, highs in the mid 60's
Projected condition of main track: FAST
Projected condition of turf: FIRM
Race 1
#7 – Mr. Spaceman (8-5): Will likely rocket to the early lead especially being equipped with blinkers for first time for his 18th career start                 
#4 – My Team (6-1): Gets distance relief after having lead or within ½ length of it in mid-stretch when going 1 – 1 1/2 furlongs further                 
#2 – Guns and Rosies (5-2): May be running out of bullets in deep stretch as he shoots for the natural Hat Trick after breaking maiden and then v. N2L for same tag as today      
Race 2
#1 – Mine for Keeps (4-1): Winstar Farm home bred disappointed her backers @ Del in debut when 9-5 favorite; adds Lasix today
#2 – Dream Your Dreams (5-2): Nearly made amends in second start for the clunker she threw in her debut on the turf when sent off 6-5 PT fav.; third time is a charm?
#7 – Graceful Light (12-1): Hasn't run on a fast main surface since January which was 5 races back; traffic at 1/8 pole in most recent outing in the mud compromised a better placing; like the bullet work since at Fai     
Race 3 is ON THE TURF
#3 – Artic North (7-2): Classy 7-year-old won two back for first time in a 1 ½ years and had to drop to $7,500 to get it done; that was the spark as he just missed on step up while encountering traffic; stays at same level and should return a winner    
#8 – Music Critik (8-1): Though off-the-board in both turf tries, he was just ¾ length behind the winner at this level two back while winning an off the turf event 3 back for $15k as well         
#1 – Soupe d'Coupe (6-1): Beat by the #14 and #3 when making first start off claim for K. Cartagena; Karamanos retains the mount; will need an honest pace to run at late          
Race 4
#7 – Desert Frontier (5-2): FTS by Empire Maker is JPN-bred and sold for just under $316k as a yearling in the Far East; plenty to like seeing those bullets riddling the work tab              
#5 – Monongahela (6-1): Trainer K. Rubley a dreadful 0 for 15 w/ FTS so why so high on this PA-bred by K One King? This colt has been working quite smartly at Fai preparing for debut  
#8 – Barin (5-1): FTS by Pioneerof the Nile was late (May) foal on Marathon Farms (i.e. Peter Angelos) here in the Free State; works aren't much be must respect trainer G. Capuano
Race 5 is ON THE TURF
#7 – Ruth Less Blue (9-2): Shipper from north of the border brings regular jock (M. Rainford) in for this grass sprint will have plenty early to stalk if that's the plan     
#9 – Frisky Magician (7-2): Was out of comfort zone going one mile last trip; looking at last couple turf tries at this distance w/ T. McCarthy in irons the results were a win & fast closing 3rd
#10 – Kaitain (5-2): Not specifically bred for turf yet makes fist start on grass in sixth career outing after recording an eye-popping 103 Brisnet# first time going two turn on dirt v. N1X; away since Jan. 3rd and trainer is 0 for 13 with grass firsters makes it tough to tout at low odds        
Race 6 is ON THE TURF
#6 – Tapkee(9-2): Sneaks into this $5k Starter Alw based on last start for $5k on dirt; he's a much better runner on the turf, so he should toy with this group early then put them away in deep stretch                 
#5 – Open the Bank (9-2): Only knows one way to run… that's on the lead; J. Montano gets back on after for third consecutive start, getting a nose victory two back; is 2 for 3 on Lrl turf  
#7 – Legendary King (6-1): Has faced much better and is always making a furious late run; giving him a pass on the last start since he went the overland route the entire race  
Race 7
#10 – La La Bamba (9-2): Turned in best effort of 3 race career when first time on dirt and added blinkers v. $40k MCL; appropriate drop for L. Gaudet trainee    
#8 – Holiday Magician (4-1): Exits same race as top pick when finishing ahead of that one by 2 ½ lengths coming off turf sprint; cut back from 6f can only help      
#7 – Sanctification (6-1): MD-bred FTS by Paddy O'Prado out of a Pulpit mare attracts V. Carrasco for "Ham" Smith; this duo has been winning at a 33% clip this meet     
Race 8 is ON THE TURF
#6 – Sweet Curls (12-1): $$$ LONGSHOT $$$ Tends to jump up and run a big speed fig from time to time, so she's capable of pulling off an upset as she stretches back out to two turns after a game 6f perform while being bottled up late     
#3 – Capucine (5-2): Haven't we seen this movie before? In her past two starts, for this condition, at this distance, over this same Lrl turf course, off as the 6-5 favorite she's been the bridesmaid; making her the favorite again defines "insanity" doesn't it?       
#8 – Gem (6-1): Not so much of a precious stone as she's just 1 for 11 and just got trounced in a VA-bred minor stakes; switch back to a healthy J. Pimentel who was aboard for maiden score may help along with second time blinkers
Race 9 is ON THE TURF
#3 – Storm Net (12-1): On paper is a big jump in class especially after finishing 7th by 8 ½ in latest; but when you dig deeper into his 7 turf outings, his only OTB placings have come on a soft turf (i.e. not listed as Firm); a mid-80's Brisnet# could win here unless M/L fav. finally wakes up
#10 – Enjoy the Show (9-5): Time to pull the curtain down as connections put the Tag on him of the first time and hope HOF rider E. Prado can do what 7 different riders haven't been able to do in his past 9 races… win! Beaten favorite in this 4-year-old geldings last 6 starts… SMH
#9 – Hirschbein (5-2): All 5 of trainer M. Dickinson starters @ Lrl have hit the board (5:1-3-1) this meet; this NY-bred makes Lrl debut after competing against fellow Empire State bred runners and might find it tougher sledding in open company as he did last start @ Sar v. N3L  
Race 10
#7 – Sea Raven (7-2): Don't "see" playoffs but the NFL namesake is currently all wet; this 4-legged Raven was runner-up in latest when 7-wide on the turn behind next out winner; adds blinkers  
#9 – Name Changer (3-1): Lots of promise this time last year as this Uncle Mo colt was TC nominated; got black–type when 3rd in G2 WV Derby in Aug. but never got on track in G3 Smarty Jones in most recent effort; bullet works since indicate he's fine           
#5 – Savvy Street (12-1): Has been in v. OC$40kN3x while protected in last two; now drops back w/ OC$32kN2X in a similar move six races back which produced a runner-up finish when 8-1       
Race 11 is ON THE TURF
 #1 – No Knock Raid (4-1): *** BEST BET *** In this $16k MCL turf sprint there's a ton of cheap, early speed in here which will give this Closer an opportunity to settle off the rail and make strong bid to overtake the leg-weary foes in deep stretch to get diploma 
#3 – Speightshill (7-2): Lone turf try from 12 previous starts was forgettable (9th by 19 @ GP going 7 1/2f); takes multi-class drop which trainer C. Lynch does better (25%) than overall '16 pct. (16%)
#8 – Triple Black Jack (9-2): The only other Closer in this field might be suspect after faltering in mud first time seen in afternoons since May; chalk it up to being "unruly in gate" or other issues?
YESTERDAY'S NEWS
On Sunday October 23rd at Laurel had just 4 winners from the 11 race card (3 Top Selections; payoff in BOLD) having $2 WIN pay-off of $8.20 (2nd race), $16.00 (6th) $6.80 (9th) and $8.80 (11th). Note: Year-to-date Top Selections are Top Selections are 244 for 937 (26.04%).
BEST BET of the Day (100: 28-21-14) If I Was a Boy (4th race: 5-2 M/L; 9-5 PT) edged up between rivals to be in range near the half, dropped in towards the rail around the turn and faded to finish 5th.
LONGSHOT PLAY of the Day (95: 10-12-14) Class Edge (7th race: 6-1 M/L; 6-1 PT) rated back along the rail leaving the backstretch, raced in the two path on the turn, chased the pace and gave way to finish 5th.