The GQ Approach – Laurel October 23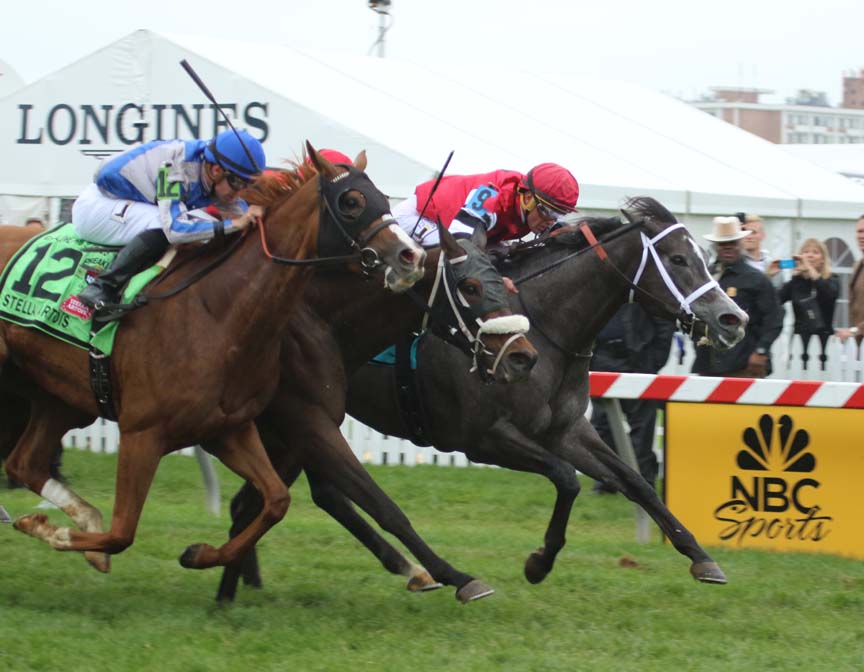 Mizz Money (#9) held off Vielsalm (in between) and Heath (#12) to win the Grade 3 Gallorette. Photo by Laurie Asseo.
The GQ Approach features full-card selections from Laurel Park (w/ live racing every Friday, Saturday and Sunday throughout 2016; Post Time 12:30pm EDT), including a daily Best Bet, Longshot Play, and multi-race wagers — including the 20 cent Rainbow Pick-6, 50 cent Jackpot Pick-5, as well as Pick-4s and rolling Doubles, Pick-3s and the Super High-5. 
CARRYOVERS
Rainbow Pick 6: $2,360.26
Super High 5: $5,512.65
Late Pick 5: $19,252.68
BEST BET OF THE DAY
Race 4 / #4 – If I Was a Boy (5-2)
LONGSHOT PLAY OF THE DAY
Race 7 / #5 – Class Edge (6-1)
[su_heading size="21″ align="left"]Multi-race wagers[/su_heading]
Race 1: $2 Double  1, 4, 6 w/ 4, 5, 6  ($18)
Race 3: $0.50 Pick-3  11, 12, 13  w/ 2, 4, 6  w/ 1, 9, 11  ($13.50)
Race 7: $0.50 Pick-5  4, 5, 6   w/ 7, 11  w/  4  w/ 6, 7  w/ 4, 5, 7  ($18)
Race 10: $2 Double   4, 6, 7  w/ 4, 5, 7  ($18)
[su_heading size="21″ align="left"]Analysis[/su_heading]
Number of races scheduled for turf: 7 (1st, 3rd, 5th, 7th, 8th , 10th and 11th)
Weather: Mostly Sunny, highs in the mid 60's
Projected condition of main track: FAST
Projected condition of turf: FIRM
Race 1 is ON THE TURF
#6 – Big Platinum (4-1): Failed as 4-5 PT favorite @ Del going 7½f on grass but was making up ground late when dropped from $30k; added distance here should help                 
#1 – Add Four (2-1): Got Show purse @ Med in first race since mid-Feb. on the drop from $50k @ GP to $25k; one more class drop gives best chance to graduate today              
#4 – Get Ride Of (12-1): Made a nice late rally going 6f on dirt in debut v. $10k MCL; not so sure about switch to turf but at least belongs at this class level      
Race 2
#4 – Delightfullstorm (5-1): Jock K. Gomez exits both the #6 (5-2) and #7 (4-1) to get a leg up on this gel who was way wide in the mud first time v. winners; has a win and runner-up finish in only two fast track starts          
#6 – Lockupthebourbon (5-2): Only runner in this $5N2L who broke maiden at this 7 furlong distance earlier this year             
#5 – Fancy Outflanker (2-1): Best of the rest as she just missed (by a neck) in first try v. winners in mud; D. Thorpe retains mount in hopes of a not so wide trip      
Race 3 is ON THE TURF
#13 – Giovanna Blues (4-1): Been doing everything right in the A.M. but has yet to translate into a victory in the afternoon after 3 starts; putting faith into the "Mad Genius" to have figured it out    
#12 – Anissa (7-2): Stretch out to 9f on Prx grass in latest still couldn't cure her Second-itis (lost by a head; 1½ in front of top pick) when 6-5 PT fav.; ran best turf Brisnet# (87) here three back        
#11 – Hoosier Girl (6-1): Trailed sprinting on dirt @ Mth in debut when stumbled out of gate as 8-5 PT fav.; switch to grass looks promising based on recent works for trainer T. Proctor          
Race 4
#4 – If I Was a Boy (5-2): *** BEST BET *** Race sets up perfectly for her off the pace running style as the majority want/need to be on the lead for any chance at winning              
#2 – Hissy Fit (2-1): Can boast the best Brisnet#s of this bunch but Mth figs always seem to be a bit on the high side or is it me? Will need to fight off early challenge of foes to prevail  
#6 – She Rolls (3-1): Scratched from MD Million Day Distaff Starter event to go here which turns out to be a softer group but still ran behind top pick in here last outing, albeit by a half length
Race 5 is ON THE TURF
#9 – Hug a Tree (7-2): Key here is jock switch from bug girl to F. Boyce who knows her way around this course; beat M/L fav. this spring on Pim grass at this same condition   
#11 – Fancy Malka (15-1): Prx-based trainer ships into Lrl first time this year; runner just 1 for 12 lifetime on turf but while facing better and Brisnet#s stack up well against Program Selections     
#1 – Chesapeake Spring (6-1): Nice late run in first try after A. Merryman reclaim; is versatile to go to lead from rail if J. Toledo sees fit        
Race 6
#2 – Hey Willie (5-1): Three-time winner sneaks into this $5kN3L due to being a 3-year-old; this time of year 3 v. older isn't a disadvantage IMHO; not fazed by drop after fading at this distance last time… offering the off track as an excuse                 
#4 – Dottie's Ray (9-2): Invader from Prx for trainer M. Pino (8:2-1-0 @ Lrl in '16) does well when stretching trainees out; speed figs have been ascending   
#7 – Jiravit (4-1): Gets favorite distance today (9:2-1-3) and third start off trainer B. Feliciano claim; has back class to improve among these bottom feeders  
Race 7 is ON THE TURF
#5 – Class Edge (6-1): $$$ LONGSHOT $$$ Seems as if jock V. Carrasco fits this one like a glove as he's fared best in the irons on her than other jocks; should get a nice stalking trip    
#4 – Bioterp (8-1): Been working well during brief layoff; has gotten the best of top pick in the past but that was only going 5f      
#6 – Seaside Schiller (4-1): One of two entries on the card for trainer M. Matz; other in R3 does not have go-to rider A. Cintron (23% w/ trainer past year) in the irons as this one does… Hmmm      
Race 8 is ON THE TURF
#11 – Seeking Paradise (7-2): Victorious in lone start over Lrl turf course; "Special K" will get a leg up from trainer J. Sharp who is 1 for 2 w/ shippers into Lrl   
 #7 – Coastal Sea (5-2): Began career like gangbusters winning first two her in July; traveled to Bel for minor turf stakes going 6f but lost by 3 lengths; should find home course and class relief more to her liking       
#3 – Angel Vision (4-1): Ships in from home base of Sar; been facing better competition than this group for the most part; though running line not too impressive, the climbing turf Brisnet#s are
Race 9
#4 – Enough is Enough (9-2): First start off claim for trainer M. Eppler who is on a tear! Sagamore's loss is her gain putting this one on dirt going two turns, same scenario of 6¼ length MSW score at Tam in Jan., this geldings last dirt race
#2 – Mack the Knife (6-1): Over his head in last as Show horse came back to get same placing yesterday in MD Million Classic; jock would be wise to take back a tad and let other speed be the sacrificial lambs on the front end
#3 – Louis the Great (6-1): First race off K. Magee claim; MD-bred couldn't draw into MD Million Starter Hcp so here is the next best thing; nice spot to run while in jail
Race 10 is ON THE TURF
#6 – Lake Sebago (6-1): Appears to have finally regained her 2-year-old form (yes, 2 y.o.) as she'll be heard from late w/ the help of what should be fast early fractions
#7 – Little Cyclone (8-1): After three attempts routing on grass while showing early speed then fading, will give sprinting a shot after winning here over sloppy track; goes for natural Hat Trick           
#4 – Imply (15-1): A Closing Sprinter type had 2 for 2 turf record snapped v. $40kOCN3X last outing @ Prx; extra 1/16th should help this E Dubai filly   
Race 11 is ON THE TURF
#5 – Sky Commander (7-2): Makes Lrl debut after successful Summer up I-95 in Del; had a pair of runner-up finishes @ Pim in the Spring going 5f; added distance can only help today
#4 – Uncle Tito (10-1): Runner-up at same level in most recent effort when traffic troubles delayed late rally in third race after layoff
#7 – Racy (10-1): beaten favorite @ Med when in for $10k tag; was compromised at the start two back here for same condition as today   
YESTERDAY'S NEWS
On Saturday October 22nd at Laurel had just 4 winners from the 11 race card (3 Top Selections; payoff in BOLD) having $2 WIN pay-off of $4.60 (1st race), $3.00 (2nd), $4.00 (3rd) and $3.40 (7th). Note: Year-to-date Top Selections are Top Selections are 241 for 926 (26.03%).
BEST BET of the Day (99: 28-21-14) Worthy Lion (6th race: 7-2 M/L; 3-1 PT) was steadied leaving the chute, steadied along off heels near the five eighths, steadied again leaving the three and a half furlong marker, angled out and progressed seven wide into the lane, ranged up to be on even terms near the sixteenth marker, dueled and just missed the victory to return $4.80 to PLACE and $3.20 to SHOW.
LONGSHOT PLAY of the Day (94: 10-12-14) Wowwhatabrat (9th race: 12-1 M/L; 5-1 PT) four deep on the turn, angled to the six path in upper stretch, flattened out while finishing just 2 lengths behind the winner in 6th.