The GQ Approach – Laurel October 22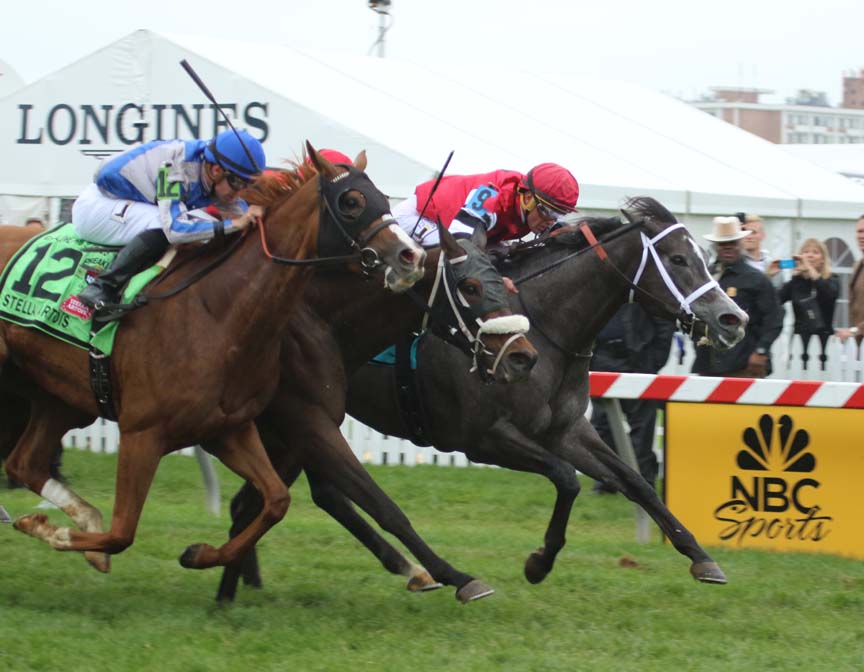 Mizz Money (#9) held off Vielsalm (in between) and Heath (#12) to win the Grade 3 Gallorette. Photo by Laurie Asseo.
The GQ Approach features full-card selections from Laurel Park (w/ live racing every Friday, Saturday and Sunday throughout 2016; Post Time 12:30pm EDT), including a daily Best Bet, Longshot Play, and multi-race wagers — including the 20 cent Rainbow Pick-6, 50 cent Jackpot Pick-5, as well as Pick-4s and rolling Doubles, Pick-3s and the Super High-5. 
BEST BET OF THE DAY
Race 6 / #7 – Worthy Lion (7-2)
LONGSHOT PLAY OF THE DAY
Race 9 / #8 – Wowwhatabrat (15-1)
[su_heading size="21″ align="left"]Multi-race wagers[/su_heading]
Race 1: $2 Double 2, 4, 6  w/ 6, 7  ($12)
Race 3: $0.50 Pick-3  4, 7  w/ 2, 4, 8, 9  w/ 1, 3, 5, 7  ($16)
Race 7: $0.50 Pick-5  10  w/ 4  w/ 4, 8, 11  w/ 6, 7  w/ 1, 3, 6, 7, 8  ($15)
Race 10: $2 Double  6, 7   w/ 1, 3, 7  ($12)
[su_heading size="21″ align="left"]Analysis[/su_heading]
Number of races scheduled for turf: 4 (1st, 5th, 7th and 11th)
Weather: Partly Sunny and Windy, highs in the upper 50's
Projected condition of main track: FAST
Projected condition of turf: FIRM
Race 1 is ON the TURF
#2 – Borino (6-1): Bred to go well beyond the 6 furlongs she ran in her career debut when sent off 9-2 and was wide on the turn, passing a few fading foes; trainer C. Lynch does well with his runners in their second career race (19%) and first time around two turns (21%)             
#6 – Sarah's Treasure (5-1): Breeding indicates she should like the turf after 4 promising efforts on dirt, one of which was taken off the turf; getting HoF rider E. Prado in the irons is a huge plus       
#4 – Heads Games (9-5): Ran on MD Million Day last year in the Lassie in just her second career start and finished 6th; 7 races later and switching to trainer G. Motion 4 races ago, she's still seeks first trip to the Winners' Circle      
Race 2 is the MD Million Distaff Starter Hcp.
#6 – Chapel of Chimes (3-5): On paper looks like a lock, but the race isn't run on paper; all 15 starts have been run at her home track (Pen); now she comes to the big leagues though facing what are supposed to be softer foes          
#7 – Star Eighty (7-2): Appears to have the best shot at beating the prohibitive M/L favorite but is untested at this one mile distance and speed figure wise she's developed an "up, down, up down" pattern; unfortunately today would be a "down"             
#1 – Crookit (20-1): Earned diploma (i.e. 1st win) in most recent outing v. $10k MCL; this is a big step up in class but she's loves this distance (1 win and 2 seconds) which all occurred in her last 3 dirt surface races     
Race 3 is the MD Million Nursery
#7 – Greatbullsoffire (6-5): Only juvenile in here to have beaten winners; though two of three career outings have been on turf he won lone dirt start in the Strike Your Colors Stakes at Delaware Park; oddly this assembled group lacks a ton of early speed which bodes well for a potential gate-to-wire score for this son of Bullsbay   
#4 – In Arrears (3-1): Surprised even his connections in debut when 53-1 and led by 2+ lengths in the stretch but couldn't hold it, having to settle for the Show spot; came back to romp in the slop by 4 as runner-up (El Arreb) was an impressive next out winner        
#6 – Slick Man (12-1): Draws in as the only first-time starter for this years' event; connections have expensive taste in equine athletes who typically can win at first asking; work pattern for this son of Not For Love is good enough to be considered a threat to upset          
Race 4 is the MD Million Lassie
#4 – Natural Notion (6-1): Still a maiden after four starts locally but all versus top notch fillies in MSW while many of her foes in here are coming off victories in maiden claiming events; been a bridesmaid in her most recent two; Brisnet# has ascended with each dirt effort
#8 – Diamond Dollar (5-2): The most experienced filly in this field is a daughter of leading MD Million stallion Not For Love who passed away earlier this year, will make first start on natural dirt after enjoying a prosperous start of her career (5:2-2-1) racing on the synthetic surface at Presque Isle Downs; her dam won 12 of 36 races, all on dirt including a G3 in her career finale
#9 – Sommer Something (6-1): Adding blinkers in her second start appears to have been the magical solution as she reeled off back-to-back victories and seeks the natural Hat Trick in just her fourth career outing; this is the first crop of MD Million eligible runners for her sire (Etched) and hails from Bonita Farm, home of J. William "Bill" Boniface co-founder of the MD Million
Race 5 ON the TURF is the MD Million Ladies
#3 – Rocky Policy (4-1): This 4-year-old daughter of Rock Slide is cross-entered in R9 but hopefully will go here; comes off her first two-turn race, beating allowance company over the synthetic surface at Presque Isle Downs; looking like a prudent claim for $28k back in June, her trainer Dale Capuano who also will saddle Monster Sleeping in here, is out to prove stretching this gal out was just what the doctor ordered. She has goes in R9 instead, use #7 – Pauline's Pride (10-1)
#1 – Complete St. (4-1): Hasn't seen the Winners' Circle since last October, but that was just seven (7) races ago; makes third start after a short layoff and exits a neck loss in the Brookmeade Stakes for VA-breds but has yet to hit the board in two attempts at this 9 furlong distance.
#5 – Northern Smile (7-2): Just one of three runners scheduled to start in this event who have reached the wire first when traveling this distance (Monster Sleeping and Dance With Gio are the others); will need plenty of pace help as she doesn't get out of first gear until the quarter pole; been getting better while part of the Trifecta in seven of her last nine starts.
Race 6 is the MD Million Starter Hcp.
#7 – Worthy Lion (7-2): *** BEST BET *** Has been taking advantage of Starter Allowance eligibility since being claimed by J. Egan 9 races ago (in March '16); is incredibly consistent having been part of the Trifecta in 24 of his past 26 starts; never OTB in 12 starts at today's distance
#12 – Stolen Love (9-2): Won this event last year and has been facing much better over the past year than the assembled group of scheduled starts in here; 7 of 8 lifetime victories have come @ Lrl
#1 – My Son Ernie (12-1): Fresh off the Claim for W. Potts from victory in $5k open claiming event @ Prx that produced two next out winners, whereas most of his rivals have been competing in restricted conditions
Race 7 ON the TURF is the MD Million Turf
#10 – Phlash Phelps (1-1): Was cross-entered in the Classic, but goes here as defending champ; his 5-year-old campaign has had ups and downs, winning just 1 of 4 outings but ran huge in latest, the G2 Commonwealth Turf Cup when 19-1, losing by just 1½ lengths while steadied at the 1/16th pole; this son of Great Notion who should get a perfect stalking trip in order to successfully defend his crown
#11 – Lord of Love (5-1): If all others are "running for second purse" then this NY-bred son of Not For Love should be at the top of the list considering he's just 2 for 33 on the turf but has earned over $228k in those starts; was a fast closing runner-up in a 6 furlong AlwN$1X on Belmont Park grass just 8 days ago
#9 – Barrel of Love (20-1): Fourth in this event in 2015 when back heavier (9-2) then he will be this year, for a different barn; comes off two, off-the-board turf sprints in minor stakes after a layoff, so stretching back out should be more to his liking
Race 8 is the MD Million Sprint
#4 – Morning Fire (9-5): Enters off lengthy hiatus, but this sophomore has plenty of class and is a threat to go gate-to-wire; top trio from last outing came back to win or be runner-up in stakes events their next time out   
#6 – D C Dancer (9-2): 2014 champ was third in this event last year, beaten just two lengths for all the money; should improve in second start after a brief layoff; toss the two-back route effort and his 2016 form looks better than his record; note three improving works, culminating in a bullet half-mile should make him fit as a fiddle       
#3 – Easy River (8-1): Taking a leap faith and looking all the way back to his Mar. 13, '16 race … why? Because that was the last time ran 6f on a fast track, which was a victory and career best (98) Brisnet#  
Race 9 is the MD Million Distaff Hcp.
#8 – Wowwhatabrat (15-1): $$$ LONGSHOT PLAY $$$ Has shown improvement with three wins from 7 starts in '16 and is just 1 of 2 in here with victories going 7 panels, which she's done it twice from just three tries; lit up the toteboard in winning her last race ($64.00); Del-based trainer ships to win and does (31% clip)
#11 – Lovable Lady (8-5): Mary Eppler trainee looks to run off fourth straight win; been worse than third just once in 14 career starts; owns back-to-back stakes wins and can eyeball the other speed from the outside post but has yet to hit the wire first going 7 furlongs (2: 0-1-1)
#4 – Scip's Sonata (6-1): It's a family affair as jock N. Juarez comes home to ride this 6-year-old mare for trainer/owner Dad, Calixto; makes third start after 14 month layoff earning 97 & 93 Brisnet#s, either good enough to win today  
Race 10 is the MD Million Classic
#6 – Flash McCaul (2–1): One of the best Friesan Fire offspring to come out of Country Life Farm but needs to outgrow Second-itis (12:2-6-1); absolutely needs pace help from a couple rivals so returning champ cannot steal it on the front end; was fourth in the Tesio this spring at only try at the distance; Brisnet#s have been ascending
#7 – Just Jack (9-5): A versatile 3-year-old whose notched victories on the turf, fast and off tracks; answered doubters when he was won in first try at two turns just 20 days ago locally; now has to prove has can get 9 furlongs
#2 – I'm Mr. Blue (10-1): Was a distant third in this event a year ago for a different barn; makes just his third start since January and recent A.M. drills indicate he's fit for a top effort   
Race 11 is ON the TURF
#3 – Piercinator (10-1): After 3 dirt sprint effort to start career racing evenly in each, transferred to H. McMahon to condition this son of Street Magician whose crying out for two turns and gets it today           
#1 – Gin Fuzz (5-2): Against better judgment backing a runner who has had plenty of opportunities to get to Winners Circle but appears to lack the will to win (12:0-5-1) in spite of boasting best turf Brisnet#
#7 – Publishanditerate (8-1): Barn does well with turf starters especially when giving maidens more time to mature; away since April and has consistent work pattern ready for a return
YESTERDAY'S NEWS
On Friday October 21st at Laurel had just 4 winners from the 9 race card (3 Top Selections; payoff in BOLD) having $2 WIN pay-off of $6.20 (1st race), $3.80 (5th), $7.20 (7th) and $8.40 (8th). Note: Year-to-date Top Selections are Top Selections are 238 for 915 (26.01%).
BEST BET of the Day (98: 28-20-14) Wildcat Rising (2nd race: 5-1 M/L; 9-2 PT) rated three to four wide early, ranged up outside the winner nearing the quarter pole, failed to quicken with that one soon into the lane, leveled off in the final furlong and closed the gap to be second best and return $6.60 to PLACE and $3.20 to SHOW.
LONGSHOT PLAY of the Day (93: 10-12-14) Devilknowsmyname (9th race: 10-1 M/L) was SCRATCHED after the race was taken OFF THE TURF.