The GQ Approach – Laurel October 21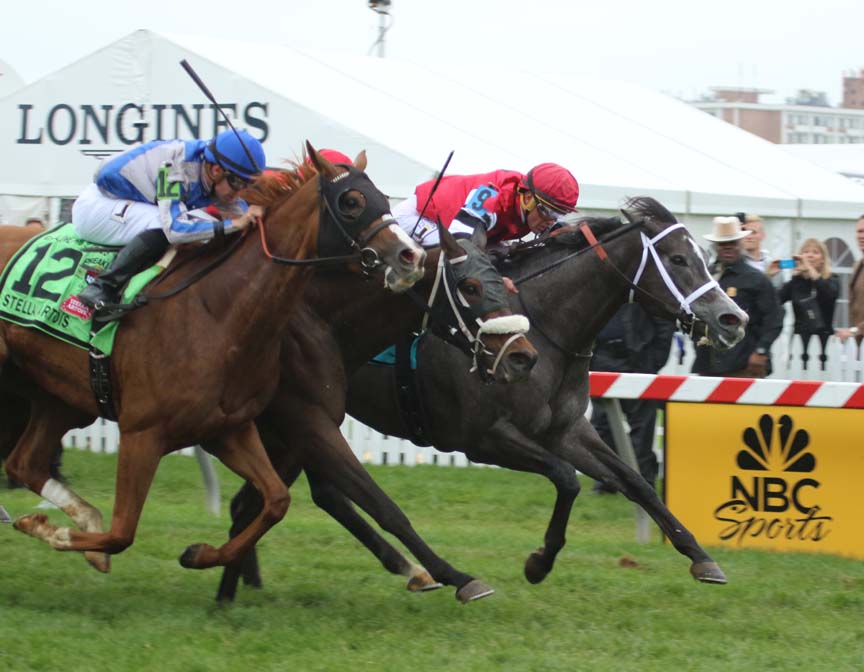 Mizz Money (#9) held off Vielsalm (in between) and Heath (#12) to win the Grade 3 Gallorette. Photo by Laurie Asseo.
The GQ Approach features full-card selections from Laurel Park (w/ live racing every Friday, Saturday and Sunday throughout 2016; Post Time 12:30pm EDT), including a daily Best Bet, Longshot Play, and multi-race wagers — including the 20 cent Rainbow Pick-6, 50 cent Jackpot Pick-5, as well as Pick-4s and rolling Doubles, Pick-3s and the Super High-5. 
CARRYOVERS
Rainbow Pick 6: $2,664
Super High 5: $2,983
Late Pick 5: no carryover
BEST BET OF THE DAY
Race 2 / #7 – Wildcat Rising (5-1)
LONGSHOT PLAY OF THE DAY
Race 9 / #11 – Devilknowsmyname (10-1)
[su_heading size="21″ align="left"]Multi-race wagers[/su_heading]
Race 1: $2 Double 2, 3, 7  w/ 2, 3, 7  ($18)
Race 3: $0.50 Pick-3  4, 5, 9  w/ 1, 2, 3   w/ 2, 3, 4  ($13.50)
Race 5: $0.50 Pick-5  3   w/ 5, 9  w/  1, 4  w/ 1, 4, 13  w/ 10, 11, 15 ($18)
Race 8: $2 Double 1, 4, 13 [6-MTO]  w/ 10, 11, 15 [16AE]  ($18)
[su_heading size="21″ align="left"]Analysis[/su_heading]
Number of races scheduled for turf: 4 (3rd, 6th, 8th and 9th)
Weather: Mostly Cloudy with rain likely late afternoon, highs mid 70's
Projected condition of main track: FAST
Projected condition of turf: FIRM
Race 1
#3 – Ground Control (2-1): Part of Exacta in 4 of 5 outings at Lrl; just missed gate-to-wire score for K. Cartagena in first effort v. open $5k claimers, off Rudy Rod. claim             
#2 – Peppermint Prince (4-1): Game 7-year-old always picks up a check at this level, unfortunately it's typically a minor v. winners share
#7 – Money Tree (3-1): Failed as Post Time favorite in first start for J. Ness barn when 4½ behind next out winner; being offered for $4,500 doesn't give this capper a warm & fuzzy feeling   
Race 2
#7 – Wildcat Rising (5-1): *** BEST BET *** Answered the doubters in latest at this level when jumping up from bottom of barrel ($5k MCL) @ Tim, rallying for Show after traffic and wide trip in mud          
#2 – Startdwithawhisper (7-2): 1 of 2 uncoupled entries for trainer M. Eppler; K. Gomez rode both last time, picks this one and boasts best last dirt Brisnet#             
#3 – Danish Pastry (3-1): Should lead this group into the far turn but has faded twice as odds on Post Time favorite v. same in past two starts; hard trust w/ "Cowboy" still seeking 2nd win from 80+ mounts since comeback     
Race 3 is ON THE TURF
#5 – Porte Cochere (4-1): Tough Lrl truf course has held speed well, there's just too much of it in here not to believe the winner will come from off that hot pace… like this one can; makes first start for K. Magee   
#9 – Uknowfriends (8-1): Might be an ugly 2 for 31 lifetime but turf record is acceptable (10:1-2-0); ran behind a couple in here in last start but didn't have a clean start and was wide on the turn       
#4 – Mo Fun Lady (12-1): Been facing much tougher and is a Jekyll & Hyde sort… throws a clunker in after a nice effort… as she did in latest; time for a nice effort?          
Race 4
#2 – Slick William (4-1): Hoping the rain holds in after Post Time of this race as IMHO he was compromised by the muddy track in latest; a run back to that race two back puts him in Winners Circle              
#1 – Iredell (6-1): Second start w/ blinkers and getting V. Carrasco in the irons should see this gelding hustled to be on or near the lead from the rail; beat top pick in here two back
#3 – Jump Jive an Wail (2-1): Easily second best in latest over a muddy Lrl surface when in for the tag first time at this same condition, protected today but could bounce
Race 5
#3 – Candycoated Dame (8-5): WOW! Stepped up from facing $25k MCL in debut to $40k MCL and romped by 5+ lengths when adding both blinkers and Lasix   
#2 – Sisella (7-2): Made short work of a $16k MCL field locally, winning by a pole after getting embarrassed @ Sar in Aug. v. NY-bred MSW
#4 – Ideal Behavior (10-1): Was nominated to MD Million Lassie but opts for this softer spot; earned diploma in latest v. $25 MCL but loses services of A. Serpa who sticks w/ #2      
Race 6 is ON THE TURF
#5 – Future Show (7-2): Anytime HOF rider E. Prado shows up on a Sagamore Farm runner (3 for 7) they are an "auto use"; negative is fact G. Motion gave up on her 11 months ago but H. DePaz does well (30%) coming off long layoff                 
#9 – Lake Turkana (12-1): Finally graduated in ninth start but was in the mix in majority of them, all on the turf and has never been OTB in 4 Lrl grass races (4:1-1-2)  
#13 – Hassah (8-1): 0 for 5 since coming to North America, each race at a different venue and Lrl will make it a sixth but the turf Brisnet#s measure up against these foes; second time blinkers  
Race 7
#4 – Feel Proud (2-1): MD-bred FTS by Proud Citizen has a solid, extensive work tab with a couple bullets sprayed in there; foes haven't displayed that kind of speed so it could be a gate-to-wire winning debut       
#1 – Djulpan (7-2): Tough break getting rail assignment again after disappointing run @ Prx though the speed fig came back strong (86); trainer N. Saville carries 0-fer meeting (0 for 32)      
#7 – First Notion (5-1): Late run in debut on Lrl lawn last month gives reason this great Notion gelding should improve moving to dirt as bloodlines do not scream turf      
Race 8 is ON THE TURF
 #1 – Monsoon K S A (2-1): Held his on in G2 event @ Sar in most recent start and first v. winners when 27-1; all 3 starts have been on turf so if the rains arrive and MJC Mgmt takes R8 and R9 off the turf to save it for MD Million Day, expect him to be scratched   
#13 – Mr Grey (7-2): Could draw in off AE list but may scratch if it comes off; never worse than runner-up in 3 career maiden races and should get a perfect setup to come off the pace
 #4 – Hot and Heavy (4-1): Impressive gate-to-wire maiden socre when breaking from 10 hole going mile; another move forward in third career outing could see him in Winners Circle again
* IF OFF THE TURF… #6 – O Dionysus (5-2), #2 – Hosway (20-1), #11 – Devine Dental (15-1)
Race 9 is ON THE TURF
#11 – Devilknowsmyname (10-1): $$$ LONGSHOT $$$ Whether on or off turf, expect F. Boyce to give this gelding a boost in Lrl debut; going 1½ mile @ Pen was hopefully just a tighter
#15 – Live in Joy (9-2): Needs just one defection to draw in but will likely scratch if race comes off; won for same condition two back here over "good" turf course          
#10 – Boppin Anda Weapin (7-2): Drops off a win should be a red flag as trainer O. Figgins is 0 for 3 with them; will need the turf course to be kind to his early speed as only #1 should threaten early      
* IF OFF THE TURF… stick w/ #11 but then use #4 – Outofthedepths (15-1), #16AE – Counting Days (12-1)
*** MARYLAND MILLION DAY is SATURDAY – 1st race Post Time 12:15pm EDT ***
YESTERDAY'S NEWS
On Sunday October 16th at Laurel had 5 winners from the 9 race card (2 Top Selection; payoff in BOLD) having $2 WIN pay-off of $7.40 (2nd race), $7.00 (3rd), $2.80 (7th), $29.80 (8th) and $5.60 (9th). Of the suggested Multi-race wagers hit the R8-R9 $2 DOUBLE for $127.00 (cost: $18). Note: Year-to-date Top Selections are Top Selections are 235 for 906 (25.94%).
BEST BET of the Day (97: 28-19-14) That's My Bai (8th race: 4-1 M/L; 8-5 PT) prompted the pace two to three wide, applied more pressure past the five sixteenths, dueled into the lane, kept on past the eighth pole then faded to finish 6th.
LONGSHOT PLAY of the Day (93: 10-12-14) Galroyale (6th race: 12-1 M/L; 5-1 PT) settled off the pace, angled out a bit in upper stretch, moved up between rivals in mid-stretch then failed to sustain a bid to finish 6thf just 2¼ lengths behind the winner.