The GQ Approach – Laurel October 16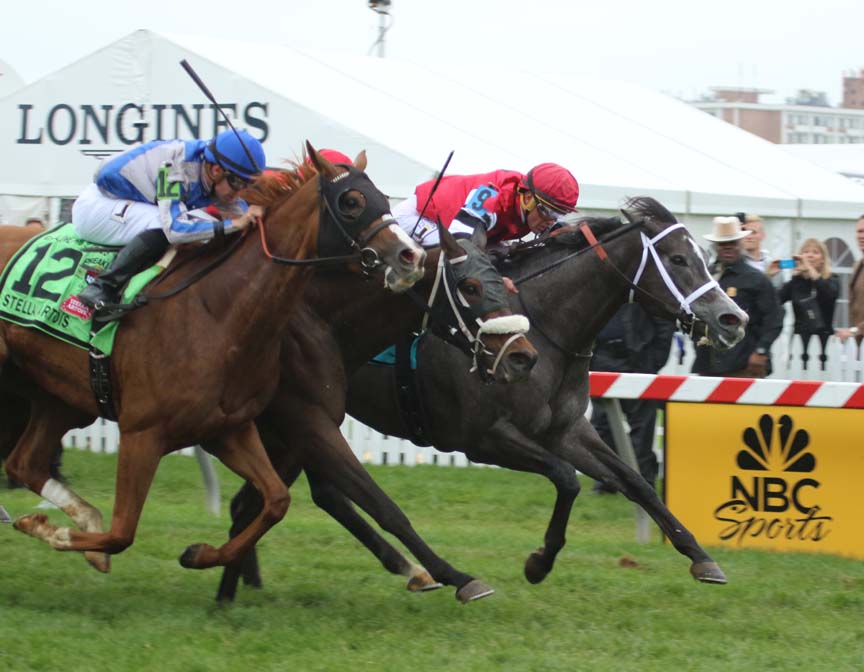 Mizz Money (#9) held off Vielsalm (in between) and Heath (#12) to win the Grade 3 Gallorette. Photo by Laurie Asseo.
The GQ Approach features full-card selections from Laurel Park (w/ live racing every Friday, Saturday and Sunday throughout 2016; Post Time 12:30pm EDT), including a daily Best Bet, Longshot Play, and multi-race wagers — including the 20 cent Rainbow Pick-6, 50 cent Jackpot Pick-5, as well as Pick-4s and rolling Doubles, Pick-3s and the Super High-5. 
CARRYOVERS
Rainbow Pick 6: $2,237.56
Super High 5: $1,881.04
Late Pick 5: $4,857.72
BEST BET OF THE DAY
Race 8 / #7 – That's My Bai (4-1)
LONGSHOT PLAY OF THE DAY
Race 6 / #9 – Galroyale (12-1)
[su_heading size="21″ align="left"]Multi-race wagers[/su_heading]
Race 1: $2 Double 2, 3, 9  w/ 4, 5, 7  ($18)
Race 3: $0.50 Pick-3  1, 2, 3  w/ 2, 3, 5   w/ 4, 8, 9  ($13.50)
Race 5: $0.50 Pick-5  8, 9   w/ 9  w/  7  w/ 6, 7, 11  w/ 1, 8, 11  ($9)
Race 8: $2 Double 6, 7, 11  w/ 1, 8, 11  ($18)
[su_heading size="21″ align="left"]Analysis[/su_heading]
Number of races scheduled for turf: 6 (1st, 3rd, 5th, 6th, 8th and 9th)
Weather: Mostly Sunny, highs in the low 70's
Projected condition of main track: FAST
Projected condition of turf: FIRM
Race 1 is ON THE TURF
#3 – Golden Treasury (9-2): Scratched from same condition race on Friday; one would think due to this spot being softer? Brilliant Speed babies have given a good account of themselves on turf locally             
#2 – In Bella's Honor (12-1): What could be a Mike Trombetta Exacta; in debut this gal rallied to be 5th sprinting in minor stakes that saw 6th-place finisher comeback to break maiden on turf yesterday                
#9 – Scattered Thoughts (6-1): $350,400 yearling purchase bred for turf appears to have run evenly in debut @ Mth but can boast best Late Pace figure in here; must respect connections      
Race 2
#4 – Secondhand Angel (9-2): Trainer "Ham" Smith has placed this one at right level from the start but only once in 7 outings intended for her to run on dirt, which was a decent effort; first time going two turns should not be an issue     
#7 – Weatherurnot (4-1): HOF rider E. Prado back in irons who got the most out of this Dance With Ravens (Beat the NYG today!) filly when runner-up v. $40k MCL; takes precipitous drop today
#5 – Amble Along (7-2): Continues to drop seeking diploma; returns to main track for first time since debut (6 races back) v. MSW when 6th by 6; yikes… 666, an omen?     
Race 3 is ON THE TURF
#2 – Synergist (6-1): Toss that last race when off the turf; this gray can compete but has been a Cash Cow rather than a Win Machine (61:4-13-13) but turf record at this distance is better (13:2-3-1)    
#1 – Sally Oh Sally (3-1): Appears to be stepping up but has back class on turf and a gaudy record to boot (8:3-4-1), all at this distance        
#3 – Ginger Beer (6-1): Pim-based trainer C. Robinson (38%) is 2 for 2 at meet; this 5 y.o. mare has faced better, especially in her two local tries when OTB in both; getting F. Lynch aboard is a plus
Race 4
#5 – Big Brother Bubba (12-1): Was has been in events having plenty of other early speed which took him out of his game; this field lacks those types so the angle here is Lone Speed IF trainer/jock recognize this fact              
#3 – R Lucifer (5-1): Has thrown in head-scratcher efforts in the past like his latest; class relief and F. Boyce staying aboard makes him a threat as he is only one in here who won at this distance
#2 – Et Toi (5-1): IRE-bred out of a Fusaichi Pegasus mare has never intended to run on dirt until today, yet all A.M. works show he handles it just fine; steep drop and surface switch may be out of desperation, but may provide handsome returns
Race 5 is ON THE TURF
#9 – Aqua Teen (6-1): Unless either of the two FTS in here show early speed, L. Garcia on this Street Cry gelding should be able to dictate soft, early fractions to have enough left in the tank to hold off all foes late   
#8 – Safe Passage (10-1): There were high hopes (TC nominated) this time last year but it was back to the drawing board by Feb., gelded this $375k purchase, gave him time to mature and has been working smartly in A.M. for the past month     
#4 – Kabang (7-2): Beaten by 64 lengths @ KD when sent of 1-1 favorite; obviously didn't care for that turf course so expect much better showing v. this group; don't fret when he's in another time zone early… just hope you see a big move on the turn and continue in deep stretch      
Race 6 is ON THE TURF
#9 – Galroyale (12-1): $$$ LONGSHOT $$$ Took 12 races and 4 different barns to figure out how to make this Dixie Union mare successful; her 83 Brisnet# two back is best in here; relying on the "Lightbulb Theory" (i.e. finally broke maiden in last) to help win back at a price                 
#11 – Buckleberry (8-1): Could be the speed of the speed; missed by just a length last time she faced N2L which was 5 back and also last time A. Cruz was in the irons  
#8 – Airlies's Diamond (6-1): Hasn't run a bad race all year but has Second-itis as she's been runner-up in 5 of her last 6 at this same N2L level, surface and distance; is thinking she wins today the true definition of insanity?  
Race 7
#7 – Called in Sick (4-5): That's what bettors have to worry about with her as connections must be sick over the money lost at the windows in her two career outings, failing to fulfill expectations v. MSW on dirt; should hasty drop raise caution flag?       
#4 – All This Jazz (6-1): KY-bred FTS by Colonel John out of a Monarchos mare was cheap ($3k) @ Kee weanling sale; trainer "Ham" Smith known to score w/ MCL firsters      
#3 – Page Too (10-1): Cannot count out a Mary Eppler trained FTS in for a Tag (31%) regardless that Cal Nation hasn't seen his offspring find success on the track early on      
Race 8 is ON THE TURF
#7 – That's My Bai (4-1): *** BEST BET *** Toss that off the turf "muddy" track last outing though she held onto the PLACE spot; back on turf and T. McCarthy can take her from gate-to-wire as she'll face little early pressure and this turf course has been kind to front runners   
#11 – Sugar Cane Girl (8-1): Can get a good stalking trip and has shown she can compete at this level… with a little racing luck she could win for Pen-based trainer T. Kreiser (3:0-1-1 at meet) and 25% in 2016       
#6 – Feisty Valentina (8-1): Trainer M. Nevin only entry on card and this IRE-bred gal is already 2 for 2 over Lrl grass courses; if she's "live" you won't be seeing 8-1 on the board  
Race 9 is ON THE TURF
#1 – Recoil (9-2): Gets to go two-turns after sprinting on turf and showing late interest v. a pair of nice colts (Undulated and Boys From Boston); like the 5f works since last outing
#8 – Cape Lookout (5-2): Has hit the board in all 3 career starts and now switches to turf and stretches out; two back finished ahead of In Arrears who is MD Million Nursery bound, so the talent is there         
#11 – Good Reasoning (6-1): Adds blinkers for third lifetime start which hopefully helps for focus on the task at hand instead of just being happy to follow along with the crowd; will probably regret keeping Mott FTS (#7) w/ Edgar off ticket, but 7% w/ FTS was overriding factor
YESTERDAY'S NEWS
On Saturday October 15th at Laurel had just 4 winners from the 10 race card (1 Top Selection; payoff in BOLD) having $2 WIN pay-off of $17.40 (1st race), $7.20 (5th), $27.40 (6th) and $9.60 (10th). Note: Year-to-date Top Selections are Top Selections are 233 for 897 (25.98%).
BEST BET of the Day (96: 28-19-14) Daily News (9th race: 5-2 M/L; 2-1 PT) three wide on the turn came under urging just prior to entering the stretch chasing the pace and weakened to finish in a Dead Heat for 4th.
LONGSHOT PLAY of the Day (92: 10-12-14) Irish Handcuffs (10th race: 10-1 M/L; 5-1 PT) away awkwardly, settled well off the pace while four wide, swung six wide for the drive, closed on his left lead and under right handed rousing just missed the victory by a nose to return $6.40 to PLACE and $4.20 to SHOW.