The GQ Approach – Laurel October 15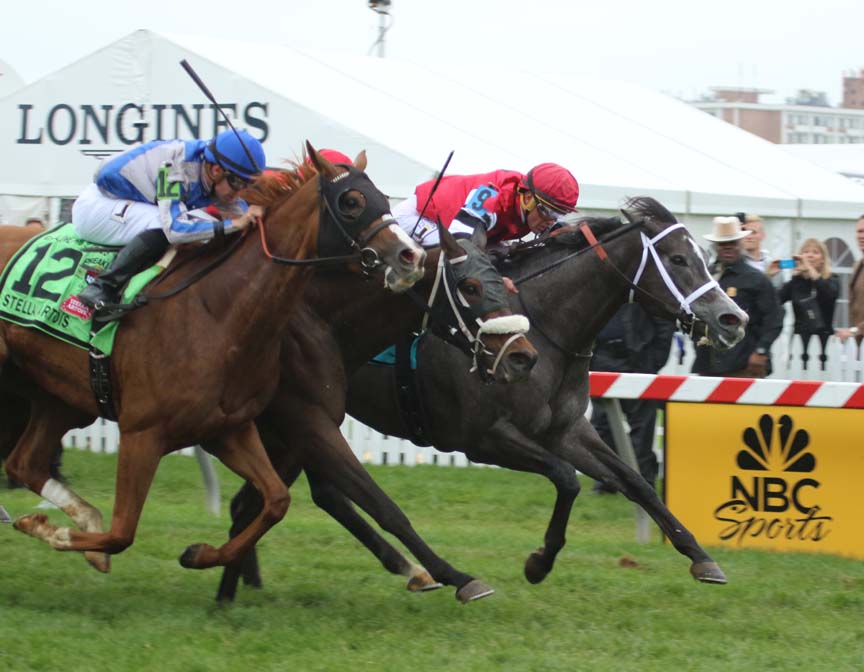 Mizz Money (#9) held off Vielsalm (in between) and Heath (#12) to win the Grade 3 Gallorette. Photo by Laurie Asseo.
The GQ Approach features full-card selections from Laurel Park (w/ live racing every Friday, Saturday and Sunday throughout 2016; Post Time 12:30pm EDT), including a daily Best Bet, Longshot Play, and multi-race wagers — including the 20 cent Rainbow Pick-6, 50 cent Jackpot Pick-5, as well as Pick-4s and rolling Doubles, Pick-3s and the Super High-5. 
CARRYOVERS
Rainbow Pick 6: $1,652.52
Super High 5: $462.73
Late Pick 5: no carryover
BEST BET OF THE DAY
Race 9 / #3 – Daily News (5-2)
LONGSHOT PLAY OF THE DAY
Race 10 / #11 – Irish Handcuffs  (10-1)
[su_heading size="21″ align="left"]Multi-race wagers[/su_heading]
Race 1: $2 Double 2, 3, 4 w/ 1, 2, 4 ($18)
Race 3: $0.50 Pick-3 2, 4, 9 w/ 6, 7, 9 w/ 2, 3, 6 ($13.50)
Race 6: $0.50 Pick-3 6, 7, 9 w/ 1, 7, 9 w/ 1, 11, 12 ($13.50)
Race 9: $2 Double 3, 5, 6 w/ 4, 8, 11 ($18)
[su_heading size="21″ align="left"]Analysis[/su_heading]
Number of races scheduled for turf: 6 (1st, 3rd, 4th, 6th, 7th and 8th)
Weather: Mostly Sunny, highs in the mid 50's
Projected condition of main track: FAST
Projected condition of turf: FIRM
Race 1 is ON THE TURF
#2 – La Parisienne (9-2): FTS by Harlan's Holiday out of a Carson City mare is KY-bred, not from Paris, FR per translation of her name, but is quick as she's fired 4 straight bullet works leading up to debut
#4 – Contributing (6-1): This $220k Kee Sept. yearling purchase makes debut for top turf conditioner (T. Proctor); extensive work pattern and F. Lynch gets 1st ever call for outfit
#3 – Stormin Babe (4-1): Finished a head behind #8 in here in debut but took an overland trip while closing with a rush
Race 2
#2 – Thornton (6-1): 3 y.o gelded son of Gio Ponti makes first start on dirt after 7 turf routes; who am I to question HOF trainer King T. Leatherbury as he's 21% turf to dirt angle
#4 – Teddy Time (6-1): Typically avoid MN-bred (turf) shippers from Cby but he made a stop @ Del and earned an 80 Brisnet# in main track debut listed as "good"
#1 – Colmont Fire (9-2): Came off layoff showing speed going long on turf; back to dirt and appears to be lone speed though he's 0 for 5 on a fast track
Race 3 is ON THE TURF
#9 – Pret Say Eye (9-2): Though winless at this condition (3:0-1-2), her off the turf effort in latest indicates she's holding her form well and can break through with a "W" v. this assembled group
#2 – Dancing Lucy (7-2): Goes for natural Hat Trick while she's just a head short of riding a 4 race win streak; should only face early pressure from her inside, #1 – Trish's Wish
#4 – Billyscrystalball (12-1): Owns best turf Brsinet# (92) of this bunch but that was earned a year ago; a troubled 3rd in latest at Mth; first time facing open/unrestricted claimers
Race 4 is ON THE TURF
#7 – Against the Win (7-2): Trainer A. Delacour does best work with turfers and when 3rd race off the bench (28%); first time going two turns but bloodlines say he'll relish it
#6 – Team Tim (10-1): Didn't care for two-turns on dirt when 36-1 last time out but only two turf tries were sprinting while showing late interest; take a hard look at this 4 y.o. gelding in the paddock; 1st time in for a Tag
#9 – Tru Greek (10-1): Exchange Wager punters across the pond must love him (3 for 46) but with an honest pace today and back on turf this deep Closer could break through for career win #4
Race 5
#6 – El Areeb (3-1): Ran into a buzzsaw (In Arrears) who's pointing to MD Million Nursery next weekend; the experience and added distance (from 5½ to 6f) should benefit this gray colt
#3 – Hard Work (7-2): FTS by Broken Vow out of an Arch mare cost $220k and is 1 of 2 runners on the card for trainer A. Dutrow; the other is on the AE in R6 (#15); if that one doesn't draw in will this one ship from Fai solo?
#2 – Jolly's Calling (12-1): Must be nuts touting this FTS by Tapizar whose Pen-based trainer is 0 for 9 w/ firsters?! Hard to ignore that work pattern that has bullets from the gate sprinkled in
Race 6 is ON THE TURF
#9 – Channel Number One (5-1): That turf sprint looks like a perfect set up race to stretch back out to two turns in which she broke maiden here then ran back competitively at this level when
#6 – Cosmopolitan Girl (3-1): Rough time in latest v. much better; $30k Claim 4 races back hasn't panned out so drop may be to cut losses and/or get a check to pay barn bill
#7 – Shifra Magician (12-1): An ugly 1 for 21 career record with F. Boyce back in the irons and logical drop back to $16kN2L, that 83 turf Brisnet# looks attainable again
Race 7 is ON THE TURF
#7 – Don't Poke the Cat (6-1): First turf try was promising, losing by 2½ but second one was disappointing (3rd by 6¼) when compromising by traffic trouble; switch back to "Special K" is a positive move
#1 – Speedy Slew (10-1): Last (2nd career) effort was washed off turf but took step forward off debut which was on turf; V. Carrasco takes the call in hopes of getting this Brilliant Speed 2 y.o. to relax while breaking from the rail
#9 – Union Blues (7-5): Makes turf debut and adds blinkers after failing as prohibitive PT favorite in both career starts; note he did run off briefly prior to last race
Race 8 is ON THE TURF
#11 – Gulf Coast Breeze (6-1): Lone entry/mount for this Pen-based trainer/jock duo who are 1 for 2 at meet with similar shippers; destroyed $5k bunch @ Pen and has faced better than these in the past
#1 – Holy Scat (9-2): Beat $20kN3L 3 back but has dropped in class facing open company since and not fairing so well; McCarthy takes off her to ride #12, Hmmm
#12 – Dun Won (5-2): Beaten favorite by just a neck v. two classes level higher than today; wonder if any brave solo will be willing to grab this dangling carrot from J. Ness after Royal Almight debacle on Friday
Race 9
#3 – Daily News (5-2): *** BEST BET *** Has matured into a nice local runner looking for natural Hat Trick while Brisnet#s continue to ascend; has two runner-up finishes from 2 starts at distance, it's time to break through for the victory
#5 – Gwynn Oak Park (10-1): Was Triple Crown nominated but something went amiss shortly after maiden score on Feb. 1st; didn't see the training track until early Aug.; like chances here at a price
#6 – Sir Orinoco (8-1): Away since March and gelded since last start may help performance as he shows a couple bullet drills; that 94 Brisnet# in Feb. is by far the best in this field
Race 10
#11 – Irish Handcuffs (10-1): $$$ LONGSHOT $$$ See a lot of 5f speed entered here while he passed tried foes in mud in latest and gets an extra furlong; jock switch to K. Gomez is an upgrade
#8 – Supervisor (3-1): Vulnerable M/L favorite IMHO as this Super Saver offspring benefited from sloppy track in local debut as part of a Wayne Potts West-to-East connection; amazing he was purchased for $440k just 18 months ago!
#4 – L G Crash (9-2): 3rd in latest (9th career start) when beaten 4-5 favorite w/ an excuse; likely pace setter w/ a clean break today
YESTERDAY'S NEWS
On Friday October 14th at Laurel had 6 winners from the 9 race card (1 Top Selection; payoff in BOLD) having $2 WIN pay-off of $4.40 (1st race), $3.60 (5th), $12.40 (6th), $24.40 (7th), $8.00 (8th) and $9.60 (9th). Of the suggested Multi-Race wagers hit the R6-R8 50 cent P3 for $211.00 (cost: $13.50). Note: Year-to-date Top Selections are Top Selections are 232 for 887 (26.16%).
BEST BET of the Day (95: 28-19-14) Take Cover (8th race: 3-1 M/L; 2-1 PT) prompted the pace three wide around the turn, drew even with the leader in mid-stretch but hung late while holding onto the runner-up spot and returned $3.80 to PLACE and $2.80 to SHOW.
LONGSHOT PLAY of the Day (91: 10-11-14) Dorothyfromdublin (5th race: 12-1 M/L; 12-1 PT) saved ground in a forward position, raced in the two path in the stretch and passed a tired foes to get up for third to return $4.00 to SHOW.