The GQ Approach – Laurel October 14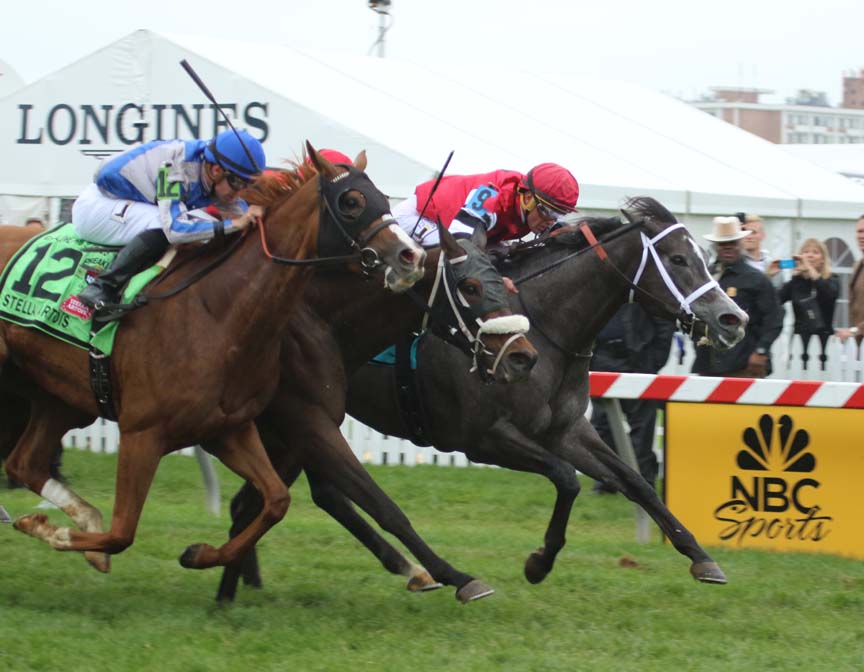 Mizz Money (#9) held off Vielsalm (in between) and Heath (#12) to win the Grade 3 Gallorette. Photo by Laurie Asseo.
The GQ Approach features full-card selections from Laurel Park (w/ live racing every Friday, Saturday and Sunday throughout 2016; Post Time 12:30pm EDT), including a daily Best Bet, Longshot Play, and multi-race wagers — including the 20 cent Rainbow Pick-6, 50 cent Jackpot Pick-5, as well as Pick-4s and rolling Doubles, Pick-3s and the Super High-5. 
CARRYOVERS
Rainbow Pick 6: $1,270.45
Super High 5: $791.49
Late Pick 5: no carryover
BEST BET OF THE DAY
Race 8 / #12 – Take Cover (3-1)
LONGSHOT PLAY OF THE DAY
Race 5 / #1 – Dorothyfromdublin (12-1)
[su_heading size="21″ align="left"]Multi-race wagers[/su_heading]
Race 1: $2 Double 1, 3 w/ 4, 7 ($8)
Race 3: $0.50 Pick-3  2, 4, 11  w/ 1, 6, 9  w/ 1, 12, 14 ($13.50)
Race 6: $0.50 Pick-3  2, 5, 6  w/ 1, 3, 8  w/ 8, 10, 12 ($13.50)
Race 8: $2 Double 12  w/ 2, 5, 6 ($6)
[su_heading size="21″ align="left"]Analysis[/su_heading]
Number of races scheduled for turf: 6 (3rd, 4th, 5th, 7th, 8th and 9th)
Weather: Mostly Sunny, highs in the mid 60's
Projected condition of main track: FAST
Projected condition of turf: FIRM
Race 1
#3 – So Quiet (2-1): Trainer R. Jenkins always throws his less competitive runners onto turf in hopes they take to it; think adding the blinkers was the difference, not surface because breeding isn't all that for turf             
#1 – Middle English (5-2): Four races, four excuses yet has improved on Brisnet# in each outing; wins today w/ similar efforts as in last                 
#4 – Dawn of Time (7-5): Ships in for local bow after failing to hit the board v. big boys @ Sar and CD; keeps dropping w/o getting desired results; might just be a "follower"      
Race 2
#4 – Royal Almighty (4-5): Appears to be a lock but outfit is only 18% when dropping off a win; gotta be leery that none of the top jocks who ride for J. Ness will get a leg up (X-Man is 0 for 1)          
#7 – Fleetwood Star (9-2): Del Park connections ships to MD… as if there isn't a similar race at home? Expect this MD-bred to be popular in the Claim Box; trainer/jock combo are 4 for 7         
#2 – Schlosser (15-1): Saw this guy break maiden 1½ years ago & swore it would be his only win, thinking he's never win beyond 5f; guess I was wrong but that 2nd win came after similar layoff    
Race 3 is ON THE TURF
#2 – Back to Seattle (8-1): Third race after nearly a 2 year layoff; only previous turf tries were v. much better w/ a neck lose followed by whatever happened to cause that long layoff   
#11 – Grecian Prince (6-1): Good to see J. Pimentel riding in the afternoon again; away since mid-May but A.M. work pattern looks inviting; was 5-wide in lone turf (sprint) effort v. better        
#4 – Momma's Mark (5-1): Yikes… just 1 for 21 lifetime but maybe the cut back to sprinting will be the magical solution; Lynch staying on is a plus          
Race 4 is ON THE TURF
#9 – King Gatto (5-1): This field is loaded w/ early speed so it sets up nicely for this Closer to repeat that local debut win v. N2L              
#6 – The Great Provider (3-1): Runner-up when beaten favorite at same condition in "off the turf" event; should get a nie stalking trip under Special K
#1 – Learaig (8-1): First time breaking from rail and appears to top out at 5f but putting faith in A. Cruz's ability to get most out of him
Race 5 is ON THE TURF
#1 – Dorothyfromdublin (12-1): $$$ LONGSHOT $$$ Sire (Paddy O'Prado) wanted more distance on grass; looking at debut going 1 mile encountered issues at start and in stretch; interesting that V. Carrasco who is 1st Call for R. Jenkins (#9 w/ McCarthy) lands here   
#12 – Compelled (7-5): On paper is the best in here to graduate but the race isn't run on paper; can you trust a bug girl who gets good mounts and is just 3 for 48 at Lrl… even on a standout?    
#14 – Auntie Sparkles (15-1): Needs a couple defections to draw in from AE list; 3 guarantees in life… death, taxes and GQ on a More Than Ready first-time turf; having G. Motion as the conditioner doesn't hurt either; if scratched use #3 – Follow No One (8-1) as switch to turf and routing for 2nd start is what's she's bred to do      
Race 6
#5 – Cho Time (9-5): Workmen like effort in Starter Alw, first off G. Brooks claim; tons of back class to handle these IF he's heading in right direction                 
#6 – Classic Wildcat (5-1): 10 yr old still has the will to win and has been part of Exacta @ Lrl in half of his trips on local dirt (50: 14-11-7); too much to ask to repeat effort from just 12 days ago?  
#2 – The Pulse (8-5): Deserving M/L favorite based on victory two back v. open $7,500; might have company on the front end while he typically needs to be on lead to get to Winners Circle  
Race 7 is ON THE TURF
#3 – Runninginthevale (5-1): Distant 4th after leading early stages of minor stakes v. likes of Rose Brier and Jump Ship; should get easy lead and be able to hold off foes late       
#8 – Daniel Le Deux (8-1): Nice 4 yr old gelding has been outrunning breeding on turf; prevailed in latest in spite of wide trip and traffic      
#1 – Silver Romeo (5-1): Turf Brisnet#'s have been ascending since arriving at the H. McMahon barn; was second best at this same level, surface and distance in latest afternoon jaunt      
Race 8 is ON THE TURF
#12 – Take Cover (3-1): *** BEST BET *** Something obviously went amiss in G3 Prx Dash back in July; was given some time off and has since fired a couple bullets on home training turf in hopes of continued progression as a top-notch turf sprinter   
#8 – Triple Burner (6-1): Runner-up in Lrl Dash when 40-1 came back to earth on Bel grass in minor stakes; back on familiar ground (11:4-2-2)       
#10 – El Seventyseven (5-1): Been facing better at midwest venues over the past 2 years but recorded career best 101 Brisnet# when last raced here in gate-to-wire score  
Race 9 is ON THE TURF
#2 – Tizadoozi (10-1): Need to draw a line through the last 3 on dirt as the turf effort numbers are the best recorded by any runner in here; will need a smart ride as well to light up the board
#6 – Whirlybird (9-5): Second time blinkers after vast improvement in latest and first time on the grass; outfit does well locally          
#5 – Vizi Girl (7-2): 7 career races, all going two turns showing early speed; cut back to sprint may help chances by coming off the pace to graduate
YESTERDAY'S NEWS
On Sunday October 9th at Laurel had 7 winners from the 9 race card (4 Top Selections; payoff in BOLD) having $2 WIN pay-off of $3.20 (1st race), $5.20 (2nd), $3.80 (4th), $4.60 (5th), $16.00 (6th), $4.80 (8th) and $6.40 (9th). Note: Year-to-date Top Selections are Top Selections are 231 for 878 (26.31%).
BEST BET of the Day (94: 28-18-14) Queeb (7th race: 5-1 M/L; 2-1 PT) prompted the pace two wide around the turn and gave way in mid-stretch then passed a tired foe late to salvage third and returned $4.00 to SHOW.
LONGSHOT PLAY of the Day (90: 10-11-13) Storm Candy (9th race: 12-1 M/L; 11-1 PT) was forwardly placed into the first turn, dropped back and was eased late to finish dead last.