The GQ Approach – Laurel October 9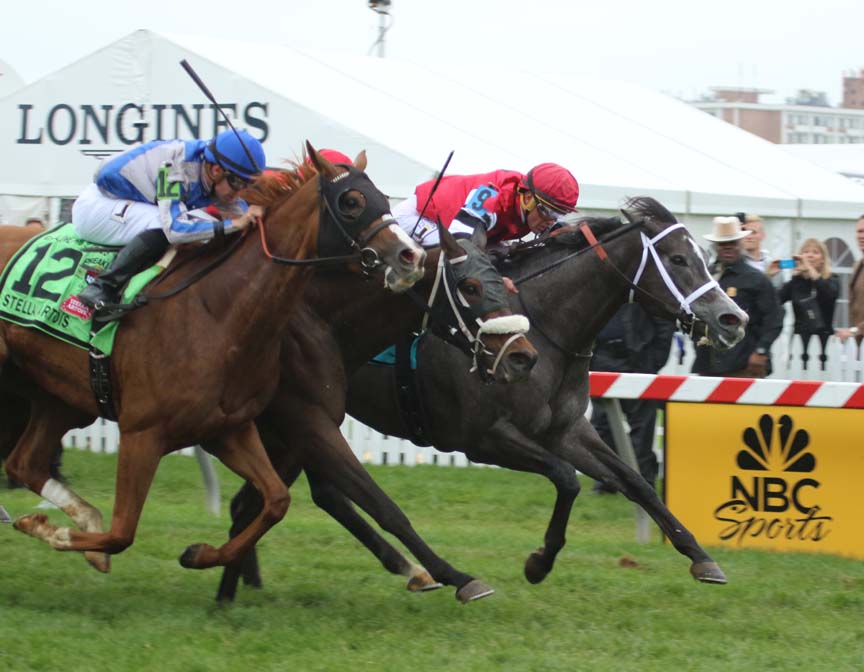 Mizz Money (#9) held off Vielsalm (in between) and Heath (#12) to win the Grade 3 Gallorette. Photo by Laurie Asseo.
The GQ Approach features full-card selections from Laurel Park (w/ live racing every Friday, Saturday and Sunday throughout 2016; Post Time 1:10pm EDT), including a daily Best Bet, Longshot Play, and multi-race wagers — including the 20 cent Rainbow Pick-6, 50 cent Jackpot Pick-5, as well as Pick-4s and rolling Doubles, Pick-3s and the Super High-5. 
CARRYOVERS
Rainbow Pick 6: $905.29
Super High 5: no carryover
Late Pick 5: no carryover
BEST BET OF THE DAY
Race 7 / #11 – Queeb (5-1)
LONGSHOT PLAY OF THE DAY
Race 9 / #4 – Storm Candy (12-1)
[su_heading size="21″ align="left"]Multi-race wagers[/su_heading]
Race 1: $2 Double  3, 6, 7 w/ 1, 3, 7  ($18)
Race 3: $0.50 Pick-3  6, 7, 10  w/ 2, 5, 6  w/ 6, 9  ($9)
Race 6: $0.50 Pick-3  1, 10, 11  w/ 4, 6, 11  w/ 1, 6  ($9)
Race 8: $2 Double  1, 4, 6  w/ 3, 4, 9  ($18)
[su_heading size="21″ align="left"]Analysis[/su_heading]
Number of races scheduled for turf: 5 (3rd, 4th, 6th, 7th and 9th)
Weather: Mostly Sunny and very windy, highs in the low 60's
Projected condition of main track: FAST
Projected condition of turf: GOOD
Race 1
#7 – Cherokee Spirit (9-5): Picked up Show purse when dropped in for $25k last time; gets 4th different jock in as many career races; trainer/owner G. Rosenthal scores w/ 31% of her MCL       
#3 – Bowspirit (9-2): FTS by Mast Track out of an Include mare has an extensive work tab and a recent bullet; rest of field appears to be void of early speed; she could go gate-to-wir                 
#6 – Collateral Damage (7-2): FTS by Petionville out of an Big Brown mare is a home bred being offered for $20k in $25k MCL… never been a hasn't tipped ; she could go gate-to-wire      
Race 2
#1/1A – Habanero Gold/Burning Mandate (6-1): Both possess early speed, get break in distance and have done best work over this Lrl main track (5:2-1-1 and 13:3-5-1, respectively)          
#3 – Tiz Showbiz (2-1): Lukewarm endorsement solely on class drop; has yet to hit the Lrl board in 4 starts albeit v. much better             
#7 – Buck n' Ham Lane (5-1): Has come alive recently under C. Clagett's conditioning efforts while the Brisnet#'s ascend; should get a nice stalking trip     
Race 3 is ON THE TURF
#10 – Yes Its Factual (5-2): High profile connections willing to cut bait (drops from $75k to $40k) w/ this gal as E. Prado takes the mount after a good 3rd on Bel lawn    
#7 – Princess Akila (10-1): Has earned a couple 80+ turf Brisnet#s when in for a tag @ GP; initial race locally was so-so but in w/ MSW; back in for $40k tag gives her a big shot at the price
#6 – Gold Medalist (9-2): Hasn't even made it to the podium (i.e. OTB) in four career starts beaten double digits in all of them; last one was first on turf but competition was too stiff @ Sar                   
Race 4 is ON THE TURF
#5 – Hug a Tree (8-1): Like how this 6f turf event shapes up w/ plenty of foes having 5f speed while this mare always makes a late run              
#2 – Vielsalm (3-1): Class of this field but the $64k Question is, can she get up @ 6f? Will benefit from a hot pace but came up 3 lengths short in only other turf sprint
#6 – Kaiser's d'Light (6-1): Ugh… usually against my religion to back a Suf runner but has the turf Brisnet#s to win v. this assemble group; could 3rd trip to Lrl (2:0-1-1) be a charm?
Race 5
#9 – Riley's Choice (2-1): There were very high hopes for this Sagamore Farm filly in debut (2-5) but came up empty (5th by 3); that was 3 months ago and hard to believe last work out was Aug. 27?! Expect her to give better account of herself today   
#6 – Zuzanna (4-1): KY-bred FTS by Wilburn was cheap ($15k) @ Kee yearling sale; nicely spaced work tab w/ bullets scattered and last drill from the gate indicates she's well-meant in debut     
#8 – Sympathetic (8-1): Connections (Augustin Stables/M. Matz) typically have good turf runners but this gal tries dirt for third time in as many starts; has looked better in the A.M. than afternoons      
Race 6 is ON THE TURF
#10 – Dynaformersrequest (5-1): Nicely bred gelding for turf looked like a future star here last year but has been off form of late while running at 4 different tracks; return to Lrl turf could rekindle that early form                 
#11 – My Giant (9-2): Always in the mix at this level and surface but looking for first trip to Winners Circle since "Magic" Magee claim 4 races back  
#1/1A – Storm Net/Mott (3-1): #1A on AE and likely will scratch; stablemate always game on turf and was beaten favorite (by a neck) in latest; will need turf course to be kind to Closers
Race 7 is ON THE TURF
#11 – Queeb (5-1): *** BEST BET *** Got an absolutely horrible trip/ride when beaten favorite at this level coming off layoff; actually has failed as PT fav. in past 3 outings; a clean trip today breaks that streak       
#6 – Smokin Red Hot (15-1): Could be Lone Speed in here shipping up from GP; flashed that speed @ Pim this spring; if Lrl turf course holds speed as it did on Friday, she could light up the toteboard      
#4 – Grogger (8-1): Well-traveled 4 y.o. filly makes Lrl debut after facing better but needs the early speed to come back to her      
Race 8
#6 – Struth (2-1): Scratched Friday from similar event but on turf; connections may have thought this was an easier spot?   
#1 – Story to Tell (9-5): Owner/trainer David Jacobson ships in from NY in what may have been a soft spot until entries were drawn; toss those off track tries and he's ITM in last 5 starts       
#4 – Blu Moon Ace (3-1): Also scratched from that Friday turf race; ITM in all 4 dirt sprints (4:2-1-1) w/ T. McCarthy the pilot for both career wins  
Race 9 is ON THE TURF
#4 – Storm Candy (12-1): $$$ LONGSHOT $$$ Bred to love the turf (by Sidney's Candy) and go a route of ground (out of an A.P. Indy mare) yet first to outings were turf sprints; graduated for $16k MCL earning a decent Brisnet# (80); should relish stretch out to two-turns
#9 – Enough is Enough (8-5): Typical Sagamore Farm move… when a runner doesn't pan out (Alw level or higher) they drop far enough for a tag to entice a claim; gelded since last start (Jun. 4th)   
#3 – I'm In (5-1): Winner on dirt sprinting @ Tim in first race off Magee claim; back to turf and two turns where this gelded son of Kitten's Joy belongs
YESTERDAY'S NEWS
On Saturday October 8th at Laurel had 6 winners from the 10 race card (3 Top Selections; payoff in BOLD) having $2 WIN pay-off of $5.60 (1st race), $4.80 (3rd), $3.80 (4th), $3.60 (6th), $8.00 (7th), and $4.80 (10th). Note: Year-to-date Top Selections are Top Selections are 227 for 869 (26.12%).
BEST BET of the Day (93: 28-18-13) Resurgence (3rd race: 2-1 M/L; 4-5 PT) patiently handled four wide and in range of the leaders, took closer order into the lane, moved to command in mid-stretch, cruised clear and only roused a few times in the final sixteenth to win by 4½ lengths to return $3.80 to WIN, $2.60 to PLACE and $2.20 to SHOW.
LONGSHOT PLAY of the Day (89: 10-11-13) My Enigma (9th race: 15-1 M/L) was SCRATCHED.