The GQ Approach – Laurel October 8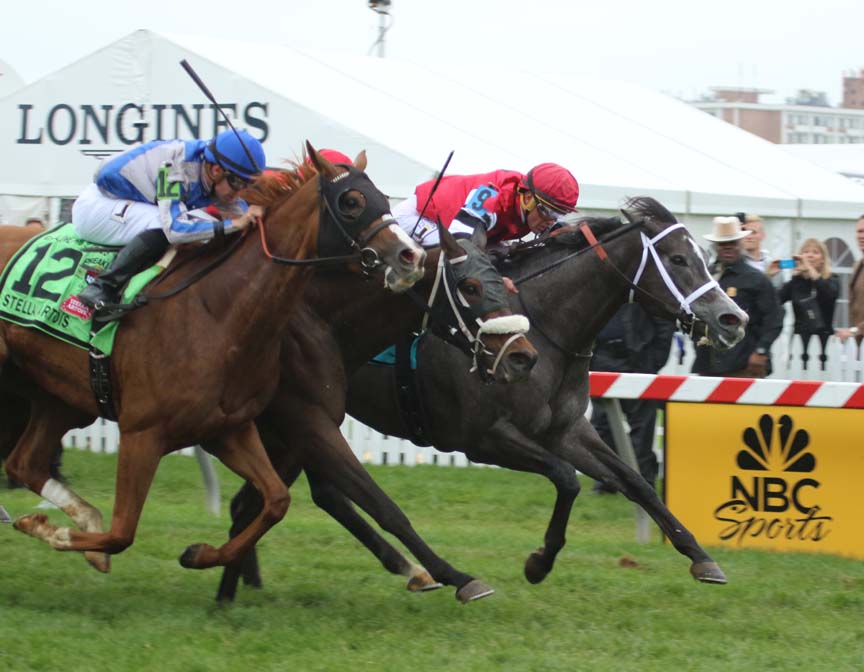 Mizz Money (#9) held off Vielsalm (in between) and Heath (#12) to win the Grade 3 Gallorette. Photo by Laurie Asseo.
The GQ Approach features full-card selections from Laurel Park (w/ live racing every Friday, Saturday and Sunday throughout 2016; Post Time 1:10pm EDT), including a daily Best Bet, Longshot Play, and multi-race wagers — including the 20 cent Rainbow Pick-6, 50 cent Jackpot Pick-5, as well as Pick-4s and rolling Doubles, Pick-3s and the Super High-5. 
CARRYOVERS
Rainbow Pick 6: $464.95
Super High 5: $533.46
Late Pick 5: no carryover
BEST BET OF THE DAY
Race 4 / #7 – Resurgence (2-1)
LONGSHOT PLAY OF THE DAY
Race 9 / #11 – My Engima (15-1)
[su_heading size="21″ align="left"]Multi-race wagers[/su_heading]
Race 1: $2 Double  1, 4  w/ 2, 6, 7  ($12)
Race 3: $0.50 Pick-3  1, 3, 6, 8  w/ 2  w/ 1, 4  ($4)
Race 6: $0.50 Pick-3  2, 10  w/ 3, 7, 11  w/ 4, 8, 9  ($9)
Race 9: $2 Double  4, 8, 11  w/ 6, 7, 12 ($18)
[su_heading size="21″ align="left"]Analysis[/su_heading]
Number of races scheduled for turf: 5 (3rd, 6th, 7th, 9th and 10th)
Weather: Mostly Cloudy with rain likely, highs in the low 60's
Projected condition of main track: GOOD turning to SLOPPY*
Projected condition of turf: GOOD*
* Selections were made based on anticipating Track Mgmt. decisions 
Race 1
#1 – Becki Kecki (7-2): The absence of other early speed types here give her a chance in here along with cut back in distance; beaten favorite in last start             
#4 – Sola Fide (5-2): Earned second career win @ Tim for $5k w/ J. Toledo aboard a few back; jock seems to be best fit for this filly as he placed w/ her in only other mount                 
#6 – Time to Spare (9-2): Beat the Program fav. (#4) in July; chalk up try @ Tim as dislike for bull ring; an off track should help      
Race 2
#6 – Antietam Creek (4-1): Big class drop for KTL who just took over conditioning duties prior to last race; King knows where to place them to be successful          
#2 – Sally Pollock High (7-2): Raced back into form during The Big T meet going two-turn 6½f events; found 7f might be too far but is 6f far enough             
#7 – Color Me Sexy (9-5): Much the best on paper but the race is run on dirt; trainer J. Contreras ( 3 for 10 at meet) is 22% in '16 but 0 for 5 w/ multiple class level droppers     
Race 3 is scheduled for the TURF and may stay on it
#3 – Best Yes (6-1): Caught a sloppy track locally in debut showing early speed before fading in deep stretch when sent off 3-1 second choice; could get same conditions as he's in for $40k tag    
#1/1A – Concordia's Way/Bourbon and Beer (3-1): One of these will likely scratch; giving edge to #1 because yesterday the turf course was holding early speed, which he has        
#6 – Tiger Bop (6-1): Earned the best turf Brisnet# (82) in this field in most recent effort; if this event is taken off the turf, he'll likely get scratched; if he does consider using #8 – Just the Zip (7-2)          
Race 4
#7 – Resurgence (2-1): *** BEST BET *** 5 years ago Stronach Stables paid a cool $1.35 mil for his guy; 7 races later he's earned just under $53k… Ouch! Never OTB @ Lrl (4:2-1-1) but gotta be leery of drop to $10k coming off yet another layoff              
#4 – Hey Willie (6-1): Early speed and faded in last two starts @ bull rings (Tim and CT); gets back to favorite venue (9:3-0-3) and level he has had success
#1 – Jiravit (10-1): Disastrous first start after trainer B. Feliciano claim when stepped up and put on turf; taking a leap of faith that Benny has figured out what makes this one tick
Race 5
#4 – Strike 'n Spare (9-2): Hard to gauge as he tends to run good and bad races for no apparent reason; the good is that he runs better on an off track which by this time of day it should (putting faith into Meteorologists)   
#1/1A – Tapkee/Tempietto (2-1): I'd expect #1 to scratch unless J. Ness is willing to part w/ him for $5k right after winning @ Mth on turf for $25k; #1A is a Gamer as he's hit the board in his past 9 dirt races, albeit at the lowest of levels     
#9 – Lets Get It Going (10-1): It's all in the family w/ the Mancilla's as Oscar tries to get first win of '16 (0 for 23); this late running geldings only hope is to catch a sloppy track      
Race 6 is scheduled for the TURF but capped for OFF THE TURF
#10 – Oak Bluffs (2-1): Deserving ML favorite and likely PT favorite regardless of whether race remains on turf; has been part of Exacta in 8 of 10 at this distance on turf, 2 of 3 on "off" track       
#2 – Indian Bucks (9-5): Bit off more than he could chew in last outing; steps back down to a level where he can find success… on or off the turf  
#1 – Political Force (10-1): 0 for 11 on the turf but has a shot if off the turf (7:2-1-1); even at that it will be tough getting to the wire first w/ either the #2 or #10 still run  
Race 7 is scheduled for the TURF and may stay on it
#11 – Channel Regatta (5-2): Hoping race stays on turf otherwise she'll likely scratch; got the better of the #7 in here a few weeks ago and can boast best turf Brisnet# (89); never worse than runner-up in 4 races on Lrl turf (4:2-2-0)    
#3 – Regal Roma (7-2): Will need some pace to run at and for a softened up turf course to not be so speed favoring; must respect connections and consistency of speed figs on turf recent
#7 – Moon Virginia (7-2): Can turn the tables on top pick if Toledo elects to take early lead w/o much pressure and bank on the turf course holding speed as it did on Friday      
Race 8
#4 – Mystic Cotton (3-1): Pid jock (C. Camilo) comes to town w/ this shipper for G. Brooks after 10 career races on Poly-crap; Mother Nature may make things easier w/ the expected rain to make track a bit off   
#9 – Back to Seattle (10-1): Faced much better (OC25k) while roughed up at the start in first race in 22 months; drops to a more realistic level; has to improve… right?!       
#8 – Tomo Chachi (10-1): Has bounced back in the past off bad efforts; this one happened to be when PT favorite and "Steadied at 3/8 pole"; worth another look especially on an off track  
Race 9 is scheduled for the TURF and may stay on it
#11 – My Engima (15-1): $$$ LONGSHOT $$$ Seems to do his best work on the turf when it's not firm; can get a nice stalking trip to pounce on early speed late but has to bring A Game
#8 – Irish Strait (8-1): Is progressing through the conditions nicely for trainer G. Motion though faced weaker OC30N2X @ Mth; seems to like a little "give" in the grass          
#4 – Chiropractor (6-1): Adds blinkers after getting time 3 months off after a very dull effort as PT fav. in first race since Feb.; work tab indicates he's ready for this return; if race comes off the turf, use #12 – Camille Claudel
Race 10 is scheduled for the TURF but capped for OFF THE TURF
#12 – Alyee (4-1): On AE list but should be able to draw in if taken off the turf; passed faders in debut @ Bel when facing NY-breds just 2 weeks ago; should find this group a bit easier
#6 – Include Gold (6-1): Bloodlines are too good not to be a runner; takes steep drop in for $16k tag; family had no problem on an off track           
#7 – Pearl's Love (6-1): Expected better from this filly last time; on or off the turf giving her another shot to get that diploma   
YESTERDAY'S NEWS
On Friday October 7th at Laurel had just 3 winners from the 9 race card (2 Top Selections; payoff in BOLD) having $2 WIN pay-off of $15.40 (5th race), $10.40 (6th) and $8.20 (9th). Note: Year-to-date Top Selections are Top Selections are 224 for 860 (26.05%).
BEST BET of the Day (92: 27-18-13) Struth (7th race: 7-2 M/L) was SCRATCHED.
LONGSHOT PLAY of the Day (89: 10-11-13) Sam's Sonic (3rd race: 15-1 M/L; 20-1 PT) saved ground on the turns, swung to the four path entering the stretch, passed tired foes and failed to be a threat yet finished just two lengths behind the winner, only good enough for 5th.