The GQ Approach – Laurel October 7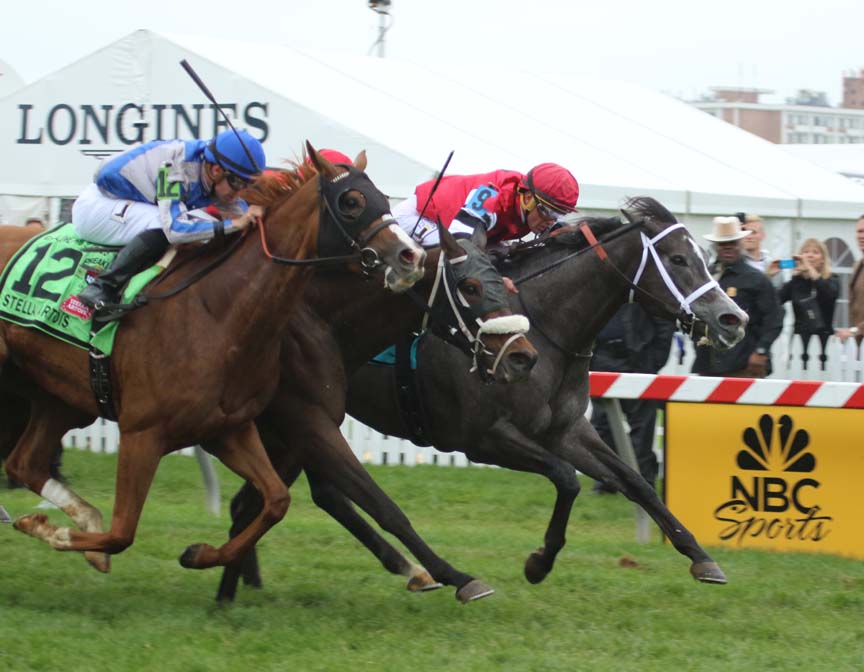 Mizz Money (#9) held off Vielsalm (in between) and Heath (#12) to win the Grade 3 Gallorette. Photo by Laurie Asseo.
The GQ Approach features full-card selections from Laurel Park (w/ live racing every Friday, Saturday and Sunday throughout 2016; Post Time 1:10pm EDT), including a daily Best Bet, Longshot Play, and multi-race wagers — including the 20 cent Rainbow Pick-6, 50 cent Jackpot Pick-5, as well as Pick-4s and rolling Doubles, Pick-3s and the Super High-5. 
CARRYOVERS
Rainbow Pick 6: no carryover
Super High 5: no carryover
Late Pick 5: no carryover
BEST BET OF THE DAY
Race 7 / #10 – Struth (7-2)
LONGSHOT PLAY OF THE DAY
Race 3 / #2 – Sam's Sonic (15-1)
[su_heading size="21″ align="left"]Multi-race wagers[/su_heading]
Race 1: $2 Double  3, 4, 7  w/ 2, 5, 7  ($18)
Race 3: $0.50 Pick-3  2, 5, 10  w/ 1, 6, 7  w/ 5, 6, 8  ($13.50)
Race 6: $0.50 Pick-3  3, 5, 10  w/ 3, 7, 10  w/ 2, 3, 6  ($13.50)
Race 8: $2 Double  3, 6  w/ 1, 6, 10  ($12)
[su_heading size="21″ align="left"]Analysis[/su_heading]
Number of races scheduled for turf: 5 (3rd, 4th, 6th, 7th and 9th)
Weather: Mostly Cloudy, highs in the upper 60's
Projected condition of main track: FAST
Projected condition of turf: FIRM
Race 1
#7 – Dear Old Dad (6-1): Claimed for $25k in dull debut when bet 5-2; sluggish start could have been to blame going just 4½f @ Tim; drops to $16k and gets more ground             
#3 – Archie's Revenge (9-2): FTS by Archarcharch only cost $10k @ Kee Oct. yearling sale but connections do well w/ limited FTS (4 for 7) especially in MCL (3 or 5) plus E. Prado takes the call                 
#4 – Haircut Bill (4-1): Not much v. WV-breds in debut @ CT in slop; adding Lasix, blinkers and jock switch could yield a better effort      
Race 2
#2 – Spiced Commander (2-1): Just missed v. OC$20k @ Del in first race v. winners; didn't have the cleanest of trips and will improvement second time out for trainer G. Brooks          
#5 – Full Quest (5-1): 1st race after 3 month layoff was just last week and forgettable; quick turn- around indicates he's better than that             
#7 – One Step Closer (3-1): Always have to respect trainer A. Pecoraro runners @ Lrl (7:4-1-0); has improvement Brisnet# in each of his 4 career starts     
Race 3 is ON THE TURF
#2 – Sam's Sonic (15-1): $$$ LONGSHOT $$$ Taking a shot off the 11 month layoff and on the drop; distance on the turf is his game and though 3 of 24 lifetime is 2 for 6 on Lrl lawn w/ 2 runner-up finishes    
#5 – Artic's North (9-2): Had been off form since claimed for $62,500 a year and a half ago; finally woke up when dropped to $7,500; if that was a confidence booster, this jump in class will be no big deal        
#10 – Ocala Jim (3-1): This NY-bred loves the turf and this distance (19:7-3-0); NY shipper won last outing in local debut at same level as PT favorite; can repeat          
Race 4 is ON THE TURF
 #6 – Beaches N Bourbon (6-1): Victim of the most atrocious DQ's in recent memory (maybe because she was my Best Bet that day?); can handle jump up in class w/ similar effort today 
#1 – My Dinah Lee (7-2): Comes off 3rd place finish in VA-bred stakes when a tremendous overlay (28-1); was runner-up by a neck and third by 1½ in recent races v. same on grass
#7 – Capucine (3-1): Caught just strides before a gate-to-wire try when PT fav. in latest; doesn't need the lead and gets T. McCarthy back in the irons
Race 5
#5 – Beautiful Sky (3-1): Started career w/ third place effort on turf among NY-breds @ Sar then tired v. same on grass @ Bel; A.M. bullets have been on dirt; third time a charm?   
#6 – Holiday Magician (9-2): Back to dirt and first time in for a tag after failing to take to turf; was sent off PT fav. in debut @ Tim when third behind next out winner     
#8 – Phantom Shot (5-1): Showed early speed when equipped w/ blinkers in last/third career start; trainer D. Barr does well w/ a large sampling of 2 y.o. (25%)      
Race 6 is ON THE TURF
#5 – Dare to Be (6-1): Rough start 2 weeks back when coming off 9 month layoff, yet was game to get third; never OTB (4:1-2-1) on turf & at this distance in young career                 
#10 – Lady Allegra (2-1): Only entry on the card for trainer A. Delacour for high-profile connections; note jock switch to J.D. Acosta who is 3 for 3 in past year w/ trainer  
#3 – Fly Girl (6-1): A bit of a tardy start when first off the bench in latest but put in a good late run w/ second time blinkers; expect better today
Race 7 is ON THE TURF
#10 – Struth (7-2): *** BEST BET *** Didn't care for two turns, his first OTB finish in 7 race career; back sprinting and if he takes to turf like he did to the mud (101 Brisnet#) two back, he'll cruise       
#7 – Papadopalous (15-1): Been competing at this level while many foes in here are taking next step up; was distant runner-up to a turf star (Pool Winner) 11 months ago in only previous start @ Lrl      
#3 – Blu Moon Ace(4-1): Using the T. McCarthy angle as this 3 y.o. gelded son of Malibu Moon's best 3 races of his 6 race career have been when Trevor is in the irons      
Race 8
#3 – Jessica Krupnick (6-1): Not the rabbit that Jessica was (re: Roger Rabbit) but cuts back to sprint for first time after 3 two turn starts; adds blinkers which were probably on for those last two bullet works   
#6 – Table Jumper (9-2): Eased in turf sprint debut two weeks ago; chalk it up to not liking the grass because she's turned in two bullet works since       
#2 – If I Was a Boy (7-2): She's done quite well v. the girls w/ two runner-up finishes in both efforts against winners last spring @ Pim which were her most recent races; broke maiden in first race after a layoff  
Race 9 is ON THE TURF
#1 – Dointhewatusi (8-1): KY-bred filly by Colonel John out of a Gulch mare showed nice late run when sprinting on grass here in debut 6 weeks ago; runner-up came back to win; two-turns should be right in her wheelhouse
#10 – Kanaka (12-1): Has found level where she belongs but needs to put it all together to get diploma; runner-up v. boys in last start when blinkers were taken off         
#6 – Participate (9-2): Solely on the steep drop from maidens to in for tag; she does have the best turf Brisnet# (79) in this lightly raced group
YESTERDAY'S NEWS
On Sunday October 2nd at Laurel had 7 winners from the 9 race card (3 Top Selection; payoff in BOLD) having $2 WIN pay-off of $7.00 (1st race), $4.40 (2nd), $8.40 (4th), $5.40 (6th), $9.60 (7th), $9.00 (8th) and $3.80 (9th). Of the suggested Multi-race wagers hit the R1-R2 $2 DOUBLE for $22.80 (cost: $18) and the R8-R9 $2 DOUBLE for $26.60 (cost: $12). Note: Year-to-date Top Selections are Top Selections are 222 for 851 (26.09%).
BEST BET of the Day (92: 27-18-13) Monte Man (3rd race: 4-1 M/L) was SCRATCHED.
LONGSHOT PLAY of the Day (88: 10-11-13) Northern Prancer (9th race: 12-1 M/L; 4-1 PT) along the rail on the turn, eased out to the two path approaching the stretch, raced on her left lead in the drive and lacked the needed rally settling for 4th.