The GQ Approach – Laurel October 2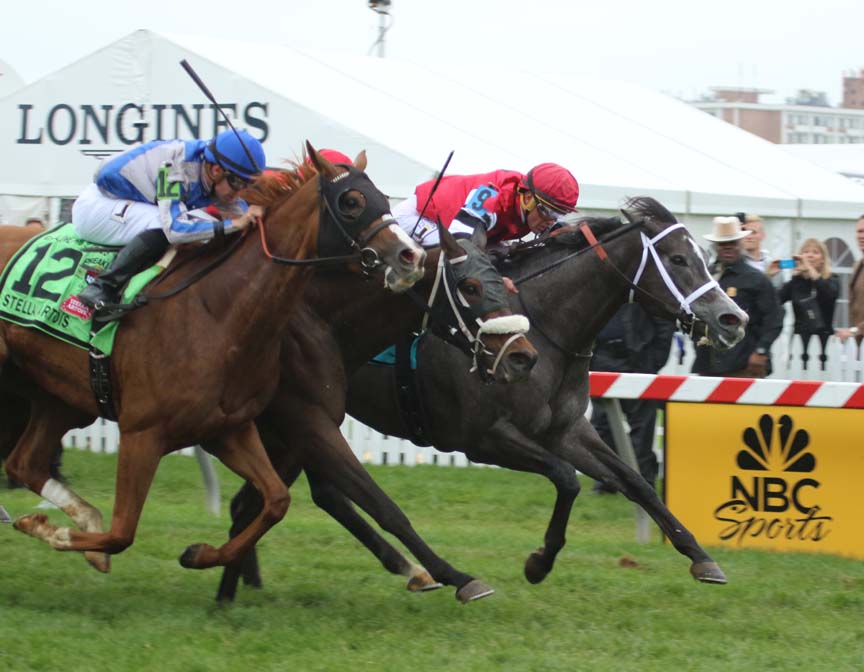 Mizz Money (#9) held off Vielsalm (in between) and Heath (#12) to win the Grade 3 Gallorette. Photo by Laurie Asseo.
The GQ Approach features full-card selections from Laurel Park (w/ live racing every Friday, Saturday and Sunday throughout 2016; Post Time 1:10pm EDT), including a daily Best Bet, Longshot Play, and multi-race wagers — including the 20 cent Rainbow Pick-6, 50 cent Jackpot Pick-5, as well as Pick-4s and rolling Doubles, Pick-3s and the Super High-5. 
CARRYOVERS
Rainbow Pick 6: no carryover
Super High 5: no carryover
Late Pick 5: no carryover
BEST BET OF THE DAY
Race 3 / #1 – Monte Man (4-1)
LONGSHOT PLAY OF THE DAY
Race 9 / #2 – Northern Prancer (12-1)
[su_heading size="21″ align="left"]Multi-race wagers[/su_heading]
Race 1: $2 Double 1, 5, 6  w/ 2, 4, 5  ($18)
Race 3: $0.50 Pick-3 1, 9  w/ 1, 4, 7 w/ 2, 8, 10 ($9)
Race 6: $0.50 Pick-3 6, 7, 8  w/ 3, 6 w/ 1, 5 ($6)
Race 8: $2 Double 1, 5  w/ 2, 4, 8 ($12)
[su_heading size="21″ align="left"]Analysis[/su_heading]
Number of races scheduled for turf: 4 (3rd, 5th, 7th and 9th)
Weather: Mostly Cloudy, highs in the low 70's
Projected condition of main track: FAST
Projected condition of turf: OFF
Race 1
#5 – Classic Wildcat (5-2): Last dirt start was 3 back, runner-up effort v. better; no danger in losing a 10 y.o. gelding to a $4,500 claim on the drop             
#6 – Fairy Cat (3-1): Will try to break 0 for 8 streak at Lrl after three consecutive second best efforts, two v. open company
#1 – Money Tree  (3-1): Hard to ignore trainer J. Ness' 1st race after claim prowess (31%), but tempering enthusiasm w/ this runner who struggled @ Pen and Tup      
Race 2 is OFF THE TURF
#4 – Delightfullstorm (6-1): Boasts best last Brisnet#; switch from turf to dirt was the right decision for trainer S. Casey; takes on winners for first time today          
#5 – Maggie Wag (5-2): Typical "Magic" Magee move after big step up right after claim, drops them back at level they can be successful           
#7 – Wire Dancer (2-1): Makes Lrl debut after a pair of her best career races at the bottom of the maiden barrel @ Tim going 4f     
Race 3
#1 – Monte Man (4-1): *** BEST BET *** Stumbled badly out of the gate in latest… like to his nose bad, yet gathered himself and ran on to get up late to Deat Heat for Place    
#9 – Triple Black Jack (4-1): Away since mid-May and drops in for a tag for first time in fifth career outing; has competed against some of the best local talent        
#7 – Purr's Along  (3-1): A rare disappointing runner from the Colts Neck Stable, takes multiple class drop and first time on dirt in search       
Race 4
#7 – Dixie Deputy (6-1): Last two victories came at this level; shortening up to 5½f seems to be ideal distance for this 6 y.o.; 6 for 7 at distance; "Cowboy" Steve Hamilton still looking for that first trip to Winners Circle                
#4 – Joe Tess (2-1): First start since mid-July; has speed and back class to get it the job done in gate-to-wire fashion
#1 – Risky Guy (7-2): Been knocking heads in Starter Allowance races from Pen, Del and locally; last open claiming event was at this level in March and won it
Race 5 is OFF THE TURF
#2 – Dream Your Dreams (9-2): 3 y.o. daughter of Tapit made debut on grass & sent off as 6-5 PT fav. but finished behind all of her rivals; entered for MTO and after more work to mature, she should make amends   
#10 – Kept (5-1): Away since so-so 6th in "key" race on turf; hails from connections who only keep quality runners; extensive works on the grass might find her on the Programs Changes as a SCRATCH, hoping not     
#8 – Graceful Light (12-1): Six starts w/ last 3 on turf; showed early speed on dirt here 9 months ago; Fai-based trainer runs them "live" here (2:1-1-0)      
Race 6
#7 – Boon Companion (9-5): Steep drop in 3rd start after Magee claim for $10k; tried turf then back to dirt v. much better while not embarrassing himself; never OTB at this distance (5:1-3-1)    
#6 – Slide by You (12-1): Gets perfect setup as the plethora of early speed will come back to his late running style, but this is shortest distance of his 22 race career  
#8 – Heavenly Haze(5-2): He's a "need the lead early to win" type and there's plenty others in here who will press him early; has been PT favorite last 5 races yet only has won one  
Race 7 is OFF THE TURF
#3 – Big Joe Candy (6-1): This field will likely be cut in half leaving a match race between this one and the "Czech"; got the better of him two back; T. Kreiser/A. Rodriguez scores at 26% clip     
#6 – Supah Czech (7-2): Was the 6-5 fav. when beaten by top pick in here then came back to flatter that one, romping in next start      
#2 – How's Your Sugar (9-2): Rest of the field after probable scratches all like to run on the front end, could be beneficiary of pace meltdown
Race 8
#5 – Just Jack (2-1): Class of this short field; only question is can he get two-turns on the main track?   
#1 – Retire Fifty Five (3-1): Made it look easy very lesser talent @ Tim; will need to put on big boy pants to get to wire first at this level       
#2 – Music Critik (6-1): Trainer L. Gaudet appears to have found some of the back class in this 6 y.o. gelding; big step up but catches a weak field for this level  
Race 9 is OFF THE TURF
#2 – Northern Prancer (12-1): $$$ LONGSHOT $$$ Trainer M. Eppler barn has been on a roll of late; a year ago this filly was competing here v. slightly better; can take this group coming off 5 month layoff
#8 – My Adeline (7-5): Failed as heavy PT favorite sprinting on dirt in last two; drops to a level in which she earns her diploma, then again, that was supposed to have happened already          
#4 – Sassy Sara (8-1): On class drop and trainer switch to KTL alone gives her a better shot in here than most of the others
YESTERDAY'S NEWS
On Saturday October 1st at Laurel had 5 winners from the 10 race card (3 Top Selection; payoff in BOLD) having $2 WIN pay-off of $11.80 (1st race), $10.20 (3rd), $5.60 (4th), $5.00 (8th) and $8.80 (9th). Note: Year-to-date Top Selections are Top Selections are 222 for 852 (26.06%).
BEST BET of the Day (92: 27-18-13) Neyami (6th race: 5-2 M/L; 1-1 PT) was steadied soon after the break, hustled up between rivals, was under pressure four wide into the lane and lasted for the place and returned $2.80 to PLACE and $2.40 to SHOW.
LONGSHOT PLAY of the Day (87: 10-11-13) Rockinn on Bye (9th race: 10-1 M/L; 9-1 PT) well handled two wide on the turn, eased out to the three path entering the stretch and rallied gamely to be second best and return $8.20 to PLACE and $4.40 to SHOW.