The GQ Approach – Laurel October 1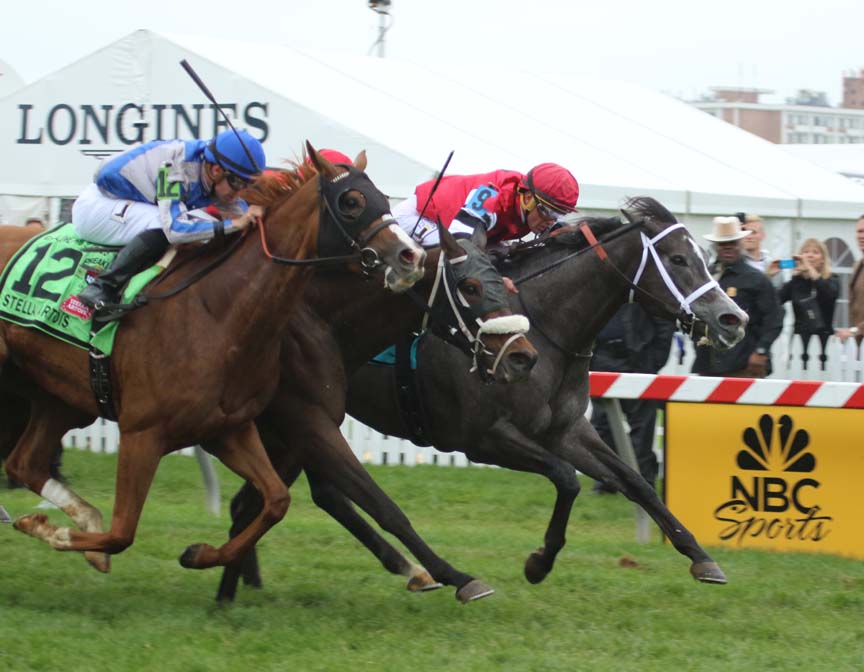 Mizz Money (#9) held off Vielsalm (in between) and Heath (#12) to win the Grade 3 Gallorette. Photo by Laurie Asseo.
The GQ Approach features full-card selections from Laurel Park (w/ live racing every Friday, Saturday and Sunday throughout 2016; Post Time 1:10pm EDT), including a daily Best Bet, Longshot Play, and multi-race wagers — including the 20 cent Rainbow Pick-6, 50 cent Jackpot Pick-5, as well as Pick-4s and rolling Doubles, Pick-3s and the Super High-5. 
CARRYOVERS
Rainbow Pick 6: $9,709
Super High 5: no carryover
Late Pick 5: no carryover
BEST BET OF THE DAY
Race 6 / #6 – Neyami (5-2)
LONGSHOT PLAY OF THE DAY
Race 9 / #3 – Rockinn On Bye (10-1)
[su_heading size="21″ align="left"]Multi-race wagers[/su_heading]
Race 1: $2 Double  1, 3, 8 w/ 4, 5, 12 ($18)
Race 3: $0.50 Pick-3  5, 6, 10  w/ 2, 8, 11  w/ 2, 5, 7 ($13.50)
Race 6: $0.50 Pick-3  6  w/ 1, 5, 11  w/ 1, 2, 3 ($4.50)
Race 9: $2 Double 3, 5, 6 w/ 5, 6, 9 ($18)
[su_heading size="21″ align="left"]Analysis[/su_heading]
Number of races scheduled for turf: none
Weather: Mostly Cloudy w/ 30% chance of rain, highs in the mid 70's
Projected condition of main track: MUDDY / GOOD
Projected condition of turf: OFF
Race 1
#8 – Alpine Sky (5-2): Away since mid-May spending afternoons racing @ GP and doing best on the grass; 8 of 10 works since that last race has been bullets 
#3 – Genuine Happiness (5-1): Has been beaten fav. in last two, finishing 4th in both… the most recent @ The Big T… ouch! 
#1 – Zondaq (10-1): 1 of 2 on today's card for trainer R.Rodriguez but the other is in a stakes, this one may have come along for the ride      
Race 2
#4 – Porte Cochere (10-1): Scratched from Friday's two-turn turf event when taken off; maybe this sprint off the turf will do just fine          
#12 – Seeking Gold (7-5): Has the pedigree to go long but past three sprints she's been on the early pace; 1st start off claim for H. McMahon           
#5 – Miss Nosy (12-1): Won second career race here just 12 days ago and runner-up came back to win; steps back up to a more challenging level     
Race 3
#6 – Snuck a Little Fun (7-2): Can boast the top Brisnet Prime Power# in this field; switch to turf was a good move, yet still seeks first win; sloppy track may help    
#10 – Koppnout (6-1): Hasn't been able to shake a bad case of Seconditis (9:0-5-0)… two of them at this level @ Lrl w/ A. Cruz aboard… third time is a charm?        
#5 – Crookit (4-1): Back to dirt after two adventurous trips on turf; has been runner-up in last four tries to break maiden on dirt          
Race 4
#11 – Street Bullet (6-1): Disappointing 3rd @ Tim when sent off 1-1 PT favorite; Carrasco back in irons and back on Lrl surface, place of all 5 career wins              
#8 – I'm Da Big Man (8-1): Been facing $15k open claimers and mainly on turf but has a win and second over an off track; should find this group easier
#2 – Sabbiadoro (5-1): Makes third start for G. Brooks but hasn't improved off previous trainers ability to help get him quick out of the gate and play catch me if you can
Race 5
#2 – Next Best Thing (4-1): Gives 110% every outing, regardless of venue, distance or track condition; should get perfect pace set-up to pounce on leaders in deep stretch
#5 – Kittery (7-2): Toss that last try on turf; won "key" race @ Prx three back; jock W. Otero comes in just to ride this gal     
#7 – Chilly Start (9-2): Competes at this level but looking to break through with a win; "Magic" Magee starters always attract money when ready for a big effort      
Race 6
#6 – Neyami (5-2): *** BEST BET *** Most experienced 2 y.o. filly in this field adds blinkers today after being much the second best going a two turn, 6½f jaunt                 
#4 – U Know That Rite (7-2): Showed brief, early speed in debut when sent off 6-5 PT fav. @ Del but backed up to finish 12 lengths behind winner; adds blinkers and Lasix  
#5 – On the Prowl (15-1): MD-bred FTS by Cherokee's Boy been steadily working 5 furlongs  
Race 7
#5 – Minor Legend (6-1): Runs well on both turf and dirt and owns a victory from 3 starts on an off track; needs early pace help to catch early speed at the wire       
#11 – All Fired Up (4-1): Love the "Pulled up; walked off" angle, especially since he was PT favorite that day      
#1 – Showalter (7-2): Needs to flash that early speed from the rail in first start since late December; like to work out pattern since mid-August     
Race 8 is the $75,000 Politely Stakes
#3 – Lovable Lady (2-1): Showed versatility when winning on turf in restricted stakes; has never been OTB in six off track efforts (6:1-2-3)   
#1 – Candida H. (5-2): Away since last June, scene of worse defeat in career (6th by 10 lengths) albeit going 9f on turf; should turn in solid effort       
#2 – Sweet Cruizer (10-1): Near disastrous trip in latest when 3-1;  
Race 9 is the $75,000 Challedon Stakes
#3 – Rockinn On Bye (10-1): $$$ LONGSHOT $$$ Nightmarish trip on turf in the Mr. Diz in last outing; does his best work on the main track

#6 – The Truth Or Else (5-1): Trainer K. McPeek gets jock Ricardo Santana to come east just to ride to this colt who was no match for G1 Forego talent          
#5 – All Star Red (2-1): NY shipper has gaudy Brisnet Speed Figures; 3rd race after layoff for missing by a nose after picking up a minor purse in G1
Race 10
#5 – So Quiet (9-2): Not sure why trainer R. Jenkins is hell-bent on making this one a turf runner as the pedigree doesn't scream it; showed late interest in debut going 5f on dirt
#6 – Patriot Saint+ (4-1): 0 for 20 and keeps testing foes at this level instead of dropping; switch back to dirt might be enough to earn diploma today           
#9 – Cold Spice (6-1): 3rd start after layoff; ascending speed figures and troubled trips in last two indicate there's hidden value here
YESTERDAY'S NEWS
On Friday September 30th at Laurel had 6 winners from the 9 race card (1 Top Selection; payoff in BOLD) having $2 WIN pay-off of $13.40 (3rd race), $8.00 (4th), $5.60 (5th), $14.40 (6th), $4.40 (7th) and $4.00 (9th). Of the suggested Multi-race wagers hit the R3-R5 50 cent Pick-3 for $49.65 (cost: $13.50). Note: Year-to-date Top Selections are Top Selections are 219 for 842 (26.01%).
BEST BET of the Day (91: 27-17-13) El Areeb (5th race: 7-2 M/L; 2-1 PT) was away awkwardly and raced wide along the backstretch well off the pace, ridden aggressively on the turn, taken 7-wide entering the stretch and showed late interest to get up to be a distant runner-up and returned $3.40 to PLACE and $3.20 to SHOW.
LONGSHOT PLAY of the Day (86: 10-10-13) Sassafras Springs (9th race: 12-1 M/L; 4-1 PT) showed early speed along the rail but weakened in the stretch to finish 4th.