The GQ Approach – Laurel September 30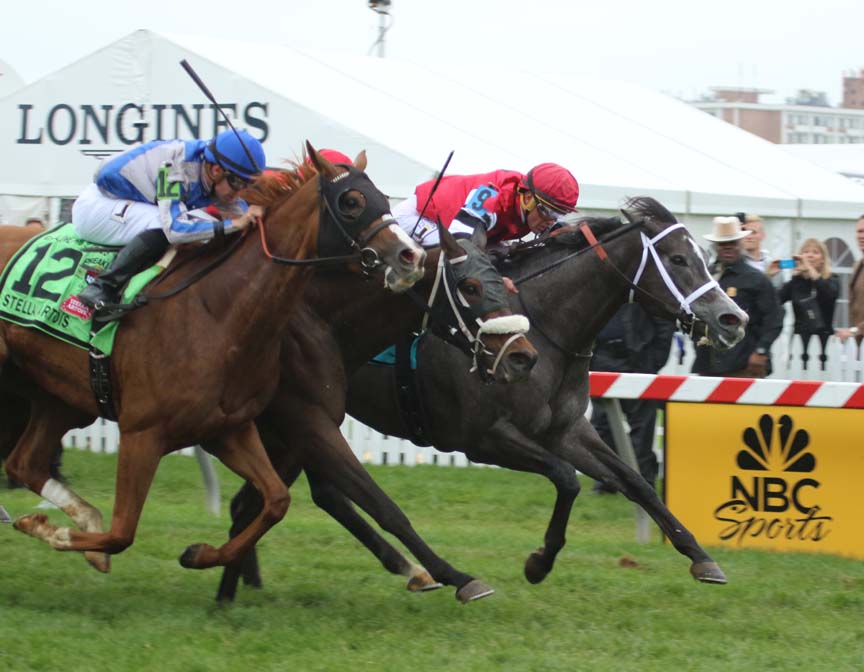 Mizz Money (#9) held off Vielsalm (in between) and Heath (#12) to win the Grade 3 Gallorette. Photo by Laurie Asseo.
The GQ Approach features full-card selections from Laurel Park (w/ live racing every Friday, Saturday and Sunday throughout 2016; Post Time 1:10pm EDT), including a daily Best Bet, Longshot Play, and multi-race wagers — including the 20 cent Rainbow Pick-6, 50 cent Jackpot Pick-5, as well as Pick-4s and rolling Doubles, Pick-3s and the Super High-5. 
CARRYOVERS
Rainbow Pick 6: $8,832
Super High 5: no carryover
Late Pick 5: no carryover
BEST BET OF THE DAY
Race 5 / #13 – El Areeb (7-2)
LONGSHOT PLAY OF THE DAY
Race 9 / #1 – Sassafras Springs (12-1)
[[su_heading size="21″ align="left"]Multi-race wagers[/su_heading]
Race 1: $2 Double 2, 5 w/ 2, 4, 6 ($12)
Race 3: $0.50 Pick-3  6, 7, 8  w/ 6, 9, 10  w/ 1, 6, 13 ($13.50)
Race 8: $2 Double 1, 6, 8  w/ 1, 8 ($12)

[su_heading size="21″ align="left"]Analysis[/su_heading]
Number of races scheduled for turf: 5 (2nd, 4th, 5th, 7th and 9th)
Weather: Mostly Cloudy w/ 80% chance of rain, highs in the low 70's
Projected condition of main track: SLOPPY
Projected condition of turf: OFF
Race 1
#2 – Not for Fun (9-2): Woeful career win record (1 for 31) but that 1 came on an off track (7:1-2-2)             
#5 – Tricky Lion (5-1): Just 1 for 24 and lone win came on the turf, 0 for 6 on an off track but today's the day for win #2… yeah, yeah, that's the ticket!                 
#6 – Keepyuriondabalado (7-2): Jock switch to K. Gomez and the fact was runner-up in latest when first start v. winners makes one think the lightbulb came on      
Race 2 is OFF THE TURF
#6 – Pret Say Eye (5-2): Rough trip in restricted stakes when 21-1; winless on fast/off main surface but has always run well at this level          
#2 – Pennies Appeal (8-1): Hard knocking 7 y.o. mare took the overland route in last start; trainer H. Wolfendale looking for 1st win of the meet (0 for 30) could happen here w/ a few key anticipated scratches             
#4 – Charm City (x-1): Away since mid-June and just one published workout appears she may need one, but can handle the off going (4:1-0-1)     
Race 3
#6 – Supervisor (7-2): Private purchase after 3 uninspiring starts on the southern left coast; takes big class drop and should get a similar sloppy surface that his Daddy (Super Saver) won KY Derby on 
#7 – Visual Effect (6-1): FTS by Pollard's Vision out of a Smarten mare works a nice work tab for a $10k MCL; bred, owned and trained by M. Eppler who wins at 25% clip w/ Debut MCL        
#8 – Steven Got Edye (12-1): Was the last to the wire in his debut, but that was on the turf and for one level higher; pedigree suggests he should handle an off track          
Race 4 is OFF THE TURF
#10 – The Great Provider (7-2): In for the Tag might raise the caution flag; should still run in spite of no starts on an off track for this 5 year old;              
#6 – Sweet Liam (6-1): Has shown better ability since trying turf last 5 starts though winless on that surface; return to main track and 1 of 2 on an off track makes him a threat here
#9 – Nye (3-1): MTO entry catches a break and will draw in but prefers a fast track; if he flashes early speed as he has in the past, could out last the speedy Shouk (#3)
Race 5 is OFF THE TURF
#13 – El Areeb (7-2): *** BEST BET *** Needs a couple defections to draw in; beaten 6-5 PT favorite in debut @Prx; handles this group to get diploma    
#6 – In Arrears (5-2): MTO entry surprised connections in debut (53-1) when leading in mid-stretch but got leg weary in final furlong and held SHOW purse; goes ½ furlong shorter here     
#1 – Lethal Shot (3-1): Made debut this spring @ Aqu (3rd 6 lengths behind next out winner) indicated DE-based connections had a nice one; took time off (4+ months) to mature      
Race 6
#9 – Cape Lookout (4-1): Should improvement when runner-up following a third place effort in debut; Shackleford offspring should take to an off track                 
#7 – Discreet Heat (8-1): Trainer J. Robb does well w/ "babies" 2nd career race (28%); this one got an education in debut and showed willingness to run on late
#8 – Spinelli (8-1): Songandaprayer FTS for C. Lynch (22% w/ firster) has been putting in some nice works
Race 7 is OFF THE TURF
 #4 – Super Sharp (9-5): MTO entry catches a break in distance (one mile on main); is a gate-to-wire threat; handles off track just fine (2: 1-1-0)       
  #7 – Boosting (15-1): 2 for 9 lifetime; 2 for 2 on an off track… nuff said!      
#10 – No Plan B (20-1): Seems as if "Plan B" was praying for rain; just 2 for 35 lifetime but 2 for 6 on an off track… nuff said!    
Race 8
#6 – Gotta Be Gold (5-1): Encouraging that T. McCarthy signs on to ride G. Preciado's only entry on the card, shipping down from Prx; been away 6+ months but like the work tab   
#1 – Take Achance On Me (6-1): No excuse when breaking from rail at this level last time; hoping S. Hamilton gets this gelding involved early and gets his first win since comeback       
#8 – Slick William (7-2): Hillary supporters must love or hate this guy; has hit the board in past six starts, but hasn't seen Winners Circle since maiden score over a year ago  
Race 9 is OFF THE TURF
#1 – Sassafras Springs (12-1): $$$ LONGSHOT $$$ Developed a Closing style of running when on turf yet past main track races were always early speed; looking for the latter today in hopes of a gate-to-wire upset
#8 – Chloe's White Sox (5-2): Pen shipper makes Lrl debut and attracts V. Carrasco, always a good sign          
#10 – Duchess of Wicklow (5-1): MTO entry didn't fair too well v. this level last time on fast track, an off track should help chances
YESTERDAY'S NEWS
On Sunday September 25th at Laurel had 6 winners from the 10 race card (3 Top Selections; payoff in BOLD) having $2 WIN pay-off of $6.00 (1st race), $6.60 (5th), $10.20 (6th), $17.80 (8th), $8.60 (9th) and $4.60 (10th). Note: Year-to-date Top Selections are Top Selections are 218 for 833 (26.17%).
BEST BET of the Day (90: 27-16-13) Discreet Deceit (7th race: 4-1 M/L; 7-2 PT) steadied when shuffled back leaving the backstretch, moved up five deep entering the stretch, advanced outside horses and lugged in sharply near the sixteenth pole to finish 1½ lengths behind the winner to return $3.40 to PLACE and $2.80 to SHOW.
LONGSHOT PLAY of the Day (85: 10-10-13) Springtime Wind (4th race: 8-1 M/L; 12-1 PT) chased the pace, saved ground on the turn and came up empty while finishing 5th.