The GQ Approach – Laurel September 25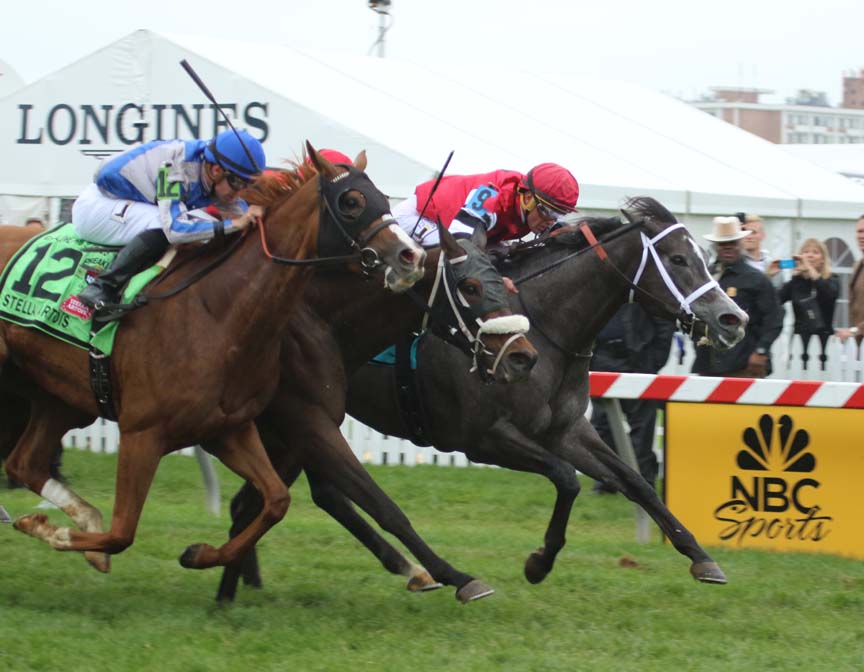 Mizz Money (#9) held off Vielsalm (in between) and Heath (#12) to win the Grade 3 Gallorette. Photo by Laurie Asseo.
The GQ Approach features full-card selections from Laurel Park (w/ live racing every Friday, Saturday and Sunday throughout 2016; Post Time 1:10pm EDT), including a daily Best Bet, Longshot Play, and multi-race wagers — including the 20 cent Rainbow Pick-6, 50 cent Jackpot Pick-5, as well as Pick-4s and rolling Doubles, Pick-3s and the Super High-5. 
CARRYOVERS
Rainbow Pick 6: $4,983
Super High 5: $575
Late Pick 5: no carryover
BEST BET OF THE DAY
Race 7 / #4 – Discreet Deceit (4-1)
LONGSHOT PLAY OF THE DAY
Race 4 / #6 – Springtime Wind (8-1)
[su_heading size="21″ align="left"]Multi-race wagers[/su_heading]
Race 1: $2 Double  2, 4, 7 w/ 1, 5, 6 ($18)
Race 7: $0.50 Pick-4  4 w/ 3,6 w/ 4, 5, 8 w/ 1, 3, 13 ($9)
[su_heading size="21″ align="left"]Analysis[/su_heading]
Number of races scheduled for turf: 5 
Weather: Partly Sunny, highof 72
Projected condition of main track: FAST
Projected condition of turf: FIRM
Race 1 — on the turf
#2 Tracy Island (3-1) — Had to work to grab the lead from the outer post last out, stayed on willingly in first two-turn try and first with blinks
#7 Zendreya (10-1) — Double-drop and return to grass could prove positive; curious trainer pattern finds runner in third barn in four starts, but Team Gaudet's been clicking
#4 Northern Eclipse (5-2) — Runner hits lowest level yet, and lone turf try would put her right there; figures to try to stalk and pounce      
Race 2
#5 Divine Confection (4-1) — Trainer Robb sends out fave in #1 but legs up go-to rider Camacho here; looks likely to get a pace to run at
#1 Girls Got Rhythum (7-5) — Early promise hasn't panned out, but she's still plenty good enough to take these down
#6 R Rousey (10-1) — Only runner in the group with more than two wins
Race 3 is on the turf
#4 Chanel Number One (9-2) — First grass sprint for runner whose dam won two stakes sprinting on the lawn
#1 Cowgirl Creed (2-1) — Connections' patience has rather suddenly expired on a runner they liked enough to run in stakes company last; McCarthy in the irons a good sign
#9 Spring Mtn Mist (12-1) — Decent try last out off a brief freshening; added half-furlong may aid late rally
If she draws in, #13 Bistro Moncur (6-1) is worth a look dropping off a decent try with a trouble line
Race 4 
** LONGSHOT PLAY** #6 Springtime Wind (8-1) — Ran on willingly after early trouble in debut; race has produced 3 next-out winners, one in stakes company
#2 Socialize (3-1) — Lengthy work tab, and trainer Motion legs up go-to rider in McCarthy for bow
#1 She's Achance Too (10-1) — Redeemed filly is a half to hard-hitting sprinter He's Achance
Race 5 is on the turf
#2 Intrepid Alex (4-1) — Enters off a win and looks to be controlling speed here
#12 Mademoiselle Belle (12-1) — Runner has a history of improved efforts in second start off a layoff, and trainer Nagle has a monster record in second-off starts; closer hopes for a pace up ahead
#3 Holy Scat (6-1) — Drops in half pricewise after a respectable effort
If she draws in, #13 Cara's Nay Nay (7-2) is probably best of the bunch
Race 6 
#8 Cho Time (9-2) — Dropped down to beat beaten nickels last out and regain confidence; plenty of back class and possible favorable pace scenario
#7 Titotime (8-1) — Just missed against $11k claimers last out
#3 No Brakes (5-1) — Gotta love this deep closer — 11yo has 21 wins from 105 starts, thrashed similar two back
Race 7 is on the turf
**BEST BET** #4 Discreet Deceit (4-1) — Just missed on debut after a troubled trip, shows a bullet work since; Steve "Cowboy" Hamilton gets first win photo of comeback here
#1 Classydame (5-1) — Blame filly has been working forwardly towards debut, and dam was stakes-placed on synthetic; trainer Lynch can get 'em to win first out of the box
#3 Holiday Magician (8-1) — Troubled trip on debut at The Big T, gets blinks here for follow-up; winner in last repeated
Race 8 
#6 Pizmo Time (2-1) — Time away did this runner some good, as he returned with a big effort in $50k stake at DEL; improvement — or even repeat of last — could get it done here
#3 Good Luck Gus (1-1) — Dear Maryland Jockey Club: When a four-time stake winner of more than $620,000 like this guy is eligible for an entry-level allowance, it might be time to rethink how those conditions are written
#5 Ravenheart (8-1) — 2015 Md. Juvenile Futurity champ may not have liked bullring last out but ran credibly (though behind choice here) in Delp Memorial
Race 9 is on the turf
#8 Corvus (4-1) — Gave a credible accounting of himself last out in first try on turf and first around two turns
#4 Wychmere (6-1) — Cape Blanco colt has shown steady improvement; another step forward here would get it done
#5 Forest Rim (9-2) — 6yo gave a giant effort in the LRL Turf Cup, closing to fifth, just 2 1/2 lengths behind the winner — but repeated failures at this level make us dubious; Lynch in the irons a plus
Race 10
#13 Sir Luca Richard (5-2) — Beat a length by better after early trouble last out; that race has produced a next-out winner; trainer is 28% at LRL in last five years and legs up top jock McCarthy
#1 Runaway Dude (5-1) — Turf foray didn't work, but return to dirt (and bottom level) put him in the picture here; trainer Magee 40% going turf to dirt
#3 Im a Prankster (6-1) — Decent tries vs. better at DEL; finished just behind choice here two back
YESTERDAY'S NEWS
On Friday September 23rd at Laurel had 8 winners from the 11-race card (5 Top Selection; payoff in BOLD) having $2 WIN pay-off of $4.60 (1st race), $9.60 (2nd), $5.00 (4th), $15.40 (7th), $10.60 (8th), $3.00 (9th), $2.20 (10th), and $7.00 (11th). Of the suggested Multi-race wagers hit the R1-R2 $2 DOUBLE for $34.40 (cost: $18); R7-R11 $0.50 PICK 5 for $362.40 (cost: $9); and R10-R11 $2 DOUBLE for $10.60 (cost: $6). Note: Year-to-date Top Selections are Top Selections are 210 for 812 (25.86%).