The GQ Approach – Laurel September 24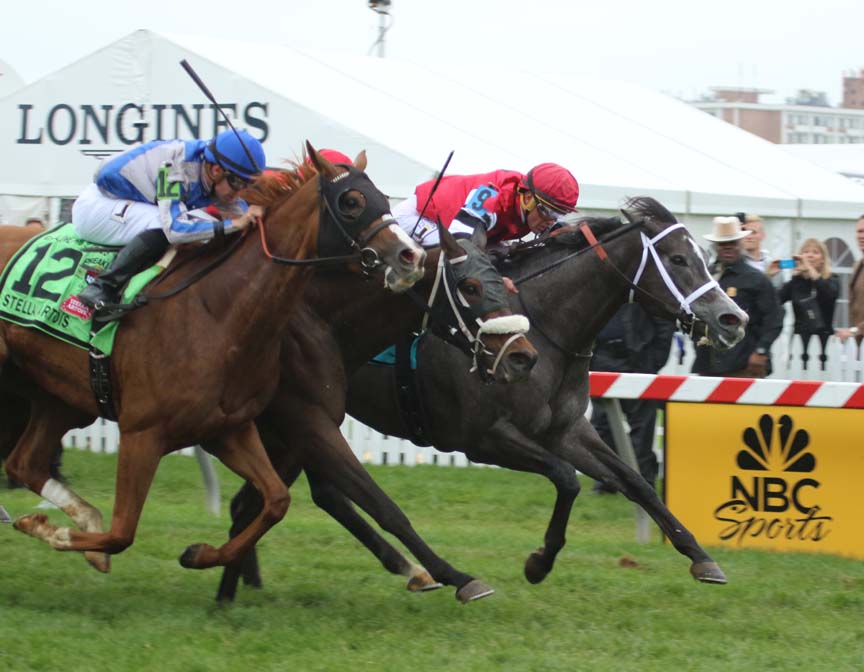 Mizz Money (#9) held off Vielsalm (in between) and Heath (#12) to win the Grade 3 Gallorette. Photo by Laurie Asseo.
The GQ Approach features full-card selections from Laurel Park (w/ live racing every Friday, Saturday and Sunday throughout 2016; Post Time 1:10pm EDT), including a daily Best Bet, Longshot Play, and multi-race wagers — including the 20 cent Rainbow Pick-6, 50 cent Jackpot Pick-5, as well as Pick-4s and rolling Doubles, Pick-3s and the Super High-5. 
CARRYOVERS
Rainbow Pick 6: $4,983
Super High 5: $575
Late Pick 5: no carryover
BEST BET OF THE DAY
Race 7 / #5 – Revved Up (5-1)
LONGSHOT PLAY OF THE DAY
Race 3 / #3 – Tiz Unbeatable (15-1)
[su_heading size="21″ align="left"]Multi-race wagers[/su_heading]
Race 1: $2 Double  2, 5, 6 w/ 2, 3, 4 ($18)
Race 3: $0.50 Pick-3  3, 7  w/ 3, 5, 7 w/ 1, 5, 9 ($9)
Race 7: $0.50 Pick-5  2, 5, 7 w/ 2, 3, 9 w/ 1  w/ 7  w/ 3, 6 ($9)
Race 10: $2 Double  7  w/ 3, 6, 8 ($6)
[su_heading size="21″ align="left"]Analysis[/su_heading]
Number of races scheduled for turf: 8 (3rd thru 10th; ALL STAKES) 
Weather: Partly Sunny, highs in the mid-70's
Projected condition of main track: FAST
Projected condition of turf: FIRM
Race 1 – Congratulations Heather & Tyler
#5 – Jumpin Frac Flash (7-5): 3rd start after claim for "Magic" Magee after failing to compete at higher level drops to level below original claim price where he won by 7 lengths             
#6 – Reach for Yield (10-1): Been running on grass last five starts; returns to dirt at bottom level; has early speed to steal this event on the front end                 
#2 – Going to Market (10-1): Seems to have regained some of that class that earned him over $240k; needs pace help      
Race 2
#3 – Bearcat Kitten (5-2): Flashed early speed in both career starts but couldn't hold off rivals in the stretch; drop from MSW to $25k MCL will help cause for breaking maiden          
#2 – Martywiththeparty (9-2): Handled mud in debut to get SHOW while being a bit green; bug boy K. Gomez gets the call today on a fast track         
#4 – Ogeechee (8-1): Looks like a forgettable debut (5th/last by 10) going 4f @ Tim but took action (6-1) and was a step slow; gets E. Prado in irons     
Race 3 is $60,000 Punch Line Stakes ON THE TURF
#3 – Tiz Unbeatable (15-1): $$$ LONGSHOT $$$ The X-Factor; won debut @ CT last month as SHOW finisher came back to get first win; switch to turf is not such a shot in the dark   
#7 – Two Notch Road (7-5): Winner of this event last year; runner-up in G3 @ Prx in last outing makes him the No Brainer pick        
#2 – Available (8-1): Owns second best turf Brisnet#s and those have been climbing in recent starts but just 2 for 36 lifetime indicates he's tough to use in horizontal wagers          
Race 4 is $60,000 Brookmeade Stakes ON THE TURF
#7 – Skipalute (9-2): Still eligible for N2L but hasn't embarrassed herself in both turf tries when sent off as huge longshot; may try to go gate-to-wire              
#5 – Complete St. (9-2): Positive pattern leading up to last years' victory in this event is eerily similar to last couple prior to today
#3 – My Dinah Lee (15-1): Need a keen eye to see she took on the boys in her last effort; back in w/ fillies here and can pull the upset w/ S. Russell back at the helm
Race 5 is $150,000 Commonwealth Oaks ON THE TURF
#5 – Noble Beauty (4-1): A Chad Brown sighting at lovely Laurel?! Doubtful but this Kitten's Joy offspring may actually be coming into the race better than her higher touted stablemate (#1)   
#1 – Pricedtoperfection (3-1): This graded stakes winner appears to be best of this bunch while grabbing minor shares v. best 3 y.o. fillies in the country     
#9 – Stella Rose (5-2): Came to life in third career start, first on turf when runner-up then followed that up w/ a victory; breeding says going 9f will not be a issue      
Race 6 is $200,000 Commonwealth Turf ON THE TURF
#12 – Force the Pass (3-1): Was up against an unfavorable pace scenario when 5th in G1 FourStarDave @ Sar yet still earned a field best 103 Brisnet#                 
#11 – March (5-1): Beaten by just a head when PT favorite on grass @ Sar which followed a near miss (by a head) in G1 Hollywood Derby
#3 – Mister Brightside (15-1): First start since last Dec. was going 6f where he made a nice stretch run; stretches back out to two turns; a trouble free trip put him right there in the final strides
Race 7 is $200,000 Commonwealth Derby ON THE TURF
#5 – Revved Up (5-1): *** BEST BET *** Though it took this Candy Ride colt six tries to break his maiden, the lightbulb must have gone on as he duplicated that effort in first try v. winners in last outing; all four races since getting Lasix have been better than the previous     
#2 – American Patriot (5-2): Look who discovered Laurel… ol' "Teflon Todd"; guess Winstar doesn't mind all the shipping charges as this 3 y.o. makes his 8th career start at a 7th different track      
#7 – Deeply Undervalued (6-1): Has burnt many bettors by winning just 1 of 4 races he's been sent off as PT favorite in; cuts back in distance and seeks revenge on #5 who got the better of him by a neck in latest   
Race 8 is $60,000 Jamestown Stakes ON THE TURF
#3 – Hold Me Black (8-5): By virtue of failing to hold off a potential superstar in No Dozing in deep stretch makes this 2 y.o. the one to beat   
#9 – Lime House Louie (10-1): Troubled trip in turf debut in minor stakes here that was stacked w/ turf talent that couldn't sign on for this restricted stakes       
#2 – Speed Gracer (10-1): FTS by Lemon Drop Kid doesn't scream sprinting on the turf, but does show quick works in the A.M.; can do a lot worse than F. Lynch as the pilot  
Race 9 is $60,000 Oakley Stakes ON THE TURF
#1 – Rapid Rhythm (7-5): Is truly a standout in this event but a slow pace and the rail could be what denies her a trip to the Winners Circle
#3 – For Finery (8-1): Appears to have found her niche (i.e. turf sprinting) as best efforts have come when competing at one turn on the grass         
#8 – Ring Knocker (15-1): Why not?! Trainer D. Cannizzo only starts runners he thinks has a shot (2: 1-0-1) and this one will be making turf debut w/ capable turf rider F. Boyce
Race 10 is $60,000 Bert Allen Stakes ON THE TURF
#7 – Rose Brier (2-5): M/L Oddmakers don't throw around 2-5 odds often, yet he catches a really soft field and could go off 1-5
#9 – Dannhauser (8-1): Tossing that last clunker just because I can; 3rd race after layoff makes this 8 y.o. a threat to regain some of that back classaQA           
#3 – Jump Ship (12-1): Whoa! 1 for 19 should send chills up your spine but he's given 110% in every race but appears to lack the will to win   
Race 11
#3 – Peppermint Prince (3-1): Trainer K. Cox was able to reignite this 7 y.o. fire after a nearly 5 month layoff and turning to jock A. Cruz who's been ITM all 4 starts post-layoff
#6 – Pax Orbis (8-1): Possibly a "horse for a course" as he's never been OTB @ Lrl (7:2-2-3) but the caution flag is up as he's failed as PT fav. the last 3 starts and continues to drop in class           
#8 – Hey Kid (9-2): Makes 3rd start after layoff while trainer plays "Musical Jocks" as he'll give a leg up to an 8th different jock in the past 8 races; maybe G. Saez can get the job done?      
YESTERDAY'S NEWS
On Friday September 23rd at Laurel had just 4 winners from the 9 race card (1 Top Selection; payoff in BOLD) having $2 WIN pay-off of $7.00 (1st race), $5.80 (2nd), $3.80 (8th) and $6.60 (9th). Of the suggested Multi-race wagers hit the R1-R2 $2 DOUBLE for $21.60 (cost: $12) and R8-R9 $2 DOUBLE for $15.40 (cost: $12). Note: Year-to-date Top Selections are Top Selections are 210 for 812 (25.86%).
BEST BET of the Day (88: 27-15-13) Beaches N Bourbon (3rd race: 5-2M/L; 5-2 PT) taken well back early, circled foes into the lane, was five deep in upper stretch, drifted in on MUCHO BLESSINGS approaching the eighth pole then drew off under steady handling to win by 5 lengths. Following a stewards' inquiry and an objection by the rider of MUCHO BLESSINGS, BEACHES N BOURBON was disqualified and placed fourth.
LONGSHOT PLAY of the Day (84: 10-10-13) Pearl's Love (9th race: 10-1 M/L; 5-1 PT) stalked the pace, was well positioned four deep leaving the turn and faltered the final furlong to finish 6th.