The GQ Approach – Laurel September 23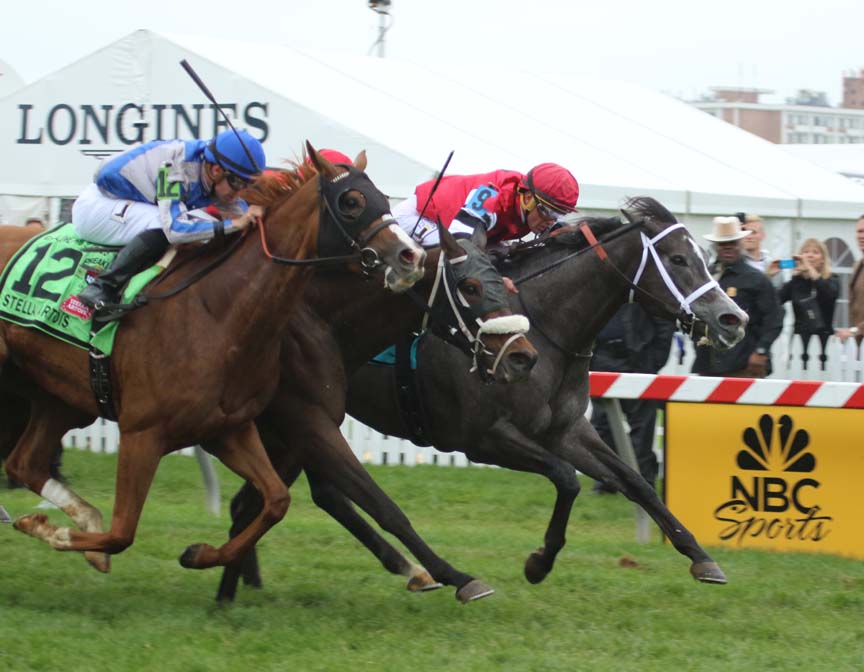 Mizz Money (#9) held off Vielsalm (in between) and Heath (#12) to win the Grade 3 Gallorette. Photo by Laurie Asseo.
The GQ Approach features full-card selections from Laurel Park (w/ live racing every Friday, Saturday and Sunday throughout 2016; Post Time 1:10pm EDT), including a daily Best Bet, Longshot Play, and multi-race wagers — including the 20 cent Rainbow Pick-6, 50 cent Jackpot Pick-5, as well as Pick-4s and rolling Doubles, Pick-3s and the Super High-5. 
CARRYOVERS
Rainbow Pick 6: $4,133
Super High 5: $1,358
Late Pick 5: $5,617
BEST BET OF THE DAY
Race 3 / #1 – Beaches N Bourbon (5-2)
LONGSHOT PLAY OF THE DAY
Race 9 / #13 – Pearl's Love (10-1)
[su_heading size="21″ align="left"]Multi-race wagers[/su_heading]
Race 1: $2 Double 6, 7, 9 w/ 2, 4, 6 ($18)
Race 3: $0.50 Pick-3 1 w/ 1, 4, 7 w/ 3, 8, 10 ($4.50)
Race 6: $0.50 Pick-4 6, 9, 13 w/ 2, 7, 9 w/ 4, 7 w/ 10, 13 ($18)
Race 8: $2 Double 4, 6, 7 w/ 1, 10, 13 ($18)
[su_heading size="21″ align="left"]Analysis[/su_heading]
Number of races scheduled for turf: 6 (1st, 3rd, 5th, 6th, 7th and 9th)
Weather: Partly Sunny, highs in the low 80's
Projected condition of main track: FAST
Projected condition of turf: FIRM
Race 1 is ON THE TURF
#9 – Emissary (10-1): Bred to go long and on the turf but sprinted on dirt @ Mth in debut; trainer M. Matz does better w/ turf runners so this one should show marked improvement going two-turns on the grass             
#6 – Hibernia Fire (5-1): Though this maidens turf record (5: 0-1-0) doesn't hint at it, best effort has come at this level, surface and distance… runner-up by a head, 7 in front of SHOW finisher      
#7 – Takethattothebank (5-2): Game efforts in 3 of 4 turf tries v. similar or better; the bad one race was w/o blinkers 3 back… they've since been put back on… result was two runner-up efforts     
Race 2
#4 – Sir Orinoco (6-1): Away since mid-March and gelded since; shows an A.M. work tab with much quicker times than prior to being "snipped"; boasts best career Brisnet#(94) in this field          
#2 – Daily News (5-2): Lukewarm M/L fav. might actually be distance challenged at 6f in spite of win in last outing, only needed to beat 4 others when 4-5 PT favorite         
#6 – Great Plan (6-1): Difficult choice here going w/ an 0 for 20 jock at the meet, but trainer J. Corrales gets 32% of "Route-to-Sprint" starters to Winners Circle; 3rd race after layoff     
Race 3 is ON THE TURF
#1 – Beaches N Bourbon (5-2): *** BEST BET *** Looked like she was about to throw in towel v. better on the turn in latest but got a second wind and finished up nicely to gallop out beyond winner; change of rider might do the trick     
#8 – Justice for Sheena (12-1): This filly finally gets some (justice) in 3rd start since claim after being placed in way over her head; drops back to level where she was runner-up twice just before claim        
#12 – Champagne Time (10-1): What could be a negative sign in that trainer T. Keefe "go to" rider (S. Russell) exits to take call on #4, who this one beat two back, but getting T. McCarthy may be a blessing in disguise          
Race 4
#4 – Sweet Zoraya (6-1): Ran into a couple budding superstar fillies in her first two outings on dirt then didn't care for the turf last outing v. MSW; jock upgrade and return to $40k MCL could see her earn diploma today
#1 – Phantom Shot (5-1): Beat top pick by a half in debut then had rough trip in second start; third time can be a charm when adding blinkers though tough assignment from the rail
#7 – Socially Driven (3-1): Nice debut when a professional looking run behind 1-2 favorite who came back to win AlwS $40k @ Del last week; could be winner if she takes even a small step forward
Race 5 is ON THE TURF
#8 – Sweet Sway (8-1): Distant runner-up to #5 in here when taken off the turf and no other speed to chase that one; back on turf today along with some pace help will turn the tables   
#3 – Hug a Tree (7-2): Ran career best turf Brisnet# (81) in latest when boxed in at upper stretch; cleaner trip gets the job done as she likes the Lrl turf (6: 2-1-0)  
#10 – Chesapeake Spring (6-1): Beaten PT fav. in latest when trainer Ann Merryman "reclaimed" this 4 y.o. filly who last saw last held her reins in the Winners Circle @ Pim for $15k Open Claiming      
Race 6 is ON THE TURF
#9 – Bridge of Luck(6-1): Second start w/ blinkers could help turn the tables on #6 from last start along w/ D. Centeno being back in the irons; always gives an honest effort on Lrl lawn                
#6 – Storm Net (3-1): There's plenty of early speed in this field to comeback to this Closer in deep stretch; the Brisnet#s have been ascending w/ every turf start
#13 – It's All Copacetic (15-1): Sire line of this 3 y.o. gray gelding is nothing but grass runners as his turf debut was washed off in latest start, but was a win @ Del; jock makes journey down I-95 just for this mount
Race 7 is ON THE TURF
#9 – Rule Yourself (3-1): After runner-up turf sprint debut @ Prx, was overmatched @ Sar trying to stretch out; Lrl competition provides a happy medium; Sagamore Farm runners w/ E. Prado in the irons are 3 for 6 the past year     
#7 – A True Gentleman (6-1): Ran behind a couple talented colts in debut here last month while sprinting; stretches out after getting some stamina building 5f works since      
#2 – Good Reasoning (4-1): Been idle since debut here in July sprinting just 3½ behind next oout winner while SHOW finisher broke maiden in next start; two-turns should be to the liking of this G. Motion trained Scat Daddy colt out of a Not for Love mare   
Race 8
#4 – Saucy Don (5-1): Trainer T. Pompay (23%) ships in from Mth giving this guy his first start in just over a year; been working nicely in the AM for return; N. Juarez thought enough to make the trip to ride as trainer/jock combo has won at 38% clip w/ limited tries   
#7 – Totally Drenched (5-2): Made Lrl debut a winning one in latest earning career high 102 Brisnet#… on a muddy track; could bounce off that huge effort; don't see G. Saez wanting to challenge early speed (#6)       
#6 – Amherst Street (10-1): One thing for certain, he'll be on the lead at the ¼ pole; lack of an early challenger could see him hold on for a gate-to-wire upset; trainer J. Contreras is 3 for 8 at meet  
Race 9 is ON THE TURF
#13 – Pearl's Love (10-1): $$$ LONGSHOT $$$ Took a nice step forward Brisnet#-wise after switching to F. Allen barn; another small improvement off that effort can get her to the Winners Circle
#10– Galroyale (3-1): Seems to have a case of Seconditis sprinting on turf; beaten favorite by just a neck in latest at this level; will try to get diploma in 12th career start         
#1 – Crags (6-1): This Cape Blanco filly began career in NY on turf but after 3 less than stellar starts was offered privately; makes first start trainer J. Savoye on a big drop and second time blinkers deserves a shot
YESTERDAY'S NEWS
On Sunday September 18th at Laurel had 6 winners from the 10 race card (1 Top Selection; payoff in BOLD) having $2 WIN pay-off of $11.00 (1st race), $12.60 (4th), $11.20 (7th), $9.20 (8th), $11.20 (9th) and $9.60 (10th). Of the suggested Multi-race wagers hit the R9-R10 $2 DOUBLE for $54.60 (cost: $18). Note: Year-to-date Top Selections are Top Selections are 209 for 803 (26.03%).
BEST BET of the Day (87: 27-15-13) Loyalty Spirit (2nd race: 2-1 M/L; 2-1 PT) chased the pace racing in the three path around the turn and finished willingly to get third and returned $2.80 to SHOW.
LONGSHOT PLAY of the Day (83: 10-10-13) Zipping By (6th race: 20-1 M/L; 11-1 PT) two wide turning for home, chased the winner through the stretch and raced erratically in the drive coming up a half-length short and returned $12.20 to PLACE and  $7.60 to SHOW.