The GQ Approach – Laurel September 18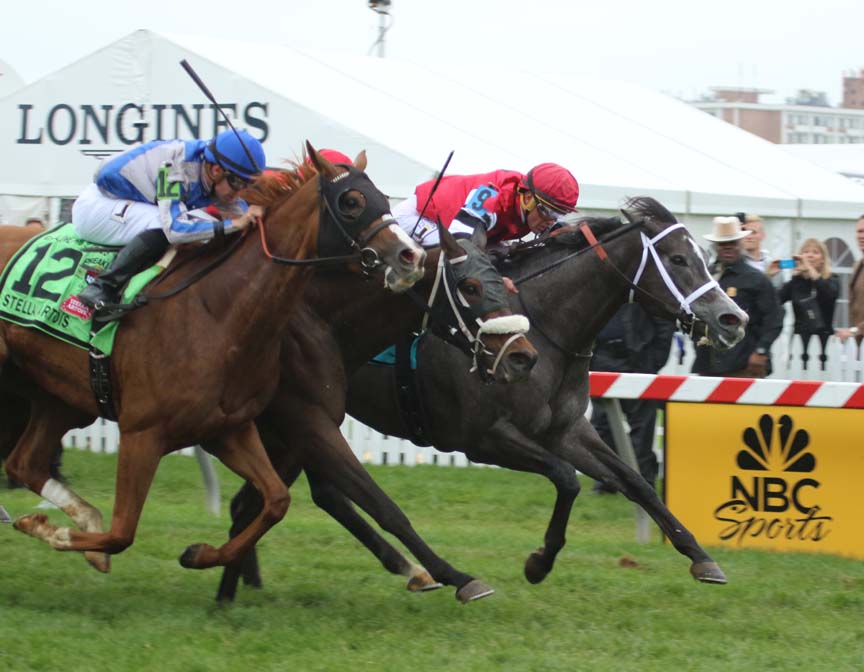 Mizz Money (#9) held off Vielsalm (in between) and Heath (#12) to win the Grade 3 Gallorette. Photo by Laurie Asseo.
The GQ Approach features full-card selections from Laurel Park (w/ live racing every Friday, Saturday and Sunday throughout 2016; Post Time 1:10pm EDT), including a daily Best Bet, Longshot Play, and multi-race wagers — including the 20 cent Rainbow Pick-6, 50 cent Jackpot Pick-5, as well as Pick-4s and rolling Doubles, Pick-3s and the Super High-5. 
CARRYOVERS
Rainbow Pick 6: $3,451
Super High 5: $1,242
Late Pick 5: no carryover
BEST BET OF THE DAY
Race 2 / #6 – Sabbiadoro (2-1)
LONGSHOT PLAY OF THE DAY
Race 6 / #3 – Zipping By (20-1)
[su_heading size="21″ align="left"]Multi-race wagers[/su_heading]
Race 1: $2 Double  1, 4, 7  w/ 4, 6 ($12)
Race 3: $0.50 Pick-3  3, 6, 8, 9 w/ 3, 12 w/ 1, 5, 6 ($12)
Race 5: $0.20 Pick-6  1 w/ 3, 7 w/ 5, 7, 9 w/ 3, 6 w/ 3, 8, 9 w/ 4, 9, 11 ($21.60)
Race 9: $2 Double  3, 8, 9 w/ 4, 9, 11  ($18)
[su_heading size="21″ align="left"]Analysis[/su_heading]
Number of races scheduled for turf: 6 (3rd, 4th, 6th, 7th, 9th and 10th)
Weather: Mostly Cloudy, highs in the low 80's
Projected condition of main track: FAST
Projected condition of turf: FIRM
Race 1
#4 – Art Boss (4-5): There is never a "Sure Thing" in horse racing unless it's a walkover (i.e. one horse race), but after that effort @ Sar, it's hard to argue w/ Mr. Feustle's M/L on this son of Street Boss              
#7 – Forest Ranger (15-1): Toss that turf try and given time off to learn how to be a racehorse, this one could score the upset at a big price                 
#1/1A – Bourbon and Beer/Concordia's Way (6-1): The ol' 2 for 1 proposition but would like to see one of scratch which would indicate the other is "live"      
Race 2
#6 – Sabbiadoro (2-1): *** BEST BET *** Both before and after G. Brooks claim had seen this gelding entered in higher level turf races for MTO which unfortunately for connections always stayed on turf; gate-to-wire score is a high probability v. this group           
#4 – My Jersey Boy (5-1): Likes Lrl dirt surface (9:3-0-3) but makes initial start going 7f; has won sprinting and routing so middle distance should be attainable            
#1 – Whiskey Sour (5-2): Goes for natural Hat Trick while not having the cleanest of trips in both previous wins; steps up to open $5k Claiming here; like cut back to 7f
Race 3 is ON THE TURF
#8 – Sophia Sky (8-1): She's the only elder (4 y.o.) in this field; like the early speed shown going long in first race off the bench while being very chilly on the board after debut win        
#3 – Queeb (5-2): Beaten favorite in each of her last two efforts at this level but has continued to improve Brisnet# and cut backs to sprint, same distance and track of her lone win        
#6 – Birgetta Rose (6-1): Trainer L. Gaudet is 3 for 3 when adding blinkers to her runners w/ +6.47 ROI; cut back from route on turf after leading to the stretch then stopping when 1st Lasix            
Race 4 is ON THE TURF
 #12 – Manakin Road (15-1): Hard to find any runner in here who typically pops out of the gate on top, which is rare in a turf sprint;  taking a leap of faith that A. Serpa gives this gelding similar rides as in the past and can milk the early fractions
  #3 – King Gatto (10-1): Trainer A. Pecoraro's only entry on card who had an excellent winter and summer meet here; always in the mix late except in latest when bobbled at the break going 5f @ Del   
  #1 – Sultry Encounter (5-1): Beaten favorite here v. similar last month; gets reunited w/ V. Carrasco who's back from injured foot   
Race 5
#1 – Maggie Wag (9-2): First race after "Magic" Magee claim often proves fruitful (26%); should be gunning for the rail for a gate-to-wire score; runner-up @ Tim in last as winner came back to win here on Friday      
#6 – Up Hill Battle (9-5): Connections never have patience w/ runners who cannot earn their keep, so they just keep dropping them in hopes of cutting their losses and some is brave enough to claim          
#5 – Katie's Caddie (8-1): Gets an Eclipse award winning jock in the irons for first time in her 11 race career after a variety of apprentices did a decent job; lone win came at this distance               
Race 6
#3 – Zipping By (20-1): $$$ LONGSHOT $$$ Go Big or Go Home!  If A. Cruz gets this City Zip 3 y.o. gelding to the front early, which he should be able to due to the lack of other early speed in here, he just might not quit in deep stretch as this area is thirsty for some rain which has made the turf somewhat speed favoring                  
#7 – Spoiled by God (10-1): Turned in a 84 Brisnet# in breaking maiden last out which rivals the 9-5 M/L #9; as with others will need pace help    
#9 – Tightly Bridled (9-5): We've all seen this movie before… been well backed (5x PT fav. in last 8) only to get a smaller share w/ F, Boyce (5%) in the irons; where's Exchange Wagering in MD when I could really use it?!  
Race 7 is ON THE TURF
#5 – Royal Source (3-1): In this Cappers book an A. Delacour runner owned by Lael Stables on the turf is an automatic use in horizontal wagers; then again this Tapit filly has failed as 6-5 PT favorite @ Del in last two! Blinkers off angle here         
#7 – Good Roll (6-1): Broke maiden here on the turf at same distance last month with a huge (93) Brisnet#; if she doesn't bounce, T. McCarthy can get to the wire first again       
#9 – Emelina (9-2): There  are certainties in life like death, taxes and this mare getting the early lead; missed by a neck in latest but is that final time for 1 1/16th for real (1:40 3/5)?!      
Race 8
#6 – Mister Henry Lee (7-2): KY-bred FTS by Macho Uno should appreciate the one mile distance; trainer J. Servis looking for first win (0 for 4) at Lrl Fall meet ships in this gray from Mth; note the two 1 mile works     
#3 – Good Boy Lucas (7-5): Connections known for having runners; two runner-up efforts when flashing early speed sprinting while being much the second best in both career races; not convinced he wants to stretch out          
#4 – Too Awesome (3-1): KY-bred FTS by Awesome Again will relish distance but will likely want more; like the fact that T. McCarthy signs on to ride for trainer G. Motion as combo gets 21% to Winners Circle          
Race 9 is ON THE TURF
#9 – M C Squared (5-1): Today's approach has been live by early speed on the turf (by now we should know how that has panned out) and regardless that this gelding has been routing on the front end, have confidence that apprentice K. Gomez can hustle him to the lead sprinting for the first time    
#3 – Indian Bucks (7-2): Always gives a good account of himself since switching to turf sprints (8:4-0-2); will be rallying late under T. McCarthy as J. Toledo opts for the A. Goldberg entry (#1/#1A)          
#8 – Jrock (9-2): Giving some love to a runner who took on the big boys @ Sar in last start (5th by 3 1/2) when 20-1; comes back home where he was runner-up two back v. same    
Race 10 is ON THE TURF
 #4 – Balabusta (3-1): Filly just started career just 21 days ago and this will be third lifetime start after two @ Tim in MSW; switch to turf is a smart one in that Twirling Candy is the sire  
 #9 – Poco Loco (7-2): Probably ran best race of her career last time out @ Tim but still wasn't good enough to graduate while going 4f; her 4th here 13 months ago on the turf at this same level gives hope for a Winners Circle photo              
#11 – Super Dawn (15-1): Disastrous debut @ CT last Nov.; been away since, adds blinkers and tries turf which could help her chances… can it hurt?
YESTERDAY'S NEWS
On Saturday September 17th at Laurel had just 5 winners from the 11 race card (1 Top Selection; payoff in BOLD) having $2 WIN pay-off of $7.80 (2nd race), $8.80 (4th), $6.40 (6th) $6.80 (9th race) and $9.60 (10th). Note: Year-to-date Top Selections are Top Selections are 208 for 793 (26.22%).
BEST BET of the Day (86: 27-15-12) Loyalty Spirit (5th race: 2-1 M/L; 2-1 PT) saved ground on the first turn, was taken outside horses on the backstretch, circled the field three wide on the far turn, had aim in upper stretch, flattened out and was steadied at the sixteenth pole behind the winner, have to settle for third and return $3.00 to SHOW.
LONGSHOT PLAY of the Day (82: 10-9-13) Borino (11th race: 8-1 M/L; 9-2 PT) three wide on the turn was outrun while finishing a distant 5th.