The GQ Approach – Laurel September 17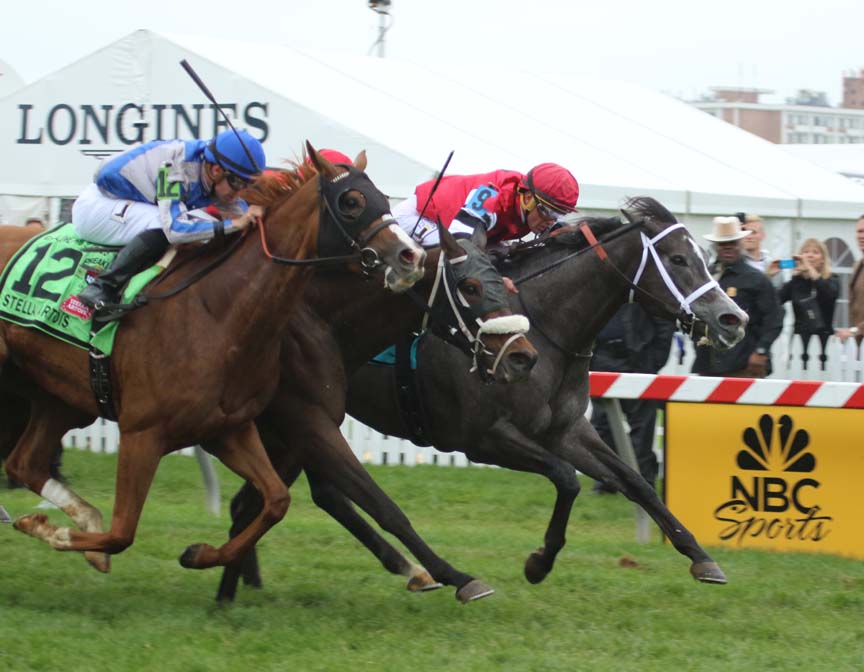 Mizz Money (#9) held off Vielsalm (in between) and Heath (#12) to win the Grade 3 Gallorette. Photo by Laurie Asseo.
The GQ Approach features full-card selections from Laurel Park (w/ live racing every Friday, Saturday and Sunday throughout 2016; Post Time 1:10pm EDT), including a daily Best Bet, Longshot Play, and multi-race wagers — including the 20 cent Rainbow Pick-6, 50 cent Jackpot Pick-5, as well as Pick-4s and rolling Doubles, Pick-3s and the Super High-5. 
CARRYOVERS
Rainbow Pick 6: $2,765
Super High 5: $1,171
Late Pick 5: $9,738
BEST BET OF THE DAY
Race 5 / #1 – Loyalty Spirit (2-1)
LONGSHOT PLAY OF THE DAY
Race 9 / #9 – Borino (8-1)
[su_heading size="21″ align="left"]Multi-race wagers[/su_heading]
Race 1: $2 Double  1, 2, 3  w/ 3, 6, 7 ($18)
Race 3: $0.50 Pick-3  5, 7, 8 w/ 1, 6, 8 w/ 1, 10 ($9)
Race 7: $0.50 Pick-5 4, 10  w/ 3, 5, 12 w/ 3, 8 w/ 1, 8 w/ 4, 8 ($24)
Race 10: $2 Double  1, 2, 8 w/ 4, 8, 9 ($18)
[su_heading size="21″ align="left"]Analysis[/su_heading]
Number of races scheduled for turf: 6 (3rd, 5th, 7th, 8th, 10th and 11th) 
Weather: Partly Cloudy, highs in the upper 70's
Projected condition of main track: FAST
Projected condition of turf: FIRM
Race 1
#2 – Tomo Chachi (2-1): Runner-up @ The Big T v. same; can boast top Brisnet Prime Power# but stretch out to 7f is wild card              
#3 – R Lucifer (10-1): Broke maiden two back here at same distance while finishing just 3 behind top pick when meeting winners for the first time                 
#1 – Datamining (6-1): Hard to gauge dirt talent (5:0-1-1) as this gelding has been steadily dropping in class while trying to stay on the turf       
Race 2
#3 – Heavenly Haze (9-2): Always heavily back at the windows (PT fav. in 8 of past 10) but just one win during that time; excuse in most recent effort; switch from 10 lb. bug is huge          
#6 – Andy's Love (6-1): Away since mid-January is entered under the Waiver Claiming Rule; just two published works since; best two races came at this middle distance        
#7 – Rumblin Kyle (3-1): Capuano/K. Gomez combo have done well w/ limited runner (3 for 7); cautious play based on big class drop
Race 3 is ON THE TURF
#8 – Lucky in Malibu (5-2): Has more turf starts (3) than the rest of the field combined; cut back in distance should help chances to earn diploma today  
L#5 – Stormin Babe (8-1): FTS by Stormy Atlantic should be quick from the gate; trainer D. Capuano has done well (29%) when sending trainees out on turf in debut          
#7 – Swizzle (5-1): FTS by Broken Vow out of a Danzig mare has been busy in the A.M. working up to debut; have to respect trainer G. Motion runners though he's just 14% w/ firsters          
Race 4
#6 – Dancing Rags (7-2): Debut resulted in third place finish… on the grass sprinting; switches surface and stretches for second start              
#8 – Tigerette (8-1): Took no action (52-1) in debut on turf, yet made a nice late run after tardy start; not bred for the turf so getting dirt surface in second outing could yield nice payoff
#1 – Tequilita (8-5): Near miss @ Sar in second career start after showing nothing in debut here when off at 22-1, yet took more interest (16-1) in that runner-up effort
Race 5 is ON THE TURF
 #1 – Loyalty Spirit (2-1): *** BEST BET *** Just 1 for 14 while burning backers money as PT favorite in 3 of last 4 after maiden win; back on turf where he always gives 110%   
#10 – Penn Square (15-1): The Dynaformer in this 5 y.o. gray seems to be slowly coming out as he turned in a nice, late move to get SHOW money     
#9 – Sakara (15-1): 7 lb. Bug Girl (K. Francois) back in irons as she was two back when beaten favorite at this same level; was in over his head last time v. N3L @ Mth       
Race 6
#3 – Sweet Peaches (5-2): NY-bred has been transplanted since winning N2L in local debut; tried a couple class levels higher w/o much success, settles back down to winnable level
#8 – Sally Pollock High (7-2): Won like a champ from off the pace at The Big T; can repeat v. this group where many are off form
#1 – Little Kitten (6-1): Didn't care for bull ring of Tim in latest; gets back to Lrl where she seems to be right at home (13:2-4-0)
Race 7 is ON THE TURF
#10 – Hard Thunder (4-1): Finally returns to grass where he's turned in best efforts (9:3-0-3 v. 9:1-3-1 on dirt); makes Lrl bow as only entry on the card for trainer K. Nations (21%)      
#4 – Frasero (15-1): 7 y.o. has just 3 wins from 22 starts but is 2 for 4 on the grass at lovely Laurel, as one came in his latest effort v. OC$16k in July; Carrasco was aboard for that one too
#2 – Capital Fellow (5-1): Has found his class level of late and it's here; a serious threat to go gate to wire over a turf course that has been kind to early speed   
Race 8 is ON THE TURF
#3 – Dare To Be (5-1): A year ago this gal started career sprinting on turf and proved to be a good one, until she ran into Cathryn Sophia in her only dirt try and was eased; that was 9 months and looks to regain that 2 y.o. turf form in 3 y.o. debut
#12 – Sazerac Girl (10-1): Wallowed among maidens for 10 races then thrown to the wolves in minor stakes v. much tough foes than these finishing a troubled 7th
#5 – Nimble Foot (6-1): Trainer A. Goldberg appears to have discovered this IRE-bred's niche during recent layoff or she's simply matured as a racehorse, can repeat after maiden score
Race 9
#9 – Borino (8-1): $$$ LONGSHOT $$$ If this MD-bred FTS by Include is well meant today, don't expect 8-1; conditioner C. Lynch gets firsters to Winners Circle at 23% clip; like the extensive work pattern
#3 – Etiquette (3-1): Motion took over training duties for this 4 y.o. Tapit filly after twice failing as PT favorite in KY at middle distances; cuts back to sprint         
#2 – Alexandrite (5-2): $300k Kee yearling purchase by Lemon Drop Kid makes career debut for Shug McGaughey who isn't known for winning w/ firsters (10%) but this one is guaranteed to take money  
Race 10 is ON THE TURF
#1 – Channel Regatta (5-1): Hard to find fault w/ turf record at Lrl (3:2-1-0); probably asked for too much too soon when put in v. stakes company twice and didn't have to cleanest of trips  
#8 – Miss Atomic Bomb (3-1): Stands out on paper especially that most recent race in May @ Mth chasing graded stakes winner Isabella Sings (lost by 2¼); she's what jock S. Russell needs to get out of his recent slump           
#2 – Jet Majesty (9-2): Will need to get uncontested lead and set really slow fractions for a chance in here, but there's only one other in here (#6) who might want to press her; it's a crap shoot   
Race 11 is ON THE TURF
#4 – Snuck a Little Fun (9-2): Failed as PT favorite in last two at this level; gets third different jock in irons in as many races seeking initial visit to Winners Circle
#8 – Cherished Prize (4-1): Been knocking on the door being the bridesmaid in past three outings; gotta wonder if she lacks the will to win as she's had lead late only to lost it and got the dreaded "hung" Chart Caller comment in latest     
#9 – My Vixen (12-1): Unlucky in first start in 11 months recently in turf sprint, but made up ground late; bodes well for stretch out even though she stopped badly in only other routes early in career    
YESTERDAY'S NEWS
On Friday September 16th at Laurel had a day to forget! Just 2 winners from the 9 race card (1 Top Selections; payoff in BOLD) having $2 WIN pay-off of $4.00 (6th race) and $33.20 (9th). Note: Year-to-date Top Selections are Top Selections are 207 for 782 (26.47%).
BEST BET of the Day (85: 27-15-11) Path Dependent (9th race: 4-1 M/L; 4-1 PT) five deep entering the stretch, was not a factor to finish 6th.
LONGSHOT PLAY of the Day (81: 10-9-13) Rider On the Storm (8th race: 12-1 M/L; 11-1 PT) was placed in a good stalking position along the rail into the turn, moved towards the leader entering the stretch but weakened in the final furlong to finish 6th.