The GQ Approach – Laurel September 16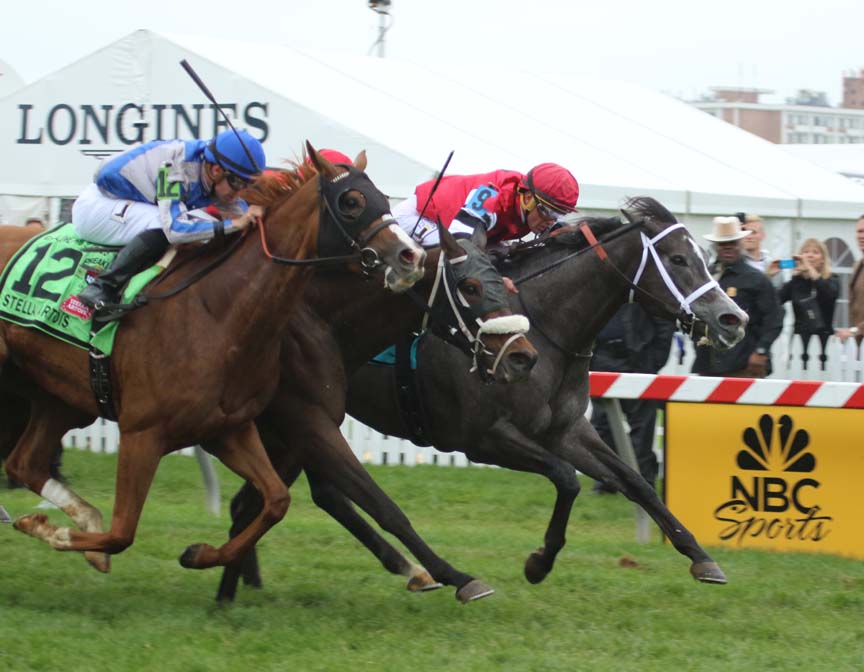 Mizz Money (#9) held off Vielsalm (in between) and Heath (#12) to win the Grade 3 Gallorette. Photo by Laurie Asseo.
The GQ Approach features full-card selections from Laurel Park (w/ live racing every Friday, Saturday and Sunday throughout 2016; Post Time 1:10pm EDT), including a daily Best Bet, Longshot Play, and multi-race wagers — including the 20 cent Rainbow Pick-6, 50 cent Jackpot Pick-5, as well as Pick-4s and rolling Doubles, Pick-3s and the Super High-5. 
CARRYOVERS
Rainbow Pick 6: $2,319
Super High 5: no carryover
Late Pick 5: $3,373
BEST BET OF THE DAY
Race 9 / #5 – Path Dependent (4-1)
LONGSHOT PLAY OF THE DAY
Race 8 / #5 – Rider On the Storm (12-1)
[su_heading size="21″ align="left"]Multi-race wagers[/su_heading]
Race 1: $2 Double  2, 5, 6  w/ 1, 6 ($12)
Race 3: $0.50 Pick-3  7, 11, 14 w/ 1, 3, 5 w/ 1, 3, 5  ($13.50)
Race 6: $0.50 Pick-4 1, 5, 7  w/ 7, 8 w/ 2, 4, 5 w/ 5, 9 ($18)
Race 8: $2 Double  2, 4, 5 w/ 5, 6, 9 ($18)
[su_heading size="21″ align="left"]Analysis[/su_heading]
Number of races scheduled for turf: 6 (1st, 3rd, 5th, 6th, 8th and 9th)
Weather: Mostly Sunny, highs in the low 70's
Projected condition of main track: FAST
Projected condition of turf: FIRM
Race 1 is ON THE TURF
#2 – Midnight Bounty (7-2): Appears to have been a bargain claim ($14k) when winning for $25k v. N2L @ Aqu next start (last Dec.) which was her most recent; protected and tries sprinting on grass after 6 turf routes; will be making furious rally in deep stretch… let's hope              
#5 – Another Badge (4-1): First start after L. Albert claim for $5k @ The Big T; returns to turf and has competed at this level (2:0-1-1) in recent past                 
#6 – Uknowfriends (8-1): Just missed here v. similar two back when 29-1; the 2 for 30 career record is troubling but turf record (9: 1-0-2) gives hope for a Winners Circle photo; jock A. Wolfsont in for lone mount       
Race 2
#6 – Lockupthebourbon (2-1): Ran off in pre-race @ Tim in last start, yet still held lead going two turn 6½f until mid-stretch; third race after layoff         
#1 – Annies Revenge (9-5): Question ability to get 6f even on the steep drop; with that being said she'll probably go out and win by a half dozen         
#7 – Red Sole Diva (15-1): Anna Carrow makes her professional riding debut aboard this W. Potts runner who is only one in the field w/ a win over the Lrl dirt surface; failed miserable though @ Tim on huge drop to this level in most recent start       
Race 3 is ON THE TURF
#14 – Puturseatbelton (10-1): Will need a defection or two to draw in; beaten favorite v. best going 5f; gets plenty of pace to run down plus an extra ½ furlong; if scratched consider #3 (Uncle Tito; 15-1); BTW – ML fav. "Billy" gets beat today      
#11 – Racy (4-1): Has tactical speed to get a nice stalking trip behind a plethora of early speed; was a winner last time in for a tag
#7 – Classic Wildcat (12-1): Hard knocking 10 y.o. for KTL has run behind others in here in last 3 but gets favorable pace scenario for this one          
Race 4
#3 – Danish Pastry (5-2): Looks like Lone Speed but caution flag is up as she shows no works since last seen in the afternoon getting beat as 3-5 fav. 7 weeks ago! Also offered for $1k less to get 4 lb. break in a sprint?              
#1 – Koppnout (3-1): Classic case of Seconditis (8:0-4-0); runner-up 2 back at this level but at 7f which seems to be most desirable distance; lack of pace will hurt chances
#5 – Startdwithawhisper (9-2): Trainer M. Eppler's other runner (also has #1) has more upside in that just fourth career start and should like 6f v. the 4f @ Tim  
Race 5 is ON THE TURF
#1 – Capucine (5-2): Boasts the best Brisnet# on turf; wide trip last time in first start v. winners gets it done w/ ground saving trip along the rail   
#5 – Icy Miss (8-1): If she gets uncontested lead early under F. Boyce (first time in irons), which appears likely, she be hard to run down in the stretch     
#3 – Beaches N Bourbon (8-1): Looked like a she had promising future on the turf until eased two back on "good" turf; so-so effort in "off the turf" come back was predictable based on career debut result in mud; could surprise at a price; Eppler/Karamanos combo 26% the past year       
Race 6 is ON THE TURF
#1 – Lake Turkana (2-1): Supposedly the better of the two M. Matz runners in here (other is #8 w/ G. Saez only mount?); has needed time off between a race or two in the past; gets best chance to graduate v. this group
#5 – Participate (15-1): Second time blinkers; may have been too keen in first start since last Nov. when she went too quick early then faded in the stretch 
 #7 – Include Gold (12-1): 3 y.o. daughter of Include wants two turns and gets it and turf in third career start; took to the poly-crap surface @ Pid which typical indicates a liking for turf; E. Prado in the irons enhances her chances
Race 7
#8 – Flash MacCaul (9-2): Was a solid 2 y.o. MD-bred runner who has shown up in every race, except two back but made amends @ Del in minor stakes when just 3½ behind winner; part of Exacta in all 3 outings (3:1-2-0) going this one mile distance      
#7 – Sea Raven (15-1): Very dull effort first time v. N2X in mud last start after impressive win in Lrl debut as NY shipper when he beat next out winner (Ghost Bay)        
#2 – Struth (2-1): Second start w/ blinkers; never worse than runner-up (6:2-4-0) but may have distance limitations, even though pedigree indicates otherwise   
Race 8 is ON THE TURF
#5 – Rider On the Storm (12-1): $$$ LONGSHOT $$$ Owner is obviously a "Doors" fan; comes off career debut win over a sloppy Lrl main oval; when Lonhro (AUS) is the sire, the offspring is a must play when first turf on the grass   
#4 – Sweet Liam (15-1): The Comeback Kid (Steve Hamilton) still seeking first win since coming out of a 10 year retirement, gets a legit chance on this late running turf sprinter       
#2 – Power Nap (9-2): Turned in a 90 Brisnet# @ Prx in just second try on turf from 18 career starts; makes sense to wheel back here for Tom Morley's only entry on the card  
Race 9 is ON THE TURF
#5 – Path Dependent (4-1): *** BEST BET *** Jock S. Russell in unfamiliar territory (just 10%) since coming back from injury but knows trainer T. Keefe runners well (21%) from A.M. workouts; should earn diploma on the drop 
#9 – Tizdejaslew (12-1): Catches a full field of maidens who lack early speed; was fractious prior to last start in slop; tow back on turf was rushed to lead after slow start, then steadied         
#6 – Storm Candy (15-1): Lost all chance when "Broke in air" in debut but showed some late interest at odds of 9-1    
YESTERDAY'S NEWS
On Sunday September 11th at Laurel had 5 winners from the 10 race card (1 Top Selection; payoff in BOLD) having $2 WIN pay-off of $3.20 (1st race), $2.80 (2nd), $7.40 (7th), $15.60 (8th) and $6.00 (9th). Of the suggested Multi-Race wagers hit the $2 DOUBLE in R1-R2 for $5.40 (cost: $18). Note: Year-to-date Top Selections are Top Selections are 206 for 773 (26.65%).
BEST BET of the Day (84: 27-15-11) Take Achance on Me (4th race: 4-1 M/L; 4-1 PT) three deep on the turn, angled in in upper stretch, came up empty and finished 5th.
LONGSHOT PLAY of the Day (80: 10-9-13) Awake the Day (9th race: 12-1 M/L; 10-1 PT) three wide on the turn, chased the pace and weakened finishing 9th.