The GQ Approach – Laurel September 11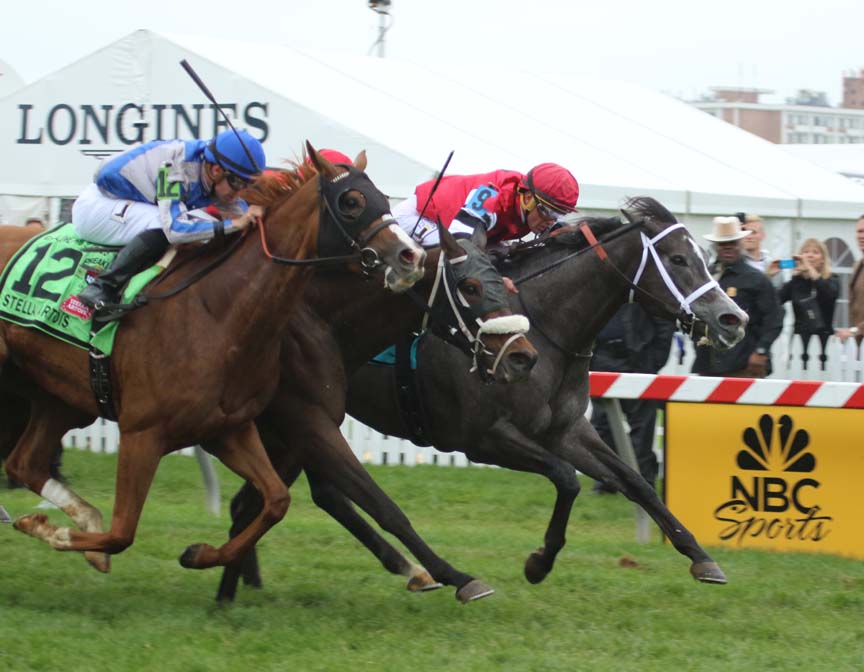 Mizz Money (#9) held off Vielsalm (in between) and Heath (#12) to win the Grade 3 Gallorette. Photo by Laurie Asseo.
The GQ Approach features full-card selections from Laurel Park (w/ live racing every Friday, Saturday and Sunday throughout 2016; Post Time 1:10pm EDT), including a daily Best Bet, Longshot Play, and multi-race wagers — including the 20 cent Rainbow Pick-6, 50 cent Jackpot Pick-5, as well as Pick-4s and rolling Doubles, Pick-3s and the Super High-5. 
CARRYOVERS
Rainbow Pick 6: $1,729
Super High 5: $794
Late Pick 5: no carryover
BEST BET OF THE DAY
Race 5 / #1 – Take Achance On Me (4-1)
LONGSHOT PLAY OF THE DAY
Race 9 / #4 – Awake the Day (12-1)
[su_heading size="21″ align="left"]Multi-race wagers[/su_heading]
Race 1 $2 Double  3, 5, 7  w/ 1, 2, 7  ($12)
Race 3 $0.50 Pick-3  1, 6, 7  w/ 6, 8, 9  w/ 1, 6  ($9)
Race 7 $0.50 Pick-4 2, 7, 9  w/ 2, 8, 9  w/ 1, 4  w/ 4, 5, 10  ($27)
Race 9 $2 Double  1, 2, 4  w/ 4, 5, 10 ($18)
[su_heading size="21″ align="left"]Analysis[/su_heading]
Number of races scheduled for turf: 5 (4th, 6th, 7th, 9th and 10th)
Weather: Mostly Sunny, highs in the low 80's
Projected condition of main track: FAST
Projected condition of turf: FIRM
Race 1
#3 – Haveaniceweekend (4-1): The most experienced 2 y.o. filly in the field, showed an amazing improvement in form when runner-up @ Del from her 3 starts @ GP              
#7 – Notthatitmatters (8-1): Algorithms filly was sent off 1-1 fav. in debut here July 31st but didn't run a lick for $40k MCL; just one work since and drops to $25k; must be talent there to have attracted money                 
#5 – Ideal Behavior (9-5): Drops in for tag in 3rd career outing; weakened in both efforts after showing brief speed on both turf and dirt when chilly on the board       
Race 2
#1/1A – I'll Run the Show/Cho Time (7-2): Trainer C. Gonzalez entry; #1A takes precipitous drop as he's suddenly off form; #1 fits at this level and 1st Call K. Gomez rides this one          
#2 – Maximus Mike (15-1): Has just one previous 6f race (OTB) in his 21 race career but like the early speed (a first) in latest going 3-turns @ Tim w/ 10 lb. Bug Boy and now switches to A. Cortez
#7 – Rub the Rock (12-1): Didn't negotiate turns @ Tim too well but jock S. Hamilton got feel for his style and showed late interest; last win came here 3 back at same distance and level     
Race 3
#7 – Keepyuriondabalado (7-2): Going with the "Lightbulb Theory" here (i.e broke maiden in last start); appears Blinkers Off move was the right call earning the best last race Brisnet# (79) in this group      
#1 – Credit Ready (2-1): Leery not only about hasty drop from $16k to $5k plus giving away another $500 to shed 4 lbs. in a sprint? Only previous dirt try was debut @ Pen going 6f and backed up like a city garbage truck        
#6 – Hush Hush Henny (10-1): Second time blinkers; was "Steadied early" in last on turf v. a few classes high; trainer does well (3 of 7) w/ similar droppers; only win was on turf though          
Race 4 is ON THE TURF
#8 – Dun Won (9-5): Ness/T. McCarthy combo (23%); tough call as top pick on drop from $25kN2X but those were @ Pen and Del on dirt; been making her living on the turf so if she's fit she should prevail              
#9 – Issheit (8-1): First race off L. Albert claim (12%); sticks to this $15k level where she's been most successful but concerned as to why she was an overlay (5-1) in previous start after being runner-up as PT fav.
#6 – Workerbee (6-1): Gotta figure that first race after claim (first on dirt as well) was just to get her out of the barn to stretch her legs ("Yeah, yeah, that's the ticket!"); back on turf and A. Castrenze back in the irons as she was riding this gal to victory 3 back v. similar  
Race 5
#1 – Take Achance On Me (4-1): *** BEST BET *** Blinkers Off after trying them for first race after 8 month layoff; first time in for tag in 9th career start; S. Russell takes the reins as he's 1 for 1 trainer J. Egan   
#6 – Nicaradalic Rocks (9-5): Just missed in his East Coast racing debut following 14 races in SoCal; prudent private purchase of this 3 y.o. MD-bred to bring him home earn bonus money     
#3 – Grand Notion (6-1): Beaten favorite when claimed from G. Brooks; has early speed in a race that only has one other runner who wants the lead       
Race 6 is ON THE TURF
#2 – Kitty Fredo (8-1): Tries for Natural Hat Trick after gets "W" via DQ in latest while dropping to $7,500 is a head scratcher; loves Lrl turf (4:3-1-0) and never OTB at distance (4:2-1-1); what's not to like?
#1 – Compliance Officer (4-1): Hard knocking 10 y.o. still has will to win (53:14-8-7); will need to get lead breaking from the rail which should be no issue has this field is loaded w/ Closers
#13 – Soup d'Coupe (5-1): Gets best distance (26:6-8-1) coming off a brief layoff; got a rare 1 mile workout recently just for fitness purposes; needs pace help
Race 7 is ON THE TURF
#7 – Recoil (8-1): Was unfortunate to have rail in debut and encountered traffic late; love runners by Aussie Turf Champ Lonhro as they typically fire early in career (I avoid using the most overused word in horse racing analysis… Precocious)     
#2 – Cent Comm (10-1): FTS by More Than Ready is an automatic "use" for yours truly when debut on turf; nice work pattern
#9 – Boys From Boston (2-1): Thought we'd be seeing this colt stretching out in search of diploma but shortening up and switch to grass is a curious move IMHO; was 4th behind a trio of potential KY Derby Trail participants in G3 Bashford Manor @ CD fin latest on July 2nd   
Race 8
#2 – Cape Lookout (4-1): Connections paid $100k for this son of Shackleford who got an education in his debut (3rd); expect a quicker exit from the gate today as works since that race indicate   
#8 – Musical America (9-2): KY-bred FTS by Malibu Moon from the Lael Stables who already have a star in the making in No Dozing; A. Delacour/A. Cintron meet in Winners Circle at 29% clip
#9 – High Roller (10-1): FL-bred FTS by High Cotton out of a Grand Slam mare been steadily working up to debut since end of June; surely T. McCarthy had options and lands here  
Race 9 is ON THE TURF
#4 – Awake the Day (12-1): $$$ LONGSHOT $$$ Just 2 for 27 lifetime but has never had a HOF rider in the irons; recent Brisnet#s are as good as others in here that are more highly touted; getting 12-1 may be a pipedream
#1 – Elusive Joni (3-1): Brilliant move on trainer G. Capuano part switching this Colonel John filly to the turf (4:2-2-0); rail assignment may be a hindrance but has best local jock (T. McCarthy) in the irons to get the job done on step up in class         
#2 – Class Edge (8-1): OTB when sent of as favorite @ Del as she "Got out into turn"; was runner-up previously here v. similar at 15-1  
Race 10 is ON THE TURF
#4 – Djulpan (7-2): Yet another Lonhro offspring making second start of career but first on turf; trainer N. Saville looking to break into winner column @ Lrl (18:0-6-3); away 3 months since debut to learn how to be a racehorse  
#5 – Speightful Song (4-1): Winstar Farm paid $300k in 2014 for this son of Speightstown; adds blinkers and switches to turf after being much the second best @ Del           
#10 – First Notion (8-1): Interesting move as CT-based trainer J. Runco ships in MD-bred by Great Notion for debut on grass and bring "go to" jock (A. Bochachica) in for the ride; bullets in the AM would think a gate-to-wire chance   
YESTERDAY'S NEWS
On Saturday September 10th at Laurel had 6 winners from the 11 race card (3 Top Selections; payoff in BOLD) having $2 WIN pay-off of $7.20 (1st race), $3.20 (2nd), $6.60 (5th), $3.60 (7th), $9.00 (8th) and $4.40 (9th). Of the suggested Multi-Race wagers hit the $2 DOUBLE in R1-R2 for $18.40 (cost: $12). Note: Year-to-date Top Selections are Top Selections are 208 for 774 (26.87%).
BEST BET of the Day (83: 27-15-11) Game Winning Shot (4th race: 7-2 M/L; 5-2 PT) taken to rate while saving ground, took closer order past the five sixteenths, eased out with aim on the winner in upper stretch, gave game chase from there but could not gain much late to finish second returning $3.80 to PLACE and $2.60 to SHOW.
LONGSHOT PLAY of the Day (79: 10-9-13) Southern Girl (8th race: 6-1 M/L; 7-2 PT) prompted the pace between rivals into the turn, responded when asked heading towards the quarter pole, forged three wide to command soon past the three sixteenths, kicked clear a furlong out and dug in under a stiff drive to win by 1¼ length to return $9.00 to WIN, $4.60 to PLACE and $3.40 to SHOW.