The GQ Approach – Laurel September 10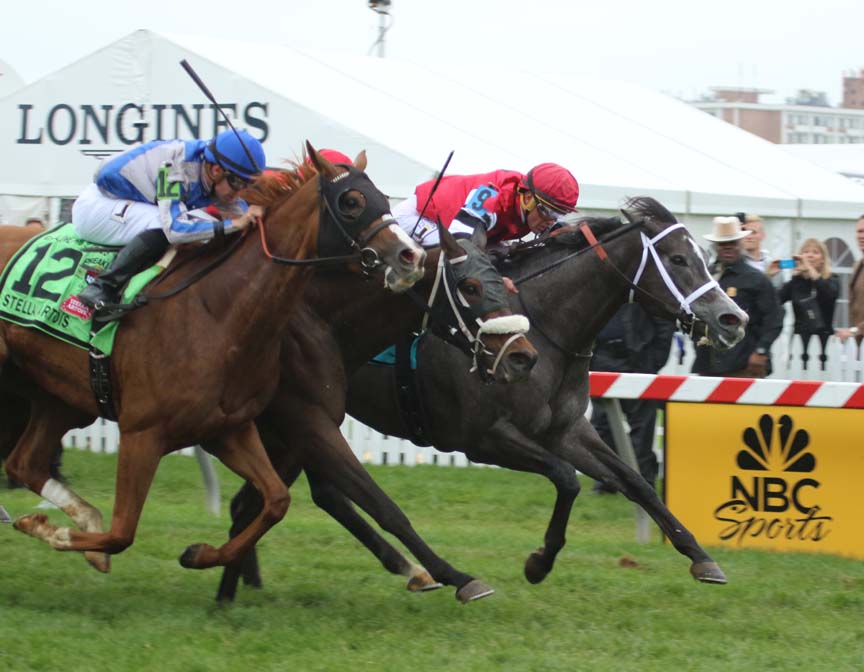 Mizz Money (#9) held off Vielsalm (in between) and Heath (#12) to win the Grade 3 Gallorette. Photo by Laurie Asseo.
The GQ Approach features full-card selections from Laurel Park (w/ live racing every Friday, Saturday and Sunday throughout 2016; Post Time 1:10pm EDT), including a daily Best Bet, Longshot Play, and multi-race wagers — including the 20 cent Rainbow Pick-6, 50 cent Jackpot Pick-5, as well as Pick-4s and rolling Doubles, Pick-3s and the Super High-5. 
CARRYOVERS
Rainbow Pick 6: $369
Super High 5: $3,355
Late Pick 5: $2,655
BEST BET OF THE DAY
Race 4 / #7 – Game Winning Shot (7-2)
LONGSHOT PLAY OF THE DAY
Race 8 / #6 – Southern Girl (6-1)
[su_heading size="21″ align="left"]Multi-race wagers[/su_heading]
Race 1: $2 Double  3, 7, 9  w/ 3, 4, 7 ($18)
Race 3: $0.50 Pick-3  9, 10, 12 w/ 7 w/ 3, 6, 8  ($4.50)
Race 7: $0.50 Pick-5 4, 8 w/ 4, 6, 8  w/ 1, 4, 6 w/ 1, 3 w/ 9, 10 ($36)
Race 10: $2 Double  1, 3, 8 w/ 2, 9, 10 ($18)
[su_heading size="21″ align="left"]Analysis[/su_heading]
Number of races scheduled for turf: 7 (3rd, 5th, 6th, 7th, 9th, 10th and 11th)
Weather: Sunny, 10% chance of late afternoon T'storms, highs in the low 90's
Projected condition of main track: FAST
Projected condition of turf: FIRM
Race 1
#3 – Fight for Freedom (5-2): Been in higher MCL levels but cannot to catch a weak field, thus the drop to $10k gives him best shot to graduate              
#7 – Azorean Connection (12-1): Going w/ the weaker of the two T. Keefe runners who cuts back in distance after showing 6f speed w/ S. Russell in the irons who opts to ride the other (FTS #2)         
#9 – Drive at Nite (3-1): Consistency in that he's always around the same speed fig which should be good enough v. these to graduate; 3rd race after layoff after two runner-up effortts       
Race 2
#3 – No Dozing (9-5): Never saw a 2 y.o. toss jock & run off in Post Parade, get caught then turn in a winning performance as impressive as this one did in debut; Lael Stables home bred may be hitting the KY Derby Trail this winter         
#7 – O'Dionysus (2-1): O's owner Peter Angelos (Marathon Farms) paid $190k for this MD-bred Bodemeister colt which may turn into be a bargain if he improves off a sensational off the pace debut win          
#4 – Thurman Merman (6-1): Looks like the speed of the speed based on early fractions of debut win on June 6th; 4 of 5 AM drills since have been bullets       
Race 3 is a Fegentri race ON THE TURF
#12 – Patriot Saint (10-1): Owns top Brisnet# on the turf at this distance in race that features international jocks (Fegentri); had troubled trips in both starts since coming back from 60 day layoff; jock E. Poretz's mount won MD Hunt Cup this spring
#10 – Dixie Knight (5-1): Like the progression of turf races and preferring routes; was game as runner-up in latest; jock (B. Guilain of France) wins at a 17% clip
#9 – I Got Class (8-1): Switched to turf two back in what might have been out of desperation, but looks to be the right move; had a bit of traffic issues in last effort; jock (I. Melgarejo-Loring) is current Fegentri points leader)          
Race 4
 #7 – Game Winning Shot (7-2): *** BEST BET *** Most experienced 2 y.o. in the field will race second time w/ blinkers after initial race w/ the hold wasn't the cleanest of trips; jock T. McCarthy is an upgrade here              
#10 – Rollin Warrior (4-1): Scratched from 4f race at The Big T last week; hopefully that was due to thinking he fits better in here on the drop from $25k MCL when sent of 5-2 PT fav. but didn't fire
 #6 – Hosway (5-1): Hit the board (3rd) in debut when 21-1 at The Big T going 4f; based on late run he displayed, the additional furlong and a half should help chances  
Race 5 is the $75k Laurel Futurity ON THE TURF
#5 – Undulated (5-1): Got left at the gate in debut then ran professionally after having all kind of trouble to mid-stretch but threaded the needle under confident handling by T. McCarthy late in a very quick final 1/16th after having all kind of trouble from start to mid-stretch but threaded the needle under Trevor McCarthy to win after having all kind of trouble from start to mid-stretch but threaded the needle under Trevor McCarthy to win   
#3 – Caribou Cab (3-1): Beaten favorite in both career starts; add blinkers in attempt to reverse bad fortune; trainer/jock have teamed-up to get 28% to Winners Circle     
#8 – Hembree (2-1): Spent Summer at Sar and won at first asking at 12-1, a rarity for any turf runner owned by Ken & Sarah Ramsey      
Race 6 is the $75k Selima Stakes ON THE TURF
#1 – Zero Zee (2-1): Race seems to be step up for her as all of her foes go all out right from the gate; rail assignment is not a concern as her best running will come in the stretch
#3 – White Tights (10-1): Filly is cross-entered in Futurity (R5) v. boys might go there as there's less early speed unlike here; gets Lasix first time for her third career start
#8 – Fly (9-2): Surprised connections by winning debut at 11-1 and displaying a nice finishing kick to earn best "late" speed figure among today's foes
Race 7 is the $150k Lady Baltimore ON THE TURF
#4 – Onus (8-5): A prefect 3 for 3 over the Lrl turf; recorded triple-digit Brisnet# when 4th in the G2 Ballston Spa stakes @ Sar; should get a perfect stalking trip     
#8 – Robillard (7-2): Just 1 of 2 in here with early foot over a turf course which was kind to front runners yesterday; third start after layoff        
#5 – Tuttipaesi (3-1): Graded stakes winning gray mare trained by Bill Mott has never been OTB at this distance on turf (4:2-1-1); regular rider C. DeCarlo jock comes into town to ride   
Race 8 is the $75k Shine Again Stakes
#6 – Southern Girl (6-1): $$$ LONGSHOT $$$ Late blooming 3 y.o. seeks natural Hat Trick v. elders; stretches out to middle distance for Larry Jones who does well at Lrl w/ shippers (4: 2-1-1); been taking giant steps forward; 3rd race after layoff   
#8 – Four Inch Heels (9-5): Won lone Lrl try last Dec. when facing N2X at this same distance; this Alfeet Alex filly knows how to win (14: 7-2-1)       
#4 – La Madrina (9-2): Continues to try grade stakes but just doesn't measure up; only win in the past two years came on an off track @ Pim during Preakness Week; will need to bring "A Game"  
Race 9 is $100k Laurel Turf Cup ON THE TURF
#4 – Generous Kitten (9-5): It's a rare sight when M. Maker hits Laurel w/ a Ken & Sarah Ramsey runner; this Kitten's Joy offspring is a chip off the ol' block, handling the grass going long
#6 – Motivational (6-1): Charlie LoPresti, he of Wise Dan fame ships this late running gelding in from Kee; Hmm… so KY Downs races aren't all that after all? (smirk)         
#1 – Reown (2-1): Lightly raced 5 y.o. has improved Brisnet#s in each of his past four efforts; only one in this field who has won at 1½ miles… and has done it twice from four starts
Race 10 is the $100k Laurel Dash ON THE TURF
#1 – Mister Brightside (6-1): Could retired jock/owner Walter Swinburn be a fan of "The Killers"? Returns to sprinting where he found success in GB (6:3-1-2) prior to hitting SoCal circuit and routing; gelded since last start (Dec. '15)
#3 – Sallal (6-1): Trainer G. Motion runner won N.A. debut here in July; two other turf wins came in France at today's distance 
#8 – Grandiflora (15-1): Victim of a "good" turf course here a few weeks ago as this gelding does his best running on very firm turf (5: 0-1-4); will benefit from additional half furlong   
Race 11 is ON THE TURF
#10 – Heavenly Perfect (5-1): Beaten favorite in past two tries at this level, surface and distance; excuse in latest and second start after Magee claim (27%) makes her the one to beat
#9 – I O Ines (12-1): Unlucky in last two when off at nice odds, as she will be today; needs pace help
#2 – Smart N Smokin (8-1): Second time blinkers; Brisnet#s slowly ascending to highest of races past but needs to break out 0 for 14 slump   
YESTERDAY'S NEWS
On Sunday September 5th for Timonium had 8 winners from the 9 race card (3 Top Selections; payoff in BOLD) having $2 WIN pay-off of $6.40 (1st race), $3.00 (2nd), $3.60 (3rd), $9.00 (4th), $3.20 (6th), $8.00 (7th) and $7.60 (9th). Of the suggested Multi-Race wagers hit the $2 DOUBLE in R1-R2 for $9.80 (cost: $4). Note: Year-to-date Top Selections are Top Selections are 204 for 754 (27.06%).
BEST BET of the Day (82: 27-14-11) Bella Figlia (4th race: 5-2 M/L; 5-2 PT) broke a step slow, made a mild rail run under pressure past the three eighths then flattened out to finish 4th.
LONGSHOT PLAY of the Day (78: 9-9-12) Billysfishstory (3rd race: 6-1 M/L; 5-1 PT) two wide on the turn, was not a factor and finished 5th.