The GQ Approach – Laurel September 9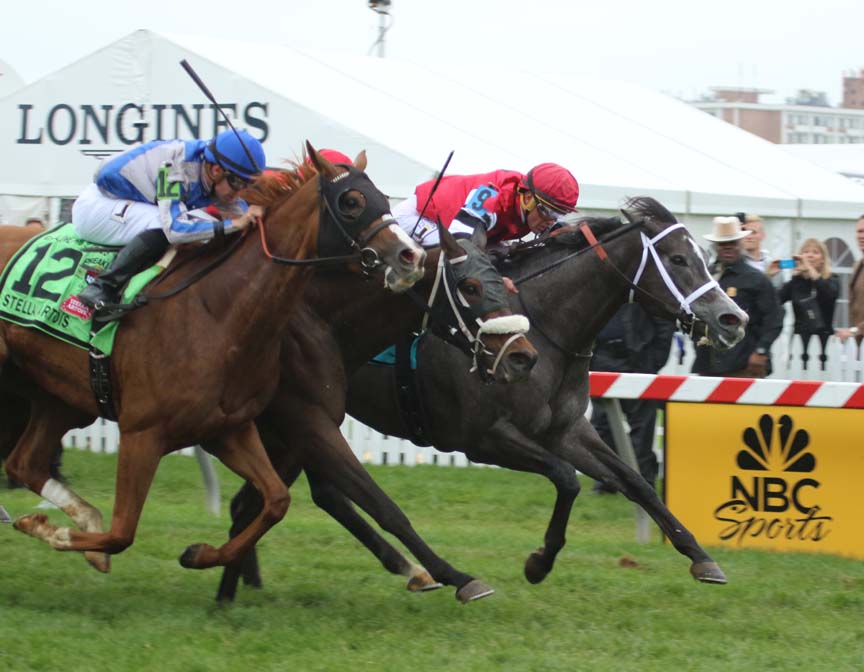 Mizz Money (#9) held off Vielsalm (in between) and Heath (#12) to win the Grade 3 Gallorette. Photo by Laurie Asseo.
The GQ Approach features full-card selections from Laurel Park (w/ live racing every Friday, Saturday and Sunday throughout 2016; Post Time 1:10pm EDT), including a daily Best Bet, Longshot Play, and multi-race wagers — including the 20 cent Rainbow Pick-6, 50 cent Jackpot Pick-5, as well as Pick-4s and rolling Doubles, Pick-3s and the Super High-5. 
CARRYOVERS
Rainbow Pick 6: no carryover
Super High 5: no carryover
Late Pick 5: no carryover
BEST BET OF THE DAY
Race 8 / #5 – My Magician (3-1)
LONGSHOT PLAY OF THE DAY
Race 6 / #5 – Hardly Home (6-1)
[su_heading size="21″ align="left"]Multi-race wagers[/su_heading]
Race 1 $2 Double  8, 9, 10  w/ 3, 5  ($12)
Race 3 $0.50 Pick-3  5, 8, 12 w/ 3, 4, 7 w/ 1, 2, 5  ($13.50)
Race 6 $0.50 Pick-4 2, 5  w/ 3, 5, 6 w/ 3, 5 w/ 6, 8, 10  ($18)
Race 8 $2 Double  2, 3, 5 w/ 6, 8, 10 ($18)
[su_heading size="21″ align="left"]Analysis[/su_heading]
Number of races scheduled for turf: 6 (1st, 3rd, 4th, 6th, 7th and 9th)
Weather: Sunny, 30% chance of late afternoon T'storms, highs in the low 90's
Projected condition of main track: FAST
Projected condition of turf: FIRM
Race 1 is ON THE TURF
#10 – Heiko (9-5): Both horse and trainer are 1 for 1 at Lrl as this 7 y.o. took the field gate-to-wire two races back in same Starter condition as today; comes off 5th place effort in G3 at Mth
 #8 – Cruise More (9-2): Beaten favorite in last outing (July 24th) after a pair of victories on Pim turf this Spring, all three at this level
#9 – Live in Joy (6-1): Winner in most recent in race that made him eligible for this condition; capable of running back to that 93 Brisnet# but is just 1 for 17 at distance   
Race 2
#3 – Preciate It (3-1): Takes big drop from after starting career at $40k MCL level w/ mixed results then testing MSW and had a tough go at the start; like the bullet drill since that race; "Ham" Smith does well w/ maidens on the drop (26%)          
#5 – Angela's Candy (5-2): $85k yearling purchase was sent off 2-1 PT fav. in debut @ Del but "Didn't break alertly" and showed nothing; drops form $25k to $16k MCL for J. Ness          
#1 – Next Street (2-1): Slim pickin's after the top two as this 2 y.o. gal already making her eighth career start! Has early speed but has been quitting going 4½-5f; today's distance is 5½f but the rest of the field are FTSs whose connections are all woeful w/ firsters       
Race 3 is ON THE TURF
#8 – Reach for Yield (6-1): Full field going on the turf as this gelding didn't care for sprinting yet held his own going two turns v. similar on grass; troubled 6th here in July      
#5 – Bridge of Luck (8-1): Has best career Brisnet# on turf in this field; adds Blinkers after a pair of uninspiring efforts, the latest as 4-5 PT fav.          
#12 – Boppin Anda Weavin (3-1): Is just one of a couple that possess early speed on turf going long; considering Lrl turf course hasn't been used for a month, with heat wave and no rain should make hit kind to early speed          
Race 4 is ON THE TURF
#7 – Dorothyfromdublin (4-1): Like the second career start angle especially after some early and late trouble; cut back in distance and education in debut should help today              
#4 – Feels Like Spring (15-1): trainer Michael Matz only entry on the card took little action at the windows in debut on dirt last month; her sire (Spring At Last) did well on the turf
#3 – Caymanbird (7-2): FTS by Uncle Mo must be given a look as dam side of family could run on turf; barn always is loaded w/ talent and T. McCarthy in irons is a plus  
Race 5
#5 – Proud Commander (5-1): There are plenty of MSW baby races @ Del that Del-based trainer Larry Jones could run this FTS by Proud Citizen for his #1 client, so why make the trek down I-95 and bring jock G. Saez along for the ride if she's not very well meant?
#1 – Shimmering Aspen (7-2): Nice effort in debut when sent off as 2-1 second choice; barn does much better w/ runners second career start (26%)
#2 – Dixie Rose (8-1): KY-bred FTS by Bellamy Road shows a nice long work pattern; like that the most recent one is from the gate       
Race 6 is ON THE TURF
#5 – Hardly Home (6-1): $$$ LONGSHOT $$$ Hard to imagine 6-1 come PT on this Shug McGaughey runner w/ E. Prado back in the irons; was steadied late in first start v. winners in last yet still was just 2 back of the winner at this same level
#2 – Snow Fighter (10-1): This 3 y.o. was TC nominated but never blossomed; away since March when a distance runner-up to a good one (Donegal Moon); makes sense to try turf based on bloodlines
#13 – All Alone (10-1): Will need a defection as he's the first AE; switch to F. Boyce is actually an upgrade in the saddle when you're talking about turf races; has one of the top Brisnet#s on turf
Race 7 is ON THE TURF
#6 – Jump Ship (7-2): The career 1 for 18 record is a concern when putting him on top but has proven he belongs in this class and thinking 3rd time w/ S. Russell in the irons will be a charm      
#5 – Ziptime (2-1): Been bagging heads in AlwN1X past 8 races and now is offered for $25k tag; someone w/ deep pockets will claim him but needs pace help to be a factor late        
#3 – Cavity (4-1): Game gelding is 7 of 8 ITM on the grass; was behind top pick here by just a neck in latest… his first v. winners at this level   
Race 8
#5 – My Magician (3-1): *** BEST BET *** Second time blinkers; tossing last effort on turf due to horrendous trip; was beaten fav. two back when losing to the #1 in here; surprised by low M/L   
#3 – Lexington Street (7-2): 1st Lasix in her seventh career start after coming up empty in first race after 8 month layoff and first time OTB       
#2 – Street Cruizer (4-1): Wasn't ready for "Prime Time" (i.e. stakes company) when last of seven @ Mth in July; bullet works indicate she's fine and ready to handle this level of competition  
Race 9 is ON THE TURF
#8 – Gin Fuzz (5-1): Brsinet#s slowly ascending while he's earned the highest speed figure among today's foes; failed to graduate in last when in for tag; he's too talented not to graduate soon
#6 – Forever Bernardini (15-1): A rare dud in Live Oak barn was given to M. Trombetta in hopes of salvaging a career as a turf runner; bred for distance and grass         
#10 – Immunity (9-2): Couldn't handle the big leagues in two tries @ Sar; then again those earlier efforts @ Mth weren't against any world-beaters; the fact that T. McCarthy jumps on gives this gelding a shot 
YESTERDAY'S NEWS
On Sunday September 5th for Timonium had 8 winners from the 9 race card (3 Top Selections; payoff in BOLD) having $2 WIN pay-off of $6.40 (1st race), $3.00 (2nd), $3.60 (3rd), $9.00 (4th), $3.20 (6th), $8.00 (7th) and $7.60 (9th). Of the suggested Multi-Race wagers hit the $2 DOUBLE in R1-R2 for $9.80 (cost: $4). Note: Year-to-date Top Selections are Top Selections are 204 for 754 (27.06%).
BEST BET of the Day (82: 27-14-11) Bella Figlia (4th race: 5-2 M/L; 5-2 PT) broke a step slow, made a mild rail run under pressure past the three eighths then flattened out to finish 4th.
LONGSHOT PLAY of the Day (78: 9-9-12) Billysfishstory (3rd race: 6-1 M/L; 5-1 PT) two wide on the turn, was not a factor and finished 5th.