The GQ Approach – Timonium September 5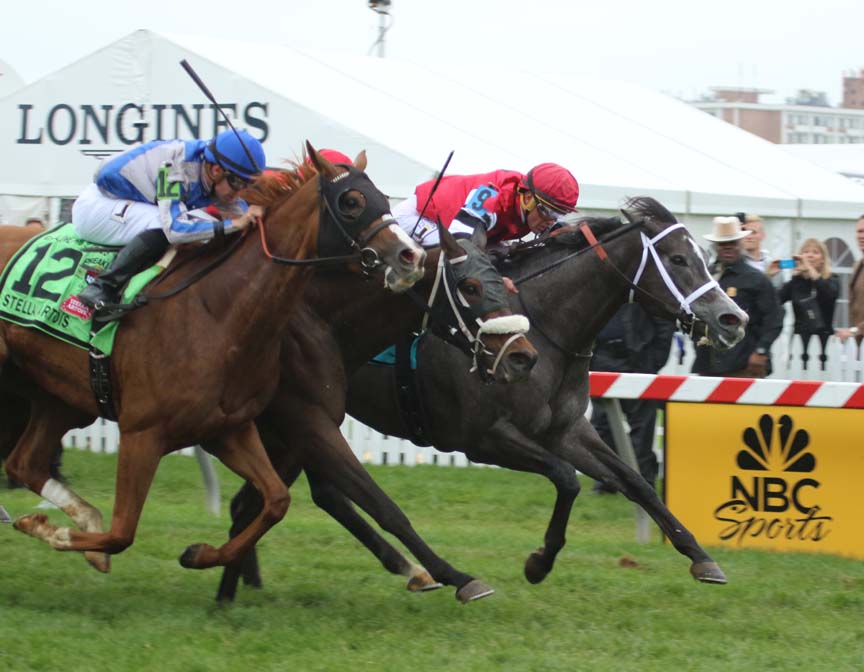 Mizz Money (#9) held off Vielsalm (in between) and Heath (#12) to win the Grade 3 Gallorette. Photo by Laurie Asseo.
The GQ Approach features full-card selections from Timonium for the seven (7) Live Racing Days during the Maryland State Fair (Aug. 26-28 and Sept. 2-5). Post Time 1:05pm EDT. Analysis and Picks include a daily Best Bet, Longshot Play of the Day and multi-race wagers. 
GQ has finally returned from his Summer vacation, just in time to make his annual pilgrimage to Timonium, aka "The Big T."
BEST BET OF THE DAY
Race 4 / #5 – Bella Figlia (5-2)
LONGSHOT PLAY OF THE DAY
Race 3 / #6 – Billsfishstory (6-1)
[su_heading size="21″ align="left"]Multi-race wagers[/su_heading]
Race 1: $2 Double   3, 7 w/ 3 ($4)
Race 3: .50 cent Pick-3  1, 5, 6, 7 w/ 2, 5 w/ 1 ($4)
Race 6: .50 cent Pick-4  1, 3, 5 w/ 3, 6, 9 w/ 6, 7 w/ 1, 6, 8 ($27)
Race 8: $2 Double  4, 6, 7 w/ 1, 6, 8 ($18)
[su_heading size="21″ align="left"]Analysis[/su_heading]
Weather: Partly Cloudy skies with temperature in the upper 80's
Projected track conditions: Main track FAST; Turf is non-existent
The Big T 2016 meet leaders…
… Jocks: J.D. Acosta (8), Jevian Toledo (7) and G. Almodovar, A. Cruz, K. Gomez, J. Montano (6)
… Trainers: Claudio Gonzalez (4), Donald Barr, Gerald Brooks, Annette Eubanks, Kieron Magee, Phil Schoenthal (3) and six tied with two (2)
Race 1
#7 – Cajolery (9-2): Easily disposed of $5k MCL here 8 days ago in slow early fractions; will need to go quicker to repeat
#4 – Daring Dianne (2-1): Came up three quarters of a length short of gate-to-wire score here at same level when 21-1; might get tested early and faded even earlier
#3 – Sally Pollock High (9-5): Made up a ton of ground on #4 in here last outing over what then was a Speed favoring surface IMHO; yesterday winners were coming from off the pace   
Race 2
#3 – No More Excuses (3-5): She graduated from the maiden ranks in her last outing (5th career start) and should make it two in a row against this crowd who on average are 1 for 20!  
#6 – Sarah's Whisper (15-1): Turf to dirt angle; has shown early foot (er uh, hoof) in last two dirt races; cut back to 4f will help chances          
#5 – French Magician (7-2): Nice effort when third here in first try off the bench; look for improvement but jock is 0 for 21 at the meet
Race 3
#6 – Billysfishstory (6-1): $$$ LONGSHOT $$$ Looking for a potential gate-to-wire candidate to take down the prohibitive 4-5 ML favorite and this gal is the one who can do it           
#5 – Wiredancer (4-5): Much the second best in last outing in the bull ring when drop to the bottom of the maiden claiming barrel                   
#7 – Whatamagiciandoes (3-1): Runner-up in a quick (46 flat) 4f sprint in her first race on dirt after six on turf and synthetic     
Race 4
#5 – Bella Figlia (5-2): *** BEST BET *** Been away for just over a year right after being claimed at this level; entered under the Waiver rule and jock D. Amiss reunites w/ trainer J. Bernardini from their Suffolk Downs days; note: jock has 3 other mounts, all for trainer W. Potts yet is not on #6 in here. Hmmm.
#2 – It's a Trend (8-5): Drops back down to $5k level after a sharp runner-up effort @ Pen v. $12,500 N4L; regular jock A. Wolfsont comes in just to ride this one
#1 – Callmealion (10-1): Brsinet#s have been climbing and had a troubled trip here in first start since July 1; good sign that J. Montano will get a leg up again
Race 5
#1 – Royal Almighty (2-5): One question to Mr. Ness… why here?! This 3 y.o. is in for $5k w/ elders who are N2L while he won his last two dirt races at the $16k level easily! If this one doesn't win AND get claimed, there should be an investigation    
#9 – Macho Spaces (8-1): Could be Lone Speed as he just missed v. same here on Opening Day; G. Brooks has a shot for trainer bonus
#5 – Doherty (15-1): In last start chased It's a Plane who came back to win here yesterday; Gomez keeps the mount while track may favor this ones off the pace style today         
Race 6
#1 – Antoine's (8-5): Jock A. Bocachica decided to spend his Labor Day riding just one horse, this gelding; trainer/jock combo gets a staggering 35% to the Winners Circle      
#3 – Learaig (3-1): Trainer "Tre" Abbott is 2 for 2 at the Fair meet and has two uncoupled entries in here; this guy makes first dirt surface start following 12 on turf and most recent synthetic debut at Pid; works look fine on Fair Hill dirt training track             
#5 – Struck Gold (8-1): Abbott's other runner is appropriately named for owner Olympic Gold Medal skier Bode Miller       
Race 7
#6 – Theyallcomehome (9-2): Closer should get good trip with an abundance of speed signed on; like the Brisnet#s at this level and a bit lower            
#3 – Jarvis Steel (6-1): One of two for Ferris Allen in here (other is #2) where jock J.D. Acosta picks this gray gelding instead of sticking w/ #2; hope he comes off the pace today                     
#9 – Mr. Game Seven (4-1): Got pinched back at the start when in with just 3 others and no pace yet made up some ground late  
Race 8
#6 – Kowboy King (6-1): Love this angle when a 24% jock takes over for a couple low percentage bug boys; would like to see the same effort this 5 y.o. gelding gave when romping at Pim in open $15k                
#7 – Ravenheart (7-2): Bode Miller's more accomplished runner won MD Championship Juvenile Fillies last Dec.; 3rd race after layoff bodes well (pun intended) for chances                
#4 – Cutty Shark (12-1): Does best running on an off track as does many others in here not mentioned, but has been facing better in open company  
Race 9
#6 – Delightfullstorm (5-2): Against my better judgement, putting faith in 10 lb. bug J. Journet to get his 5th career win (1st at Tim) in the last race of the 2016 MD State Fair meet; mount is only filly in here that hasn't run the past 7-9 days                  
#1 – Howyalion (9-2): Has beaten 3 rivals in her 3 race career but all were at much higher class level and 2 were on grass; steep drop alone make her a threat to get diploma   
#8 – Wildcat Rising (6-1): Trainer Annette Eubanks is in the hunt for a trainer bonus so this one coming off a runner-up effort here 8 days ago can help the cause            
YESTERDAY'S NEWS
On Sunday September 4th for Timonium had 7 winners from the 8 race card (2 Top Selections; payoff in BOLD) having $2 WIN pay-off of $5.60 (2nd race), $8.80 (3rd), $4.80 (4th), $3.60 (5th), $4.40 (6th), $4.60 (7th) and $5.60 (8th). Of the suggested Multi-Race wagers hit the .50 Pick-3 in R3-R5 for $24.30 (cost: $9) and $2 DOUBLE in R7-R8 for $14.80 (cost: $12). Note: Year-to-date Top Selections are Top Selections are 201 for 745 (26.98%).
BEST BET of the Day (81: 27-14-11) Amain (2nd race: 5-2 M/L) was SCRATCHED.
LONGSHOT PLAY of the Day (77: 9-9-12) Lucky Eight (1st race: 10-1 M/L) rushed up down the backstretch, disputed the pace two wide and weakened while salvaging third to return $3.60 to SHOW. .