The GQ Approach – Timonium September 4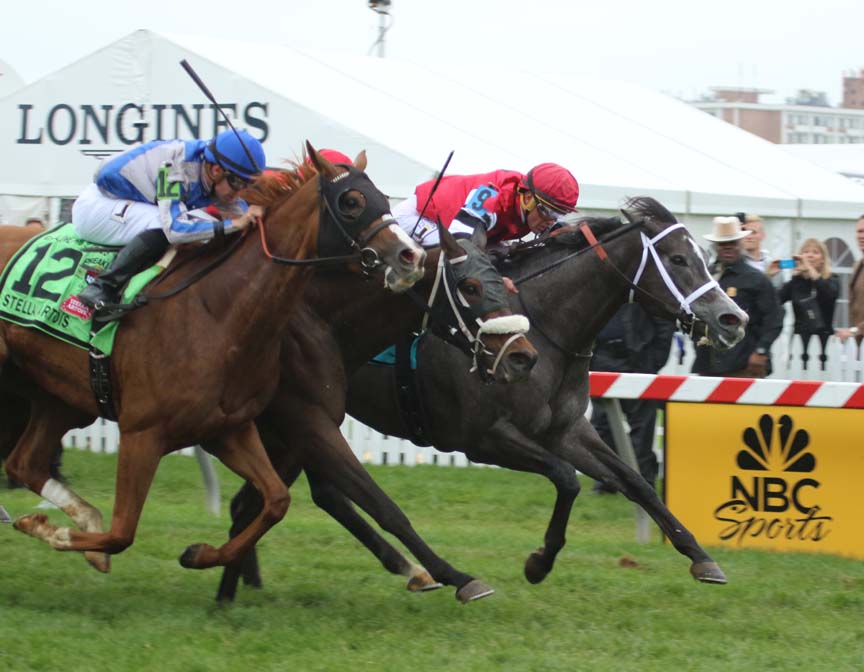 Mizz Money (#9) held off Vielsalm (in between) and Heath (#12) to win the Grade 3 Gallorette. Photo by Laurie Asseo.
The GQ Approach features full-card selections from Timonium for the seven (7) Live Racing Days during the Maryland State Fair (Aug. 26-28 and Sept. 2-5). Post Time 1:05pm EDT. Analysis and Picks include a daily Best Bet, Longshot Play of the Day and multi-race wagers. 
GQ has finally returned from his Summer vacation, just in time to make his annual pilgrimage to Timonium, aka "The Big T."
BEST BET OF THE DAY
Race 2 / #6 – Amain (5-2)
LONGSHOT PLAY OF THE DAY
Race 1 / #3 – Lucky Eight (10-1)
[su_heading size="21″ align="left"]Multi-race wagers[/su_heading]
Race 1: $2 Double  3, 4  w/ 1, 3, 6  ($12)
Race 2: .50 cent Pick-4  6  w/ 3, 4, 5  w/ 2, 3, 7, 8  w/ 1, 2, 6  ($18)
Race 5: .50 cent Pick-3  1, 2  w/ 1, 2, 5, 8  w/ 1, 4, 5  ($12)
Race 7: $2 Double  1, 4, 5  w/ 5, 7  ($12)
[su_heading size="21″ align="left"]Analysis[/su_heading]
Weather: temperature in the upper 70's; nothing but sunny skies
Track Condition: Main track FAST; Turf is non-existent,
Big T 2016 meet leaders…
… Jocks: Jevian Toledo (7), J.D. Acosta, Gerald Almodovar and Jose Montano (6)
… Trainers: Gerald Brooks, Annette Eubanks, Kieron Magee, Phil Schoenthal (3), four tied with two
Race 1
#3 – Lucky Eight (10-1): $$$ LONGSHOT $$$ Go Big or Go Home… early! Yes, this 5 y.o. mare is still eligible for N2L while her 6 foes completed that condition during the G.W. Bush Administration AND she's 0 for 14 on a fast track BUT she should clear this field early on what has been a speed favoring surface so far this weekend… as long as she behaves herself in the gate
#4 – To Commercial (5-2): Only threat to the top one as far as snatching the early lead; has the class to get it done but is 1 for her last 22
#5 – Pagan Jewel (9-5): May hit the board for the Trifecta but this Closer would need a Viagra to get up for the Win going 4f   
Race 2
#6 – Amain (5-2): *** BEST BET *** That 4f race in last outing found him against quick runners than he's used to; stretch back out to 6½f should find him in his usual spot, on top early w/ K. Gomez milking slower early fractions on a surface that's been kind to speed
#1 – Habanero Gold (7-2): Chased a quick early pace here last Sunday with fractions slightly better than the race #3 won in; he'll show more speed early with switch to J.D. Acosta          
#3 – It's a Plane (4-1): Coming off a victory here last week v. N3L and 3 year olds; should get an honest pace from the #1 and #6 in hopes they get leg weary in the lane     
Race 3
#4 – Jump for Trump (x-1): Away since Feb. when running for $25k MCL shows just one workout since… a 3f bullet in 35 1/5 at Lrl; catches a short, weak maiden field and runs second time w/ blinkers           
#5 – Skiing in Russia (6-5): A 4 race veteran but all were sprinting on the turf; watch tote because if chilly early in the wagering, connections may not be as confident as Morning Line Oddsmaker  
#3 – Poco Loco (5-2): She might be sleep deprived as she's now in her 4th different barn in her past 4 starts; possesses the early speed on dirt to feel the 4f will fit her like a glove     
Race 4
#2 – Dear Old Dad (9-2): KY-bred FTS by Maclean's Music has been strutting his stuff in the A.M. at Fair Hill Training Center for Tre Abbott who gets 20% of his FTS and 2 y.o. to Winners Circle   
#7 – Mr. October (2-1): Drops down from a pair of $40k MCL efforts to start career showing early speed then "weakened"; maybe the removal of his ball sac will alleviate that issue as he fired a bullet shortly after that procedure
#3 – Audacious Say Eye (5-2): Had the look of one having early speed in debut but didn't get the most alert break and them was "Steadied" when he tried to rush up to the leaders after 2f
Race 5
#2 – Manakin Road (8-1): Has done best work on the grass along with lone win but that last outing sets him up nicely for a chance to go gate-to-wire  
#6 – Norm by a Nose (8-5): Class of this field, boasts top Brisnet Prime Power#, isn't in for the Tag but no works since June and trainer switch… unless Ms. Gaudet is out of town and Mr. Abbott just filling in today?
#1 – Victor Newman (6-1): Not of "The Young & the Restless" but "The Old & the Winless"; yep, a maidens in against winners and I'm dumb enough to consider this 5 y.o. off the bench; those A.M. bullets look inviting       
Race 6
#8 – Set for Six (8-5): Has faced plenty of nice fillies in just her 3 lifetime outings; gave turf a try but didn't fire; 1st time blinkers     
#5 – Qualkris (8-1): Only entry on card and of the meet for trainer R. Ribaudo (15%); bothh career outings were underwhelming in NY; 2nd time Blinkers angle and A. Cruz has ridden 2 of 3 winners for trainer the past year         
#1/1A – Majesty/Crookit (6-1): Trainer Linda Albert duo have an equal shot to get the money at a price but both will likely run and keep the odds lower as Fair-Goers like the 2 for 1 deal       
Race 7
#4 – Magritte (5-2): Just missed a gate-to-wire effort here last year going 1 1/16 mile; tactical speed and class relieve v. Saratoga talent makes him one to beat             
#5 – How's Your Sugar (9-2): Diabetic Special… need to look at that race two back to have confidence that he can rebound from the turf effort being 4 wide the entire trip                     
#1 – Afleet Willy (2-1): Jockey G. Saez comes down from Del just to ride this one for trainer C. Gonzalez?! Speed from the rail going 1 mile on this bull ring is an advantage but will have plenty of company early
Race 8
#7 – Divine Confection (5-2): Beat $10k N2L by 5 lengths two races back and last effort v. $15k N3L was no slouch as winner came back to win; others in here have had at least twice as many starts in seeking third career victory             
#5 – Anna May Our Queen (9-2): Look beyond the turf efforts to see she has crazy, early speed and can take this field from gate-to-wire         
#8 – Antietam (7-2): Hall of Famer King T. Leatherbury is a modest 4 for 16 with starters over at The Big T the past two years; this one is his first of the meet… big class drop and should be forwardly placed to get a share of the purse  
 YESTERDAY'S NEWS
On Saturday September 3rd for Timonium had 8 winners from the 9 race card (2 Top Selections; payoff in BOLD) having $2 WIN pay-off of $23.60 (1st race), $12.60 (2nd), $3.80 (3rd), $10.60 (4th), $5.40 (6th) $4.00 (7th) $6.80 (8th) and $19.40 (9th). Of the suggested Multi-Race wagers hit the $2 DOUBLE in R1-R2 for $177.80 (cost: $12) and .50 Pick-3 in R6-R8 for $10.40 (cost: $9). Note: Year-to-date Top Selections are Top Selections are 199 for 737 (27.00%).
BEST BET of the Day (81: 27-14-11) Gold Value (5th race: 4-1 M/L; 2-1 PT) A bit fractious in the starting gate was bumped off stride by a rival at the start and force three wide on the turn and flattened out to be easily third best to return $3.40 to SHOW.
LONGSHOT PLAY of the Day (76: 9-9-11) Notthatitmatters (6th race: 10-1 M/L) was SCRATCHED.