The GQ Approach – Timonium September 3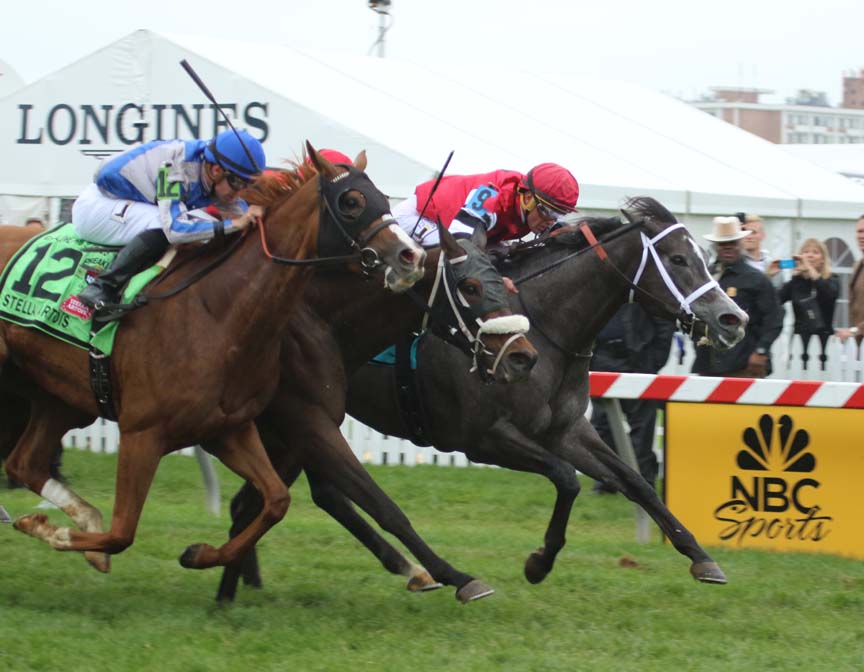 Mizz Money (#9) held off Vielsalm (in between) and Heath (#12) to win the Grade 3 Gallorette. Photo by Laurie Asseo.
The GQ Approach features full-card selections from Timonium for the seven (7) Live Racing Days during the Maryland State Fair (Aug. 26-28 and Sept. 2-5). Post Time 1:05pm EDT. Analysis and Picks include a daily Best Bet, Longshot Play of the Day and multi-race wagers. 
GQ has finally returned from his Summer vacation, just in time to make his annual pilgrimage to Timonium, aka "The Big T."
BEST BET OF THE DAY
Race 5 / #7 – Gold Value (4-1)
LONGSHOT PLAY OF THE DAY
Race 6 / #4 – Notthatitmatters (10-1)
[su_heading size="21″ align="left"]Multi-race wagers[/su_heading]
Race 1: $2 Double  1, 3  w/ 2, 5, 6 ($12)
Race 3: .50 cent Pick-3  2, 3, 5 w/ 2, 5, 6 w/ 5, 7  ($9)
Race 6: .50 cent Pick-3  2, 5, 7 w/ 1, 4, 5 w/ 2, 4, 6  ($13.50)
Race 8: $2 Double  2 , 4, 6  w/ 3, 4 ($12)
[su_heading size="21″ align="left"]Analysis[/su_heading]
Weather: High in the mid-70s, cloudy but no chance of rain (yet)
Projected track conditions: Main track FAST; Turf is non-existent
The Big T 2016 meet leaders…
… Jocks: Gerald Almodovar (6), Jevian Toledo (6), Jose Montano (5)
… Trainers: Kieron Magee (3), five tied with two
Race 1
#1 – Wind Clan Warrior (4-5): Should be the FREE SPACE in the early Double as 21% trainer ships in from Prx hoping start #13 is a lucky one to earn that first trip to the Winners Circle             
#3 – Sun Boy (10-1): Usually against my religion to back a FTS in a MCL race under $16k but those two bullet works standout and this Graeme Hall offspring only cost $7k, so the risk is minimal    
#6 – Bull Bailey (5-1): Tough one to use but 2nd time blinkers angle is a must use and trainer is just 1 of 2 in here who has more than one victory in 2016   
Race 2
#5 – Stormy Invasion (9-2): Trainer scratch from yesterday's card as entrymate won ($7.60); all others in here been facing strictly N2L; this guys' last effort was v. Beaten Claimers that included some winners of 2 or more races 
#2 – Tricky Lion (9-5): Has best last race Brsinet# by far albeit on turf; last two prior to that have been troubled trips yet still in the mix late; knock is that he's 1 for 22 and 0 for 9 in dirt, fast track 
#6 – Williamsburg (2-1): Who'da thunk a Triple Crown nominated 3 y.o. would be available for $5k at The Big T this summer? Has the necessary early speed and current leading jock at meet (G. Almodovar) but he and trainer J. Reynolds are 0 for 17 as a team      
Race 3
#2 – Fleeting Hope (7-5): Trainer H. McMahon was a bit ambitious 1st off the claim but was still in jail (i.e. the horse); gets Blinkers today and drops to a level where a diploma is attainable           
#5 – Guns and Rosies (9-5): Has displayed early speed in both dirt, fast track outings; a clean break from the gate and she should threaten to go gate-2-wire                   
#3 – Derecho (12-1): Let's just say that turf racing doesn't appear to be in this ones future; those Pen race times don't convert at other tracks but early speed is still early speed wherever ya run    
Race 4
#5 – Mack the Knife (7-2): Brisnet# has been ascending and appears to have a nice set up to stalk a trio of early speed (#2, #3 and #6); caution: trainer K. Dibben is 0 for 30 in Routes, yikes!!!         
#6 – Oyster Soup (3-1): 3rd race after layoff and turf-to-dirt angles working here; O. Figgins doing well so far at the meet (5:1-1-1) and we're in a month w/ an "R" (re: oysters)
#2 – Tough Teddy (5-2): Can boast the best Brisnet# of dirt in this field; enjoyed getting blinkers back on last time but did he beat much as he as 1-2 PT fav.
Race 5
#7 – Gold Value (4-1): *** BEST BET *** This race will be won by who gets the first jump out of the gate as 5 of the 7 entered need the early lead to win; IMHO this Value Plus filly will get the lead w/ regular rider (J. Lopez) coming down from Del just to ride her.   
#5 – Pop of Color (5-1): This 5 y.o. mare could be a prudent claim for someone as she plummets to the Bargain Basement claiming price of $5k; she's versatile (dirt or turf and can handle an off track); lone mount for the A-Rod of horse racing
#2 – Nonna Jo (7-2): Used to getting an early lead but might not today unless the top pick doesn't exit the starting gate cleanly       
Race 6
#4 – Notthatitmatters (10-1): $$$ LONGSHOT $$$ WV-bred by Algorithms was sent off as the 1-1 PT fav., showed early speed & was pressured early then stopped; something went amiss or E. Prado decided to save her for another day; I'm going w/ the latter; winner (Hailey's Flip) came back to win stakes race @ Del last weekend     
#5 – Novena (6-1): NY-bred by Girolamo has a nice workout pattern though times are slow; G. Rosenthal is 0 for 9 w/ Firsters but has gotten 5 of 12 in Maiden Claiming to Winners Circle         
#1 – Baltimore Miss (7-2): Not sure if trainer A. Delacour has ever started one at The Big T but this one disappointed her backers when sent off 8-5 PT fav. just 2 weeks ago; gets rail assignment again       
Race 7
#6 – Tango Delta (3-1): Has run only one bad race in 7 lifetime efforts; has run w/ and beaten better; only concern is J. Toledo opting to ride the M/L fav. (#4) which he hasn't in the past            
#2 – Away We Go (12-1): Trainer R. Jenkins second of two entered on today's card; this seems to have the best shot and was runner-up here last year in career debut                     
#4 – Little Cyclone (8-5): Just 4 months removed a third place effort in Prx Oaks; was second best in last start @ Pen on combo of turf-2-dirt & cut back in distance angles  
Race 8
#3 – Girls Got Rhythum (7-5): Rough start in last race coming off a 2 month layoff, hitting the gate which compromised her quick early speed, yet was a game second; winner came back to beat a 3-time stakes winner (Sweet On Smokey) in a Starter Alw at Del                
#4 – Lemon Lover (8-5): Note that J.D. Acosta jumps last out impressive winner (#5) to this filly for trainer J. Thurston for whom he's only ridden once before in the past year. Hmmm                
#5 – Hyper Nation (7-2): Broke her maiden here just 6 days ago destroying her rivals by 10 lengths in her 8th career outing; will be harder to go gate to wire this time  
Race 9
#7 – Becki Kecki (3-1): Looking like she could be Lone Speed and repeat that last outing performance; this 3 y.o. filly has already beaten N3L & N4L and all of her foes in here still seek their 3rd career victory                
#3 – Another Badge (8-5): Owner/Trainer "Magic" Magee has done well w/ this gal in her 4 starts since claiming her, but hasn't visited the Winners Circle; steep drop from $16k to $5k should fix that     
#9 – Stormy Mama (10-1): She's the ultimate Hunch Play today as this area will soon feel the effects of Tropical Storm Hermine; all 3 starters for trainer Annette Eubanks at the meet have hit the board (3:1-1-1)           
YESTERDAY'S NEWS
On Friday September 2nd for Timonium had 6 winners from the 8 race card (4 Top Selections; payoff in BOLD) having $2 WIN pay-off of $31.40 (2nd race), $5.80 (3rd), $20.00 (5th), $7.60 (6th), $4.40 (7th), and $4.60 (8th). Of the suggested Multi-Race wagers hit the .50 Pick-3 in R5-R7 for $83.75 (cost: $9) and $2 DOUBLE in R7-R8 for $23.40 (cost: $6).Note: Year-to-date Top Selections are Top Selections are 197 for 728 (27.06%).
BEST BET of the Day (80: 27-14-11) Miss Little Lupe (7th race: 5-2 M/L; 6-5 PT) prompted the pace two wide, wrested command leaving the backstretch, drew out under urging and switched from her left lead in deep stretch to draw off and win by 6¼ lengths to return $4.40 to WIN, $3.00 to PLACE and $2.20 to SHOW.
LONGSHOT PLAY of the Day (76: 9-9-11) Have Hope (2nd race: 6-1 M/L; 14-1 PT) vied outside ISLANDEXPRESS early on, disposed of that rival leaving the far turn, widened the margin nearing the lane and held firm under steady hand encouragement to win by 3 lengths to return $31.40 to WIN and $11.20 to PLACE and $7.60 to SHOW.