The GQ Approach – Timonium September 2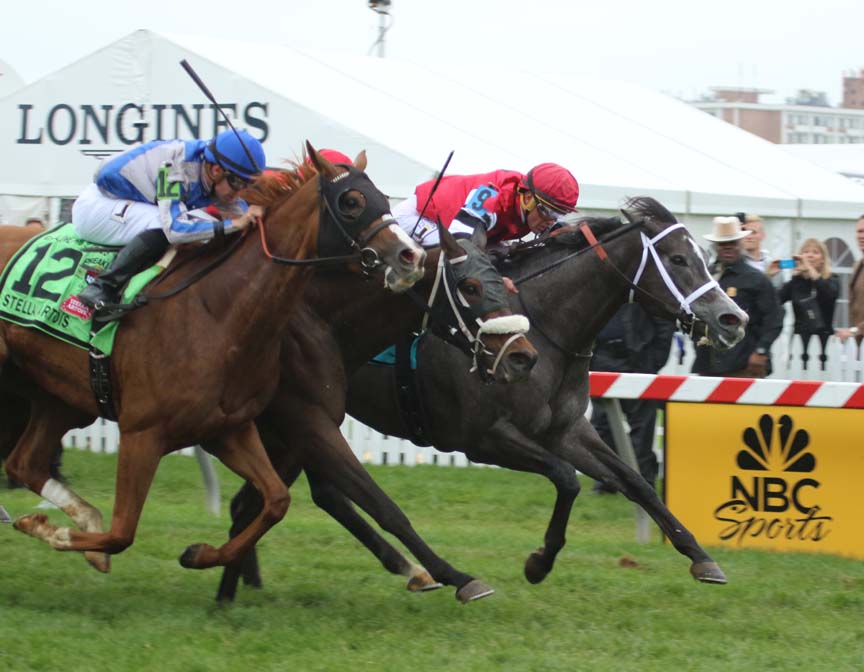 Mizz Money (#9) held off Vielsalm (in between) and Heath (#12) to win the Grade 3 Gallorette. Photo by Laurie Asseo.
The GQ Approach features full-card selections from Timonium for the seven (7) Live Racing Days during the Maryland State Fair (Aug. 26-28 and Sept. 2-5). Post Time 1:05pm EDT. Analysis and Picks include a daily Best Bet, Longshot Play of the Day and multi-race wagers. 
GQ has finally returned from his Summer vacation, just in time to make his annual pilgrimage to Timonium, aka "The Big T."
BEST BET OF THE DAY
Race 7 / #5 – Miss Little Lupe (5-2)
LONGSHOT PLAY OF THE DAY
Race 2 / #7 – Have Hope (6-1)
[su_heading size="21″ align="left"]Multi-race wagers[/su_heading]
Race 1: $2 Double  2, 6  w/ 1, 3, 7  ($12)
Race 3: .50 cent Pick-3  6, 8  w/ 1, 3, 6  w/ 2, 4, 5 ($13.50)
Race 5: .50 cent Pick-3   2, 4, 5  w/ 1, 2, 5  w/ 1, 2, 5 ($13.50)
Race 7: $2 Double  5  w/ 3, 4, 8 ($6)
[su_heading size="21″ align="left"]Analysis[/su_heading]
Weather: High of 80, zero chance of precipitation
Projected track conditions: Main track FAST; Turf is non-existent
The Big T 2016 meet leaders…
… Jocks: Gerald Almodovar (6), Jevian Toledo (4), J.D. Acosta and Jose Montano (4)
… Trainers: Kieron Magee (3), Mary Eppler (2)
Race 1
#6 – My Adeline (2-1): Beaten favorite when dropped in for tag first time in spited of recording career best Brisnet#; being asked to stretch out a bit 
#2 – Waves On the Sea (5-2): Runner-up in lone dirt, fast track try v. $25k MCL
#4 – Sassy Sara (5-1): Drops again seeking to break string of four "run with the pack" type efforts to start career   
Race 2
#7 – Have Hope (6-1): $$$ LONGSHOT $$$ Away since mid-June after showing early speed going 6f when equipped w/ blinkers first time 
#1 – Bring It On Home (2-1): Flashes Quarter Horse type of speed on both turf and dirt; I smell a 3-5 Post Time favorite here          
#3 – Islandexpress (8-1): Surprise winner in the mud at Prx in debut but trounced in first start v. winners; trainer switch to S. Lake and class drop helps chances     
Race 3
#3 – Slew Love (5-1): He's 0 for 20 but can boast the highest combination of early pace figures from that last effort, believe it or not!           
#6 – Im King (8-1): Whatever this gelding ate the morning of that third place effort on Aug. 6th two races back, hopefully he ate it this morning too                  
#8 – Goin' Dutch (9-2): Couldn't understanding "Ham" Smith's reason for running this gelding 1 1/16 on the turf in debut before that race, as he finished 12th by 28; either the horse is that bad or he's being more realistic in this spot    
Race 4
#6 – March Too (5-1): The lesser of the two W. Potts uncoupled entry? Don't believe it! Hoping that Aug. 17th work is not just window dressing to tempt someone to Claim him            
#1 – Wayne's Way (12-1): This guy has been way off form as he's steadily dropped class as low as he can go; trouble at quarter pole makes last race worse than it really was
#3 – Bandido Too (8-5): Steep class dropper just 3 months after private purchase when this one was runner-up in $16k N3L at SA
Race 5 – Maurice "Mike" Quill Memorial Mile
#5 – Hatteras Bound (5-1): VA-bred FTS by up-and-coming sire Redeemed has nice work pattern especially like the gate work to complete prep for debut  
#2 – C B Bodemester (15-1): Has looked nothing like his Dad (Bodemeister) in first two starts; 2nd time blinkers angle will often yield HUGE returns
#4 – Resident Scholar (6-1): KY-bred FTS by Ghostzapper is the only Jan. foal in this field of 2 y.o.; may need one but watch the toteboard early for any early action       
Race 6
#1/1A – Savage River/Stormy Invasion (3-1): With Scott Spieth listed on both, expect one to be scratched and the other to be under the wire first     
#2x – Shouk (5-1): Just ran on Opening Day last week; faced plenty of foes w/ early speed so he gave up a furlong out; won't have to deal with that scenario today and could wire this field         
#4 – Breezed Bayou (8-1): Presents one of the strangest angle in horse racing… "Pulled up, walked/vanned off" in last race; many come back to win next outing      
Race 7
#5 – Little Miss Lupe (5-2): *** BEST BET *** Possesses tactical speed and can draft in behind the early speed (#3 and #6) then pounce on leg weary foes in the final ½ furlong            
#1 – Updated Daily (3-1): Pen shipper dances every dance but winning might be asking a lot with V. Diaz (5% jock) in to ride                     
#2 – Tiz Partners (12-1): Only 3 of her 36 races have been on a fast track (3: 0-1-1); didn't run a lick on the Lrl grass at this level last outing but was sent off PT favorite; could rebound v. these on dirt  
Race 8
#8 – Eternal Tempest (9-2): Second time Lasix after failing as PT favorite last time; D. Ward has had similar runners score at short odds AND back up in the lane like a dump truck           
#3 – Tevere (6-1): FTS by Mizzen Mast out of a Theatrical mare screams turf while P. Schoenthal is 0 for 9 w/ MCL first-timers but gets 2 y.o. to Winners Circle at a 20% clip                
#4 – Dancing Tinkerbell (9-5): Has burnt bettors money in all 5 career starts as prohibitive PT favorite; no Lasix for second straight race; further cut back to 4f might be enough  
YESTERDAY'S NEWS
On Sunday August 28th for Timonium had 5 winners from the 9 race card (5 Top Selections; payoff in BOLD) having $2 WIN pay-off of $2.20 (1st race), $3.40 (2nd), $10.80 (4th), $9.40 (5th) and $19.80 (9th). Note: Year-to-date Top Selections are Top Selections are 193 for 720 (26.81%).
BEST BET of the Day (79: 26-14-11) Seventy Niner (4th race: 3-1 M/L; 4-1 PT) attended the pace three deep, pulled his way clear nearing the five sixteenths, eagerly widened around the final turn and was kept alert to the wire to return $10.80 to WIN, $5.20 to PLACE and $2.60 to SHOW.
LONGSHOT PLAY of the Day (75: 8-9-11) Great Smoke (8th race: 12-1 M/L; 8-1 PT) prompted the pace two wide, moved to engage after a half mile, gained a slim lead past the quarter pole, was engaged from his outside by TWELVE STONE soon after, dueled under strong left handed encouragement and dug in gamely to prove best to return $19.80 to WIN and $5.00 to PLACE (there was no SHOW wagering due to scratches reducing the field to four starters).