The GQ Approach – Timonium August 28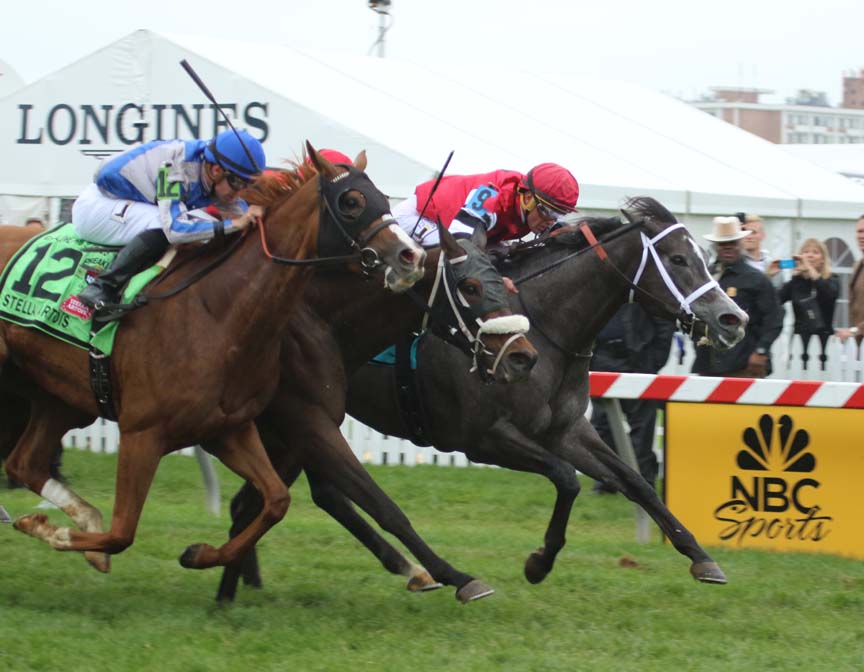 Mizz Money (#9) held off Vielsalm (in between) and Heath (#12) to win the Grade 3 Gallorette. Photo by Laurie Asseo.
The GQ Approach features full-card selections from Timonium for the seven (7) Live Racing Days during the Maryland State Fair (Aug. 26-28 and Sept. 2-5). Post Time 1:05pm EDT. Analysis and Picks include a daily Best Bet, Longshot Play of the Day and multi-race wagers. 
GQ has finally returned from his Summer vacation, just in time to make his annual pilgrimage to Timonium, aka "The Big T."
BEST BET OF THE DAY
Race 4 / #6 – Seventy Niner (3-1)
LONGSHOT PLAY OF THE DAY
Race 8 / #2 – Great Smoke (12-1)
[su_heading size="21″ align="left"]Multi-race wagers[/su_heading]
Race 1: $2 Double  4, 6  w/ 2, 5, 6 ($12)
Race 3: .50 cent Pick-3  5, 6, 7  w/ 1, 2, 6  w/ 1, 2, 5 ($13.50)
Race 6: .50 cent Pick-3  1, 2, 3  w/ 2, 6, 10  w/ 1, 2, 6 ($13.50)
Race 8: $2 Double  1, 2 , 6  w/ 3, 6 ($12)
[su_heading size="21″ align="left"]Analysis[/su_heading]
Weather: High of 90, zero chance of precipitation
Projected track conditions: Main track FAST; Turf is non-existent
The Big T 2016 meet leaders…
… Jocks: Gerald Almodovar (5), Jevian Toledo (3), three tied with two
… Trainers: Mary Eppler and Kieron Magee (2), fifteen tied with one
Race 1
#2 – Brockolini (1-5): Welcome to the Sunday Chalkfest brought to you by the Maryland State Fair at Timonium Fair Grounds; Brisnet#s indicate she's about 10 lengths better than this group
#4 – Proud of Dalton (12-1): Only one with a realistic chance in beating the prohibitive favorite as she looks like lone speed; might take fav. off her game if jock tries to keep pace early
#6 – Untouchable Mine (6-1): Looking for anything positive from the rest, this gal has improved on her Brisnet# in past two as she logged a career best when breaking her maiden last out   
Race 2
#2/2x – Ledbetter/Discreet Lightning (6-5): Trainer G. Preciado ships in this pair of second time starters from Prx; the #2 looks like the standout who will likely complete the Early DBL paying $4.20 IMHO 
#5 – Royal Hussar (9-2): MD-bred FTS by Langfuhr out of an unraced Speightstown mare for trainer "Ham" Smith who pops w/ firsters regardless of workout times as these are steady and final blow-out going 5f 1:101 1/5 (5/16) was his best          
#6 – Wild Wigglin Jack (5-1): Lost any chance when "Pinched at break" in debut at Mth then never ran a lick; got gelded thereafter as a punishment?! Trainer Dennis Ward won on Opening Day w/ a 2nd time starter then another failed as PT fav. yesterday     
Race 3
#6 – Whatamagiciandoes (7-2): Hoping this Street Magician offspring can make the 9-5 M/L fav. (#4) disappear (i.e. be OTB); makes first dirt surface start after showing early speed on local turf and the synthetic @ Pid; all works have been on dirt and recent bullet drill looks nice           
#5 – Fancy Outflanker (4-1): As bad as her 5 race career running line looks (never ITM), her Brsinet#s are good enough to compete w/ the M/L fav.; needs to overcome trainer J. Fisher's 0 for 17 though                  
#7 – Better Wise Up (9-2): This Jump Start MD-bred has looked like a "run with the pack" type in her first three outings; drop class might help get more speed out of her    
Race 4
#6 – Seventy Niner (3-1): *** BEST BET *** IF the race plays out as the PPs show, this guy has the ability to steal it on the front end as he did 4 races back; hopefully jock J. Montano reads The Form AND the #1A is not used as a "rabbit" for the #1
#1/1A – Because He Can/Salto Del Indio (2-1): Both were beaten favorites in their last efforts which bide well as trainers K. Magee & K. Cartagena win at 26% & 30%, respectively on that angle
#2 – Street Bullet (9-5): Beat my top two above in his effort; hard to knock at this distance (6: 3-1-1) but banking on a potential Speed Bias track to beat him
Race 5
#2 – It's a Bang (3-1): Love the fact that McCarthy still asked him to run after he "Broke in air" in last v. $10k Claimers; drops to $5k when he's done well v. $7,500 (1st & 2nd) recently; if I were in the market for a MD-bred, this is one worth claiming IMHO  
#5 – Habanero Gold (5-1): Compromised at the start of first race after 5 month layoff; if the same happens today, the #3 could go gate-to-wire; let's hope that doesn't happen
#1 – Mr. Beer Goggles (4-1): Based on the fact this 7 y.o. gelding has never been worse than second (3: 2-1-0) at this 6½f distance makes him a Player v. these; Brisnet#s have been ascending       
Race 6
#1 – Northern Rail (7-2): This race is overloaded w/ early speed who are going an extra half furlong and having to negotiate two turns; this one has shown ability to rate and can catch the leg weary front runners late    
#3 – Slick William (2-1): Only other one who will come off the pace but he's no sprinter and has been PT fav. in 4 of last 5 outings… failing to win in all of them; switch to 10 lb. bug (who is 8:0-0-1 at meet) makes it that much tougher to think he'll win        
#2 – Zapata (9-5): Boasts top Brisnet Prime Power# while increasing his speed fig in past three races; so what's not to like? 1 for 16 lifetime and that 1 win came on the turf (0 for 8 on dirt)       
Race 7
#10 – Multiflora (8-1): Scratched out of 1 1/16 race yesterday at same level as entrymate ran 3rd; hopefully this gal can do better on a similar drop in class; trainer A. Merryman is 3 for 11 w/ 2+ level class droppers            
#2 – Wildcat Rising (6-1): 0 for 10 lifetime with best finish a third; drops to bottom of the MCL barrel ($5k); possesses early speed which others do not, so Montano should gun for the lead and see what happens after that            
#6 – Passing Parade (8-1): The comeback of "Cowboy" Steve Hamilton continues as his 1st mount since 2006 placed yesterday; 2nd time blinkers angle and in lone fast track start ran behind Kilt Chaser who won like American Pharoah v. similar here yesterday 
Race 8
#2 – Great Smoke (12-1): $$$ LONGSHOT $$$ This poor 3 y.o. gelding might have a sleep disorder due to being in four (4) different barns in the past 4 months; reclaimed by trainer P. Magill is a good sign as is seeing J. Pimentel scheduled to ride; part of the Exacta in all 5 starts (5: 3-2-0) v. similar ($15k Claimers)                
#6 – Boon Companion (12-1): Typical "Magic" Magee move which has rendered 27% winners; drops in class 2nd race after claim after stepping up a few class levels right after claim                
#1 – Twelve Stone (3-1): At first glance looks like a "must use" in exotics but for horizontal players he does his best work on an "off" track (just 2 for 37 on Fast track)  
Race 9
#6 – Thissongisaboutyou (8-5): Breeder/owner is obviously a Carly Simon fan; multiple angles at work here for M. Trombetta runner… turf to dirt (14%), cut back in distance, 1st race off the bench (19%) and ran against plenty of nice local fillies this spring
#3 – Balabusta (5-1): Using your best Italian accent one can have fun with this ones' name; a NY-bred FTS by Twirling Candy cost $67k @ Kee Oct. '14 yearling sale; love the works since mid-July   
#2 – Genuine Happiness (9-5): Would have never thought an Uncle Mo offspring would show up at The Big T so soon; 1st race off the K. Magee claim (26%) but this one came from NY based M. Nevin who is no slouch; look for her to try to take this field gate-to-wire           
YESTERDAY'S NEWS
On Saturday August 27th for Timonium had 7 winners from the 10 race card (4 Top Selections; payoff in BOLD) having $2 WIN pay-off of $5.20 (1st race), $3.20 (2nd), $4.60 (4th), $3.40 (6th), $6.80 (7th), $4.80 (9th) and $3.80 (10th). Of the suggested Multi-Race wagers hit the $2 DOUBLE in R9-R10 for $18.40 (cost: $6). Note: Year-to-date Top Selections are 188 for 711 (26.44%).
BEST BET of the Day (78: 25-14-11) Maggie Wag (7th race: 5-2 M/L; 2-1 PT) prompted the pace two wide on the turn, floated to the three path in upper stretch and was out finished by the winner, coming up a neck short to return $3.40 to PLACE and $2.60 to SHOW.
LONGSHOT PLAY of the Day (74: 7-9-11) Royal Knowledge (3rd race: 10-1 M/L; 24-1 PT) showed early speed in the two path, angled to the inner rail entering the final turn and tired inside horses to finish 6th.