The GQ Approach – Timonium August 27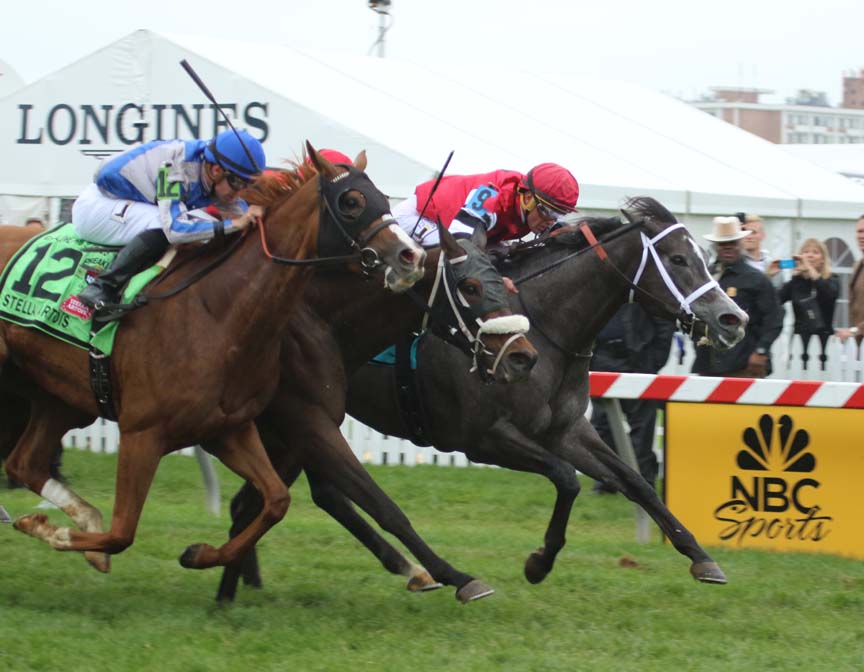 Mizz Money (#9) held off Vielsalm (in between) and Heath (#12) to win the Grade 3 Gallorette. Photo by Laurie Asseo.
The GQ Approach features full-card selections from Timonium for the seven (7) Live Racing Days during the Maryland State Fair (Aug. 26-28 and Sept. 2-5). Post Time 1:05pm EDT. Analysis and Picks include a daily Best Bet, Longshot Play of the Day and multi-race wagers. 
GQ has finally returned from his Summer vacation, just in time to make his annual pilgrimage to Timonium, aka "The Big T".
BEST BET OF THE DAY
Race 7 / #4 – Maggie Wag (5-2)
LONGSHOT PLAY OF THE DAY
Race 3 / #2 – Royal Knowledge (10-1)
[su_heading size="21″ align="left"]Multi-race wagers[/su_heading]
Race 1: $2 Double  1, 7  w/ 2, 5, 7 ($12)
Race 3: .50 cent Pick-3  2, 5, 8 w/ 1, 4, 6 w/ 5, 8, 9 ($13.50)
Race 6: .50 cent Pick-3  1, 5 w/ 4, 6, 8 w/ 3, 8, 10 ($9)
Race 9: $2 Double  1, 3, 6 w/ 6, 8 ($12)
[su_heading size="21″ align="left"]Analysis[/su_heading]
Weather: High of 93, just a slight chance of a late afternoon thunderstorm
Projected track conditions: Main track FAST; Turf is non-existent
The Big T 2016 meet leaders…
… Jocks: Gerald Almodovar (3 wins), Angel Cruz (2)
… Trainers: Kieron Magee (2 wins), seven tied with one
Race 1
#7 – Louis the Great (5-2): Earned second career win two back in his eleventh career outing followed by a runner-up effort at this level; Brisnet figs have been climbing         
#1 – Freshman Phenom (7-2): Takes biggest class drop in here while being on the bench since July 8th; like his fast track record (6:2-1-1) for this level                 
#2 – Tom's Gift (3-1): Has a win and second in two tries at this distance; then again neither was a three-turn 1 1/16 mile event   
Race 2
#5 – Devil Rising (8-5): Class dropper ships in for trainer K. Patterson's only entry on the card and gives a leg up to G. Almodovar; this combo gets to Winners Circle at a 46% clip 
#2 – Prince of Pirates (10-1): Pen invader for E. Rojas brings regular rider (E. Gonzalez) in just for this race; mount has won three straight on the dirt; could be quickest from the gate          
#7 – Show Me the Way (9-2): Continues to improve Brisnet# while competing against N1Y foes; 0 for 2 at distance but recent early speed puts him in the mix     
Race 3
#2 – Royal Knowledge (10-1): $$$ LONGSHOT $$$ Just one of two in here who possess early speed going long; the other is 3 for 62 lifetime           
#8 – Arrogant Officer (6-5): Reclaim by Phil Schoenthal three races back for $11k yet after a troubled third place finish at that level, shows up here for $5k; guess no one will claim a 7 y.o. who hasn't won in over two years                  
#5 – Lets Get It Going (6-1): Has won the most races on a fast track in this field percentage wise; ran a solid 80 Brisnet# in first race after short layoff; leap of faith w/ an 0 for 20 jock this year    
Race 4
#6 – Kilt Chaser (2-1): Adds blinkers, takes appropriate drop and switches to apprentice rider in hopes that this combo will result in initial trip to Winners Circle            
#4 – Matters to Me (5-1): Where else but at The Big T could one imagine seeing "Cowboy" Steve Hamilton back in the saddle again… for the first time since 2006! BTW – his mount has a shot
#1/1A – Letthefanout/Multiflora (7-2): Don't get excited, one of them will likely scratch; I'd prefer seeing the #1A run; both take multiple class drops

Race 5
#9 – My Bro Paul (6-1): Outfit won on Opening Day w/ similar runner who showed early speed in debut at Mth going 5½f; adds Lasix
#5 – Master of Speed (5-1): Gunned to the front in debut but basically stopped after 3f; stats are good (22%) for trainer Rudy Rod when dropping down two class levels
#8 – Royal Crusader (12-1): FTS by Giant Oak shows just one so-so work from the gate but trainer J. Kirk has a history of lighting up the board w/ debut runners (3 of 5) and 2 of 3 in MCL.       
Race 6
#5 – Sola Fide (9-5): Beaten favorite in last after leading every step of the way two back, only to lose in final strides; 6½f could be perfect distance at this level    
#1 – Ride the Shark (9-2): Crossed the finish line first for second career win two back only to be DQ'd; hence should have an edge over this field but extra furlong could prove costly        
#2 – Sally Pollock High (7-2): Cut back in distance and switch to more experienced rider gives this gal a shot       
Race 7
#4 – Maggie Wag (5-2): *** BEST BET *** Toss those last two turf tries; J. Salzman, Jr. scores w/ over 20% of runners "2nd race after layoff" and "turf to dirt" angles; she also has the best early speed figs which is key in these 4f dashes           
#8 – Monavista Crossing (20-1): WV-bred only has faced her own kind in 3 lifetime starts but has early gate speed to outlast others; exits "key" race                  
#6 – Red Sole Diva (8-5): Tough to use in first race in 11 months plus being offered for $5k when she competed v. $25kN2L before being turned out BUT equally tough to toss completely 
Race 8
#10 – Pax Orbis (7-2): Tough assignment from far outside gate; let's say he needed that last one, his first start since spending winter in So. FL               
 #3 – Dominic's Smile (5-1): All 3 career victories have come on the grass but has put in game efforts on the dirt (4: 0-1-2); should challenge for the lead early    
 #8 – Alluseeismytale (20-1): This ol' guy seems to like the Tim oval (4:2-0-1) with both wins coming at this distance; PP's show a pattern of running good-bad-good-bad etc.; time for a "good" race  
Race 9
#6 – Flame of My Heart (9-2): Fresh off maiden score in eighth lifetime start can repeat v. this group in gate to wire fashion
#3 – Just a Taste (8-1): Lone entry for trainer G. Preciado shipping down from Prx after a dull debut turf effort @ Pen in 1st after layoff; bullet week 5 days ago got my attention   
#1 – Flyin Lion S (2-1): Owns best last dirt Brisnet# (83) yet takes what appears to be a precipitous drop in class on top of offering her for $2k less than classing price just to get 2 lb. break going 4f           
Race 10
#6 – No More Excuses (3-1): Shortening up from 7f and 5½f at Lrl when getting the early lead then folding in the stretch makes The Big T the perfect place to graduate  
#8 – Wiredancer (3-1): Failed @ Del when even money in last go round; similar stalking trip can get it done here if the #1 and #6 get into a speed duel           
#1 – First to Fire (9-5): Twice a beaten favorite as this gal continue to tumble through the maiden class levels hitting rock bottom ($5K) as M. Trombetta enlists the services of L. Garcia to try to boot her home   
YESTERDAY'S NEWS
On Friday August 26th for Timonium Opening Day had 5 winners from the 9 race card (1 Top Selection; payoff in BOLD) having $2 WIN pay-off of $4.00 (1st race), $3.00 (4th), $3.60 (5th), $5.20 (8th) and $13.20 (9th). Of the suggested Multi-Race wagers hit the $2 DOUBLE in R8-R9 for $77.20 (cost: $12). Note: Year-to-date Top Selections are Top Selections are 184 for 701 (26.24%).
BEST BET of the Day (77: 25-13-11) Bad Boy Peter (1st race: 2-1 M/L; 1-1 PT) sped to the early lead, set the pace along the rail and dug in tenaciously under energetic urging to return $4.00 to WIN, $3.00 to PLACE and $2.20 to SHOW.
LONGSHOT PLAY of the Day (73: 7-9-11) My Vet's a Genius (5th race: 15-1 M/L; 4-1 PT) placed forwardly into the first turn raced along the inner rail but weakened to finish a well beaten 8th.