The GQ Approach – Laurel August 13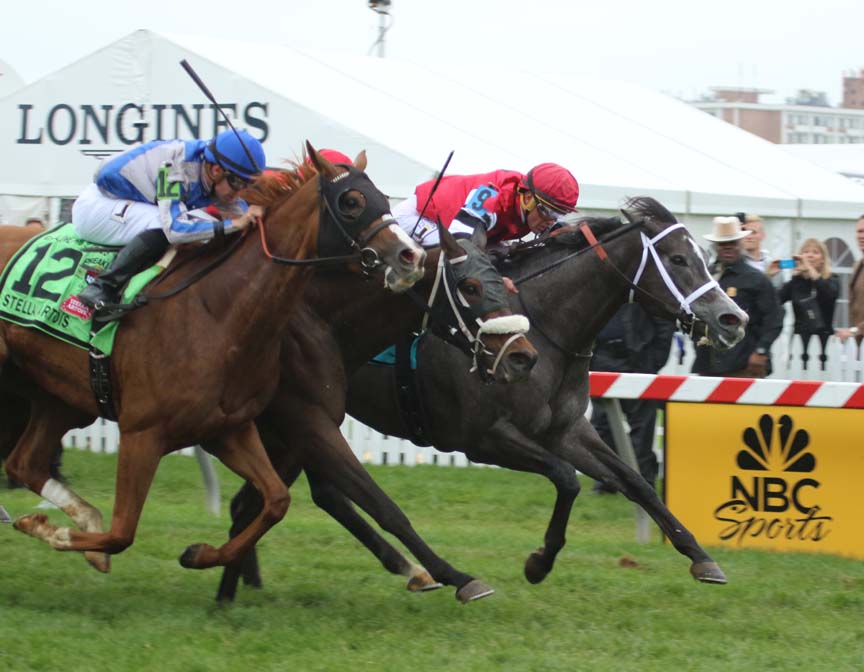 Mizz Money (#9) held off Vielsalm (in between) and Heath (#12) to win the Grade 3 Gallorette. Photo by Laurie Asseo.
The GQ Approach features full-card selections from Laurel Park (Friday-Sunday, with twilight racing each Friday), including a daily Best Bet, Longshot Play, and multi-race wagers. 
GQ himself is taking the summer off.  In his stead will be a rotating band of 'cappers. 
CARRYOVERS
Rainbow Pick 6: $18,063.45
Super High 5: no carryover

Late Pick 5: $2,821.37
BEST BET OF THE DAY
Race 7 / #4 – Tango Delta (5-2)
LONGSHOT PLAY OF THE DAY
Race 5 / #4 – Tom's Gift (12-1)
[su_heading size="21″ align="left"]Analysis[/su_heading]
Number of races scheduled for turf: 6

Weather: Mostly Sunny, high of 96
Projected condition of main track: GOOD
Projected condition of turf: GOOD
RACE 1
In three career turf sprint tries, the only defeat for #10 Call First (9-2) came in the Pennsylvania Governor's Cup behind stalwarts Ben's Cat, Spring to the Sky, and Take Cover.  He rallied to win at this level — $7,500 starter allowance — last out after a wide journey and looks live to register his third straight win here.
The 1-1a entry of I Stand Alone and 1a Indian Bucks is the 5-2 morning line favorite here.  Indian Bucks easily bested similar a few back and two back was favored in a second level allowance contest.  He finished third there and followed that up last out with a third at this level, raising questions of whether he's just a tad off-form now.  #5 Oak Bluffs (3-1) looked like he might go on and win last out but had to steady behind the eventual winner, settling for second before being put up via DQ; he owns a big class advantage here, having taken the My Frenchman Stakes last year and run fourth in the Laurel Dash. I liked #8 Racy (10-1) last out, and he gave a reasonable accounting of himself when third; that's good enough to leave him in the mix.
Let's take #10 on top for the threepeat, and use 1-5-8-10 to start the multi-race wagers if you're so inclined.
RACE 2
Here's a wide-open matchup of beaten claiming horses going six furlongs.  The favorite, #5 Heavenly Haze (5-2), plummeted to this level last out, when he finished a disappointing fourth as the favorite; that marked his seventh defeat as the favorite in his last 10 starts, and that means we're going to look to beat him.
Kenny Cox trainee #4 Split (3-1) makes a big drop himself, from $16,000 company, which certainly seems to signify that Cox's patience has expired.  On the plus side, this guy's last two dirt efforts put him in the mix here; four races back, he led to the furlong grounds before tiring against $15,000 sophomores; the winner of that event now has six wins.  Two back, he finished fifth against much better, and the winner that day won a Pennsylvania-bred stake in his next start.  Angel Cruz will ride.
Rudy Rodriguez scores with 21 percent of his runners wheeling back in a week or less, and that's the case with #6 Loose Money (6-1), who finished fourth against similar going a mile last out.  #7 Savage River (12-1) gets Jevian Toledo in the irons, and in a race without much speed, figures to be involved from the get-go.  And while #3 Not for Fun (3-1) has a dismal 1-for-29 record, he has finished in the top three against similar three straight.
Let's take #4 on top as a win bet, but be sure to spread out in your exotics; this is less a race where anyone can win than anyone can lose, and you could easily see a horse like #7, or even some not mentioned here, blowing up the tote board.
RACE 3
Maiden claimers on the turf often provide value for the bettor, and this race might be no exception.  #7 Cold Spice (6-1) began his career with two good tries on the turf, finishing third at Kentucky Downs and second at Keeneland versus maiden special weight runners; his recent form doesn't stack up, but let's not be too harsh on that seventh place finish two back; four of his rivals that day won their next race.  He's been gelded since has last, shows a couple of decent works, and should appreciate the major class relief he'll get here.
Not easy to do what #2 Church Monkey (9-5) did in his last start: the Ecclesiastic gelding had a four-length lead with an eighth of a mile to go but somehow managed to lose by almost two lengths.  In a field where speed is in somewhat short supply, he likely will be towards the lead, if not on it himself.  Nothing wrong with #4 Nice Try's (2-1) last out effort, when rallying on a speed-biased course.  Today it's blinkers on and first time gelding for the Niall Saville trainee, who is also dropping a step.  Finally, #11 Inspector Bill (10-1) is one to eyeball if he draws on off the AE following a good try at the level at Tampa Bay Downs.
We'll take #6 to leave the maiden ranks and consider keying him top and bottom with #2 and #4.
RACE 4
Sometimes it's best to eat the chalk, and that's how this maiden claimer looks.
#4 Gem (8-5) gave a perfectly credible accounting of herself last out in the Virginia-bred Nellie Mae Cox Stakes, finishing fifth behind Queen Caroline, who won an open stake in her next try.  She's been training forwardly during this brief freshening and has every right to run a good one here.
Her main rival may well be #1 Vizi Girl (2-1), who drops a step in class off two perfectly good tries versus better.  She finished 11 in arrears of Queen Caroline three back when that rival broke her maiden.  The Kelly Rubley barn has been on fire of late — four wins from seven starts at the meet — and she and jock Daniel Centeno have connected on five of 11 starts.  A couple of recent sprint tries may have sharpened the speed of #6 Wednesdays Only (6-1) for this route race, and her three-back third against similar after breaking through the gate pre-race certainly says she fits here; #7 Tizthefastlane (6-1) showed absolutely nothing last out at Parx, but if you're willing to draw a line through that, you'll find a couple of OK efforts in her past as she tries turf for the first time; her dam won $100,000 on the green stuff, and sire Colonel John won his only turf start in a stake.
We'll be looking for #4 to get the money here and using #1 and #4 on top in the exotics.
RACE 5
Maybe we're wrong, but this feels like a race where you can take a little bit of a swing.  This hybrid condition — the race is for older horses that have never won three races or for three-year-olds (who could have won any number) — tends to favor youngsters who have already exceeded the three-win condition or lightly raced sorts looking to make short work of their conditions.
Two who fit as three-year-olds with three or more wins are #4 Tom's Gift (12-1), a Rudy Rodriguez-trained three-time winner who was thrashed against much better last out; and #7 Twisted Earl (4-1), a four-time winner who finished fourth against lesser last out.  The former, another Rodriguez runner wheeling back on a week's rest, retains Julian Pimentel in the irons, owns a couple of wins at the distance, and may be headed in the right direction after a disastrous effort two back.  The latter, trained by Jerry Robb, is a Laurel lover (four wins here, plus two at the trip) and gets five-pound bug Kevin Gomez in the irons; three of this runner's four wins came carrying 111 pounds, and he'll carry 110 today.
Let's take #4 to win here at a price and use #4 and #7 in multi-race exotics and on top in horizontal plays.  We'll use the two chalk horses, #2 and #5, underneath.
RACE 6
Here's another wide-open affair, $7,500 claimers going 5 1/2 furlongs on the greensward.
Fair enough, trainer Bev Heckrotte is 0-for-2016, and it's true that #6 The Bop Express (12-1) doesn't win much (four times in 31 starts) — but take a gander at those last five turf sprints.  Four of them have been against much better rivals, and in her try against $15k claimers, she ran third.  She gets Sheldon Russell up here, has some good efforts to run back to, and in her second off a bit of a freshening, has a chance to move forward here.
#14 Ruby's Mine (5-1) needed some scratches to draw in and got them; she'll also get Feargal Lynch up and enters off a front-running score at Delaware Park. She figures to be on the engine early once again here.  The top two horses on the morning line, #3 Lovely Elle (5-2) and #4 Heavenly Perfect (3-1), will start right next to each other.  The former's Gulfstream Park turf form should translate quite nicely to Laurel, while the latter exits a pretty good second against similar and has never been worse than second in four turf sprints.
Let's swing for the fences here with #6 to score the upset.  An exacta box with 3, 4, 6, and 14 may also be in order.
RACE 7
Sent off at 9-1 last out against $40,000 maiden claimers, #4 Tango Delta (5-2) didn't just win, she laid waste to the field, romping home by over four lengths to become the third horse from her two-back sixth in maiden special weight company to win next out.  I wish this race were seven furlongs rather than six, but this is exactly the right spot for this filly to land in for her first try against winners.
#7 Nairet (6-1) ran second against similar three back with a bit of a trouble line.  Her two interim tries found her on turf once and against allowance runners the other time; today, with blinkers off and back in a class where she fits, an improved effort is a reasonable expectation — but note that jockey Toledo chooses #4 in here.  Favored #1 Mineralistic (2-1) is often in the money — 11 times from 12 starts — but has just that single win and was second and third in prior tries versus similar.
Let's take #4 to win and as a single in our multi-race exotics.  A 1-4-7 exacta box is worth a look, depending on prices.
RACE 8
This allowance test has the feel of a two-horse affair.
#1 Joseph (7-2) took six cracks to break his maiden for trainer Rodney Jenkins and in his last, his first try against winners, gave a credible accounting of himself when fifth.  Another good effort here could be good enough.  #7 Grey Fox (8-5) has been worse than third just once in five career starts, and in his last two against similar, he's finished second and third despite legitimate trouble lines.  A clean trip here probably wins the race.
Others will probably attract some wagering, including #6 Miners Quest (3-1), second and third against similar in his last two — but his 36 losses from 39 starts are far too many to accept short odds.
It's a chalk race, with #7 to get the money, and we'll use #1 and #7 in multi-race wagers.
RACE 9
The day closes with a maiden claimer on the turf, and the morning line favorite, #7 Snuck a Little Fun, is a tepid 7-2 and easy enough to oppose, what with never having been in the money in two turf starts and pilot Feargal Lynch jumping to #4 Y'er Wan (10-1) (and maybe the latter is the "logic of illogic" hunch play here).
We gave some love to #3 Arc de Nua (5-1) last out after a rough trip third two back, but that last one came off the turf.  She obviously fits here, and we'll give him one more chance to make amends.  #2 Extol (6-1) chased a really promising runner in Coastal Sea two back and last out ran third with a trouble line. She can step forward here with Sheldon Russell up.  Nothing wrong with either of the last two races for #10 Cherished Prize (4-1), who'll have to use her tactical speed to overcome the outside post.
Let's see if we can't get #3 home to win the nightcap and use 2, 3, and 10 top and bottom in exactas.