The GQ Approach – Laurel August 7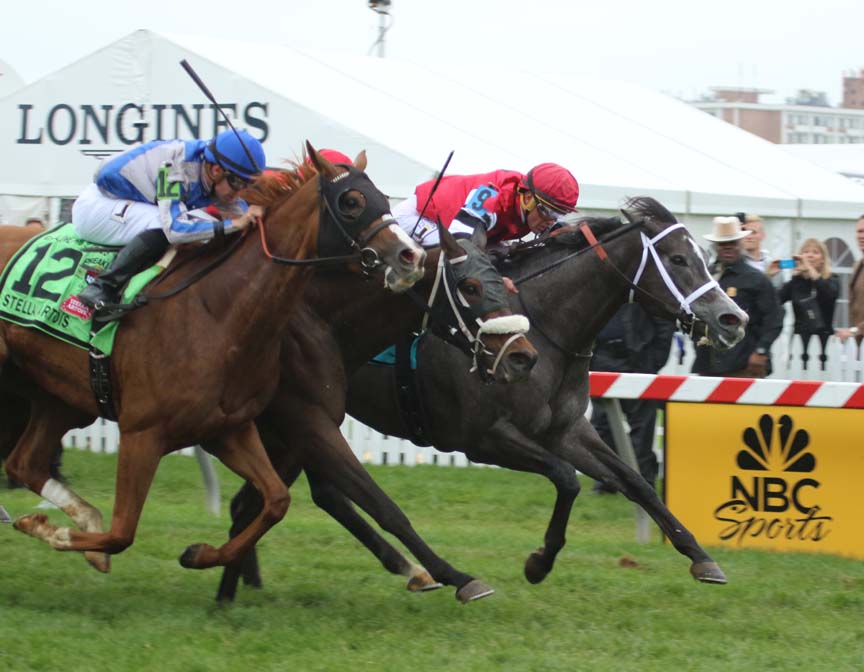 Mizz Money (#9) held off Vielsalm (in between) and Heath (#12) to win the Grade 3 Gallorette. Photo by Laurie Asseo.
The GQ Approach features full-card selections from Laurel Park (Friday-Sunday, with twilight racing each Friday), including a daily Best Bet, Longshot Play, and multi-race wagers. 
GQ himself is taking the summer off.  In his stead will be a rotating band of 'cappers. 
CARRYOVERS
Rainbow Pick 6: $13,296.20
Super High 5: $1,719.58
Late Pick 5: $3,332.81
BEST BET OF THE DAY
Race 6 / #3 – Sabbiadoro (5-2)
LONGSHOT PLAY OF THE DAY
Race 5 / #7 – Bronx Sandman (5-1)
[su_heading size="21″ align="left"]Analysis[/su_heading]
Number of races scheduled for turf: 5
Weather: Sunny, high of 87
Projected condition of main track: FAST
Projected condition of turf: FIRM
RACE 1 That last effort wasn't much for #4 Tracy's Turn (3-1), but there are plenty of other good signs here: first off the claim for trainer Jamie Ness, who has a good strike rate in that circumstance; Ness took the time to geld the horse and now raises him a level; and top jock Victor Carrasco gets aboard.  He's also outside the other main speed here.
Another first-off-the-claim runner is #3 Daniel Did It (5-2), now in the Kieron Magee barn; Magee's been struggling of late after a long run of success, but it's interesting to see Charles Town jock Gerald Almodovar coming in for just one ride; he and Magee are 8-for-25 together.  #1 Fairy Cat (4-1) has won three times this year versus lesser, including a good-trip victory last out, and he might sit that sort of trip again here today.
Let's grab #4 on top here, but this is a pretty evenly matched crew, so we'll be looking to other races for bigger plays.
RACE 2 The morning line (and likely post time) favorite in this maiden turf sprint is #5 I'm a Lucky Girl (5-2), who, after 13 winless tries, really isn't all that lucky.  She's got much better Beyers than her rivals and generally has kept better company.  She just missed last out against similar… but she seemed to be outfooted a little bit in her one try going a true sprint distance on the grass, last October.  At 1 mile, I'd say single her and move on to the next race; here, going 5 1/2 furlongs, I'm inclined to try to beat her.
With whom?  #7 Tiz Our Time (6-1) bid up to the lead in her last start leaving the furlong grounds before tiring. Not sure how good that group was — but that was maiden special weight runners, so this gal is making a two-step drop. Karamanos climbs aboard (though Pimentel deserts her, for #4 in here).  It's also third off the layoff for the Tiz Wonderful filly and her first time for a tag.  #1 Holiday Blues (9-2) gave a big effort last out when rallying to the show spot against better after a rough break.  #11 Skiing in Russia (15-1) ran basically an even race last out when fourth versus similar; but, in her third career start, second off a bit of a layoff, and second on Lasix, she has every right to improve.
Let take #7 on top and use 1, 7, 11 in both exacta slots.  #5 and #3 My Vixen (12-1) are also usable underneath.
RACE 3 As much as we like to try to beat the chalk around here, we're going to surrender to it in this spot.  The formful John Salzman trainee #5 Mr. Stream (8-5) showed a new dimension last out when closing to be a close second against similar and looks to be sitting on a win here.
Two others from that race — #7 The Great Provider (5-1) and #8 Cue (3-1) — finished well behind Mr. Stream but had trouble lines that give hope for an improved effort here.  And while #4 Markakis (7-2) has done his best work going a route of ground, and has been away almost a year, he did break his maiden at first asking sprinting on the lawn.
#5 to get the money in here.
RACE 4 Seven of the eight runners signed on for this maiden special weight test for two-year-olds are making their career debuts, including four that cost at least $100,000. The only runner to have started is #1a Don't Poke the Cat (4-1), and the Robin Graham trainee presents an interesting profile; though he didn't show a ton on debut, he did finish "with interest," and note that the winner, Recruiting Ready, won off by 10 lengths and returned to be second as the favorite in a Grade 3, while the fourth-place finisher won next out.  In his next start, on the turf, he ran fourth to Greatbullsoffire, who returned to win a stake at Delaware Park.  It'd be no great surprise if the third time were the charm.
The favorite here is #2 Union Blues (2-1), a son of Union Rags, unproven as a sire but a brilliant juvenile runner.  This one comes from the Delacour barn, which knows how to win first out, has been firing morning bullets, and is the first foal out of a mare who won $80,000.  But 2-1 on a firster? Not so sure about that.  Another worth a look is #7 Cape Lookout (5-1), a $100,000 auction purchase sired by Shackleford; the Shacklefords have hit the ground running, with six winners already in his first crop, and this one has a lengthy work tab for trainer Mike Trombetta.
Value will be the key in here, and if #2 gets bet down further from the morning line, which would be no surprise, it's worth trying to beat him with #1 or #7.  If he floats up a little, he might be a play.
RACE 5 More two-year-old maidens, this time going 5 1/2 furlongs on the turf, and thus more firsters. One of just three to have started, #7 Bronx Sandman (5-1) gave a credible accounting of himself when fifth, beaten three lengths, on debut.  The only two to run back from that race both won, with winner Greatbullsoffire taking a $50,000 stake.  For good measure, trainer Gary Capuano scores with 27 percent of horses making their second start, and this one is showing a couple of decent interim works.
Trainer Cal Lynch has two in here, and he wins with 21 percent of debut juveniles. #2 Recoil (6-1), a $255,000 auction purchase, is the first foal out of a winless dam but is by Australian sire Lonhro, who gets top-class juveniles.  #5 Undulated (3-1) was a $625,000 auction purchase (!) and has been training forwardly for his debut; Trevor McCarthy will ride the son of Curlin.
Trainer Michael Dickinson sends out #3 Sleepless (7-2), a Quality Road filly taking on the boys.  Her dam Smart Seattle, by Smart Strike, was a precocious sort who won sprinting on the lawn, and Quality Road is getting two-year-old winners; plus this one has a long string of works on the turf at Tapeta Farm, which could be an advantage here. #7 on top in a race where some of these could be any kind, and a 2-3-5-7 exacta box if the payoffs are enticing enough.
RACE 6 Race 6 takes us from the exciting young prospects of the prior two races to older beaten nickels going 1 1/16 miles on the main track. #3 Sabbiadoro (5-2) checks all the boxes here: formful, tactical, and adept at the two-turn trip.  And with just 12 starts to date, he still has some upside.
Toss the last-out turf try and #6 Vision of Green (7-2) certainly fits with this crew, though it's been a while since he found the wire first.  The closing sort may not get all the pace he wants, but note that he did finish ahead of #5 Puget Sound (3-1) three back.  That rival has a couple of good recent efforts, including a last out second against similar, and he gets Sheldon Russell in the irons; but he's just 3-for-21 at the trip.  Trainer Jamie Ness liked #7 Whiskey Sour (5-1) enough to claim him back three starts ago, and you like to see that Trevor McCarthy stays on after just a middling try last out.
The verdict: #3 to get the money here.
RACE 7 In this wide-open affair of evenly matched fillies and mares, you could make a case for just about any of these, many of which have seen each other recently.  One who's been keeping different, and better company is #5 Intrepid Alex (5-1), an Afleet Alex filly trained by Gary Capuano.  This will be her first time in for a tag since her career debut and her third start of the season, Victor Carrasco remains in the irons after a middling effort against allowance foes, and I'd expect her to be forwardly placed in a race without a ton of early zip.
Out of that same allowance race is #3 Jade With Envy (7-2), who ran fifth that day, two lengths head of #5.  She figures to be running late under Jevian Toledo but probably won't get the pace she'll need to get there; trainer Tim Ice is scuffling this year with just three wins from 60 starts.  #8 Workerbee (3-1) has been in the money four straight, including two wins, and defeated similar last out.  #6 Issheit (7-2), second to #8 last out, was stalled behind horses for a long way in upper stretch before getting free and running on nicely too late.  A cleaner trip would sure help, though she has finished behind that rival two straight.
Let's give #5 the chance to spring the mild upset.  In multi-race exotics, you could easily go six deep (using the #1 and #2 in addition to these four).
RACE 8 The morning line fave in the nightcap, a maiden claimer going 1 1/16 miles on the turf, is #9 Tricky Citizen (3-1), and the Michelle Nevin trainee offers plenty to like: a good closing effort last out against similar on a track that played to speed, the presence of top jock Victor Carrasco, and two interim works, including a bullet half-mile move on July 24, fastest of 55 at Belmont Park.
#3 Dixie Knight (12-1) finished a length-and-change behind #9 last out in his first two-turn try, likewise has a couple of works in the interim, and gets Sheldon Russell up; an improved effort here would be no surprise.  I thought his last race would be the day #10 Mojo's Golden Hawk (7-2) left the maiden ranks, but he never could get by Pro Daddy and settled for second.  The early going of this race could be a little tricky for him and rider Xavier Perez; they'll need to use his early zip to attain position from this outer post, but #12 Pirate Captain (15-1) likely will be looking to do the same thing undre five-pound bug Kevin Gomez.  Finally, #1 Longing to Travel (5-1) disappointed last out in an even effort, but his races two and three back, when third against better, would certainly put him in the mix here.
Final verdict: let's see if we can't get #3 home to close the day in style, with 3, 9, and 10 in both exacta spots.