The GQ Approach – Laurel August 6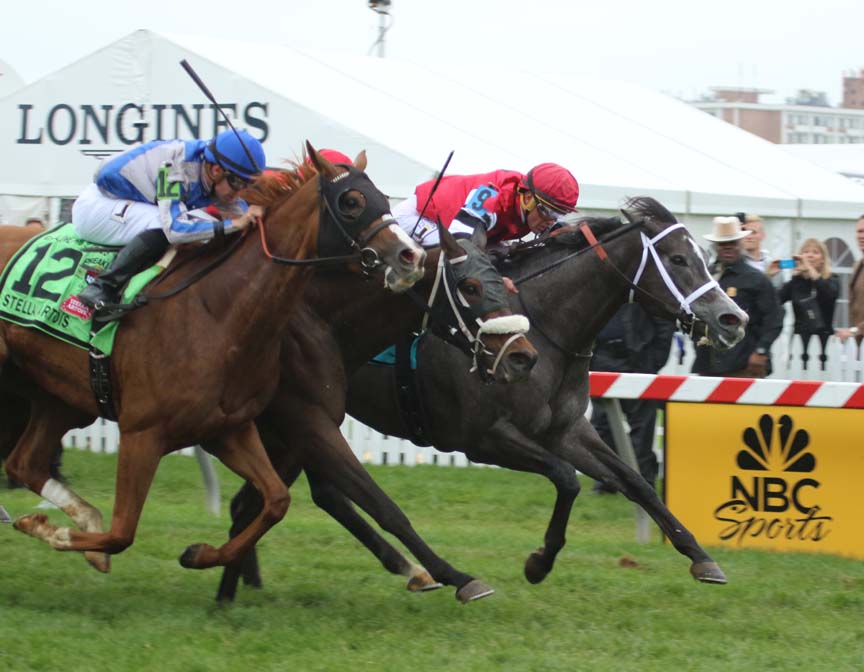 Mizz Money (#9) held off Vielsalm (in between) and Heath (#12) to win the Grade 3 Gallorette. Photo by Laurie Asseo.
The GQ Approach features full-card selections from Laurel Park (Friday-Sunday, with twilight racing each Friday), including a daily Best Bet, Longshot Play, and multi-race wagers. 
GQ himself is taking the summer off.  In his stead will be a rotating band of 'cappers.  Today, GQ sent in his picks from the tropics of the So. Jersey shore.
CARRYOVERS
Rainbow Pick 6: $11,195.05
Super High 5: no carryover
Late Pick 5: no carryover
BEST BET OF THE DAY
Race 7 / #7 – Cold Facts (9-2)
LONGSHOT PLAY OF THE DAY
Race 2 / #4 – Flyin Lion S (5-1)
[su_heading size="21″ align="left"]Analysis[/su_heading]
Number of races scheduled for turf: 5
Weather: High of 90, 60% chance of scattered thunderstorms
Projected condition of main track: FAST
Projected condition of turf: FIRM
But really, we have no idea what the track condition will be because it's uncertain whether we'll get rain or how severe it might be. 'Cappers, beware!
RACE 1 – CLM $5K N2L
He probably wants more ground than this flat mile, but #2 Pagan Power (9-5) nevertheless has the look of a horse too good for these, and you like to see Trevor McCarthy up.  He had a disastrous trip two back and still rallied for second against similar, and his last heat has produced four horses to run in the exacta in their next start.
Not sold?  #3 Itsallaboutthebens (5-1) has recorded his two best dirt Beyer figs going a flat mile at Laurel and should appreciate getting back to it.  In a paceless race, will #6 He's Roaring (12-1) try to steal it on the front end? He broke his maiden last out doing that, and while his Beyers say no, horses have been known to step forward off a maiden score.
Final verdict: I'll eat the chalk in this one, #2 on top.
RACE 2 – CLM $16K N2L
A full field of lightly accomplished, marginally talented turf sprinters makes for a wide open betting race with a favorite who's 4-1 on the morning line.  There's money to be made in this one.
#12 Maggie Wag (12-1) finished fifth last out against similar, which generally isn't much of an endorsement, and the runner-up from that race, Avellaneous, is also here.  But she had a bunch of late trouble while bottled up late in that race and still was beaten less than two lengths; breaking from the outside here and with some speed, she has a chance to find a decent trip.
The horse she'll most likely be chasing in the early going is #4 Flyin Lion S (5-1).  The Mary Eppler trainee has a turf sprint ledger of 4-1-1-1, and in her last turf race, five back, finished a decent third against better after taking pressure all trip.  She's in decent form now, and Trevor McCarthy gets on a horse who has a big shot.  #3 Kadie'shorseplay (9-2) has run credible races against better of late and should appreciate the class relief; note that she finished three behind #4 here when the latter broke her maiden last October.
#7 Airlie's Diamond (5-1) has been in the money five of eight turf sprints and gets Feargal Lynch up, but her only win in 18 tries came via DQ, which makes you question her will to win; she's had trouble lines in three of her last four.  Like to see Victor Carrasco get on #10 Avellaneous (6-1), who finished a half-length behind #7 last out, but the 0-for-9 turf record and three straight defeats against similar are less enticing.  If #13 Bucklebury (5-1) draws in, she'll rate a big shot here, but I'm less sanguine about #5 Perfect Trace (4-1), who has run well locally but whose last two at Gulfstream are just so-so.
Final verdict: After all that, we'll go with #4 on top and use 3, 4, and 12 in multi-race wagers and in both exacta positions, with others underneath as well.
RACE 3 – CLM $7500 N26M
There was nothing wrong with that last effort by #6 Street Bullet (3-1), when beaten a couple lengths after being stalled for a long time in the lane.  A clean trip here under Carrasco might be all he needs.
Give #4 Because He Can (2-1) credit for this: he likes to win, having done it three of his four races and five of 10 overall.  The Kieron Magee trainee came under a ride mid-turn last out and appeared to be going nowhere before rallying late to get up between rivals.  Notably, Kevin Gomez, who rode him that day, ends up aboard #2 Royal Caviar (5-1), who had a two-race win streak snapped last out when fifth in an allowance at Penn National; that race has produced two next-out winners, and this guy loves the 1 1/16 mile trip (9-4-2-0).  I dunno: eight-year-old Beautyinthepulpit (3-1) could win here on the drop-down from $12,500, but he's been favored six straight with just a single win; let's wait him out on this one.
Final verdict: It's #6 on top with a cleaner trip.
RACE 4 – MC $25K
The figs say #9 Invisible Crown (7-5) is the winner here, and perhaps he will be.  He's dropping from the $40,000 level  in New York, and the Desert Party colt has exceeded a 70 Beyer six times in his career, including his last two starts; no other horse here has ever exceeded 70.  Trainer Mike Pino wins — a lot — when he drops horses this aggressively.  And yet: he's finished second or third eight times in 11 starts, and his previous connections were willing to part with him for $16,000.
Another horse dropping from better company, albeit locally, is #2 Hibernia Fire (6-1).  The Robin Graham trainee finished fourth last out after some trouble near the 3/16 pole, and the full chart notes that he finished "with interest."  Karamanos will ride a horse who looks ready to roll.  #8 I'm In (4-1) gave a good accounting of himself last out, dueling for a long way (including a sharp opening quarter of 22.95 seconds) before tiring late.  If he can get a bit more relaxed early pace under McCarthy — and he's well drawn outside the other speed here — he'll have a big shot to be around late.
Final verdict: #9 may simply be too good, and I would not exclude him from multi-race wagers, but let's see if #2 can get it done.
RACE 5 – MC $10K
#4 L G Crash (4-1) recorded his career-best Beyer in his very first race, at today's distance, which he returns to for the first time since while dropping to the lowest level of his career.  Trainer Barr has a solid record bringing horses back on short rest.
Boy, that was a tough beat for #5 Drive At Nite (7-2) last out when he rallied, led late, but ended up second.  His deep-closing style is no asset going 5 1/2 furlongs, but Sheldon Russell in the irons figures to give him a good trip.  #10 Pocket High (3-1) led leaving the furlong grounds in his last but tired to be third while going seven furlongs; the cut-back in distance ought to help, and like to see Trevor McCarthy staying aboard the Bailes trainee.
Final verdict: In another race of evenly matched runners with a tepid 3-1 favorite, let's try #4 on top.  I'd use 4, 5, 10 in multi-race wagers and play an exacta box with those three.
RACE 6 – CLM $16K N3L
An effort like any of his last four might be good enough for #6 Fantasize (7-2) to get the money in this 1 1/16 mile turf event.  Three-back winner Top of Mind repeated in allowance company with a 90 Beyer; two-back winner Shan Dian Kia posted his third straight win that day. If there's a negative, it's from his last, when he gagged up a clear lead late to a horse who had just two wins from 30 career starts.  With plenty of early speed in here, he figures to get the set-up he wants, and rider Feargal Lynch will need to pounce at the right moment.
One of those early types figures likely to stick around until late in the game, and the most likely of those is #1 Boppin Anda Weavin (6-1), whose three turf tries — including two seconds against similar — are in range of this race. Jockey Alex Cintron will ride.
Like to see that trainer Jamie Ness is protecting #3 Loyalty Spirit (4-1) by not running for the optional tag, and also like that Victor Carrasco comes aboard. I do wish, however, this were an N2L race, which he's still eligible for; still, he gave a credible effort last out when third against similar.  #7 Kitty Fredo (6-1) rallied smartly to win last out against N2L runners, has never been worse than third at this trip and, in his third off a lengthy layoff, has the right to improve.  There's a lot to like with #11 Modern Tale (9-2) — a good closing second last out, Trevor McCarthy in the irons, first or second in five of seven at the distance.  What's not to like: horses breaking from outside the eight-hole at 1 1/16 miles on turf are a combined 1-for-40 this meet.
Final verdict: #6 to win, spreading out in exotics.
RACE 7 – CLM $11,000
Here's a move we love to see: #7 Cold Facts (9-2) won two back at the $8,000 level, was moved up to $16,000 for his next start, where he ran a good second at 11-1, now dials back to an interim level, $11,000.  Sheldon Russell comes aboard, and this guy figures to be a player in here.
Seven furlongs is something of a specialist distance, and no horse here is more of a specialist at it than #6 Cutty Shark (10-1), who's been first or second in seven of nine tries at the trip.  He takes a two-step drop here from the $20,000 level, and in his last try against similar, he ran third in a race in which the top two finishers won their next race.  It's an aggressive drop for #3 Cho Time (3-1), from $28,000 to here, but not an inappropriate one off a sixth-place finish; he's got winning efforts to return to, though the 0-for-4 ledger at the trip gives pause.  It would be easier to stomach the expected short odds on #4 Ground Control (7-2) if his form were a little more consistent.
The bottom line: #7 to win here and perhaps an exacta box with the 3, 6, and 7.
RACE 8 – ALW N1X
#6 Conscription (3-1) has the look of a filly who may be going places.  The Graham Motion trainee rallied smartly to break her maiden at Pimlico two back and gave a credible effort last out in the $50,000 Christiana Stakes last out in a surprisingly solid field.  Trevor McCarthy stays aboard a War Front filly who looks ready to check off a condition.
There's a reasonable chance #5 Emelina (7-2) will once again be the controlling speed, an asset she's used to good effect with two wins and two seconds at the trip.  Sheldon Russell gets aboard; the main criticisms are 1) repeated failures at the level, suggesting it may be beyond her; and 2) that pretty dismal last out effort.  #9 Broken Bridle (5-2) is starting to establish herself as a little bit of a money-burner, and her last when she faded off the scene after looming a major threat at the head of the lane was a disappointment.  But she has some talent and figures to get first run at the leader.
Let's take #6 on top.
RACE 9 – ALW N1X
#11 Speak With Me (4-1) won like a good thing on debut, running with the pace while three wide before drawing off to an easy win under what the chart called "intermittent urging."  The runner-up returned to be second against maiden special weight company at Parx.  Trainer Arnaud Delacour, three-for-seven at the Laurel meet, is hitting at 30 percent this year and legs up Trevor McCarthy on a runner who shows a couple of solid works since the debut win.  The only negative: that pesky outside post and the 1-for-40 record of the four outside posts at this trip.
Another with the right kind of profile to win this race is #3 Hardly Home (10-1).  The Shug McGaughey trainee will have to improve, but with just three starts to his name, that's certainly possible; he made up 10 lengths into a sub-30 second last 2 1/2 furlongs last out to break his maiden.  You can't really criticize either of the two turf starts recorded by #1 Dothat Dance (7-2), a first against state-breds and a second against similar to these.  He'll try to close under Sheldon Russell.  It seems ridiculous, but it's just possible that #2 Datt Melody (6-1) is a better horse now — after a nearly two-year layoff — than he was in 2014.  His last-out victory has produced two next-out winners in allowance company, and he figures to get a good stalk-and-pounce trip.  Finally, not sure how good the company #7 Shinobi (5-1) has been keeping is, but he's won three straight, all of them pretty nicely.
Final verdict: keep an eye on the toteboard.  If #11 gets pounded at the windows, that difficult post becomes more troubling, and we move to #3.  If not, let's see if he can prove himself to be something pretty exciting in his second career start.  This is a race that's worth spreading out in your exotics.