The GQ Approach – Laurel August 5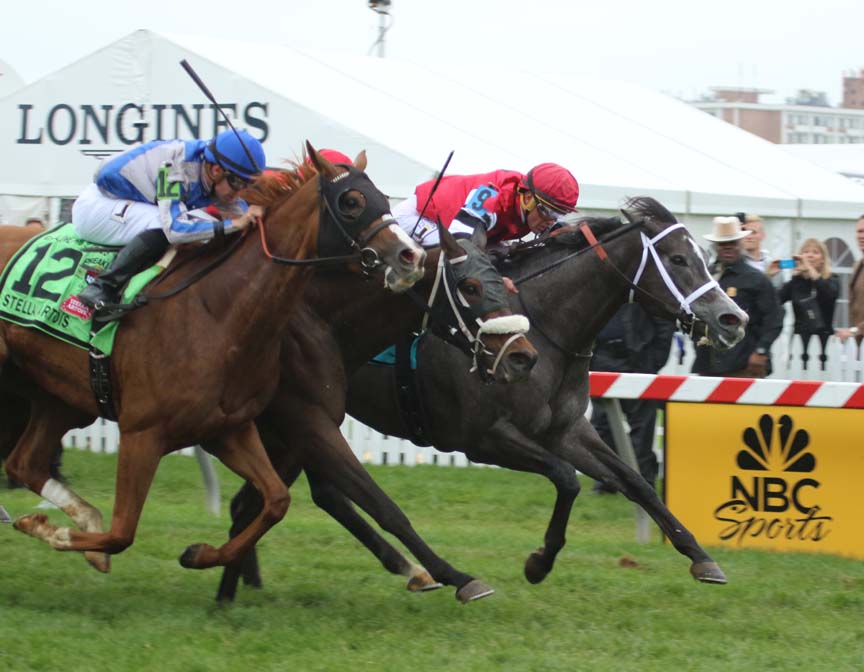 Mizz Money (#9) held off Vielsalm (in between) and Heath (#12) to win the Grade 3 Gallorette. Photo by Laurie Asseo.
The GQ Approach features full-card selections from Laurel Park (Friday-Sunday, with twilight racing each Friday), including a daily Best Bet, Longshot Play, and multi-race wagers. 
GQ himself is taking the summer off.  In his stead will be a rotating band of 'cappers.  Today, GQ sent in his picks from the tropics of the So. Jersey shore.
CARRYOVERS
Rainbow Pick 6: $9,449.08
Super High 5: no carryover
Late Pick 5: no carryover
BEST BET OF THE DAY
Race 7 / #7 – Cerebral (5-2)
LONGSHOT PLAY OF THE DAY
Race 5 / #2 – Star Super (6-1)
[su_heading size="21″ align="left"]Analysis[/su_heading]
Number of races scheduled for turf: 4
Weather: Partly cloudy, high of 83
Projected condition of main track: FAST
Projected condition of turf: FIRM
RACE 1 – MC $10K
This one looks like a two-horse affair.  The favorite, #6 Runaway Dude (4-5) recorded a big Beyer while finishing a game second against similar last out — and was 11 clear of the rest — and that day's winner repeated.  The Jose Corrales trainee set a modest pace, but the horses came home fast and the overall time was solid.  His main competitor looks to be #3 Beware the Fury (9-5), the Mark Shuman trainee who likewise ran second against similar last out, at Delaware Park; note that he finished ahead of Tempietto  that day, the runner who bested Runaway Dude in that one's last. Feargal Lynch will ride.
If there's a caveat to all this, it's that both horses' best efforts have come on the lead. I'd say they're still too good, but if you're not convinced, give an eyeball to super-longshot #2 Colmont Moon (30-1), who made an interesting middle move last out before emptying out.
Final verdict here: use #6 and #3 on top in your multi-race wagers.
RACE 2 – MAIDEN SPECIAL WEIGHT
From a race with a pretty clear shape to… this?  A maiden special contest for juvenile fillies in which seven of 10 have not started (also true of three of six on the AE, but we're going to ignore them).  You can also shoot some holes in almost all of 'em.
I never much liked Union Rags as a racehorse, and I thought his Belmont win was just an awful renewal of that race. But in fairness, he was an absolutely brilliant two-year-old and could pass that on to #2 Dancing Rags (7-2), the second choice in the morning line. This one's dam won her only juvenile start, and her sibs are just 1-for-23 on the lawn.  The Graham Motion trainee will not run with Lasix.
Nothing in the debut of #4 Inspired Blue (10-1) looks like much, but the winner that day, Clairvoyant Lady, returned to win a $50k stake in her next, stamping that race better than it looks.  Not a positive that Lynch gets off, but Carrasco gets on, so call that a wash; one of her sibs won $168k in turf sprints, though her sire looks to be a distance influence.
#6 Consulting (3-1), favored in the morning line, took decent action at BEL in her debut but ran poorly for trainer Tom Proctor, who's 19% in second starts…#8 Natural Notion (12-1) has been training forwardly and is by a sire, Great Notion, who can get you a turf sprinter
Final verdict: No criticism from this quarter if you want to hit the All button, but we'll be using 2, 4, 6, 8 in multi-race wagers.
RACE 3 – CLM $10,000 N3L/3yo
#2 To Dare (9-5) figures to be a solid favorite when the gates open, as the Curlin colt finds his way to his lowest claiming level yet; he was at the $30,000 level in mid-May, and the drop will make him popular. But it feels like he wants more ground than six furlongs, and it also feels like a fire sale in progress.  We'll try to beat him.
#6 Great Smoke (5-2) is a five-time winner who slips in here as a three-year-old, an advantage over this lightly accomplished group, and figures to be running late under Karamanos.  #5 Boon Companion (8-1) loves loves loves this six furlong distance — 4-1-2-1, and for good measure, his lone turf win also came at six furlongs — and gets Carrasco in the irons.
RACE 4 — CLM $16,000 N2L 
OK, let's be honest: this is a bad group of horses for this level.  Left to my own devices, I'd ignore this race altogether.  The favorite, #4 Brockolini (5-2), just finished seventh against similar and is 0-for-9 on the lawn; the second choice, #3 Andrasta (3-1) is 0-for-6 on the lawn and has never been in the money turfing.
Which isn't to say they can't win; they certainly can, and especially here. But why take short odds on a horse to do something she's never done?
Two with a bit more promising morning lines are #7 Kyleigh's Smile (6-1) and #10 Dancing Magician (8-1).  The former ran a big one with a trouble line two back against similar, and the winner repeated next out; the runner-up from her last, when she was uncovered throughout, won a PA-bred allowance next out.  She switches to a 10-pound bug (from a 7-pound bug).  Jockey Victor Carrasco sticks with the latter, who despite a pretty lousy overall record is 4-1-0-1 in turf routes.
Let's take the 7 on top here and cross our fingers.  Or move on to the fifth…
RACE 5 – MAIDEN SPECIAL WEIGHT, 2YO
Another juvenile MSW event with a full field of mostly debut runners — a race to puzzle with our puzzlers…
#2 Star Super (6-1) gave an absolutely credible accounting of herself in her debut, when fourth behind Inspired Flight in a race that figured as deep as any juvy race this season in Maryland.  The winner ran up the track in a G3 at SAR next out; another runner from the race won her next start.  The Dale Capuano trainee gets blinks for her second try.  Also out of that race, #7 Friesan Gal (15-1) had a rough trip but, the chart notes, "kept on with interest."  Less enticing is trainer Robin Graham's 34-race winless skein with 2nd starters.
Among the debut runners: #3 Deer Valley (5-1) was a $340,000 auction purchase.  The daughter of Speightstown is a half to G1 winner Crisp and has been training well enough for Tom Proctor, who hits with 11% of firsters.  #6 First on First (10-1) is a Medaglia d'Oro filly — and we know he can get a top distaff runner — out of a multiple stakes winner.  And #9 Shimmering Aspen (3-1) has fired a couple of a.m. bullets for trainer Rodney Jenkins, who is five-for-31 with debut two-year-olds; the Malibu Moon filly is the first foal out of a 14-time winner who earned $465,000.
I like the 2 at a decent price here, while acknowledging that several of these have the breeding to be any kind.  I'd use the 2, 3, 6, 9 in multi-race wagers.
RACE 6 – AOC N2X 1 1/16 turf
Here's a rugged mixture of savvy vets and rising newcomers racing for a $45,000 purse.
#6 Rock Eagle (9-2) took a first allowance last out in a race that's been super-productive; three of five to run back have won, including a next-out stakes win at Monmouth.  Love this guy to get his third straight win here with a stalk-and-pounce trip.
I've got a ton of questions about #4 Zen's Land (10-1), but the Jane Cibelli runner has a 3-1-1-0 record on turf, and in his worst turf try was beaten less than two lengths. Plus with just six starts, he's got room to improve. The closing sort got away slowly last out at Parx but had plenty of pace to run at.
Elsewhere: old pro #2 Dannhauser (9-2) is plenty capable of this if he can get back to his better efforts from December and January; not sure what exactly #7 Furyofthenorsemen (6-1) beat last out, but he did it nicely and has run good races on the grass (and, by the way, wouldn't "Fury of the Norsemen" have been a great name for a cheesy 80s fantasy movie?); and while #8 North Star Boy (7-2) has been away for nearly a year, he sure will be happy to not to be running against multiple graded winner Ironicus, who won this one's last start on the flat.
Let's take the 6 on top here, but this probably isn't a race to be cheap in the horizontal exotics.
RACE 7 – AOC N2X 1 1/16 miles
#7 Cerebral (5-2) hasn't done much wrong in his 12-race career and looks the part here.  The Gary Capuano trainee owns a win at the distance and was second and third in previous tries against similar.  That last out turf sprint looks to be a prep for this, and just for good measure, he hooked a good group there.  He might be the main speed here, too.
#2 Unbridled Lion (5-1) is moving in the right direction, despite his in-and-out form, enters off a win, and gets Sheldon Russell up; just wish he weren't 0-for-3 over the strip.  #3 Savvy Street (5-1) had a bit of a trouble line in his last, and two of three to run back from that race won; he's got the back class to do this, and I'm not quite ready to toss him off his two since returning.  And it always seems to be something when #5 Flash McCaul (3-1) runs — he's been second six times in nine starts — but the Friesan Flyer gelding keeps on running good races.
Let's put the 7 on top here, and I'd be inclined to say the 5 is an underneath kinda horse here, not one to put on top.  Maybe a 2-3-7/2-3-5-7 exacta.
RACE 8 – MC $25,000 5 1/2 turf
This race looks like a pretty good shot for #8 Eastside Cat (7-2) to break his maiden.  He closed nicely to be third last out after a wide journey in his first try on the lawn, and that was a day that favored early speed. Plus with only five starts, one on grass, to his name, he retains some upside here.
A horse that beat him last out is #4 Path Dependent (5-2), who also closed nicely for the place and comes out of the red-hot Tim Keefe barn. The downside: he's failed as the favorite in three of his last four and is now 0-for-6 in turf sprints.  Tough to take favoritism on that resume.
#1 Tizdejaslew (6-1) gave a decent accounting of himself in his only turf sprint versus similar and gets back to what looks to be his best game; and #5 Tigers Bop (5-1) has three pretty good tries doing this, but is rising off a second-place finish.
Let's put the 8 on top here and consider a 1-4-8 exacta box.